This website uses cookies to ensure you get the best experience while browsing it. By clicking 'Got It' you're accepting these terms.
Study Shows How Wind Turbines Can Provide Energy For At Least a Quarter-Century
Feb. 21, 2014 10:38AM EST
Business
A London college has evidence to dispel notions that wind turbines only have decade-long lives.
According to new research from Imperial College, most turbines can last up to a quarter of a century.
In fact, the United Kingdom's oldest turbines, built in the early '90s, are still going strong, producing three-quarters of their original output after 19 years of spinning. That's nearly twice the amount previously claimed, according to Imperial.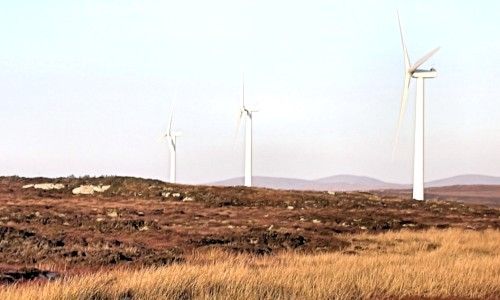 The Imperial study says that newer, updated turbines are performing better and could have an even longer shelf life.
"Wind farms are an important source of renewable energy," said Dr Iain Staffell, co-author of the paper and a research fellow at Imperial College Business School. "In contrast, our dwindling supply of fossil fuels leaves the UK vulnerable to price fluctuations and with a costly import bill."
There are 4,246 individual wind turbines in the UK on 531 wind farms, according to Imperial. They generate 7.5 percent of the nation's electricity.
Imperial researchers analyzed the UK's turbine fleet using local wind speed data from NASA. Collecting data from a 20-year-period, the researchers measured the wind speed at the exact site of each onshore wind farm in the UK. They compared it with output data from each farm to create a formula that analyzed how wear and tear impacts turbine performance. 
A previous study's statistical model estimated that output from wind turbines declines by one-third after a decade of operation. That sort of data partly inspired Imperial because it has an adverse effect on industry investment.
"In the past, it has been difficult for investors to work out whether wind farms are an attractive investment," Staffell said. "Our study provides some certainty, helping investors to see that wind farms are an effective long-term investment and a viable way to help the UK tackle future energy challenges."
The research team wants to study newer wind farms for a longer time frame to see how technological advancements affect turbine operation.
"There have been concerns about the costs of maintaining aging wind farms and whether they are worth investing in," said Richard Green, a professor, co-author and head of the Department of Management at Imperial College Business School.
"This study gives a 'thumbs up' to the technology and shows that renewable energy is an asset for the long term."
Visit EcoWatch's RENEWABLES page for more related news on this topic.

EcoWatch Daily Newsletter
Colombia rainforest. Marcel Oosterwijk / CC BY-SA 2.0
Many of us think of the Amazon as an untouched wilderness, but people have been thriving in these diverse environments for millennia. Due to this long history, the knowledge that Indigenous and forest communities pass between generations about plants, animals and forest ecology is incredibly rich and detailed and easily dwarfs that of any expert.
picture-alliance / Newscom / R. Ben Ari
By Wesley Rahn
Plastic byproducts were found in 97 percent of blood and urine samples from 2,500 children tested between 2014 and 2017, according to a study by the German Environment Ministry and the Robert Koch Institute.

Pexels
Medically reviewed by Daniel Bubnis, MS, NASM-CPT, NASE Level II-CSS
Hot yoga has become a popular exercise in recent years. It offers many of the same benefits as traditional yoga, such as stress reduction, improved strength, and flexibility.
Lara Hata / iStock / Getty Images
By SaVanna Shoemaker, MS, RDN, LD
Rice is a staple in many people's diets. It's filling, inexpensive, and a great mild-tasting addition to flavorful dishes.
An image of the trans-alaskan oil pipeline that carries oil from the northern part of Alaska all the way to valdez. This shot is right near the arctic national wildlife refuge. kyletperry / iStock / Getty Images Plus
The Trump administration has initialized the final steps to open up nearly 1.6 million acres of the protected Alaskan National Wildlife Refuge to allow oil and gas drilling.
Kaboompics / Pexels
Tensions between lawmakers and several large manufacturing companies came to a head on Capitol Hill this week during a hearing on toxic fluorochemicals in U.S. drinking water.