This website uses cookies to ensure you get the best experience while browsing it. By clicking 'Got It' you're accepting these terms.


The best of EcoWatch, right in your inbox. Sign up for our email newsletter!
Study Shows Ethanol Produces More CO2 Emissions Than Gasoline
May. 02, 2014 01:21PM EST
Climate
A Northwestern University study by an economist and a chemist reports that when fuel prices drove residents of São Paulo, Brazil, to mostly switch from ethanol to gasoline in their flexible-fuel vehicles, local ozone levels dropped 20 percent. At the same time, nitric oxide and carbon monoxide concentrations tended to go up.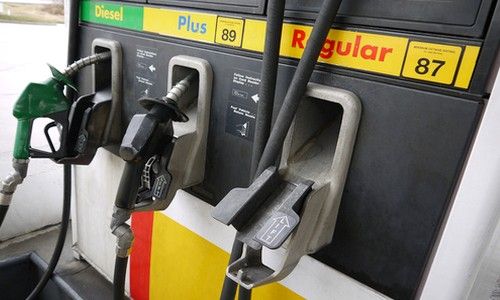 Photo courtesy of Shutterstock
The four-year study is the first real-world trial looking at the effects of human behavior at the pump on urban air pollution. This empirical analysis of atmospheric pollutants, traffic congestion, consumer choice of fuel and meteorological conditions provides an important tool for studying other large cities, such as Chicago, New York, London and Beijing. Previous studies mainly have consisted of computer simulations of atmospheric chemical reactions based on tailpipe emissions studies.
"Individuals often don't realize it, but in the aggregate, you can have a real impact on the environment," said Alberto Salvo, formerly with Northwestern's Kellogg School of Management and now an associate professor of economics at the National University of Singapore. "In São Paulo, there were more than a million cars switching from ethanol to gasoline in the same season, and we found that ozone levels went down. We didn't expect this, but it is a precise result." 
Salvo teamed up with chemist Franz M. Geiger to help him tease the air quality picture out of the highly complex chemistry using statistical methods. The results of their study was published in the journal Nature Geoscience.
Salvo and Geiger used fuel sales data and 14,000 consumer surveys to predict the magnitude of the fuel shift from ethanol to gasoline and back over the course of 30 months. They next determined the change in pollutant concentrations based on the predicted fuel mix, meteorology data and traffic levels across 600 miles of roads and discovered that ozone levels decreased significantly relative to the rise of gasoline usage.
Having lived in São Paulo, Salvo realized the city offered the best possible "natural laboratory"—a real-life situation as opposed to hypothetical—to study consumer behavior and its impact on air quality using big data. The air-monitoring network in the megacity is superb, and the weather is moderate, with temperatures fluctuating little throughout the year.
During two episodes of high sugar prices in 2010 and again in 2011, the price of ethanol increased, causing consumers to switch their fuel usage to gasoline. (Brazil is a big producer of sugar, and the country's ethanol is made from sugar cane.) These two episodes provided the perfect situation for Salvo and Geiger's study.
"São Paulo was the place to do this initial study because consumers can and do switch between fuels for reasons unrelated to air quality, roads are gridlocked, and there is so much good data available to researchers," Salvo said. 
São Paulo has the world's largest flexible-fuel vehicle fleet, with cars that can run on all gasoline, all ethanol or some mix of the two. Gasoline prices in Brazil are controlled by the government, and the domestic sugar price—and therefore the domestic price of ethanol—is determined by the world sugar price.
Scientific studies using big data can help take policymakers a long way in figuring out how to mitigate air pollution given local conditions, the researchers said. Effects of fuel usage will depend on local atmospheric composition, such as fine particle pollutants.
"Ozone and nitric oxide are both contributors to urban smog, so depending on how well a city is able to mitigate air pollution, ethanol may not be the 'green fuel' that it is often called," said Geiger, professor of chemistry in the Weinberg College of Arts and Sciences. He and Salvo are now analyzing how the concentration of other air pollutants in São Paulo, specifically fine particles, change in response to the choices of motorists in the city.
Geiger cautioned that their results are valid only for the subtropical city of São Paulo, but the researchers' interdisciplinary approach can be used to examine more complicated city situations. Their study shows how pollution control requires a team that bridges atmospheric science and engineering, economics and statistics.
"This work allows us to start thinking about the urban metabolism of Chicago, which is an emerging megacity surrounded by 'corn country,'" Geiger said. "Ethanol from corn is a particularly intriguing option for future, possibly more competitive, energy markets. It's an area we need to watch." 
"It is a credit to the interdisciplinary process that Franz now is talking like an economist," Salvo said with a grin.
A grant for high-risk research from the Institute for Sustainability and Energy at Northwestern (ISEN) got Salvo started with his work, but it was when Mark Ratner, ISEN co-director and a chemist, introduced Salvo to Geiger that the study was really underway. The unusual study needed both a social scientist and a chemist to be successful.
"Without ISEN, this work would never have happened—no way," Geiger said.
Geiger and Salvo plan to collaborate with Aaron Packman, professor of civil and environmental engineering at the McCormick School of Engineering and Applied Science, on studying urban metabolites in Chicago. Specifically, the group plans to use Cook County's air monitoring network, traffic data and meteorological data to learn how the concentration of air pollutants in the city may change under future—and most likely more congested—traffic scenarios. 
In addition to ISEN, the National Science Foundation and the Dean's Office at the Kellogg School of Management supported the research.
--------
YOU MIGHT ALSO LIKE
Elon Musk Tell '60 Minutes About How Telsa Can Change the World
Renewable Fuel Standards Require More Corn Ethanol
Corn Ethanol Harms Consumers, Climate and Renewable Energy Development
--------
EcoWatch Daily Newsletter
jenifoto / iStock / Getty Images
Many people consider granola bars a convenient and healthy snack and enjoy their flavor and versatility.
A common green darners (Anax junius). Judy Gallagher / Flickr
By Jason Bittel
It's that time of year again: Right now, monarch butterflies are taking wing in the mountains of northwestern Mexico and starting to flap their way across the United States.
fstop123 / iStock / Getty Images Plus
At EcoWatch, our team knows that changing personal habits and taking actions that contribute to a better planet is an ongoing journey. Earth Day, happening on April 22, is a great reminder for all of us to learn more about the environmental costs of our behaviors like food waste or fast fashion.
To offer readers some inspiration this Earth Day, our team rounded up their top picks for films to watch. So, sit back and take in one of these documentary films this Earth Day. Maybe it will spark a small change you can make in your own life.
Denali national park. Domen Jakus / Flickr / CC BY-NC 2.0
By Stephanie Gagnon
Happy National Parks Week! This year, between April 20 and 28, escape to the beautiful national parks — either in person or in your imagination — and celebrate the amazing wildlife that calls these spaces home.
Sesame, three months old, at Seal Rescue Irleand.
Screenshot / Seal Rescue Ireland Instagram
On Friday, Seal Rescue Ireland released Sesame the seal into the ocean after five months of rehabilitation at the Seal Rescue Ireland facility. Watch the release on EcoWatch's Facebook.

Beer packs of Guinness will now come in a cardboard box. Diageo

By Jordan Davidson
Guinness is joining the fight against single use plastic. The brewer has seen enough hapless turtles and marine life suffering from the scourge of plastic.
Maskot / Getty Images
People of all ages are spending more of their day looking at their phones, computers and television screens, but parents now have another reason for limiting how much screen time their children get — it could lead to behavioral problems.