Study Shows Bee-Killing Neonicotinoid Seed Treatments Offer 'Little to No Benefit'
Center for Food Safety released a scientific literature review which reveals that neonicotinoid insecticide seed treatments offer little benefit, do not increase crop yields and cause widespread environmental and economic damage. In particular, neonicotinoids have been implicated in bee population declines and colony collapse. While some fear that crop yields will suffer without the use of neonicotinoids, the study demonstrates that their benefits do not outweigh the costs.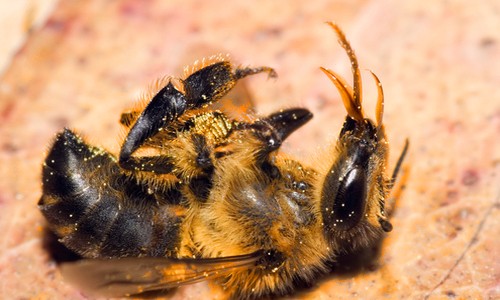 Photo courtesy of Shutterstock
The authors examined 19 peer-reviewed studies of the relationship between neonicotinoid treatments and actual yields of major U.S. crops. Eight studies found that neonicotinoid treatments did not provide any significant yield benefit, while 11 studies showed inconsistent benefits. The studies corroborate evidence from European countries that were able to maintain crop yields even after neonicotinoid bans. The review cites the U.S. Environmental Protection Agency (EPA) for failure to conduct a thorough cost-benefit analysis and calls on the EPA to suspend seed treatment product registrations.
"The environmental and economic costs of pesticide seed treatments are well-known. What we learned in our thorough analysis of the peer-reviewed science is that their claimed crop yield benefit is largely illusory, making their costs all the more tragic," said Peter Jenkins, co-author of the report and consulting attorney for Center for Food Safety.
Seeds of commercial crops in the U.S., particularly corn and soybeans, are widely treated with neonicotinoid pesticides, ostensibly to protect emerging seedlings from pests and thus improve yields. Almost all of the corn seed and approximately half of the soybeans in the U.S. are treated with neonicotinoids.
Neonicotinoids are a class of pesticides known to have acute and chronic effects on honey bees and other pollinator species and are considered a major factor in colony collapse. Neonicotinoid pesticides are also slow to break down, so they can build up in areas where they are applied. They contaminate surface water, ground water and soil, endangering not only pollinators, but also other beneficial species that inhabit these ecosystems.
Pesticide seed treatments are regulated by the EPA under the Federal Insecticide Fungicide and Rodenticide Act (FIFRA), which directs the agency to evaluate whether the use of any pesticide proposed for registration presents "any unreasonable risk to man or the environment, taking into account the economic, social, and environmental costs and benefits."
"Their impact on honey bees, other pollinators and on the nation's beekeepers is especially troubling. Because the available scientific studies show little if any benefit, EPA should suspend all neonicotinoid seed treatment product registrations as required under FIFRA until the costs and benefits are adequately reviewed," said Jenkins.
"Although there is no doubt that neonicotinoids are highly toxic to insects, this does not mean they are routinely effective in pest management. In many contexts they provide no benefit, and in others they are not a cost-effective option. The bottom line is these toxic insecticides are being unnecessarily applied to seeds in most cases, while harming pollinators and the environment," said Sarah Stevens, researcher and co-author of the report.
According to the U.S. Department of Agriculture (USDA), 10 million bee hives have been lost since 2006, representing a $2 billion cost to beekeepers. Honey bees are responsible for much of the pollination required for agricultural production. USDA estimates pollinator services to be worth $20-30 billion annually. Further, honey and bee products have also suffered with 2013 the lowest U.S. honey production ever recorded. That was a $38 million drop since 2012. The most significantly decline in honeybee production has occurred in the Corn Belt where neonicotinoid use is highest.
"The economic costs of neonicotinoid seed treatments are real," added Stevens. "In addition to paying for unnecessary treatments, the overuse of these pesticides has led to significant costs to society at large." 
Related Content:
Half a Million Americans Urge EPA to Protect Bees
Scientists Discover Two Fatal Disease Capable of Transmitting From Honey Bees to Bummblebees
Coalition Builds Buzz on Pollinator Decline With National Ad Campaign 
Bill Maher is sick of billionaires' obsession with Mars, more like "Mars-a-Lago," he said.
In a new animation produced by ATTN:, the popular talk show host of Real Time, discusses the perils of our planet, including how "climate change is killing us."
Keep reading...
Show less
Dr. Benjamin D. Santer, research scientist
A group of prominent climate scientists have written a study explicitly refuting statements made by the U.S. Environmental Protection Agency Administrator Scott Pruitt on climate data. During his Senate confirmation hearing, Pruitt claimed in a written response that satellite data shows a "leveling off" of warming over the past two decades.
Keep reading...
Show less
By David Pomerantz
The Nevada Assembly passed a bill Wednesday that would dramatically increase the growth of renewable energy in the state, but Sheldon Adelson, the casino magnate and major donor to Donald Trump, is attempting to prevent the bill from becoming law.
Keep reading...
Show less
Matt Crossick
By Yosola Olorunshola
Whether it's through fashion or protest, Vivienne Westwood is not a woman afraid of making a statement.
On May 23, she rocked up to the residence of the Archbishop of Canterbury in London with a special guest—the Grim Reaper—to issue a strong statement on the Church of England's position on fracking.
Keep reading...
Show less
Military veterans from across Virginia released a letter Thursday opposing two proposed fracked-gas pipelines: Dominion Energy's Atlantic Coast Pipeline and EQT's Mountain Valley Pipeline. These pipelines would cross through pristine areas of Virginia, taking private property by use of eminent domain, removing mountain ridgetops and threatening valuable drinking water resources. The veterans view this as contrary to their service to protect and defend the freedom and security of American citizens.

Keep reading...
Show less
By Paul Brown
The food industry and big agricultural concerns are driving climate change and at the same time threatening to undermine efforts to feed the world's growing population, according to GRAIN, an organization that supports small farmers.
Particularly singled out for criticism are the large chemical fertilizer producers that have gained access to the United Nations talks on climate change. GRAIN accuses them of behaving like the fossil fuel companies did in the 1990s, pushing false information in the hope of delaying real action on climate change.
Keep reading...
Show less
May. 24, 2017 06:55PM EST
By Sydney Robinson
President Trump has no doubt been given a long list of extravagant, elaborate gifts in his lifetime, but the gift given to him today by Pope Francis may not make it on his most favorite list.
Keep reading...
Show less
May. 24, 2017 07:17PM EST
By John Rogers
Maybe it's because I first started working on clean energy while serving in the Peace Corps he founded, or maybe it's my years of working on these issues from his home state. But I can't help thinking about the 100th anniversary of John F. Kennedy's birth, and connecting his stirring rhetoric to the energy challenges of our times.
Here's what our 35th president might have said about the challenges of energy transition and the opportunities in clean energy:
"Change is the law of life. And those who look only to the past or present are certain to miss the future."
Keep reading...
Show less


Get EcoWatch in your inbox