Study Links Monsanto's Roundup to Autism, Parkinson's and Alzheimer's
By Genna Reed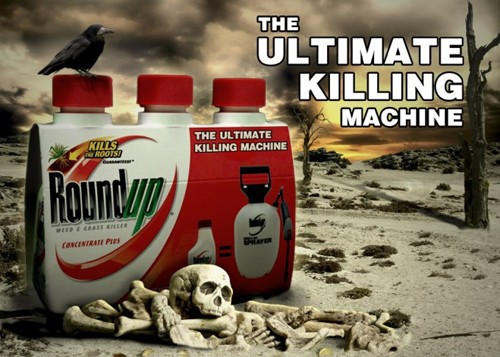 A new review of hundreds of scientific studies surrounding glyphosate—the major component of Monsanto's Roundup herbicide—sheds light on its effects within the human body. The paper describes how all of these effects could work together, and with other variables, trigger health problems in humans, including debilitating diseases like gastrointestinal disorders, diabetes, heart disease, obesity, Parkinson's and Alzheimer's disease.
Glyphosate impairs the cytochrome P450 (CYP) gene pathway, which creates enzymes that help to form and also break down molecules in cells. There are myriad important CYP enzymes, including aromatase (the enzyme that converts androgen into estrogen) and 21-Hydroxylase, which creates cortisol (stress hormone) and aldosterone (regulates blood pressure). One function of these CYP enzymes is also to detoxify xenobiotics, which are foreign chemicals like drugs, carcinogens or pesticides. Glyphosate inhibits these CYP enzymes, which has rippling effects throughout our body.
Because the CYP pathway is essential for normal functioning of various systems in our bodies, any small change in its expression can lead to disruptions. For example, humans exposed to glyphosate have decreased levels of the amino acid tryptophan, which is necessary for active signaling of the neurotransmitter serotonin. Suppressed serotonin levels have been associated with weight gain, depression and Alzheimer's disease.
This paper does not claim to yield new scientific discoveries. Instead, it looks at older studies in a new light. Critics will say the links between glyphosate and health problems made in this paper are purely correlational, but this work is important because it brings all of the possible health effects of glyphosate together and discusses what could happen: something the U.S. Department of Agriculture, U.S. Environmental Protection Agency and the Food and Drug Administration have failed to do.
Just as Monsanto attempted to discredit scientist Gilles-Eric Seralini's study on rats fed genetically engineered corn, the company called this peer-reviewed journal article "another bogus study" due to its "bad science." In a classic pot-calling-the-kettle-black scenario, what Monsanto doesn't mention is that the majority of research showing glyphosate's safety has been done by Monsanto itself, which could be called bad science as well due to its limited and biased nature.
The authors of the new review call for more independent research to validate their findings, stating that "glyphosate is likely to be pervasive in our food supply, and contrary to being essentially nontoxic, it may in fact be the most biologically disruptive chemical in our environment." If the body of independent research on GE foods and the herbicides used with them shows one thing, it is that there are unanswered questions begging for unbiased research. And while these questions remain unanswered, Americans have the right to know how their food was produced.
Visit EcoWatch's BIODIVERSITY and GENETICALLY MODIFIED ORGANISM pages for more related news on this topic.
Glyphosate, the main ingredient in Monsanto's widely used herbicide Roundup, will be added July 7 to California's list of chemicals known to the state to cause cancer, according to a Reuters report Tuesday. This news comes after the company's unsuccessful attempt to block the listing in trial court and requests for stay were denied by a state appellate court and California's Supreme Court.
California's Office of Environmental Health Hazard Assessment (OEHHA) announced the designation on Monday under the Safe Drinking Water and Toxic Enforcement Act of 1986, or Proposition 65.
Keep reading...
Show less
www.facebook.com
Keep reading...
Show less
Researchers from the Marine Animal Response Society examine one of the dead right whales. Marine Animal Response Society
Canadian government officials and marine biologists are investigating the mysterious deaths of six North American right whales. The endangered animals all turned up dead between June 6 and June 23 in the Gulf of St. Lawrence, off Canada's southeastern coast.
North Atlantic right whales are the rarest of all large whale species and among the rarest of all marine mammal species, with only about 450 right whales in the North Atlantic.
Keep reading...
Show less
Scott Pruitt testifies during his Senate confirmation hearing for EPA administrator, January 2017.
The U.S. Environmental Protection Agency's (EPA) chief of staff pressured the leader of its Board of Scientific Counselors to change her congressional testimony to downplay the impact of the agency's mass dismissal of scientists from the board, the New York Times reports.
Keep reading...
Show less
By Jason Mark
Sequoiadendron giganteum. That's the scientific name for the giant sequoia: the mammoth trees found in California's Sierra Nevada that are the largest organisms on Earth, and among the longest-lived. Biologists estimate that about half of all sequoias live in Giant Sequoia National Monument, a 328,000-acre preserve in the Southern Sierra Nevada established by President Clinton in 2000.
Now that national monument is in jeopardy.
Keep reading...
Show less
By Andy Rowell
Donald Trump this week is launching an "energy week," pushing the argument that the U.S. will become a net exporter of oil and gas.
The president and his cronies are talking about a new era of "U.S. energy dominance," which could stretch for decades to come. However, no one believes the president anymore.
Keep reading...
Show less
UN
By Colleen Curry
The United Nations has designated 23 new sites around the world to its World Network of Biosphere reserves—stunning natural landscapes that balance environmental and human concerns and strive for sustainability.
The forests, beaches and waterways were added to the list this year at the International Coordinating Council of the Man and the Biosphere Programme meeting in Paris earlier this month.
Keep reading...
Show less
Jun. 26, 2017 01:48PM EST
www.elysee.fr
By Andy Rowell
There is a growing feeling within European capitals that a quiet, but deeply positive, revolution is happening under Emmanuel Macron in France.
Macron's opinion poll rating is high, especially boosted in how the young French president has reacted to Donald Trump on the international stage.
Keep reading...
Show less
Jun. 26, 2017 12:32PM EST
www.facebook.com
Keep reading...
Show less