This website uses cookies to ensure you get the best experience while browsing it. By clicking 'Got It' you're accepting these terms.
Study Links Massive Oyster Die-offs in Northwest to Ocean Acidification
Apr. 11, 2012 07:53AM EST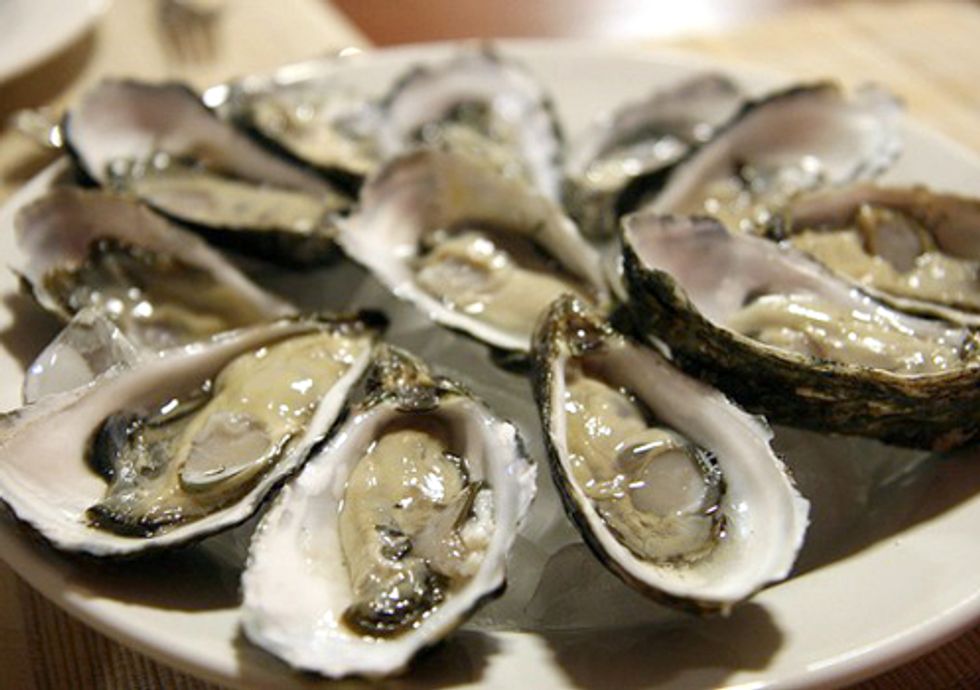 A new study confirms the link between massive oyster die-offs in the Pacific Northwest and ocean acidification caused by carbon dioxide emissions. Since 2006, there have been widespread failures of natural and farmed oysters in Washington and Oregon. The research results, just released, are the first to clearly show how ocean acidification affects oysters at a critical life stage.
"Oyster die-offs are an unmistakable warning that our oceans are in trouble and we've got to cut the carbon pollution if we want to have oysters, corals and whales," said Miyoko Sakashita, oceans director for the Center for Biological Diversity, which last week petitioned the White House and U.S. Environmental Protection Agency (EPA) to develop a national plan to address ocean acidification.
The study, published in Limnology and Oceanography on Tuesday, links the adverse impacts on baby oysters to waters with elevated carbon dioxide. It shows that baby oysters have difficulty building shells and growing in corrosive waters. Researchers studied oysters at Oregon's Whiskey Creek Hatchery in 2009 after reported oyster production failures, looking closely at the ambient coastal waters that bathed the shellfish. For several continuous years, oyster production has collapsed by as much as 80 percent at the Pacific Northwest's largest shellfish farms.
"I think that the clear take-home message from this research is that for the oceans the Pacific Oyster larvae are the 'canaries in the coal mines' for ocean acidification. When the CO2 levels in the ocean are too high, they die; when we lower the CO2 levels, they live," said Richard A. Feely, a co-author of the study and senior scientist at the National Oceanic and Atmospheric Administration.
In 2009, the Center for Biological Diversity filed a lawsuit challenging the EPA's failure to address ocean acidification of waters in Washington. In a settlement of that lawsuit, the EPA determined that states were required to address ocean acidification under the Clean Water Act. Right now, the EPA is reviewing Oregon and Washington's updated lists of impaired waters that did not include any waters that were harmed by ocean acidification.
"The harm that acidification brings to oysters confirms what we've been telling the EPA all along: Our coastal waters are quickly becoming inhospitable for the animals that live there. This agency needs to heed the warning and take bold action to address ocean acidification now," said Sakashita.
Each day the oceans absorb 22 million tons of carbon dioxide pollution from cars and industry, setting off an unprecedented chemical reaction that, since the Industrial Revolution, has made the world's oceans 30 percent more acidic.
Today, ocean acidification is making it hard for animals such as corals and oysters to grow and survive. It's also eroding the shells of tiny plankton that form the basis of the marine food web—which, left unchecked, will result in large-scale problems up the food chain for sea stars, salmon, sea otters, whales and ultimately humans, many of whom rely on seafood to survive.
A conservative estimate of the damage our oceans will face from emissions-related problems—including impacts on fisheries, sea-level rise and tourism, as well as storm costs—amounts to $428 billion a year by 2050 and nearly $2 trillion per year by the century's end.
For more information about ocean acidification, its wildlife and regional impacts, and what the Center for Biological Diversity is doing, click here.
For more information, click here.
EcoWatch Daily Newsletter
A pangolin at a rescue center in Cambodia. Rhett A. Butler / Mongabay
A man carries plastic shopping bags in Times Square on May 5, 2018 in New York City. Kena Betancur / VIEWpress / Corbis / Getty Images
White gold man-made diamond solitaire engagement ring. Clean Origin
While keeping track of the new trends in the diamond industry can be hard, it is still an essential task of any savvy consumer or industry observer. Whether you are looking to catch a deal on your next diamond purchase or researching the pros and cons of an investment within the diamond industry, keeping up with the trends is imperative.
Rep. Alexandria Ocasio-Cortez (D-NY) (C) chants with housing and environmental advocates before a news conference to introduce legislation to transform public housing as part of her Green New Deal outside the U.S. Capitol Nov. 14, 2019 in Washington, DC. Chip Somodevilla / Getty Images
Rep. Alexandria Ocasio-Cortez (D-N.Y.) took to the floor of the House of Representatives yesterday to chide Republicans for not reading the Green New Deal, which she introduced over one year ago, as The Hill reported. She then read the entire 14-page document into the congressional record.
Anti Ivan Duque's demonstrator is seen holding a placard with the photos of social leader Alirio Sánchez Sánchez and the indigenous Hector Janer Latín, both killed in Cauca, Colombia during a protest against Ivan Duque visit in London which included a meeting about fracking, environmental issues, the peace process implementation, and questioning the risk that social leaders in Colombia face. Andres Pantoja / SOPA Images / LightRocket / Getty Images
Colombia was the most dangerous nation in 2019 to be an environmental activist and experts suspect that conditions will only get worse.