This website uses cookies to ensure you get the best experience while browsing it. By clicking 'Got It' you're accepting these terms.
Study Links Bee-Killing Pesticides to Decline in Bird Populations
Jul. 11, 2014 03:17PM EST
In addition to previous research on the direct impacts of pesticides on pollinators and other beneficials, a recent study published by Dutch scientists establishes an additional indirect link between neonicotinoid use and insect-eating birds. The report, which came out on Wednesday, provides evidence that neonicotinoids, a class of systemic pesticides, are indirectly hurting larger creatures by reducing insect prey populations such as mosquitoes and beetles.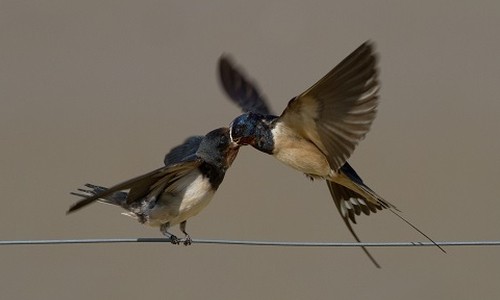 Researchers found that in certain areas of the Netherlands where water is contaminated with high concentrations of imidacloprid, a commonly used neonicotinoid, bird populations tend to decline by an average of 3.5 percent every year. Further analysis found that this spatial pattern of decline appeared only after the introduction of imidacloprid to the Netherlands in the mid-1990s, even after correcting for land-use changes that have been known to affect bird populations in farmland.
"To our surprise we did find a very strong effect on birds", said lead author of the study, Caspar Hallmann, a Ph.D. student from Radboud University in the Netherlands, to Reuters. In fact, according to the study, which was published in the journal Nature, nine of 15 bird species studied only eat insects and all feed insects to their young. Hallmann added, "We cannot say this is proof (that the pesticide causes the decline in bird numbers) but we cannot explain the… decline of birds by any other factors." The study also looked into other possible causes like pollution. 
Bayer CropScience issued a speedy response expressing disagreement with the study findings. The company writes that the study did not "demonstrate that there is a causal link between the use of neonicotinoids and the development of bird populations in Europe." The company went on to say that neonicotinoids "have gone through an extensive risk assessment which has shown that they are safe to the environment when used responsibly according to the label instructions." The company, along with Syngenta, has been accused of forestalling attempts to ban neonicotinoids via the proposal of bee health plans that call for more research, implementing agricultural best management practices and planting new habitat. These solutions fail to address the real problem that their products are highly toxic to bees.
The recent report titled, Worldwide Integrated Assessment (WIA), undertaken by the Task Force on Systemic Pesticides, indicates otherwise. Twenty-nine scientists representing multiple disciplines analyzed more than 800 peer-reviewed publications on the impacts of systemic pesticides. The report emphasizes that neonicotinoids and their metabolites are persistent and harmful, even at very low levels, and that the chemicals have far-reaching impacts on entire ecosystems, from direct exposure to persistence in soil and water. Bees, butterflies, worms and other pollinators and non-target organisms are also put at risk. Scientists concluded that even when neonicotinoids were used according to guidelines on their labels, the chemicals' levels in the environment still frequently exceeded the lowest levels known to be harmful to a wide range of species.
The European Union (EU) began implementation of a two-year moratorium in April on neonicotinoids used on flowering crops stemming from scientific evidence that the chemicals are harmful to bees. The pesticides can still be used legally in the E.U. on non-flowering crops, such as barley and wheat, the scientists said. Germany's Bayer and Switzerland's Syngenta, the two main producers of the pesticides, have contested the moratorium. They suspect that "colony collapse disorder," which has resulted in the large drop in bee populations in Europe, Asia, the Americas and the Middle East, are due to a virus spread by a parasitic mite. Opposition to neonicotinoid use remains strong, however. Syngenta recently withdrew its emergency application to allow the use of neonicotinoids on UK oilseed rape crops (known as canola in the U.S.) in face of public outcry. According to Reuters, more than 200,000 people protested against the request, with around 35,000 more writing to environment secretary Owen Paterson.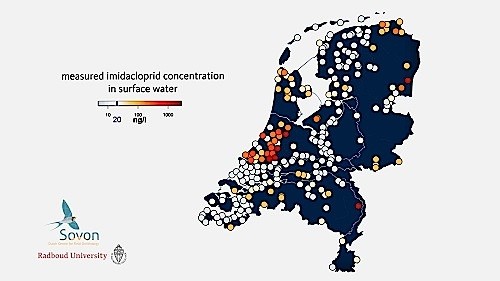 The Dutch study recommends that future legislation consider and take into account the wider impact of pesticides on wildlife. Dave Goulson, Ph.D., of Sussex University, writes in a commentary in Nature that the study was "the first to provide direct evidence that the widespread depletion of insect populations by neonicotinoids has knock-on effects" on larger animals. Goulson has done work on the far-reaching effects neonicotinoids have on biodiversity and ecosystem health; a review of his from last year found that not only are neonicotinoids the most widely used insecticides in the world, but they persist and accumulate in soil, are prone to leaching into waterways, commonly exceed the LC 50 (the concentration which kills 50 percent of individuals) for beneficial organisms, and the consumption of small numbers of treated seeds presents a direct risk of mortality in birds and mammals.
Sound familiar? The link between pesticide use and birds is not a new one. Rachel Carson's book, Silent Spring, chronicled the profligate use of pesticides and their effects on the environment and on birds in particular. While Carson wrote specifically about DDT, an organochlorine pesticide, the message is similar—neonicotinoid pesticides effects have been shown to have widespread consequences on beneficial insects, the environment and birds.
Read more about how neonicotinoids affect non-target organisms, or Pierre Mineau's, Ph.D., in-depth presentation with the American Bird Conservancy on the impact of insecticides on birds. You can also visit our BEE Protective page to learn more about how honey bees and other pollinators are going through rapid population declines, and what you can do to help. 
EcoWatch Daily Newsletter
Offutt Air Force Base after flooding on March 17. U.S. Air Force / TSgt. Rachelle Blake
A regenerating stand of rainforest in northern Costa Rica. Matthew Fagan / CC BY-ND
By Matthew Fagan, Leighton Reid and Margaret Buck Holland
Tropical forests globally are being lost at a rate of 61,000 square miles a year. And despite conservation efforts, the global rate of loss is accelerating. In 2016 it reached a 15-year high, with 114,000 square miles cleared.
At the same time, many countries are pledging to restore large swaths of forests. The Bonn Challenge, a global initiative launched in 2011, calls for national commitments to restore 580,000 square miles of the world's deforested and degraded land by 2020. In 2014 the New York Declaration on Forests increased this goal to 1.35 million square miles, an area about twice the size of Alaska, by 2030.
Compassion Over Killing
By Cheryl Leahy
Do you think almond milk comes from a cow named Almond? Or that almonds lactate? The dairy industry thinks you do, and that's what it's telling the Food and Drug Administration (FDA).
For years, the dairy industry has been flexing its lobbying muscle, pressuring states and the federal government to restrict plant-based companies from using terms like "milk" on their labels, citing consumer confusion.
By Jeremy Deaton
A driver planning to make the trek from Denver to Salt Lake City can look forward to an eight-hour trip across some of the most beautiful parts of the country, long stretches with nary a town in sight. The fastest route would take her along I-80 through southern Wyoming. For 300 miles between Laramie and Evanston, she would see, according to a rough estimate, no fewer than 40 gas stations where she could fuel up her car. But if she were driving an electric vehicle, she would see just four charging stations where she could recharge her battery.
d3sign / Moment / Getty Images
Common sense should not be taken for granted when people are discussing nutrition.
A fire erupted Sunday at a petrochemical plant in Deer Park, Texas.
NowThis News / YouTube screenshot
By Andrea Germanos
A petrochemical plant near Houston continued to burn for a second day on Monday, raising questions about the quality and safety of the air.

The Deer Park facility is owned by Intercontinental Terminals Company (ITC), which said the fire broke out at roughly 10:30 a.m. Sunday. Seven tanks are involved, the company said, and they contain naptha, xylene, "gas blend stocks" and "base oil."
"It's going to have to burn out at the tank," Ray Russell, communications officer for Channel Industries Mutual Aid, which is aiding the response effort, said at a news conference. It could take "probably two days" for that to happen, he added.
The hillsides dyed orange with poppies may look like something out of a dream, but for the Southern California town of Lake Elsinore, that dream quickly turned into a nightmare.
The town of 66,000 people was inundated with around 50,000 tourists coming to snap pictures of the golden poppies growing in Walker Canyon as part of a superbloom of wildfires caused by an unusually wet winter, BBC News reported. The visitors trampled flowers and caused hours of traffic, The Guardian reported.
The Humane Society of the United States uncovered a one-year pesticide test on 36 beagles contracted by Dow AgroSciences at a Michigan lab.
The Humane Society of the United States / YouTube screenshot
A controversial pesticide test that would have resulted in the deaths of 36 beagles has been stopped, the Humane Society of the United States (HSUS) and the company behind the test announced Monday. The announcement comes less than a week after HSUS made the test public when it released the results of an investigation into animal testing at Charles River Laboratories in Michigan.
"We have immediately ended the study that was the subject of attention last week and will make every effort to rehome the animals that were part of the study," Corteva Agriscience, the agriculture division of DowDupont, said in a statement announcing its decision.