This website uses cookies to ensure you get the best experience while browsing it. By clicking 'Got It' you're accepting these terms.
Study Finds Up to One Billion Birds Killed in Building Collisions Each Year
Feb. 10, 2014 12:00PM EST
In the most comprehensive study of its kind, involving the review and analysis of almost two dozen studies and more than 92,000 records, federal scientists have found that between 365 and 988 million birds are likely killed in the U.S. each year as a result of collisions with buildings.
The study, Bird–Building Collisions in the U.S.: Estimates of Annual Mortality and Species Vulnerability was published in a peer-reviewed journal, The Condor: Ornithological Applications in Jan. 2014. It was authored by Scott R. Loss, Sara S. Loss, and Peter P. Marra of the Smithsonian Conservation Biology Institute and Tom Will of the U.S. Fish and Wildlife Service.
"Our analysis indicates that building collisions are among the top anthropogenic threats to birds and, furthermore, that the several bird species that are disproportionately vulnerable to building collisions may be experiencing significant population impacts from this anthropogenic threat," the authors say.
The study provides quantitative evidence to support the conclusion that building collisions are second only to feral and free-ranging pet cats (estimated to kill as many as 3 billion birds each year) as the largest source of direct human-caused mortality for U.S. birds.
The Data on Buildings and Birds
In examining by far the largest building collision dataset collected to date—92,869 individual records—the scientists: (1) systematically quantified total bird collision mortality; (2) generated estimates of mortality for different classes of buildings (including residences from one to three stories tall; low-rise nonresidential buildings and residential buildings from four to 11 stories tall; and high-rise buildings more than 12 stories tall); (3) conducted sensitivity analyses to identify which model parameters contributed the greatest uncertainty to mortality estimates; and (4) quantified species-specific vulnerability to collisions across all buildings and for each building type.
Based on their analyses of 23 studies, they found that roughly 56 percent of mortality occurred at low-rises, 44 percent at residences and one percent at high-rises. The annual bird mortality at residences was estimated to be between 159 and 378 million birds (median 253 million); between 62 and 664 million birds (median 246 million) at low-rise buildings; and between 104,000 and 1.6 million birds (median 508,000) at high-rise buildings.
Even though the number of collisions at each high-rise building is high, the total number of these buildings is smaller; the larger number of low-rises and especially homes produces high total mortality.
According to American Bird Conservancy's (ABC) Dr. Christine Sheppard, who heads the only national collisions campaign program in the U.S.: "This study presents a significantly more robust estimate and a much-needed refinement of the data on building collision mortality. The improved understanding and credibility it provides on the issue will help us better advance collision reduction efforts such as those we've already seen in places such as San Francisco, Oakland, Minnesota and Toronto."
Sheppard authored the widely used publication, Bird-Friendly Building Design which provides comprehensive solutions to reduce bird mortality from building collisions. The 58-page publication contains more than 110 photographs and 10 illustrations and focuses on both the causes of collisions and the solutions, with a comprehensive appendix on the biological science behind the issue.
Bird Species Most Impacted by Building Collisions
According to the study, the species most commonly reported as building kills (collectively representing 35 percent of all records) were White-throated Sparrow, Dark-eyed Junco, Ovenbird and Song Sparrow. However, the study found that some species are disproportionately vulnerable to building collisions. Several of these are birds of national conservation concern and fall victim primarily to certain building types. Those species include:
Golden-winged Warbler and Canada Warbler (low-rises, high-rises and overall)

Painted Bunting (low-rises and overall)

Kentucky Warbler (low-rises and high-rises)

Worm-eating Warbler (high-rises)

Wood Thrush (residences)
For species that are vulnerable to collisions at more than one building class or overall—including Golden-winged Warbler, Painted Bunting, Kentucky Warbler and Canada Warbler—building collision mortality appears substantial and may worsen population declines. For species identified as highly vulnerable to collisions for one building class but not across building types (Wood Thrush at residences, Worm-eating Warbler at high-rises), building collisions may still represent a threat to populations.
Several species exhibit high vulnerability to collisions (relative to population size) regardless of building type, including Ruby-throated Hummingbird, Brown Creeper, Ovenbird, Yellow-bellied Sapsucker, Gray Catbird and Black-and-white Warbler.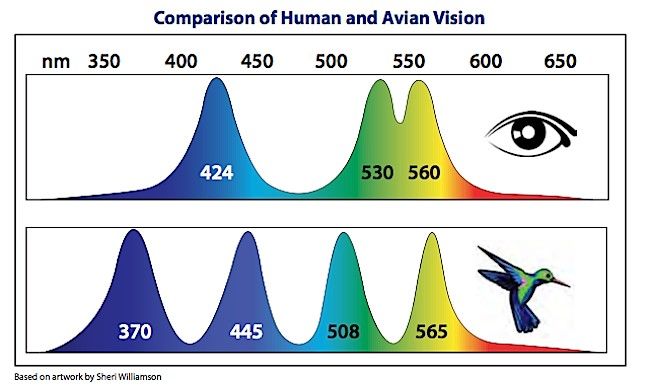 Tips from ABC on Reducing Bird Collisions at Home
When it comes to preventing bird collisions, home-owners have a vital role to play. In general, the goal is to make windows—which birds can't see as people do—visible. There are several easy ways to do this:
General guidelines: Affixing a pattern of tapes or other materials to windows can help make the glass visible to birds. Most birds will avoid windows with vertical stripes spaced four inches apart, or horizontal stripes spaced two inches apart. More complicated or irregular patterns will also work as long as they follow those general guidelines. For best results, patterns must be on the outside surface of the windows.

ABC has create a product especially for the purpose of preventing home window collisions. ABC BirdTape—created with the support of the Rusinow Family Foundation—is made to last outdoors, easy to use, and inexpensive. 

You can use basic craft supplies to make windows safer for birds. Apply tempera paint (available at most art and craft stores) freehand with brush or sponge, or use a stencil. Tempera is nontoxic and long lasting, even in rain, but comes right off with a damp rag or sponge.

Find stencils at craft stores or download free stencils online. Make seasonal designs a family project. Use tape to create patterns. Any opaque tape can work, but translucent ABC BirdTape transmits light and is made to last outdoors.

Most window films designed for external use are not patterned and will not deter birds. However, interior window films come in many colors and styles, and can be applied on the outside of windows to prevent collisions.

If you don't want to alter the glass itself, you can stretch lightweight netting, screen, or other material over the window. The netting must be several inches in front of the window, so birds don't hit the glass after hitting the net. Several companies sell screens, solar shades, or other barriers that can be attached with suction cups or eye hooks.

Prefabricated decals can work if spaced properly. The shape does not matter; birds see decals shaped like raptors as obstacles but not as predators. To be effective, decals must be spaced no more than four inches apart horizontally or two inches apart vertically—more closely than recommended by most manufacturers.
Visit EcoWatch's BIODIVERSITY page for more related news on this topic.

EcoWatch Daily Newsletter
Sen. Michael Bennet (D-CO) speaks during the North American Building Trades Unions Conference at the Washington Hilton April 10, 2019 in Washington, DC. Zach Gibson / Getty Images
Colorado senator and 2020 hopeful Michael Bennet introduced his plan to combat climate change Monday, in the first major policy rollout of his campaign. Bennet's plan calls for the establishment of a "Climate Bank," using $1 trillion in federal spending to "catalyze" $10 trillion in private spending for the U.S. to transition entirely to net-zero emissions by 2050.
When Trump's Environmental Protection Agency (EPA) announced its replacement for the Obama-era Clean Power Plan in August 2018, its own estimates said the reduced regulations could lead to 1,400 early deaths a year from air pollution by 2030.
Now, the EPA wants to change the way it calculates the risks posed by particulate matter pollution, using a model that would lower the death toll from the new plan, The New York Times reported Monday. Five current or former EPA officials familiar with the plan told The Times that the new method would assume there is no significant health gain by lowering air pollution levels below the legal limit. However, many public health experts say that there is no safe level of particulate matter exposure, which has long been linked to heart and lung disease.
A crate carrying one of the 33 lions rescued from circuses in Peru and Columbia is lifted onto the back of a lorry before being transported to a private reserve on April 30, 2016 in Johannesburg, South Africa. Dan Kitwood / Getty Images
By Andrea Germanos
Animal welfare advocates are praising soon-to-be introduced legislation in the U.S. that would ban the use of wild animals in traveling circuses.
A tornado Monday in Union City, Oklahoma.
TicToc by Bloomberg / YouTube screenshot
A woman walks in front of her water-logged home in Sriwulan village, Sayung sub-district of Demak regency, Central Java, Indonesia on Feb. 2, 2018. Siswono Toyudho / Anadolu Agency /Getty Images
Matt Cardy / Stringer / Getty Images
The Guardian is changing the way it writes about environmental issues.
Blueberry yogurt bark. SEE D JAN / iStock / Getty Images Plus
Having nutritious snacks to eat during the workday can help you stay energized and productive.

A 2017 flood in Elk Grove, California. Florence Low / California Department of Water Resources
By Tara Lohan
It's been the wettest 12 months on record in the continental United States. Parts of the High Plains and Midwest are still reeling from deadly, destructive and expensive spring floods — some of which have lasted for three months.
Mounting bills from natural disasters like these have prompted renewed calls to reform the National Flood Insurance Program, which is managed by Federal Emergency Management Agency and is now $20 billion in debt.