This website uses cookies to ensure you get the best experience while browsing it. By clicking 'Got It' you're accepting these terms.
Study Finds Honey Bee Colony Losses More Than Double Since Last Winter
Jun. 13, 2013 09:27AM EST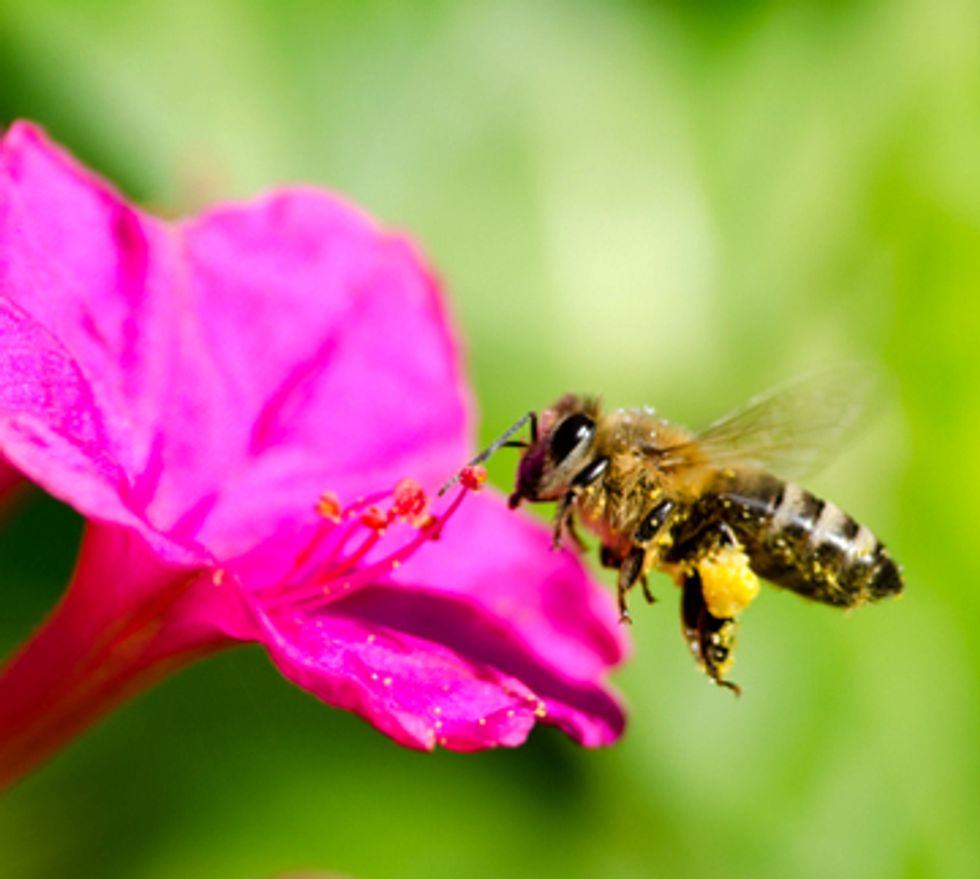 Photo courtesy of Shutterstock
Today, the British Beekeepers Association (BBKA) announced the results of its latest annual winter survival survey which show that the number of honey bee colonies lost over the winter was more than double that of the previous year, with all regions in England showing increased losses.
The overwinter survival of honey bee colonies is a composite measure of their fitness and the effect of various factors such as colony nutrition and the skill and experience of the beekeeper.
On average 33.8 colonies in every 100 were lost compared with 16.2 in the winter of 2011-2012. The losses principally reflect the impact of the continual poor and changeable weather during 2012 continuing into 2013 and exacerbated by the late arrival of spring. It is feared that the situation may have worsened since the survey closed at the end of March given the ongoing poor weather and the late arrival of spring.
The poor summer of 2012 meant that honey bees were regularly prevented from gathering pollen and foraging and when they could, there was a general scarcity of pollen and nectar throughout the season. Virgin queens were unable to mate properly leading them to become drone laying queens and causing those colonies affected to die-out.  
Winter Losses of Honey Bee Colonies in England Over Last Six Years

Importance of Winter Losses of Honey Bees
The honey bee is the only bee to maintain a colony throughout the winter reducing its colony size in autumn and relying on its stores of honey to last it through the winter months when it is too cold for foraging or there is no forage available. In winter, worker bees can live for up to five or six months. In the summer, worker bees only live for around six weeks. Honey bee queens live for three to four years but cannot survive without worker bees. In other species of bees or wasps only the queen survives by hibernating through the winter months.
Impact of Bad Weather on Honey Bee Colonies
Inability of the bees to forage during the year resulting in poorly developed colonies
Scarcity of pollen and nectar throughout the season; even if in flower, nectar output is temperature dependent
Poor weather at the time of mating of the new virgin queens resulting in inadequately mated queens leading to drone laying queens and colonies which can ultimately die out
Inadequate nutrition, especially pollen during the late summer when the specialized bees which take the colony through the winter are born 
Beekeepers have reported significant incidence of isolation starvation, which happens when the bees lose contact with their food reserves during the winter. Bees cluster closely together to maintain the hive temperature and consume the stores of honey closest to them. Having exhausted stores close to them they take advantage of any warmer weather to move within the hive to fresh stores. If the weather is too cold for them to move or if the cluster moves and re-groups having moved in the wrong direction, the colony may starve. Very often these colonies are found to have plenty of stores.
Honey bee colonies which are in a poor nutritional state become more vulnerable to disease and other stress factors.
Survey Results by Region

David Aston, BBKA chairman explains, "Those honey bee colonies which have survived the winter and are now prospering have done so in the main due to the careful nurturing through the winter by beekeepers who have spent much time and effort feeding and carrying out frequent checks on hives, incurring significant additional expense meeting the need to continually feed their bees.
"The training and education of beekeepers to be able to adapt their beekeeping practices to help their honey bees cope with this period of changing weather patterns is a high priority for all beekeeping associations."
Visit EcoWatch's BIODIVERSITY page for more related news on this topic.

EcoWatch Daily Newsletter
The Visible Infrared Imaging Radiometer Suite on the Suomi NPP satellite acquired this image of forest fire smoke hovering over North America on Aug. 15, 2018. NASA Earth Observatory
New York City isn't known for having the cleanest air, but researchers traced recent air pollution spikes there to two surprising sources — fires hundreds of miles away in Canada and the southeastern U.S.
If temperatures continue to rise, the world is at risk from global
sea-level rise
, which will flood many coastal cities as seen above in Bangladesh. NurPhoto / Contributor / Getty Images
The mounting climate emergency may spur the next global financial crisis and the world's central banks are woefully ill equipped to handle the consequences, according to a new book-length report by the Bank for International Settlements (BIS), as S&P Global reported. Located in Basel, Switzerland, the BIS is an umbrella organization for the world's central banks.
Two ice fishers with a truck cut a hole in the ice near an ice fishing hut on frozen Lake Winnebago.
Richard Hamilton Smith / Corbis NX / Getty Images
By Susan Cosier
Come February in Wisconsin, almost everything will be covered in ice and snow. In little shanties on frozen Lake Winnebago, a 30-by-13-mile lake in the eastern part of the state, fishers will keep watch over rectangular holes cut into the ice with a chainsaw. When they spot a fin passing below, they'll jab their spears down deep. The lucky ones will earn themselves a lake sturgeon, a species that has prowled the earth's waters for more than 150 million years.
Fresno, California, seen above, is receiving $66 million for walking trails, sidewalks, bike lanes, and more. DenisTangneyJr / iStock / Getty Images
Grecia Elenes grew up in Fresno, California. She says some parts of the city have been neglected for decades. When she moved back after college she realized nothing has changed.
People are seen embracing at Numeralla Rural Fire Brigade near the scene of a water tanker plane crash on Jan. 23 in Cooma, Australia. Three American firefighters have have died after their C-130 water tanker plane crashed while battling a bushfire near Cooma in southern NSW this afternoon. Jenny Evans / Getty Images
Three U.S. firefighters gave their lives battling Australia's historic wildfires Thursday when their airborne water tanker crashed.