This website uses cookies to ensure you get the best experience while browsing it. By clicking 'Got It' you're accepting these terms.
Study Finds 8 Fracking Chemicals Toxic to Humans
Aug. 19, 2014 07:54AM EST
Fracking is once again in trouble. Scientists have found that what gets pumped into hydrocarbon-rich rock as part of the hydraulic fracture technique to release gas and oil trapped in underground reservoirs may not be entirely healthy.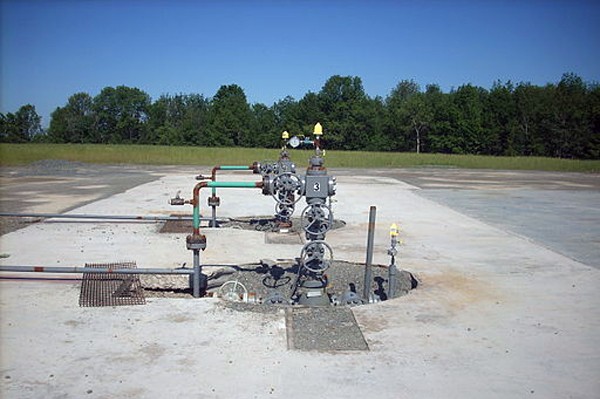 Environmental engineer William Stringfellow and colleagues at Lawrence Berkeley National Laboratory and the University of the Pacific told the American Chemical Society meeting in San Francisco that they scoured databases and reports to compile a list of the chemicals commonly used in fracking.
Such additives, which are necessary for the extraction process, include: acids to dissolve minerals and open up cracks in the rock; biocides to kill bacteria and prevent corrosion; gels and other agents to keep the fluid at the right level of viscosity at different temperatures; substances to prevent clays from swelling or shifting; distillates to reduce friction; acids to limit the precipitation of metal oxides.
Household use
Some of these compounds—for example, common salt, acetic acid and sodium carbonate—are routinely used in households worldwide.
But the researchers assembled a list of 190 of them, and considered their properties. For around one-third of them, there was very little data about health risks, and eight of them were toxic to mammals.
Fracking is a highly controversial technique, and has not been handed a clean bill of health by the scientific societies.
Seismologists have warned that such operations could possibly trigger earthquakes, and endocrinologists have warned that some of the chemicals used are known hormone-disruptors, and likely therefore to represent a health hazard if they get into well water.
Industry operators have countered that their techniques are safe, and involve innocent compounds frequently used, for instance, in making processed food and even ice cream.
But the precise cocktail of chemicals used by each operator is often an industrial secret, and the North Carolina legislature even considered a bill that would make it a felony to disclose details of the fracking fluid mixtures.
So the Lawrence Berkeley team began their research in the hope of settling some aspects of the dispute.
Real story
Dr Stringfellow explained: "The industrial side was saying, 'We're just using food additives, basically making ice cream here.' On the other side, there's talk about the injection of thousands of toxic chemicals. As scientists, we looked at the debate and asked, 'What's the real story?'"
The story that unfolded was that there could be some substance to claims from both the industry and the environmentalists. But there were also caveats. Eight substances were identified as toxins. And even innocent chemicals could represent a real hazard to the water supply.
"You can't take a truckload of ice cream and dump it down a storm drain," Dr Stringfellow said. "Even ice cream manufacturers have to treat dairy wastes, which are natural and biodegradable. They must break them down, rather than releasing them directly into the environment.
"There are a number of chemicals, like corrosion inhibitors and biocides in particular, that are being used in reasonably high concentrations that could potentially have adverse effects. Biocides, for example, are designed to kill bacteria—it's not a benign material."
YOU ALSO MIGHT LIKE
Fracking Waste Disposal Fuels Opposition in U.S. and Abroad
New Jersey Governor Vetoes Fracking Waste Ban Despite Bipartisan Support
EcoWatch Daily Newsletter
MartinPrescott / iStock / Getty Images
On Wednesday the U.S. Environmental Protection Agency (EPA) announced the first 20 chemicals it plans to prioritize as "high priority" for assessment under the Toxic Substances Control Act. Given the EPA's record of malfeasance on chemicals policy over the past two years, it is clear that these are chemicals that EPA is prioritizing to ensure that they are not properly evaluated or regulated.
Strawberries top the Environmental Working Group's "Dirty Dozen" list of U.S. produce most contaminated with pesticides. DANIEL LEAL-OLIVAS / AFP / Getty Images
Which conventionally-grown fruits and vegetables in the U.S. are most contaminated with pesticides? That's the question that the Environmental Working Group answers every year with its "Dirty Dozen" list of produce with the highest concentration of pesticides after being washed or peeled.
A drilling rig in a Wyoming natural gas field. William Campbell / Corbis via Getty Images
A U.S. federal judge temporarily blocked oil and gas drilling on 300,000 acres of federal leases in Wyoming Tuesday, arguing that the Bureau of Land Management (BLM) "did not sufficiently consider climate change" when auctioning off the land, The Washington Post reported.
Mizina / iStock / Getty Images
Oats are widely regarded as one of the healthiest grains you can eat, as they're packed with many important vitamins, minerals, and fiber.
JPMorgan Chase building in New York City. Ben Sutherland / CC BY 2.0
By Sharon Kelly
A report published Wednesday names the banks that have played the biggest recent role in funding fossil fuel projects, finding that since 2016, immediately following the Paris agreement's adoption, 33 global banks have poured $1.9 trillion into financing climate-changing projects worldwide.
Sriram Madhusoodanan of Corporate Accountability speaking on conflict of interest demand of the People's Demands at a defining action launching the Demands at COP24. Corporate Accountability
By Patti Lynn
2018 was a groundbreaking year in the public conversation about climate change. Last February, The New York Times reported that a record percentage of Americans now believe that climate change is caused by humans, and there was a 20 percentage point rise in "the number of Americans who say they worry 'a great deal' about climate change."
The head of England's Environment Agency has urged people to stop watering their lawns as a climate-induced water shortage looms. Pexels
England faces an "existential threat" if it does not change how it manages its water, the head of the country's Environment Agency warned Tuesday.
Pexels
By Jessica Corbett
A new analysis revealed Tuesday that over the past two decades heat records across the U.S. have been broken twice as often as cold ones—underscoring experts' warnings about the increasingly dangerous consequences of failing to dramatically curb planet-warming emissions.