Study Finds 8 Fracking Chemicals Toxic to Humans
Fracking is once again in trouble. Scientists have found that what gets pumped into hydrocarbon-rich rock as part of the hydraulic fracture technique to release gas and oil trapped in underground reservoirs may not be entirely healthy.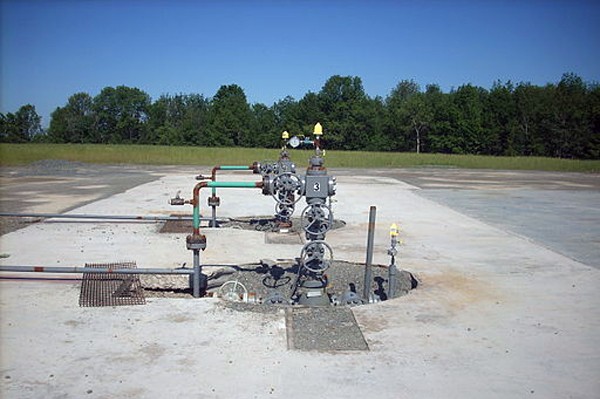 Environmental engineer William Stringfellow and colleagues at Lawrence Berkeley National Laboratory and the University of the Pacific told the American Chemical Society meeting in San Francisco that they scoured databases and reports to compile a list of the chemicals commonly used in fracking.
Such additives, which are necessary for the extraction process, include: acids to dissolve minerals and open up cracks in the rock; biocides to kill bacteria and prevent corrosion; gels and other agents to keep the fluid at the right level of viscosity at different temperatures; substances to prevent clays from swelling or shifting; distillates to reduce friction; acids to limit the precipitation of metal oxides.
Household use
Some of these compounds—for example, common salt, acetic acid and sodium carbonate—are routinely used in households worldwide.
But the researchers assembled a list of 190 of them, and considered their properties. For around one-third of them, there was very little data about health risks, and eight of them were toxic to mammals.
Fracking is a highly controversial technique, and has not been handed a clean bill of health by the scientific societies.
Seismologists have warned that such operations could possibly trigger earthquakes, and endocrinologists have warned that some of the chemicals used are known hormone-disruptors, and likely therefore to represent a health hazard if they get into well water.
Industry operators have countered that their techniques are safe, and involve innocent compounds frequently used, for instance, in making processed food and even ice cream.
But the precise cocktail of chemicals used by each operator is often an industrial secret, and the North Carolina legislature even considered a bill that would make it a felony to disclose details of the fracking fluid mixtures.
So the Lawrence Berkeley team began their research in the hope of settling some aspects of the dispute.
Real story
Dr Stringfellow explained: "The industrial side was saying, 'We're just using food additives, basically making ice cream here.' On the other side, there's talk about the injection of thousands of toxic chemicals. As scientists, we looked at the debate and asked, 'What's the real story?'"
The story that unfolded was that there could be some substance to claims from both the industry and the environmentalists. But there were also caveats. Eight substances were identified as toxins. And even innocent chemicals could represent a real hazard to the water supply.
"You can't take a truckload of ice cream and dump it down a storm drain," Dr Stringfellow said. "Even ice cream manufacturers have to treat dairy wastes, which are natural and biodegradable. They must break them down, rather than releasing them directly into the environment.
"There are a number of chemicals, like corrosion inhibitors and biocides in particular, that are being used in reasonably high concentrations that could potentially have adverse effects. Biocides, for example, are designed to kill bacteria—it's not a benign material."
YOU ALSO MIGHT LIKE
Fracking Waste Disposal Fuels Opposition in U.S. and Abroad
New Jersey Governor Vetoes Fracking Waste Ban Despite Bipartisan Support
The U.S. Fish and Wildlife Service removed grizzly bears in the Greater Yellowstone region on Thursday from the Endangered Species List. The decision comes despite serious concerns in the scientific community about a declining, isolated population with diminishing food resources and record-high mortalities, as well as strong opposition from an unprecedented number of Tribal Nations.
Keep reading...
Show less
ArborGen pine tree field test site in South Carolina. BJ McManama
By BJ McManama
ArborGen Corporation, a multinational conglomerate and leading supplier of seedlings for commercial forestry applications, has submitted an approval request to the U.S. Department of Agriculture, Animal and Plant Health Inspection Service to deregulate and widely distribute a eucalyptus tree genetically engineered (GE) to be freeze tolerant. This modification will allow this GE variety to be grown in the U.S. Southeast. The reason this non-native and highly invasive tree has been artificially created to grow outside of its tropical environment is to greatly expand production capacity for the highly controversial woody biomass industry.
Keep reading...
Show less
By Kari Hamerschlag
Many health conscious consumers are reducing their consumption of red meat in favor of chicken—especially products labeled and promoted as "100% natural"—believing they are a healthier option produced without routine antibiotics, artificial substances or other drugs.
Keep reading...
Show less
Stephen Hawking repeated his warning that humanity needs to leave Earth and colonize the moon, Mars or other planets in order for our species to survive the impending doom of climate change.
"We have given our planet the disastrous gift of climate change ... When we we have reached similar crises there has usually been somewhere else to colonize ... But there is no new world, no utopia around the corner," he said. "We are running out of space, and the only places to go to are other worlds."
Keep reading...
Show less
www.youtube.com
Keep reading...
Show less
It's so hot in the American Southwest that meteorologists are using unusual colors for their temperature maps.
As reported by MLive's Mark Torregrossa, with temperatures forecast to hit 120 degrees Fahrenheit in the Phoenix area, the folks at weatherbell.com had to use green for its Wednesday map because the other shades were already used.
Keep reading...
Show less
www.facebook.com
Former California Gov. Arnold Schwarzenegger has let the world know that Donald Trump does not represent America in his choice to drop out of the Paris climate agreement.
Despite the president's lack of support for the environment, the rest of America will continue to work towards a brighter and greener future, as Schwarzenegger makes clear in the video above.
An oil and gas drilling platform in Australian waters. CSIRO / Wikimedia Commons
By Paul Brown
Natural gas will have to be phased out along with coal if the world is to be kept safe from dangerous climate change. And that seems likely to have to happen far sooner than most official forecasts, according to a new report.
If countries want to reach their Paris climate agreement goals of limiting the long-term world temperature rise to 1.5°C, then many of the proposals to increase gas production and distribution will be unnecessary. New terminals and pipelines will never be fully used and will become stranded assets.
Keep reading...
Show less
The Dakota Access Pipeline being installed between farms in New Salem, North Dakota. Tony Webster /
Flickr
Keep reading...
Show less


Get EcoWatch in your inbox