This website uses cookies to ensure you get the best experience while browsing it. By clicking 'Got It' you're accepting these terms.
Study Exposes AquaBounty's Bogus Growth Claims on GMO Salmon
Oct. 22, 2015 12:41PM EST
Food
For those of you who have read the Mary Shelley novel "Frankenstein," you remember that the name refers to the scientist Victor Frankenstein, not the monster he constructed from body parts found in the local cemetery. The story has captured the public's imagination for nearly 200 years, and "franken" has become a common prefix—and a pejorative—for genetically modified organisms (GMOs), which are made with cut-and-pasted genetic material from different species of plants, animals and microorganisms.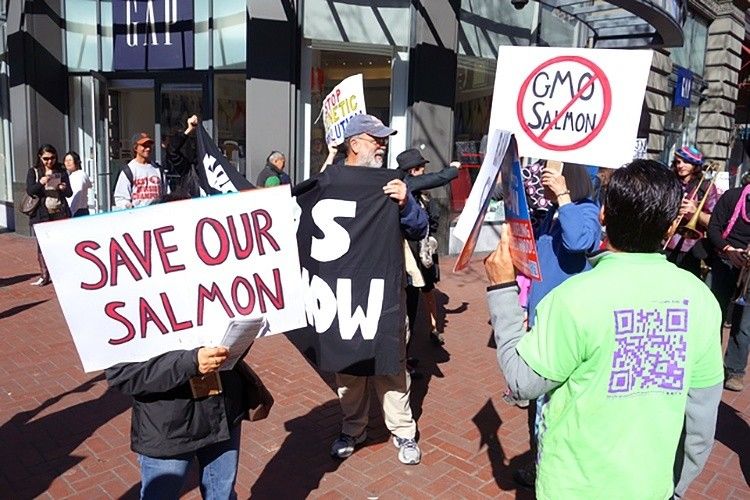 GMO salmon is an Atlantic salmon whose DNA has been re-engineered with a "growth-hormone gene construct" made from genetic material of other fish. Photo credit: Steve Rhodes / Flickr
GMO salmon—or franken-fish, as it is sometimes called—is an Atlantic salmon whose DNA has been re-engineered with a "growth-hormone gene construct" made from genetic material of other fish. One of these fish, the ocean pout, is only as closely related to Atlantic salmon, taxonomically speaking, as a human is related to a porcupine or a platypus. This recombination of genetic material would never happen in nature.
Beyond being designed and engineered by humans and created in a laboratory, GMO salmon and Frankenstein's monster may also share another defining feature—larger-than-normal proportions. AquaBounty Technologies, the company behind GMO salmon, has always insisted that its fish grow much faster than normal Atlantic salmon—but not larger. This is one of the most frequent claims the company makes—to journalists and even to financial regulators at the Securities Exchange Commission.
Protest march opposing FDA approval of GMO salmon, Market Street, San Francisco, Feb. 9, 2013. Photo credit: Steve Rhodes / Flickr
But, according to a recently released scientific review from the Canadian government, AquaBounty doesn't have a shred of evidence supporting this claim. This is more than a little odd because AquaBounty calls GMO salmon the "most studied fish in the world."
If it turns out that GMO salmon do grow larger than normal salmon, it would almost certainly provoke even further consumer opposition to the fish while also compromising the company's pending risk assessment with the FDA. As Canadian government scientists note, a larger-than-normal Atlantic salmon would be able to eat larger-than-normal prey fish, and this expanded diet could expand the environmental impact of escaped GMO salmon.
Other important risk-assessment questions also emerge: What happens to the health of a GMO salmon that reaches ever-large proportions? What happens to the nutritional content of the fish for consumers? What happens to the hormone levels of this fish, which is engineered with a growth-hormone gene construct?
Again, we don't know if GMO salmon do grow larger than normal salmon, but given AquaBounty's track record of questionable claims, it needs to be checked out. The company's claims about GMO salmon's fast growth-rate have turned out to be bogus, as the preponderance of evidence indicates GMO salmon probably grow slower than conventional farmed salmon. Likewise, the company has long trumpeted its safe, biosecure production of GMO salmon, but independent sleuthing has revealed "lost" salmon, a major accidental disease outbreak and a $9,500 fine for failing to comply with environmental regulations.
If approved by the FDA, AquaBounty's salmon will be the first GMO animal to enter the food supply anywhere in the world, so it's scary to realize how little the world knows about the basic biology of this fish—a situation that is unlikely to be addressed if the FDA continues to ignore its role as a science-based regulator.
While there are sizable gaps in what we know about this fish, there is still plenty of evidence showing that AquaBounty's salmon is totally unnecessary for our food system, presenting substantial risks to the environment and consumers but no benefits.
EcoWatch initially posted this blog with numerous editorial changes not authorized by the author. We deeply regret the error and have restored the blog to its initial content.
YOU MIGHT ALSO LIKE
3 Companies Say 'No' to GMO Arctic Apples
28 Most Inspiring Urban Agriculture Projects Around the World
86 Food Products Contain Possible Cancer-Causing Additive
Lawsuits Mount Against Monsanto's 'Cancer-Causing' Weedkiller
EcoWatch Daily Newsletter
The Democratic primary candidates take the stage during Tuesday's debate. SAUL LOEB / AFP via Getty Images
On Tuesday night, the Democratic presidential candidates gathered for what The Guardian said was the largest primary debate in U.S. history, and they weren't asked a single question about the climate crisis.
A. Battenburg / Technical University of Munich
By Sarah Kennedy
Algae in a pond may look flimsy. But scientists are using algae to develop industrial-strength material that's as hard as steel but only a fraction of the weight.
Variety of fermented food korean traditional kimchi cabbage and radish salad. white and red sauerkraut in ceramic plates over grey spotted background. Natasha Breen / REDA&CO / Universal Images Group / Getty Image
Even if you've never taken probiotics, you've probably heard of them.
These supplements provide numerous benefits because they contain live microorganisms, such as bacteria or yeast, which support the healthy bacteria in your gut (1, 2, 3, 4).
Pexels
Singapore will become the first country in the world to place a ban on advertisements for carbonated drinks and juices with high sugar contents, its health ministry announced last week. The law is intended to curb sugar consumption since the country has some of the world's highest diabetes rates per capita, as Reuters reported.
A typical adult takes around 20,000 breaths per day. If you live in a megacity like Beijing, with many of those lungfuls you're likely to inhale a noxious mixture of chemicals and pollutants.
Fred Stone holds his brown swiss cow Lida Rose at his Arundel dairy farm on March 18 after a press conference where he spoke about PFAS chemical contamination in his fields. Gregory Rec / Portland Portland Press Herald via Getty Images
By Susan Cosier
First there was Fred Stone, the third-generation dairy farmer in Maine who discovered that the milk from his cows contained harmful chemicals. Then came Art Schaap, a second-generation dairy farmer in New Mexico, who had to dump 15,000 gallons of contaminated milk a day.
Protesters attend the 32nd annual Fur-Free Friday demonstration on Nov. 23, 2018 in Beverly Hills, California. Ella DeGea / Getty Images
California Governor Gavin Newsom signed into law a bill that that bans the sale and manufacture of fur products in the state. The fur ban, which he signed into law on Saturday, prohibits Californians from selling or making clothing, shoes or handbags with fur starting in 2023, according to the AP.
By Simon Evans
During the three months of July, August and September, renewables generated an estimated total of 29.5 terawatt hours (TWh), compared with just 29.1TWh from fossil fuels, the analysis shows.