This website uses cookies to ensure you get the best experience while browsing it. By clicking 'Got It' you're accepting these terms.
Study Exposes AquaBounty's Bogus Growth Claims on GMO Salmon
Oct. 22, 2015 12:41PM EST
Food
For those of you who have read the Mary Shelley novel "Frankenstein," you remember that the name refers to the scientist Victor Frankenstein, not the monster he constructed from body parts found in the local cemetery. The story has captured the public's imagination for nearly 200 years, and "franken" has become a common prefix—and a pejorative—for genetically modified organisms (GMOs), which are made with cut-and-pasted genetic material from different species of plants, animals and microorganisms.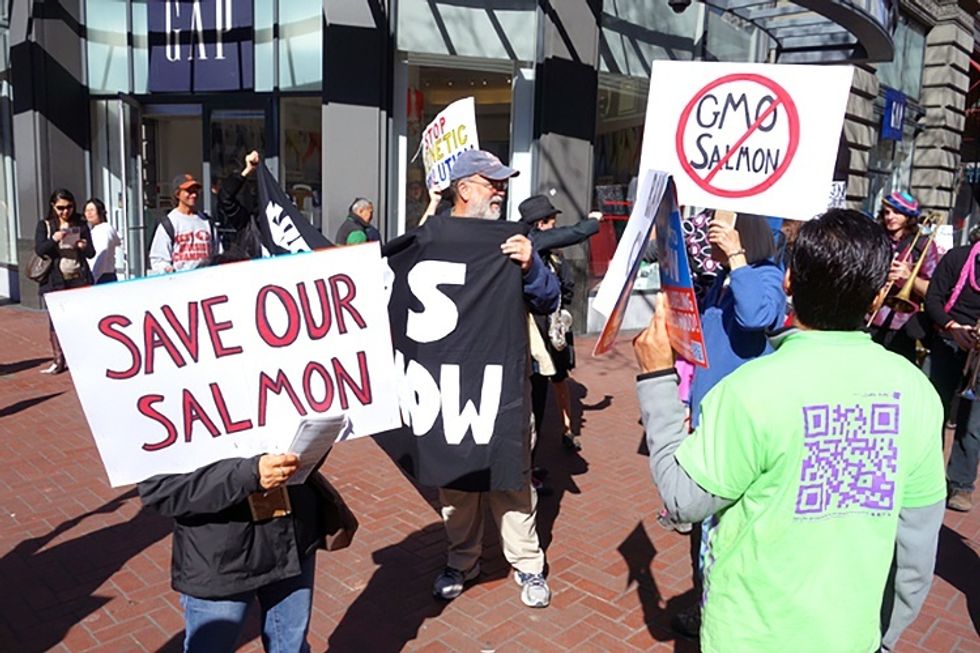 GMO salmon is an Atlantic salmon whose DNA has been re-engineered with a "growth-hormone gene construct" made from genetic material of other fish. Photo credit: Steve Rhodes / Flickr
GMO salmon—or franken-fish, as it is sometimes called—is an Atlantic salmon whose DNA has been re-engineered with a "growth-hormone gene construct" made from genetic material of other fish. One of these fish, the ocean pout, is only as closely related to Atlantic salmon, taxonomically speaking, as a human is related to a porcupine or a platypus. This recombination of genetic material would never happen in nature.
Beyond being designed and engineered by humans and created in a laboratory, GMO salmon and Frankenstein's monster may also share another defining feature—larger-than-normal proportions. AquaBounty Technologies, the company behind GMO salmon, has always insisted that its fish grow much faster than normal Atlantic salmon—but not larger. This is one of the most frequent claims the company makes—to journalists and even to financial regulators at the Securities Exchange Commission.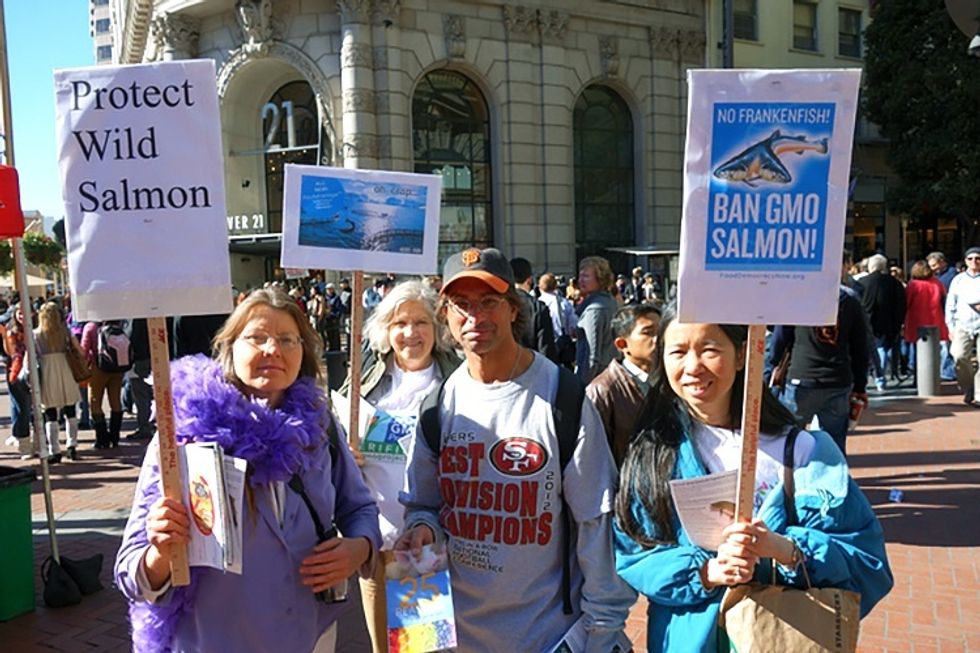 Protest march opposing FDA approval of GMO salmon, Market Street, San Francisco, Feb. 9, 2013. Photo credit: Steve Rhodes / Flickr
But, according to a recently released scientific review from the Canadian government, AquaBounty doesn't have a shred of evidence supporting this claim. This is more than a little odd because AquaBounty calls GMO salmon the "most studied fish in the world."
If it turns out that GMO salmon do grow larger than normal salmon, it would almost certainly provoke even further consumer opposition to the fish while also compromising the company's pending risk assessment with the FDA. As Canadian government scientists note, a larger-than-normal Atlantic salmon would be able to eat larger-than-normal prey fish, and this expanded diet could expand the environmental impact of escaped GMO salmon.
Other important risk-assessment questions also emerge: What happens to the health of a GMO salmon that reaches ever-large proportions? What happens to the nutritional content of the fish for consumers? What happens to the hormone levels of this fish, which is engineered with a growth-hormone gene construct?
Again, we don't know if GMO salmon do grow larger than normal salmon, but given AquaBounty's track record of questionable claims, it needs to be checked out. The company's claims about GMO salmon's fast growth-rate have turned out to be bogus, as the preponderance of evidence indicates GMO salmon probably grow slower than conventional farmed salmon. Likewise, the company has long trumpeted its safe, biosecure production of GMO salmon, but independent sleuthing has revealed "lost" salmon, a major accidental disease outbreak and a $9,500 fine for failing to comply with environmental regulations.
If approved by the FDA, AquaBounty's salmon will be the first GMO animal to enter the food supply anywhere in the world, so it's scary to realize how little the world knows about the basic biology of this fish—a situation that is unlikely to be addressed if the FDA continues to ignore its role as a science-based regulator.
While there are sizable gaps in what we know about this fish, there is still plenty of evidence showing that AquaBounty's salmon is totally unnecessary for our food system, presenting substantial risks to the environment and consumers but no benefits.
EcoWatch initially posted this blog with numerous editorial changes not authorized by the author. We deeply regret the error and have restored the blog to its initial content.
YOU MIGHT ALSO LIKE
3 Companies Say 'No' to GMO Arctic Apples
28 Most Inspiring Urban Agriculture Projects Around the World
86 Food Products Contain Possible Cancer-Causing Additive
Lawsuits Mount Against Monsanto's 'Cancer-Causing' Weedkiller
EcoWatch Daily Newsletter
A pangolin at a rescue center in Cambodia. Rhett A. Butler / Mongabay
A man carries plastic shopping bags in Times Square on May 5, 2018 in New York City. Kena Betancur / VIEWpress / Corbis / Getty Images
White gold man-made diamond solitaire engagement ring. Clean Origin
While keeping track of the new trends in the diamond industry can be hard, it is still an essential task of any savvy consumer or industry observer. Whether you are looking to catch a deal on your next diamond purchase or researching the pros and cons of an investment within the diamond industry, keeping up with the trends is imperative.
Rep. Alexandria Ocasio-Cortez (D-NY) (C) chants with housing and environmental advocates before a news conference to introduce legislation to transform public housing as part of her Green New Deal outside the U.S. Capitol Nov. 14, 2019 in Washington, DC. Chip Somodevilla / Getty Images
Rep. Alexandria Ocasio-Cortez (D-N.Y.) took to the floor of the House of Representatives yesterday to chide Republicans for not reading the Green New Deal, which she introduced over one year ago, as The Hill reported. She then read the entire 14-page document into the congressional record.
Anti Ivan Duque's demonstrator is seen holding a placard with the photos of social leader Alirio Sánchez Sánchez and the indigenous Hector Janer Latín, both killed in Cauca, Colombia during a protest against Ivan Duque visit in London which included a meeting about fracking, environmental issues, the peace process implementation, and questioning the risk that social leaders in Colombia face. Andres Pantoja / SOPA Images / LightRocket / Getty Images
Colombia was the most dangerous nation in 2019 to be an environmental activist and experts suspect that conditions will only get worse.