This website uses cookies to ensure you get the best experience while browsing it. By clicking 'Got It' you're accepting these terms.
Students Demand Aramark Serve Sustainably Caught Tuna
May. 19, 2015 10:49AM EST
Linda Xiong is a student at the University of Minnesota, Twin Cities.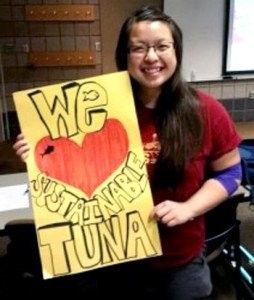 I remember the first time I saw a sea turtle. It was at an exhibit but it was still the most beautiful creature that I have ever seen. Obviously, it was love at first sight. Through my love for this animal, I developed a passion for the ocean and have done all that I can to learn about the oceans. I care about conserving the ocean because I believe that it is the foundation of life. Without healthy oceans, how long will we humans live? I also believe that the negative human impacts on Earth can be reversed. Aramark and its unsustainable tuna, is a prime example of how we can still change and preserve the quality of our oceans.
Despite its sustainable seafood commitments, Aramark, one of the most popular food service companies in the U.S., serves unsustainably caught tuna. Tuna caught with Fish Aggregating Devices (FADs) results in high levels of bycatch—killing precious marine life such as sea turtles, dolphins, whales, rays, sharks and much more. Aramark prides itself on serving more than 600 college campuses and many more K-12 schools nationwide, and many are purchasing and eating this without a second thought. This is a large number of people right? Now imagine that amount of unsustainable tuna that they consume daily. If people knew the truth, things would change quickly. And unless we intervene, ocean destruction will continue. As an environmental conservation student, I cannot stand by and watch.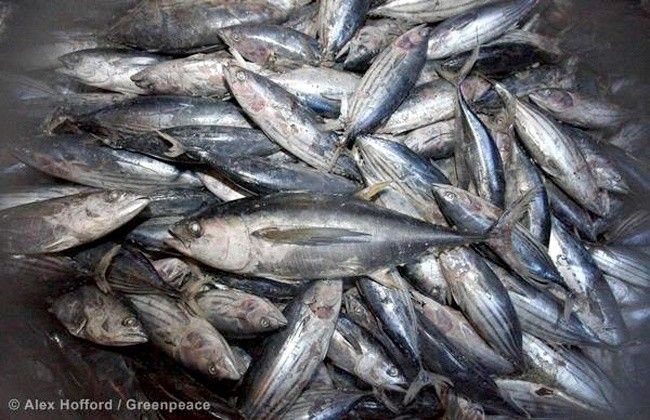 Unsustainable fishing is also linked to some of the most horrifying human rights abuses in the fishing industry, through common practices like transshipment at sea. Recently, the Associated Press broke a story revealing workers from countries such as Thailand, Indonesia and Myanmar, are being forced to work 20-22 hours a day for little or no pay and without drinking water. Can you imagine being forced to work in such conditions? By continuing to purchase unsustainable tuna from Aramark, we are not only directly supporting reckless and destructive commercial fishing, but there's also a possibility that the way this tuna is caught is leading to human rights abuses.
This is a global problem with a local solution. Students across the country can send a clear message to Aramark: we won't tolerate unsustainably caught tuna in our dining halls. Aramark must serve sustainably caught tuna, meaning pole-and-line caught or free school (FAD-free) caught skipjack tuna or pole-and-line caught albacore tuna. Aramark must also join a growing number of companies, governments and non-profit organizations to address human rights abuses in the fishing industry. As students across the U.S., we have a strong voice and an even stronger one if we unite.
If you're part of a student group, we need your help. Whether in elementary, middle, high school or college, please sign on to this letter demanding Aramark switch to sustainably caught tuna. We must act now and let Aramark know that we care and demand change. Keep fighting the good fight and let us unite and change the future for the better.
YOU MIGHT ALSO LIKE
16 Popular Seafood Choices You Should Avoid Eating
NASA's Time Lapse Video Shows Humanity's Impact on the Earth
U.S. Honeybee Population Plummets by More Than 40%, USDA Finds
EcoWatch Daily Newsletter
Smog over Los Angeles. Westend61 / Getty Images
After four decades of improving air quality, the U.S. has started to take a step backwards, as the number of polluted days has ticked upwards over the last two years, the Associated Press reported.
Photobos / iStock / Getty Images
Governors in Vermont and Maine signed bills on Monday that will ban plastic bags in their states next year, The Hill reported.
The Maine ban will go into effect next Earth Day, April 22, 2020. The Vermont ban, which extends beyond plastic bags and is the most comprehensive plastics ban so far, will go into effect in July 2020. The wait time is designed to give businesses time to adjust to the ban.
picture-alliance / AP Images / D. Goldman
By Daniel Moattar
Eastern Kentucky's hills are interrupted by jarring flats of bare rock: the aftermath of mountaintop removal mining, which uses explosives to destroy and harvest coal-rich peaks.
By Molly Taft
Lisa Marshall isn't your typical activist. For one thing, she's not into crowds. "I don't really like rallies," Marshall, a mom of three from upstate New York, said. "They're a little stressful — not my favorite thing."

An oil drilling site in a residential area of Los Angeles, California on July 16, 2014.
Faces of Fracking / Flickr
By Jake Johnson
A comprehensive analysis of nearly 1,500 scientific studies, government reports, and media stories on the consequences of fracking released Wednesday found that the evidence overwhelmingly shows the drilling method poses a profound threat to public health and the climate.

sonsam / iStock / Getty Images
By Grace Francese
A new Environmental Working Group (EWG) study published in Environmental Research found that nitrate, one of the most common contaminants of drinking water, may cause up to 12,594 cases of cancer per year, but that's not its only danger: It can pose unique health risks to children.
Melt water from Everest's Khumbu glacier. Ed Giles / Getty Images
EPA Administrator Andrew Wheeler signs his replacement for the Clean Power Plan. Win McNamee / Getty Images