This website uses cookies to ensure you get the best experience while browsing it. By clicking 'Got It' you're accepting these terms.
Students Demand Aramark Serve Sustainably Caught Tuna
May. 19, 2015 10:49AM EST
Linda Xiong is a student at the University of Minnesota, Twin Cities.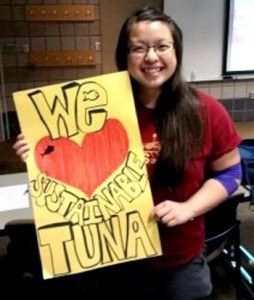 I remember the first time I saw a sea turtle. It was at an exhibit but it was still the most beautiful creature that I have ever seen. Obviously, it was love at first sight. Through my love for this animal, I developed a passion for the ocean and have done all that I can to learn about the oceans. I care about conserving the ocean because I believe that it is the foundation of life. Without healthy oceans, how long will we humans live? I also believe that the negative human impacts on Earth can be reversed. Aramark and its unsustainable tuna, is a prime example of how we can still change and preserve the quality of our oceans.
Despite its sustainable seafood commitments, Aramark, one of the most popular food service companies in the U.S., serves unsustainably caught tuna. Tuna caught with Fish Aggregating Devices (FADs) results in high levels of bycatch—killing precious marine life such as sea turtles, dolphins, whales, rays, sharks and much more. Aramark prides itself on serving more than 600 college campuses and many more K-12 schools nationwide, and many are purchasing and eating this without a second thought. This is a large number of people right? Now imagine that amount of unsustainable tuna that they consume daily. If people knew the truth, things would change quickly. And unless we intervene, ocean destruction will continue. As an environmental conservation student, I cannot stand by and watch.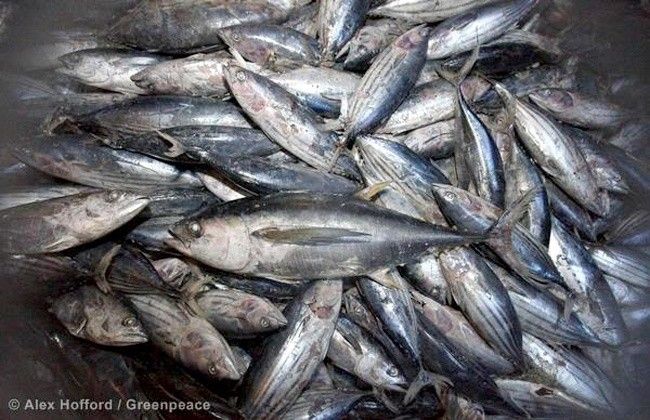 Unsustainable fishing is also linked to some of the most horrifying human rights abuses in the fishing industry, through common practices like transshipment at sea. Recently, the Associated Press broke a story revealing workers from countries such as Thailand, Indonesia and Myanmar, are being forced to work 20-22 hours a day for little or no pay and without drinking water. Can you imagine being forced to work in such conditions? By continuing to purchase unsustainable tuna from Aramark, we are not only directly supporting reckless and destructive commercial fishing, but there's also a possibility that the way this tuna is caught is leading to human rights abuses.
This is a global problem with a local solution. Students across the country can send a clear message to Aramark: we won't tolerate unsustainably caught tuna in our dining halls. Aramark must serve sustainably caught tuna, meaning pole-and-line caught or free school (FAD-free) caught skipjack tuna or pole-and-line caught albacore tuna. Aramark must also join a growing number of companies, governments and non-profit organizations to address human rights abuses in the fishing industry. As students across the U.S., we have a strong voice and an even stronger one if we unite.
If you're part of a student group, we need your help. Whether in elementary, middle, high school or college, please sign on to this letter demanding Aramark switch to sustainably caught tuna. We must act now and let Aramark know that we care and demand change. Keep fighting the good fight and let us unite and change the future for the better.
YOU MIGHT ALSO LIKE
16 Popular Seafood Choices You Should Avoid Eating
NASA's Time Lapse Video Shows Humanity's Impact on the Earth
U.S. Honeybee Population Plummets by More Than 40%, USDA Finds
EcoWatch Daily Newsletter
A vegan diet can improve your health, but experts say it's important to keep track of nutrients and protein. Getty Images
By Dan Gray
Research shows that 16 weeks of a vegan diet can boost the gut microbiome, helping with weight loss and overall health.
A healthy microbiome is a diverse microbiome. A plant-based diet is the best way to achieve this.
It isn't necessary to opt for a strictly vegan diet, but it's beneficial to limit meat intake.
New research shows that following a vegan diet for about 4 months can boost your gut microbiome. In turn, that can lead to improvements in body weight and blood sugar management.
Students gathered at the National Mall in Washington DC, Sept. 20. NRDC
By Jeff Turrentine
Nearly 20 years have passed since the journalist Malcolm Gladwell popularized the term tipping point, in his best-selling book of the same name. The phrase denotes the moment that a certain idea, behavior, or practice catches on exponentially and gains widespread currency throughout a culture. Having transcended its roots in sociological theory, the tipping point is now part of our everyday vernacular. We use it in scientific contexts to describe, for instance, the climatological point of no return that we'll hit if we allow average global temperatures to rise more than 2 degrees Celsius above preindustrial levels. But we also use it to describe everything from resistance movements to the disenchantment of hockey fans when their team is on a losing streak.
samael334 / iStock / Getty Images
Berries are small, soft, round fruit of various colors — mainly blue, red, or purple.
A glacier is seen in the Kenai Mountains on Sept. 6, near Primrose, Alaska. Scientists from the U.S. Geological Survey have been studying the glaciers in the area since 1966 and their studies show that the warming climate has resulted in sustained glacial mass loss as melting outpaced the accumulation of new snow and ice. Joe Raedle / Getty Images
By Mark Mancini
On Aug. 18, Iceland held a funeral for the first glacier lost to climate change. The deceased party was Okjökull, a historic body of ice that covered 14.6 square miles (38 square kilometers) in the Icelandic Highlands at the turn of the 20th century. But its glory days are long gone. In 2014, having dwindled to less than 1/15 its former size, Okjökull lost its status as an official glacier.
Members of Chicago Democratic Socialists of America table at the Logan Square Farmers Market on Aug. 18. Alex Schwartz
By Alex Schwartz
Among the many vendors at the Logan Square Farmers Market on Aug. 18 sat three young people peddling neither organic vegetables, gourmet cheese nor handmade crafts. Instead, they offered liberation from capitalism.
Hackney primary school students went to the Town Hall on May 24 in London after school to protest about the climate emergency. Jenny Matthews / In Pictures / Getty Images
Bird watching in the U.S. may be a lot harder than it once was, since bird populations are dropping off in droves, according to a new study.