Students: Apply for Greenpeace Semester and Work with Environmental Leaders on the Latest Issues
Jun. 28, 2012 08:05AM EST
Energy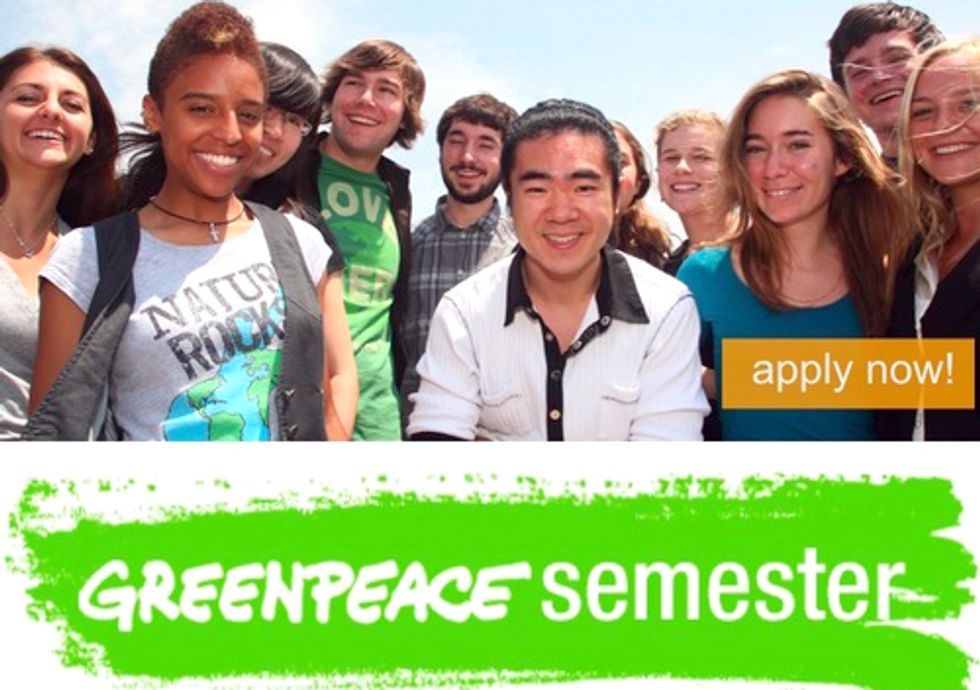 Students—The Greenpeace Semester is an incredible opportunity for you to learn what it takes to save the planet and gain experience to become environmental leaders on your campus and in your community. So much more than an internship, the program combines a series of intensive workshops in a classroom setting with hands-on project and field experience, working side-by-side with Greenpeace staff. 
You'll learn how to use grassroots organizing and strategic campaigning to win real victories for the planet. You'll learn the latest information on critical issues as you work side-by-side with experts on climate change, ocean protection, nuclear energy, forest conservation, toxic pollution and corporate abuse of the environment. The program is based at our Washington, D.C. headquarters.
More than 350 students from across the U.S. and Canada have been trained by professional activists committed to saving the planet and teaching the next generation of environmental leaders. Alumni have gone on to become leaders in the Greenpeace Student Network, work on important environmental issues on their campuses, and even start their own organizations.
We invite you to review information about the Greenpeace Semester, including training, field experience and the application process. There are a few spots left for the fall term—apply online by clicking here.
Contact us with any questions.
EcoWatch Daily Newsletter