This website uses cookies to ensure you get the best experience while browsing it. By clicking 'Got It' you're accepting these terms.
Students Applaud University of Cincinnati for Commitment to Move Beyond Coal
Apr. 25, 2014 12:39PM EST
This week the University of Cincinnati (UC)—a leader in campus sustainability—announced that it plans to completely replace coal as a fuel for electricity within the year. The university currently uses 90 percent less coal to power its campus than it did in 2011. The administration's motivation for the change came from a student movement, part of the Sierra Student Coalition (SSC), which called for safer, cleaner energy sources and leveraged energy savings opportunities provided by Ohio's energy efficiency laws.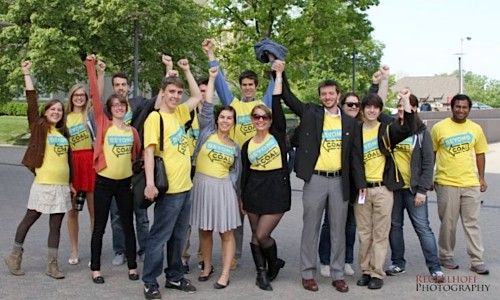 "We believe that universities have an obligation to provide clean energy and a safe climate future to their students," said Morgan Billingsley, a student leader from the campaign. "The university's recent announcement is a strong reminder of the change that students can create and is a shining example of the abundant opportunities for clean energy and energy savings that exist in Ohio."
Starting in 2011, UC students joined the national SSC movement to protect public health and the climate by retiring the more than 60 on-campus coal plants. So far, more than one-third of all on-campus coal plants have set retirement dates. UC students organized large-scale events, including a flash mob that formed into a giant wind turbine in front of the office of former UC President Greg Williams, ultimately delivering more than 3,000 petitions and close to 60 handwritten letters calling for a move to cleaner sources of energy.
"Today we applaud President Santa Ono for responding to student interests in energy efficiency, and now we look forward to the type of leadership that finally begins to bring renewables like wind, solar, or geothermal into the mix," said former student president Alan Hagerty, who fully supported the change during his term in 2011-2012. "These are measures that will help curb climate disruption, stabilize tuition costs and keep our community healthy."
Ohio's energy efficiency law provided an important catalyst behind the university's ability to act on students' concerns. Despite record-setting enrollment rates, total energy use in 2013 on campus was down from the previous year, continuing a three-year trend. Using incentive programs offered by Duke Energy Ohio, UC is able to avoid more than $4.5 million in electricity costs each year.
"The University of Cincinnati's leadership shows the benefits of harnessing Ohio's money-saving energy efficiency law," said Dan Sawmiller, campaign representative for the Sierra Club's Ohio Beyond Coal campaign. "UC is a great example of how successful this law has been in helping to save money while making Ohio a cleaner, safer place to live."
This week, Washington University students enter the third week of their historic sit-in in protest of the university's connection with Peabody Energy, a St. Louis-based coal giant. Check out the slideshow below for a glimpse into the ongoing protest:
[blackoutgallery id="331707"]
--------
YOU MIGHT ALSO LIKE
Paul Smith's College and Cornell University Launch New Initiative to Connect People and Planet
Students Rally for Fossil Fuel Divestment at Ohio State University
93 Members of Harvard Faculty Call on University to Divest From Fossil Fuels 
--------
EcoWatch Daily Newsletter
Colombia rainforest. Marcel Oosterwijk / CC BY-SA 2.0
Many of us think of the Amazon as an untouched wilderness, but people have been thriving in these diverse environments for millennia. Due to this long history, the knowledge that Indigenous and forest communities pass between generations about plants, animals and forest ecology is incredibly rich and detailed and easily dwarfs that of any expert.
picture-alliance / Newscom / R. Ben Ari
By Wesley Rahn
Plastic byproducts were found in 97 percent of blood and urine samples from 2,500 children tested between 2014 and 2017, according to a study by the German Environment Ministry and the Robert Koch Institute.

Pexels
Medically reviewed by Daniel Bubnis, MS, NASM-CPT, NASE Level II-CSS
Hot yoga has become a popular exercise in recent years. It offers many of the same benefits as traditional yoga, such as stress reduction, improved strength, and flexibility.
Lara Hata / iStock / Getty Images
By SaVanna Shoemaker, MS, RDN, LD
Rice is a staple in many people's diets. It's filling, inexpensive, and a great mild-tasting addition to flavorful dishes.
An image of the trans-alaskan oil pipeline that carries oil from the northern part of Alaska all the way to valdez. This shot is right near the arctic national wildlife refuge. kyletperry / iStock / Getty Images Plus
The Trump administration has initialized the final steps to open up nearly 1.6 million acres of the protected Alaskan National Wildlife Refuge to allow oil and gas drilling.
Kaboompics / Pexels
Tensions between lawmakers and several large manufacturing companies came to a head on Capitol Hill this week during a hearing on toxic fluorochemicals in U.S. drinking water.