Students Across America Demand Climate Action Oct. 2
Sep. 28, 2015 11:19AM EST
Climate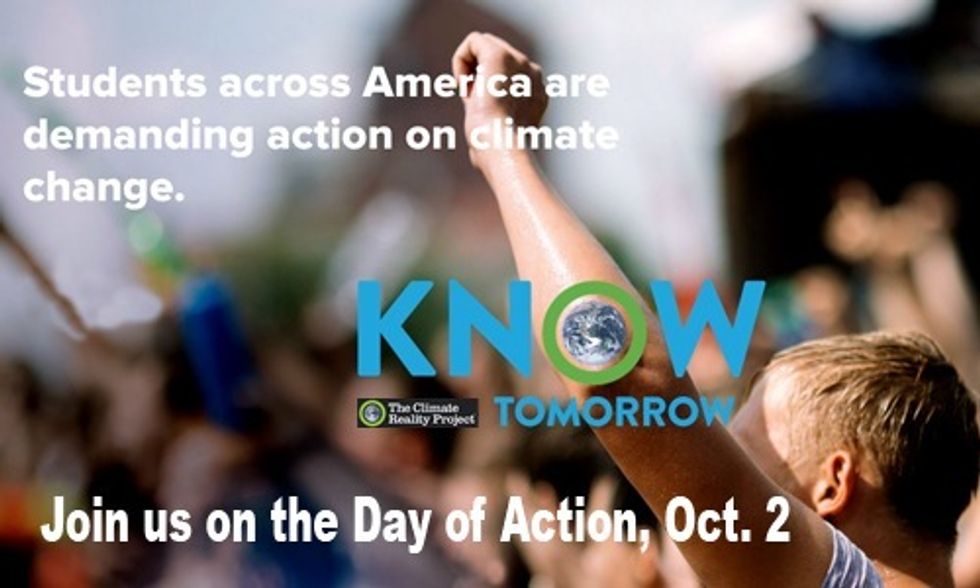 The Climate Reality Project and Cool Globes launched KNOW TOMORROW, an effort that unites and amplifies thousands of students, activists, politicians and celebrities across the country demanding climate action. A key component is a National Campus Day of Action on Oct. 2, which will help focus and leverage existing millennial support for climate action at the state level with the Clean Power Plan and internationally in the lead up to the COP21 climate negotiations in Paris.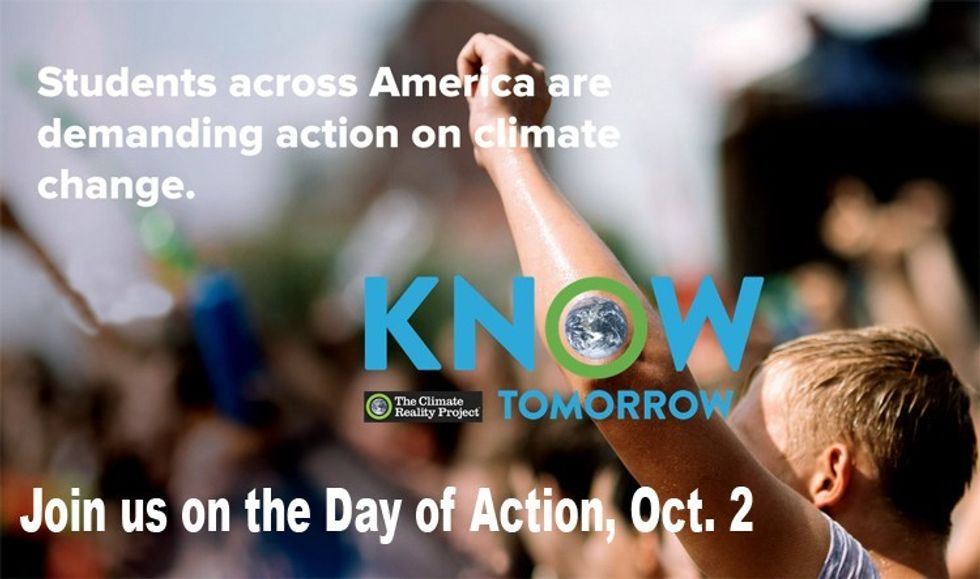 "We want the world to hear the voices of students demanding action on climate change," said Tulane University student Lauren Curry. "This isn't an issue about our children or grandchildren, this is about OUR generation—and we want to ensure a better tomorrow."
KNOW TOMORROW focuses existing student efforts and synchronize the millennials' voices already demanding action on climate change. This effort helps students recruit their peers and add their voices to the hundreds of thousands worldwide demanding strong emissions reductions commitments from their leaders at the Paris climate negotiations.
Student leaders are organizing on more than 50 campuses across the country that are critical for the implementation of the Clean Power Plan, including states that will hold political significance leading up to the 2016 presidential election.
Campus events include:
Former Vice President & Climate Reality Chairman Al Gore will speak to students at Stanford University

An afternoon of live music and speakers in the Boston Common

All-day programming at Pomona College, including an eco-fair showcasing dozens of environmental groups and speakers on the subject of climate change

A second-line jazz procession in New Orleans, hosted by students at Tulane University

A 5k "Run Like There's No Tomorrow" race in Washington, DC, with students from Georgetown University and George Washington University

A "Don't Let It Melt!"-themed Ice Cream Social at University of Dayton
KNOW TOMORROW not only has the support of students, professors, faculty and activists, but celebrities have weighed in to lend their support as well. Shepard Fairey is designing campus posters and musical artists—including Common, My Morning Jacket and Train, who appeared in the video below to promote the campaign. Environmental leaders such as Robert F. Kennedy, Jr. will speak on campuses, and dozens of other celebrities will lend their help via social media.
"Support for climate action is building around the world – but we can do very little without the millennial generation," said Climate Reality President & CEO Ken Berlin. "Young people, and especially students, bring an unmatched enthusiasm to their activism—they want a say in the future of the world they will inherit. Through this new effort, we hope to empower passionate millennials with the tools they need to help solve the climate crisis."
"It's inspiring to see so many young people champion this cause and take ownership over the future of our planet," said Founder of Cool Globes and KNOW TOMORROW Wendy Abrams. "A lot has changed over the past decade and I think we're finally hitting a tipping point with the movement. Our kids know what climate change means and they know what tomorrow holds if they don't take action now."
Climate Reality and Cool Globes' partners in this effort include Defend Our Future, Earth Guardians, Farm-Aid, 350.org, Sierra Club, NRDC, Generation Progress, Live Earth, Next Gen Climate, OurTime.org, Grammy Museum, Climate Central, Participant Media, Ian Somerhalder Foundation, Ben and Jerry's, Vita Coco, Kind Bars, Solar City, Climate Action Campaign, White House Council on Environmental Quality, Goldman Sachs and Waterkeeper Alliance.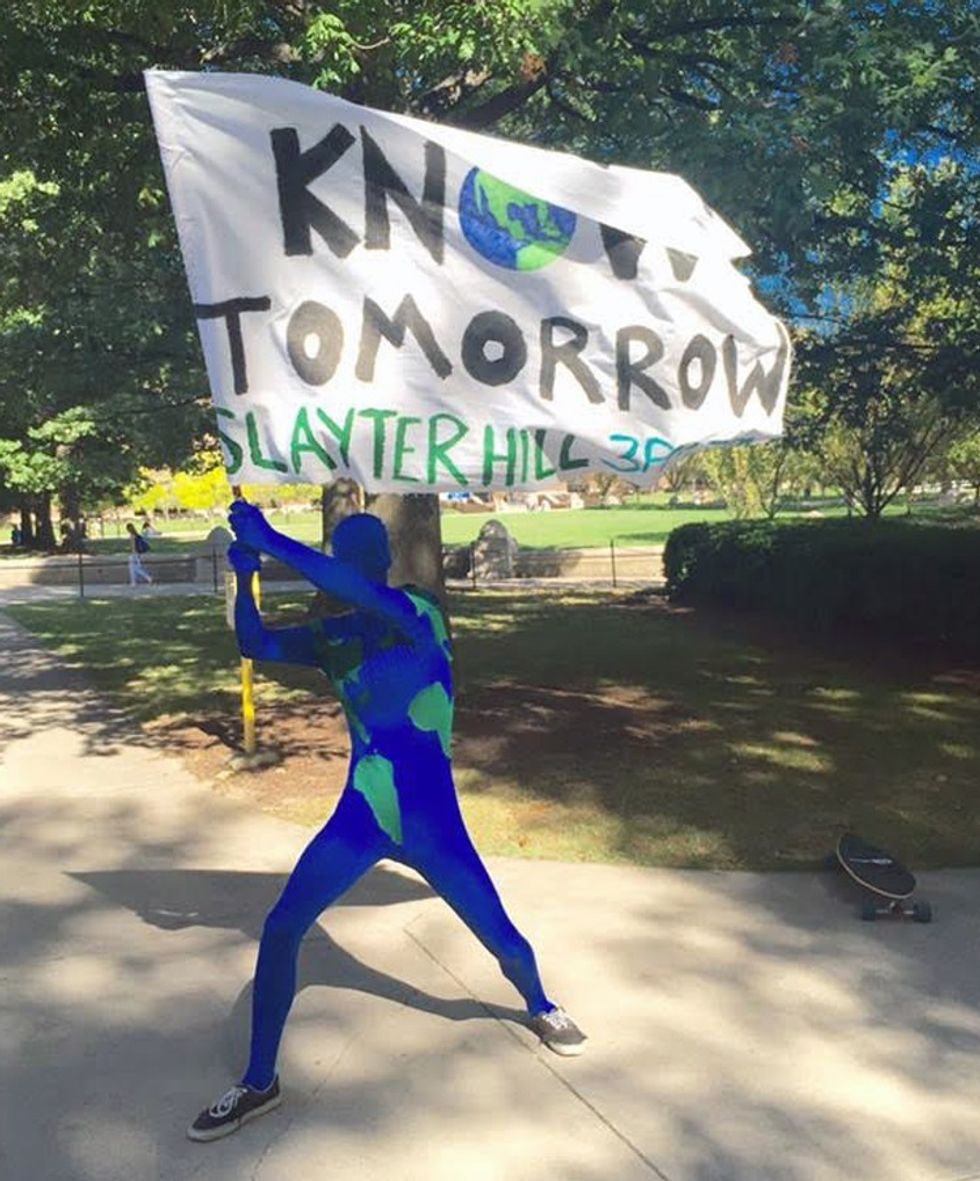 KNOW TOMORROW will also help millennials add their voices to a number of other Climate Reality campaigns: student leaders will play key roles in the U.S. effort for the Road to Paris campaign, Climate Reality Leadership Corps trainings and 24 Hours of Reality: the World is Watching.
Universities with a KNOW TOMORROW presence include: Amherst College, Bates College, Boston College, Boston University, Brown University, Claremont Consortium of Colleges, Claremont McKenna College, Harvey Mudd College, Pitzer College, Pomona College, Scripps College, Colorado State University, Dartmouth College, DePaul University, Duquesne University, Florida International University, George Washington University, Georgetown University, Harvard University, Iowa State University, Kansas State, Loyola University Chicago, Michigan State University, Middlebury College, Morgan State University, New York University, North Carolina State University, Northwestern University, Ohio University, Pennsylvania State University, Plymouth University, Purdue University, Stanford University, Texas A&M University, Tufts University, Tulane University, University of California-Los Angeles, University of California-Irvine, University of Chicago, University of Colorado-Boulder, University of Georgia, University of Illinois-Chicago, University of Illinois-Urbana-Champaign, University of Iowa, University of Massachusetts-Amherst, University of Miami, University of Michigan, University of Nebraska - Lincoln, University of North Carolina-Chapel Hill, University of Notre Dame, University of Pennsylvania, University of Southern California, University of South Carolina, University of Texas-Austin, University of Texas-San Antonio, University of Vermont, University of Virginia, University of Washington, Vanderbilt University and Yale University.
YOU MIGHT ALSO LIKE
Shell Abandons Arctic Drilling Following 'Disappointing' Results
5 Next Steps in the War Against Monsanto and Big Food
20 Best Ways to #SaveThePlanetIn4Words
Robert F. Kennedy Jr: Pope's Call to Tackle Climate Change 'Is a Moral Imperative'
EcoWatch Daily Newsletter