Student Activists Arrested at Michigan State University
Oct. 21, 2011 08:57AM EST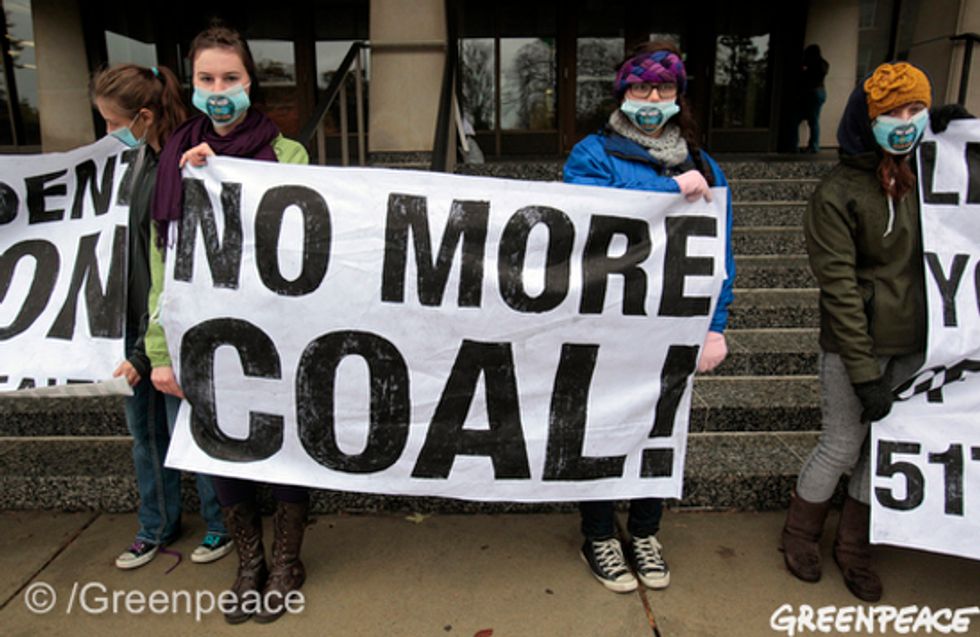 Seven student activists marched into President Lou Anna K. Simon's office at the Hannah Administration building at Michigan State University to ask for a transition to 100 percent clean energy. Activists walked in wearing Greenpeace Quit Coal t-shirts and surgical masks to display the health risks of burning coal. Student activist Adam Liter read a list of demands and grievances on behalf of MSU students in response to the administration's inability to move toward 100 percent clean energy.
"Over the last two years, the university has met our demands for clean energy with indifference. So today, I am risking arrest to show how serious we are. The university must protect the health of its students, and set us on a path to 100 percent clean energy. We deserve clean air, respect from the administration and a voice in our future," said Liter.
The protest came after two years of attempting to work with MSU's administration to transition the campus from burning coal to 100 percent clean energy.
Michigan State University has the largest on-campus coal plant in the nation. The energy supplied by the plant only powers the campus, but its pollution spews out into the community of East Lansing, and far beyond. Incidences of asthma, sudden infant death syndrome, lung disease and emphysema are drastically higher in areas near coal-fired power plants. Coal pollution causes 31 deaths annually in East Lansing. Not only are there serious immediate health risks, but coal pollution is also the single greatest contributor to climate change in the U.S.
"Coal is harmful to our environment and us, but not everyone knows. I think it is important to raise awareness of the problem so it can be fixed and the damaging effects of coal can be stopped," said student activist Kendra Majewski, from inside President Simon's office.
Since the beginning of MSU Greenpeace's Quit Coal campaign two years ago, students have gathered petitions, rallied, marched, met with the administration and brought clean energy experts to campus to meet with physical plant engineers. However, the administration still refuses to have a sincere conversation about transitioning to clean energy. Students are frustrated and ashamed by the lack of responsibility the administration has taken. They are demanding that the administration quit coal and commit to an ambitious timeline for the university to transition to 100 percent clean energy.
Sixty students participated in a dance flash mob and rally Oct. 19 in front of the administration building. Students returned the following day to show that they're going to keep demanding health for their fellow students and community until the administration agrees to quit coal. These actions were performed in solidarity with hundreds of other campuses across the nation for the month of October's 100 actions for 100 percent clean energy.
For more information, click here.
EcoWatch Daily Newsletter
Related Articles from EcoWatch