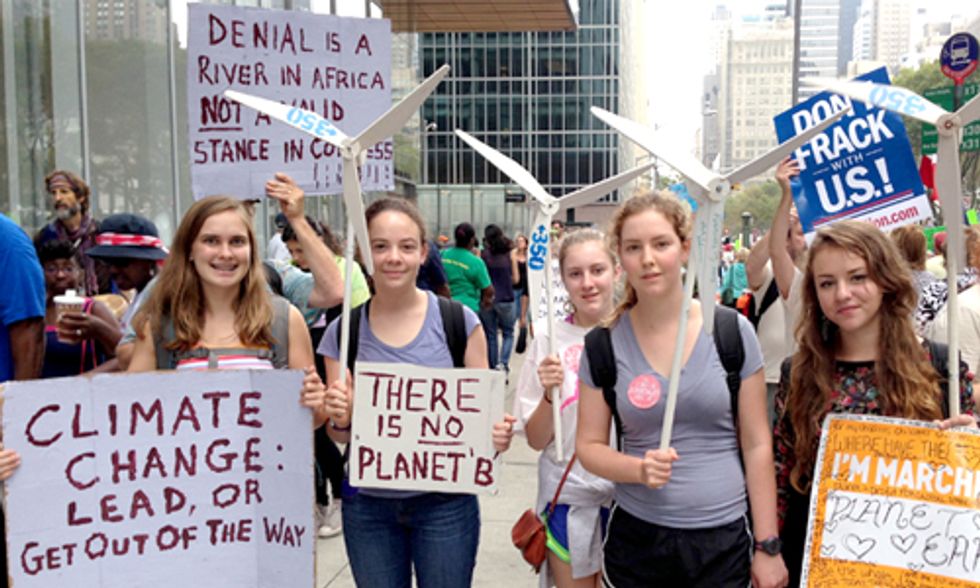 Danica Schaffer-Smith is a PhD student at the Nicholas School of the Environment at Duke University. Schaffer-Smith is interested in global change ecology, natural resource management and geospatial analysis. Her dissertation research focuses on describing the extent and variability of inland surface waters used by migratory shorebirds in California over approximately 30 years.
Aashay Patel is an undergraduate student at UNC Chapel Hill.
Ariana Nicholson is a senior high school student at the Carolina Friends School in Durham.
An eerie silence suddenly encompassed the entire Upper West side of Manhattan. With our hands raised in the air, the only thing we could hear was the sound of the helicopter's wings beating the air above us. As the clock struck one, a distant roar could be heard from what felt like miles behind us. The wave of sound from the roar began to get louder and louder when finally, we all joined in screeching and hollering, ending the moment of silence by sounding an alarm to the world.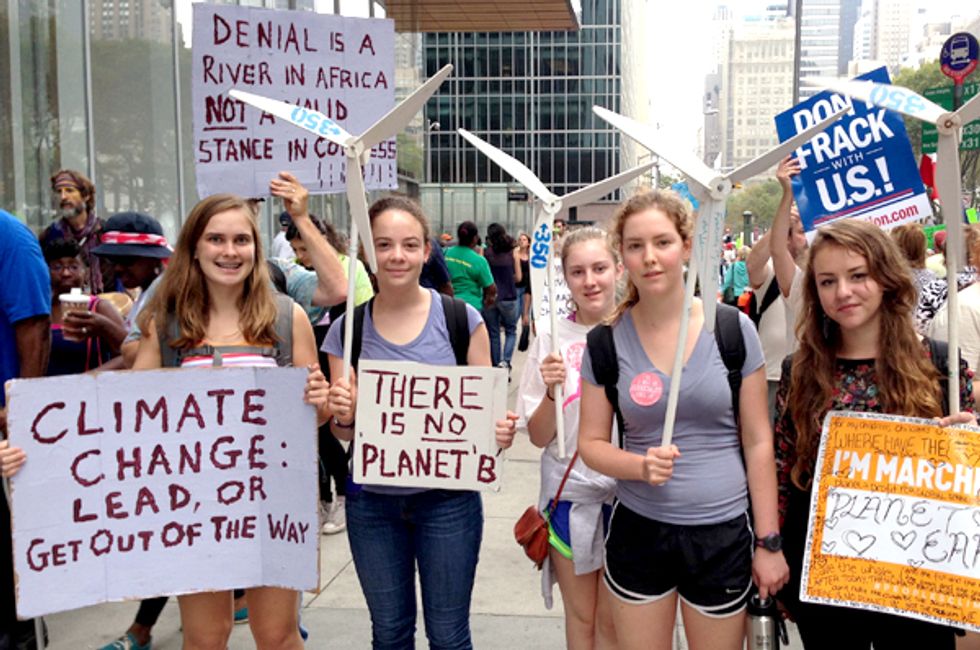 We made the long journey from North Carolina to New York City to show that we refuse to tolerate this any longer, putting aside homework, sleep and social opportunities. We are the generation that has never seen a world at average global temperatures. We are the generation that will lose the most to catastrophic climate disruption, and it's time we had a voice in what our world decides to do about it.
It can sometimes feel like we, as committed environmentalists, are in the minority and that the cause is hopeless—but the People's Climate March made it clear that climate change is a mainstream issue. We stood as 400,000 people united for one cause. The combination of big businesses sustaining the fossil fuel industry and the laissez-faire attitude of the world's governments has gone on for far too long.
This isn't just about polar bears—it is about all of us and represents one of the major social justice issues of our time. People right here in North Carolina are directly affected by negative impacts from fossil fuel extraction (remember the Duke Energy coal ash spill?). Rising sea levels due to climate change will also displace people from the outer banks of NC, where so many have fond memories of family vacations. It is clear that we need to change the system that is endangering our future on this planet.
The People's Climate March may be over, but this is just the beginning of making our voices heard. Hot on the heels of the march, the Rockefeller Foundation announced that it would divest its $860 million fund of fossil fuel investments. Pledges from other companies the same day has doubled the value of divestment commitments as compared to January of this year.
Things are heating up in our backyard as well. On Thursday, UNC-Chapel Hill's Board of Trustees resolved to favor clean energy investments with their $2.2 billion endowment over coal and other fossil fuels. Duke students are hopeful that UNC's initiative has made their University feel the heat. Duke too can be a leader in this movement and reflect the university's stated goals for sustainability by investing in our future. UNC has put on the full-court press and now the ball is in Duke's court.
Students working on the Divest Duke campaign have collected more than 1,500 student signatures this semester to support their petition to rid Duke University's $7 billion endowment of association with the top 200 fossil fuel companies that contribute to carbon emissions over a 5-year period. The students argue that their education should not be financed by companies that are contributing to global-scale social harms from climate change. Students submitted a proposal to Duke's Advisory Committee for Investment Responsibility (ACIR) last January. This committee supports President Richard Brodhead in making recommendations to the Board of Trustees in accordance with the Board's Guideline on Socially Responsible Investing. We anticipate a formal response to the fossil fuel divestment proposal in November. In the meantime, Duke students continue to reach out to organizations, alumni, and faculty to join their coalition.
North Carolina students will also be coming together at a Climate Justice Summit to be held in November—this will be the first intergenerational gathering of its kind in North Carolina. We can build a better future, but we all have to be at the table to do so. We hope that students and community leaders at this summit will be able to lay down building blocks for a resilient future in North Carolina.
YOU MIGHT ALSO LIKE
Students Unite to Stop Natural Gas Power Plant on Campus
Project Green Challenge: Moving From Conventional to Conscious
EcoWatch Daily Newsletter
Related Articles from EcoWatch
Recent Stories from EcoWatch