This website uses cookies to ensure you get the best experience while browsing it. By clicking 'Got It' you're accepting these terms.
Student Abandons Economics Major at George Mason Over Koch 'Donations'
May. 27, 2016 08:54AM EST
Climate
By Connor Gibson
As the Spring, 2016 semester concluded, George Mason University (GMU) sophomore Mark Hammond made a daring announcement: He ditched GMU's economics department out of concern that Kansas billionaire Charles Koch's preferences took precedence over his education.
GMU's student paper, the Fourth Estate, didn't publish Hammond's op-ed online. I am republishing Hammond's writing here, with his permission. I added references to the text myself.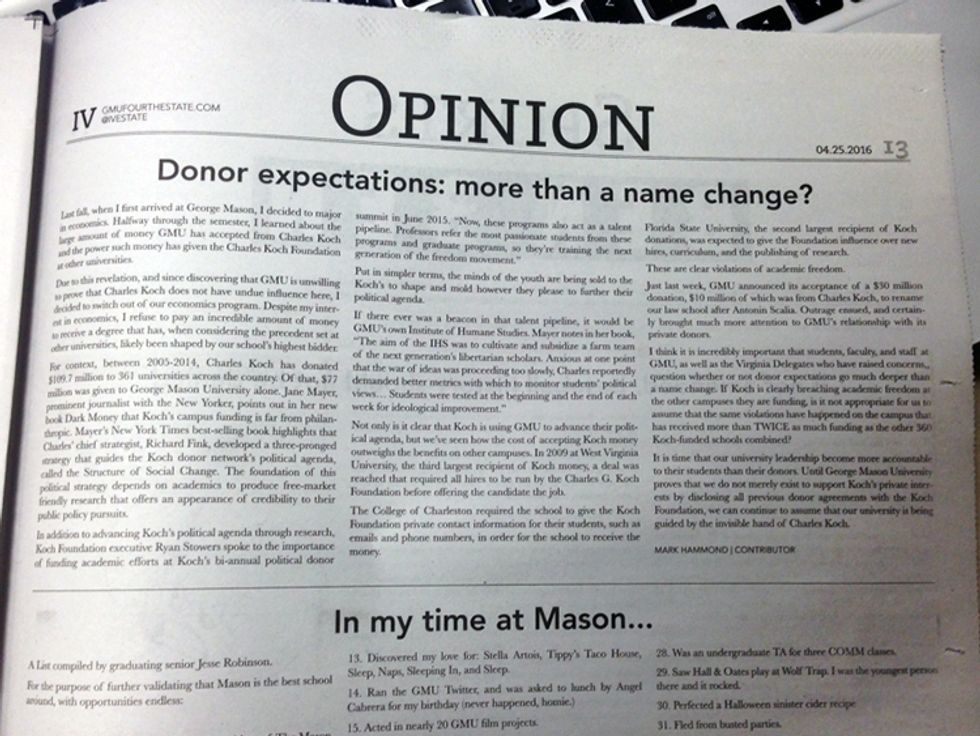 Last fall, when I first arrived at George Mason, I decided to major in economics. Halfway through the semester, I learned about the large amount of money GMU has accepted from Charles Koch and the power such money has given the Charles Koch Foundation at other universities.
Due to this revelation and since discovering that GMU is unwilling to prove that Charles Koch does not have undue influence here, I decided to switch out of our economics program. Despite my interest in economics, I refuse to pay an incredible amount of money to receive a degree that has, when considering the precedent set at other universities, likely been shaped by our school's highest bidder.
For context, between 2005-2014, Charles Koch has donated $109.7 million to 361 universities across the country. Of that, $77 million was given to George Mason University alone. Jane Mayer, prominent journalist with the New Yorker, points out in her new book Dark Money that Koch's campus funding is far from philanthropic. Mayer's New York Times best-selling book highlights that Charles' chief strategist, Richard Fink, developed a three-pronged strategy that guides the Koch donor network's political agenda, called the Structure of Social Change. The foundation of this political strategy depends on academics to produce free-market friendly research that offers an appearance of credibility to their public policy pursuits.
In addition to advancing Koch's political agenda through research, Koch Foundation executive Ryan Stowers spoke to the importance of funding academic efforts at Koch's bi-annual political donor summit in June 2015. "Now, these programs also act as a talent pipeline. Professors refer the most passionate students from these programs and graduate programs, so they're training the next generation of the freedom movement."
Put in simpler terms, the minds of the youth are being sold to the Koch's to shape and mold however they please to further their political agenda.
If there ever was a beacon in that talent pipeline, it would be GMU's own Institute of Humane Studies. Mayer notes in her book, "The aim of the IHS was to cultivate and subsidize a farm team of the next generation's libertarian scholars. Anxious at one point that the war of ideas was proceeding too slowly, Charles reportedly demanded better metrics with which to monitor students' political views … Students were tested at the beginning and the end of each week for ideological improvement."
Not only is it clear that Koch is using GMU to advance their political agenda, but we've seen how the cost of accepting Koch money outweighs the benefits on other campuses.
The College of Charleston required the school to give the Koch Foundation private contact information for their students, such as emails and phone numbers, in order for the school to receive the money.
Florida State University, the second largest recipient of Koch donations, was expected to give the Foundation influence over new hires, curriculum and the publishing of research.
These are clear violations of academic freedom.
Just last week, GMU announced its acceptance of a $30 million donation, $10 million of which was from Charles Koch, to rename our law school after Antonin Scalia. Outrage ensued and certainly brought much more attention to GMU's relationship with its private donors.
I think it is incredibly important that students, faculty and staff at GMU, as well as the Virginia Delegates who have raised concerns, question whether or not donor expectations go much deeper than a name change. If Koch is clearly breaching academic freedom at the other campuses they are funding, is it not appropriate for us to assume that the same violations have happened on the campus that has received more than twice as much funding as the other 360 Koch-funded schools combined?
It is time that our university leadership become more accountable to their students than their donors. Until George Mason University proves that we do not merely exist to support Koch's private interests by disclosing all previous donor agreements with the Koch Foundation, we can continue to assume that our university is being guided by the invisible hand of Charles Koch.
EDIT, May 31: A 2009 contract between West Virginia University and the Charles G. Koch Charitable Foundation required WVU to share credentials of final applicants for Koch-funded professorships before making job offers. The original post was unclear, reading as if Koch assumed control of all professor hiring at WVU. That is not the case, the line has been removed. I apologize for the editorial error. —Connor Gibson
YOU MIGHT ALSO LIKE
5 Things You Need to Know About Donald Trump's Pitiful Plan for the Planet
Leonardo DiCaprio Foundation Grants $650k to Accelerate Climate Change Solutions
Protesters Blockade Planned Pipeline Site Near Nuclear Plant Outside NYC
Nation's First Major Public University Fully Divests From Fossil Fuels
EcoWatch Daily Newsletter
Coldplay is releasing a new album on Friday, but the release will not be followed by a world tour.
Ash dieback is seen infecting a European ash (Fraxinus excelsior) in Bottomcraig, Scotland, UK on Aug. 10, 2016.
nz_willowherb / Flickr
Scientists have discovered a genetic basis to resistance against ash tree dieback, a devastating fungal infection that is predicted to kill over half of the ash trees in the region, and it could open up new possibilities to save the species.
Truth in Action is a day-long global conversation on the climate crisis and how we solve it. The Climate Reality Project
Former Vice President Al Gore kicked off 24 hours of climate talks in the U.S. and 77 other countries around the world Wednesday night.
Activists highlighted the climate emergency outside Scottish Government headquarters at St Andrew's House in Edinburgh on Oct. 13, 2017. Usage of the term "climate emergency" spiked in 2019, according to Oxford Dictionaries.
By Jessica Corbett
Climate advocates and experts celebrated Oxford Dictionaries' announcement Wednesday that "climate emergency" is the Oxford Word of the Year 2019.
By Kieran Cooke
There could be a way of countering one key aspect of the climate emergency by making much greater use of a widely-available plant: bamboo building.