This website uses cookies to ensure you get the best experience while browsing it. By clicking 'Got It' you're accepting these terms.
Striking New Report Finds Oil Trains Put 25 Million Americans at Risk
Feb. 20, 2015 03:28PM EST
As officials probe the two latest explosive oil train derailments in Ontario and West Virginia, the Center for Biological Diversity released a report yesterday offering striking new details on the broad range of unchecked risks to people and the environment posed by the largely unregulated escalation in U.S. rail transport of oil.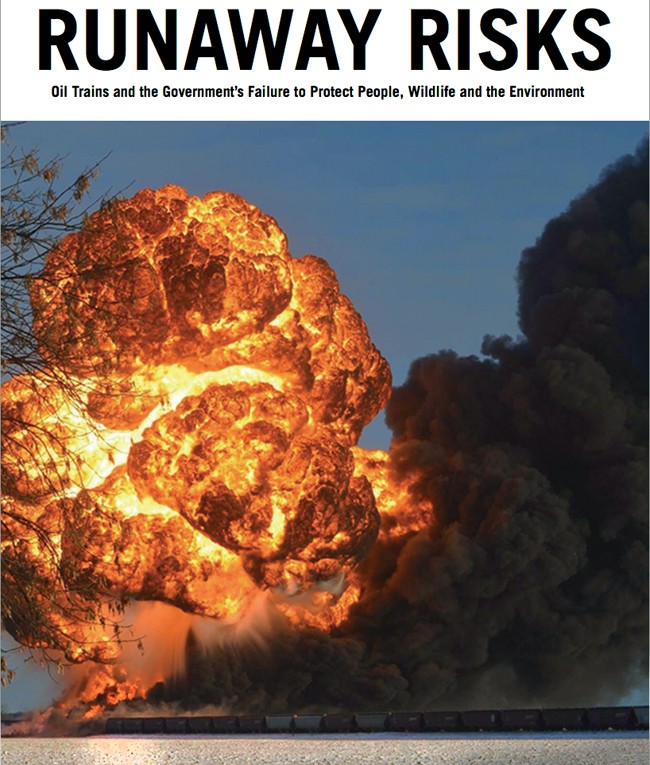 The report, Runaway Risks: Oil Trains and the Government's Failure to Protect People, Wildlife and the Environment, reveals that:
An estimated 25 million Americans live within the one-mile evacuation zone recommended by the U.S. Department of Transportation;
Oil trains routinely pass within a quarter-mile of 3,600 miles of streams and more than 73,000 square miles of lakes, wetlands and reservoirs, including the Hudson, Mississippi and Columbia rivers, the Puget Sound, Lake Champlain and Lake Michigan;
Oil trains also go through 34 national wildlife refuges and within a quarter-mile of critical habitat for 57 threatened or endangered species, including the California tiger salamander, California red-legged frog, piping plover, bull trout and several imperiled species of salmon, steelhead and sturgeon.
"As we've seen in West Virginia and Ontario, these oil trains pose a massive danger to people, wildlife and our environment, whether it's trains passing through heavily populated areas or some of our most pristine landscapes," said Jared Margolis, author of the report and an attorney for the Center for Biological Diversity who focuses on the impacts of energy development on endangered species. "The federal government has failed to provide adequate protection from these bomb trains. We clearly need a moratorium on crude-by-rail until the safety of our communities and the environment can be ensured."
The unprecedented increase in U.S. oil train traffic from fewer than 10,000 rail cars per year in 2008 to more than 400,000 in 2014 has spurred virtually no corresponding increase in safety preparedness plans, not only putting towns and cities across America in routine danger, but leaving some of the nation's most imperiled wildlife and natural areas at increased risk from a catastrophic spill. Even as the overall number of train accidents in the country has declined in recent years, the number of dangerous oil train derailments has increased—in part because the longer, heavier trains, often carrying more than 1 million gallons of oil, are more difficult to control and stop, according to rail safety accounts included in today's report.

"People, wildlife, rivers and lakes will pay a huge cost for the government's failure to act," Margolis said. "Regulators know it's only a matter of time before the next explosive oil train accident. They need to act now to protect Americans and our environment."
Among the recommendations in yesterday's report:
Immediately ban the transport of oil in the outdated DOT-111 tank cars involved in several fiery oil-train derailments in recent years.
Issue a moratorium on all crude-by-rail transport until new tank car standards can be issued that would provide design specifications to ensure that tank cars do not rupture in the event of a derailment at maximum operating speeds and include sufficient thermal protection to withstand derailments.
Amend the regulations to require comprehensive oil-spill response plan for oil trains to ensure adequate training, personnel and equipment necessary to respond to a worst-case spill scenario.
Limit the length and weight of oil trains to 30 cars per train/4,000 total tons, since DOT has acknowledged that the excessive length and weight of these trains has contributed to the increased derailments and spills in recent years, and compounds the potential significance of an oil-train disaster.
Establish speed limit zones below the puncture rating of oil tank cars (typically less than 20 mph) in all population centers, and within a quarter-mile of any body of water, critical habitat of endangered species, national wildlife refuges, national parks or other recognized special areas.
Some are using the West Virginia accident to argue that shipping oil through pipelines like Keystone XL would be a safer option, but the reality is that pipelines too are far from safe. Indeed, since 1986 there have been nearly 8,000 accidents involving pipelines (nearly 300 per year on average), resulting in more than 500 deaths, more than 2,300 injuries, and nearly $7 billion in damage.
"The reality is that there's no way to safely transport the highly volatile crude from the Bakken oil field in North Dakota or the heavy crudes from the Alberta tar sands," said Margolis. "Instead these extreme fossil fuels should be left in the ground for our safety and to avoid the impending climate catastrophe."
YOU MIGHT ALSO LIKE
World's Biggest PR Firm Quits American Oil Lobby
Divest Harvard Campaign Heats Up
Solar Industry Prepares for Battle Against Koch Brothers' Front Groups
EcoWatch Daily Newsletter
Sriram Madhusoodanan of Corporate Accountability speaking on conflict of interest demand of the People's Demands at a defining action launching the Demands at COP24. Corporate Accountability
By Patti Lynn
2018 was a groundbreaking year in the public conversation about climate change. Last February, The New York Times reported that a record percentage of Americans now believe that climate change is caused by humans, and there was a 20 percentage point rise in "the number of Americans who say they worry 'a great deal' about climate change."
The head of England's Environment Agency has urged people to stop watering their lawns as a climate-induced water shortage looms. Pexels
England faces an "existential threat" if it does not change how it manages its water, the head of the country's Environment Agency warned Tuesday.
Pexels
By Jessica Corbett
A new analysis revealed Tuesday that over the past two decades heat records across the U.S. have been broken twice as often as cold ones—underscoring experts' warnings about the increasingly dangerous consequences of failing to dramatically curb planet-warming emissions.
A flock of parrots in Telegraph Hill, San Francisco.
~dgies / Flickr
By Madison Dapcevich
Ask any resident of San Francisco about the waterfront parrots, and they will surely tell you a story of red-faced conures squawking or dive-bombing between building peaks. Ask a team of researchers from the University of Georgia, however, and they will tell you of a mysterious string of neurological poisonings impacting the naturalized flock for decades.
Fire burns in the North Santiam State Recreational Area on March 19. Oregon Department of Forestry
An early-season wildfire near Lyons, Oregon burned 60 acres and forced dozens of homes to evacuate Tuesday evening, the Oregon Department of Forestry (ODF) said, as KTVZ reported.
The initial cause of the fire was not yet known, but it has been driven by the strong wind and jumped the North Santiam River, The Salem Statesman Journal reported. As of Tuesday night, it threatened around 35 homes and 30 buildings, and was 20 percent contained.
Edwin Hardeman is the plaintiff in the first U.S. federal trial claiming that Roundup causes cancer. NOAH BERGER / AFP / Getty Images
A second U.S. jury has ruled that Roundup causes cancer.
The unanimous verdict was announced Tuesday in San Francisco in the first federal case to be brought against Monsanto, now owned by Bayer, alleging that repeated use of the company's glyphosate-containing weedkiller caused the plaintiff's cancer. Seventy-year-old Edwin Hardeman of Santa Rosa, California said he used Roundup for almost 30 years on his properties before developing non-Hodgkin's lymphoma.
The decision comes less than a year after a jury awarded $289 million to Bay-area groundskeeper Dewayne Johnson over similar claims. The amount was later reduced to $78 million.
"Today's verdict reinforces what another jury found last year, and what scientists with the state of California and the World Health Organization have concluded: Glyphosate causes cancer in people," Environmental Working Group President Ken Cook said in a statement. "As similar lawsuits mount, the evidence will grow that Roundup is not safe, and that the company has tried to cover it up."
Judge Vince Chhabria has split Hardeman's trial into two phases. The first, decided Tuesday, focused exclusively on whether or not Roundup use caused the plaintiff's cancer. The second, to begin Wednesday, will assess if Bayer is liable for damages.

"We are disappointed with the jury's initial decision, but we continue to believe firmly that the science confirms glyphosate-based herbicides do not cause cancer," Bayer spokesman Dan Childs said in a statement reported by The Guardian. "We are confident the evidence in phase two will show that Monsanto's conduct has been appropriate and the company should not be liable for Mr. Hardeman's cancer."
Some legal experts said that Chhabria's decision to split the trial was beneficial to Bayer, Reuters reported. The company had complained that the jury in Johnson's case had been distracted by the lawyers' claims that Monsanto had sought to mislead scientists and the public about Roundup's safety.

However, a remark made by Chhabria during the trial and reported by The Guardian was blatantly critical of the company.
"Although the evidence that Roundup causes cancer is quite equivocal, there is strong evidence from which a jury could conclude that Monsanto does not particularly care whether its product is in fact giving people cancer, focusing instead on manipulating public opinion and undermining anyone who raises genuine and legitimate concerns about the issue," he said.
Many regulatory bodies, including the U.S. Environmental Protection Agency, have ruled that glyphosate is safe for humans, but the World Health Organization's International Agency for Research on Cancer found it was "probably carcinogenic to humans" in 2015. A university study earlier this year found that glyphosate use increased cancer risk by as much as 41 percent.
Hardeman's lawyers Jennifer Moore and Aimee Wagstaff said they would now reveal Monsanto's efforts to mislead the public about the safety of its product.
"Now we can focus on the evidence that Monsanto has not taken a responsible, objective approach to the safety of Roundup," they wrote in a statement reported by The Guardian.
Hardeman's case is considered a "bellwether" trial for the more than 760 glyphosate cases Chhabria is hearing. In total, there are around 11,200 such lawsuits pending in the U.S., according to Reuters.
University of Richmond law professor Carl Tobias told Reuters that Tuesday's decision showed that the verdict in Johnson's case was not "an aberration," and could possibly predict how future juries in the thousands of pending cases would respond.
PxHere
Americans like wind turbines as neighbors, at least when compared with the alternatives.
Offutt Air Force Base after flooding on March 17. U.S. Air Force / TSgt. Rachelle Blake