Striking New Report Finds Oil Trains Put 25 Million Americans at Risk
As officials probe the two latest explosive oil train derailments in Ontario and West Virginia, the Center for Biological Diversity released a report yesterday offering striking new details on the broad range of unchecked risks to people and the environment posed by the largely unregulated escalation in U.S. rail transport of oil.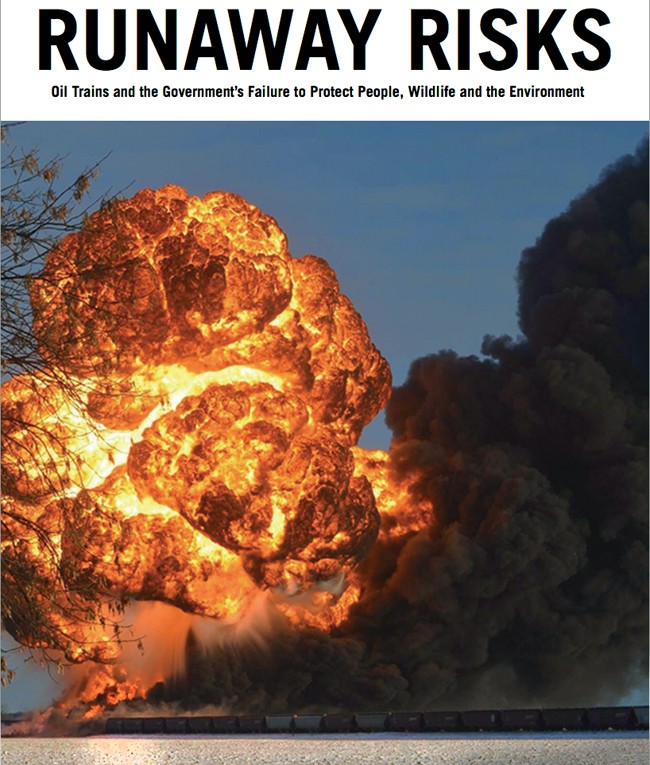 The report, Runaway Risks: Oil Trains and the Government's Failure to Protect People, Wildlife and the Environment, reveals that:
An estimated 25 million Americans live within the one-mile evacuation zone recommended by the U.S. Department of Transportation;
Oil trains routinely pass within a quarter-mile of 3,600 miles of streams and more than 73,000 square miles of lakes, wetlands and reservoirs, including the Hudson, Mississippi and Columbia rivers, the Puget Sound, Lake Champlain and Lake Michigan;
Oil trains also go through 34 national wildlife refuges and within a quarter-mile of critical habitat for 57 threatened or endangered species, including the California tiger salamander, California red-legged frog, piping plover, bull trout and several imperiled species of salmon, steelhead and sturgeon.
"As we've seen in West Virginia and Ontario, these oil trains pose a massive danger to people, wildlife and our environment, whether it's trains passing through heavily populated areas or some of our most pristine landscapes," said Jared Margolis, author of the report and an attorney for the Center for Biological Diversity who focuses on the impacts of energy development on endangered species. "The federal government has failed to provide adequate protection from these bomb trains. We clearly need a moratorium on crude-by-rail until the safety of our communities and the environment can be ensured."
The unprecedented increase in U.S. oil train traffic from fewer than 10,000 rail cars per year in 2008 to more than 400,000 in 2014 has spurred virtually no corresponding increase in safety preparedness plans, not only putting towns and cities across America in routine danger, but leaving some of the nation's most imperiled wildlife and natural areas at increased risk from a catastrophic spill. Even as the overall number of train accidents in the country has declined in recent years, the number of dangerous oil train derailments has increased—in part because the longer, heavier trains, often carrying more than 1 million gallons of oil, are more difficult to control and stop, according to rail safety accounts included in today's report.

"People, wildlife, rivers and lakes will pay a huge cost for the government's failure to act," Margolis said. "Regulators know it's only a matter of time before the next explosive oil train accident. They need to act now to protect Americans and our environment."
Among the recommendations in yesterday's report:
Immediately ban the transport of oil in the outdated DOT-111 tank cars involved in several fiery oil-train derailments in recent years.
Issue a moratorium on all crude-by-rail transport until new tank car standards can be issued that would provide design specifications to ensure that tank cars do not rupture in the event of a derailment at maximum operating speeds and include sufficient thermal protection to withstand derailments.
Amend the regulations to require comprehensive oil-spill response plan for oil trains to ensure adequate training, personnel and equipment necessary to respond to a worst-case spill scenario.
Limit the length and weight of oil trains to 30 cars per train/4,000 total tons, since DOT has acknowledged that the excessive length and weight of these trains has contributed to the increased derailments and spills in recent years, and compounds the potential significance of an oil-train disaster.
Establish speed limit zones below the puncture rating of oil tank cars (typically less than 20 mph) in all population centers, and within a quarter-mile of any body of water, critical habitat of endangered species, national wildlife refuges, national parks or other recognized special areas.
Some are using the West Virginia accident to argue that shipping oil through pipelines like Keystone XL would be a safer option, but the reality is that pipelines too are far from safe. Indeed, since 1986 there have been nearly 8,000 accidents involving pipelines (nearly 300 per year on average), resulting in more than 500 deaths, more than 2,300 injuries, and nearly $7 billion in damage.
"The reality is that there's no way to safely transport the highly volatile crude from the Bakken oil field in North Dakota or the heavy crudes from the Alberta tar sands," said Margolis. "Instead these extreme fossil fuels should be left in the ground for our safety and to avoid the impending climate catastrophe."
YOU MIGHT ALSO LIKE
World's Biggest PR Firm Quits American Oil Lobby
Divest Harvard Campaign Heats Up
Solar Industry Prepares for Battle Against Koch Brothers' Front Groups
Disturbing footage of a snake in Goa, India vomiting an empty soft drink bottle highlights the world's mounting plastic pollution crisis.
Keep reading...
Show less
By Melissa Hellmann
When her eldest son was in elementary school in the Oakland Unified School District, Ruth Woodruff became alarmed by the meals he was being served at school. A lot of it was frozen, processed foods, packed with preservatives. At home, she was feeding her children locally sourced, organic foods.
Keep reading...
Show less
May. 28, 2017 01:33PM EST
Laurie Woolever
By James O'Hare
There are 20 million people in the world facing famine in South Sudan, Somalia, Nigeria and Yemen. In developed nations, too, people go hungry. Venezuela, for instance, is enduring food insecurity on a national level as a result of economic crisis and political corruption. In the U.S., the land of supposed excess, 12.7 percent of households were food insecure in 2015, meaning they didn't know where their next meal would come from.
Keep reading...
Show less
May. 28, 2017 01:22PM EST
Melwater, Greenland ice sheet. Diane Tuft
Artists are taking the climate crisis into frame and the results are emotional, beautiful and stirring.
So you've seen the best climate change cartoons and shared them with your friends. You've showed your family the infographics on climate change and health, infographics on how the grid works and infographics about clean, renewable energy. You've even forwarded these official National Oceanic and Atmospheric Administration graphs that explain the 10 clear indicators of climate change to your colleagues at the office.
Keep reading...
Show less
May. 27, 2017 01:11PM EST
As the Trump administration moves full speed ahead on boosting the oil and fossil fuel industry, opposition to increased pipeline construction is cropping up in different communities around the country.
Keep reading...
Show less
May. 27, 2017 01:02PM EST
Minke whale stranding near Havergate Island in Suffolk. MCGA.
By Simon Evans
Last Saturday, two dead whales washed up on the coast of Suffolk, in eastern England, and a third was spotted floating at sea.
What happened next illustrates how news can spread and evolve into misinformation, when reported by journalists rushing to publish before confirming basic facts or sourcing their own quotes.
Keep reading...
Show less
May. 27, 2017 01:22PM EST
By Monica Amarelo and Paul Pestano
Sun safety is a crucial part of any outdoor activity for kids, and sunscreen can help protect children's skin from harmful ultraviolet rays. Kids often get sunburned when they're outside unprotected for longer than expected. Parents need to plan ahead and keep sun protection handy in their cars or bags.
Keep reading...
Show less
May. 27, 2017 01:02PM EST
By Joe McCarthy
A lot of people take part in community clean-up efforts—spending a Saturday morning picking up litter in a park, mowing an overgrown field or painting a fence.
Keep reading...
Show less