This website uses cookies to ensure you get the best experience while browsing it. By clicking 'Got It' you're accepting these terms.
Storage of Radioactive Spent Fuel Rods Still Haunts Nuclear Industry
Jul. 15, 2014 07:55AM EST
Energy
Long-term employment is hard to find these days, but one career that can be guaranteed to last a lifetime is dealing with nuclear waste.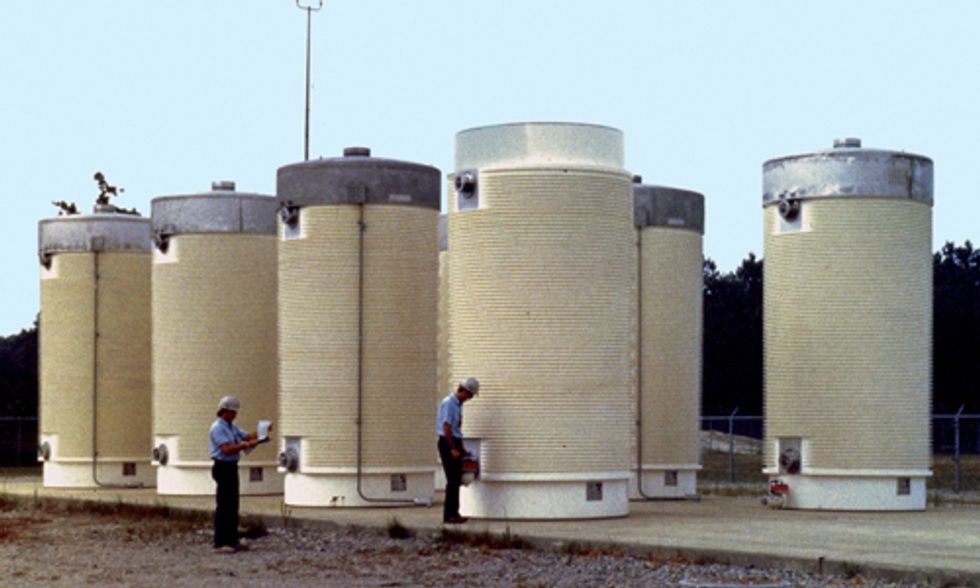 The problem and how to solve it is becoming critical. Dozens of nuclear power stations in the U.S., Russia, Japan and across Europe and Central Asia are nearing the end of their lives.
And when these stations close, the spent fuel has to be taken out, safely stored or disposed of, and then the pressure vessels and the mountains of concrete that make up the reactors have to be dismantled. This can take between 30 and 100 years, depending on the policies adopted.
In the rush to build stations in the last century, little thought was given to how to take them apart 40 years later. It was an age of optimism that science would always find a solution when one was needed, but the reality is that little effort was put into dealing with the waste problem. It is now coming back to haunt the industry.
Profitable Business
Not that everyone sees it as a problem. A lot of companies view nuclear waste as a welcome and highly profitable business opportunity.
Either way, because of the dangers of radioactivity, it is not a problem that can be ignored. The sums of money that governments will have to find to deal with keeping the old stations safe are eye-wateringly large. They will run into many billions of dollars—an assured income for companies in the nuclear waste business, stretching to the end of this century and beyond.
The U.S. is a prime example of a country where the nuclear waste issue is becoming rapidly more urgent.
The problem has been brought to the fore in the U.S. because five stations have closed in the last two years. The Crystal River plant in Florida and San Onofre 1 and 2 in California have closed down because they were judged too costly to bring up to modern standards. Two more—Kewaunee in Wisconsin and the Vermont Yankee plant—could no longer compete on cost with the current price of natural gas and increased subsidies for renewables.
Nuclear Energy Insider, which keeps a forensic watch on the industry, predicts that several other nuclear power stations in the U.S. will also succumb to premature closure because they can no longer compete.
The dilemma for the industry is that the U.S. government has not solved the problem of what to do with the spent fuel and the highly radioactive nuclear waste that these stations have generated over the last 40 years. They have collected a levy—kept in a separate fund that now amounts to $31 billion—to pay for solving the problem, but still have not come up with a plan.
Legal Action
Since it costs an estimated $10 million dollars a year to keep spent fuel safe at closed stations, electricity utilities saddled with these losses, and without any form of income, are taking legal action against the government.
The U.S. government has voted another $205 million to continue exploring the idea of sending the waste to the remote Yucca Mountain in Nevada—an idea fought over since 1987 and still no nearer solution. Even if this plan went through, the facility would not be built and accepting waste until 2048.
The big problem for the U.S., the utility companies and the consumers who will ultimately pay the bill is what to do in the meantime with the old stations, the spent fuel and the sites. Much of the fuel will be moved from wet storage to easier-to-manage dry storage, but it will still be a costly process. What happens after that, and who will pay for it, is anyone's guess.
The industry is having a Nuclear Decommissioning and Used Fuel Strategy Summit in October in Charlotte, NC, to try to sort out some of these issues.
But America is not alone. The UK has already closed a dozen reactors. Most of the rest are due to be retired by 2024, but it is likely that the French company EDF, which owns the plants, will try to keep them open longer.
The bill for dealing with existing nuclear waste in Britain is constantly rising and currently stands at £74 billion, even without any other reactors being decommissioned.
The government is already spending £2 billion each year trying to clear up the legacy of past nuclear activities, but has as yet found no solution to dealing with the thousands of fuel rods still in permanent store at power stations.
As with the U.S., even if a solution is found, it would be at least 2050 before a facility to deal with this highly dangerous waste could be found. By that time, billions of pounds will have been expended just to keep the used fuel from igniting and causing a nuclear meltdown.
It is hard to know how the industry's finances could stand such a drain on its resources without going bankrupt.
Similar problems are faced by Germany, which is already closing its industry permanently in favor of renewables, and France, with more than 50 aging reactors.
Japan, still dealing with the aftermath of the Fukushima accident in 2011, is composed of crowded islands where few people will welcome a nuclear waste depository.
Many countries in the former Soviet bloc with aging reactors look to Russia—which provided them—to solve their problems. But this may be a false hope, as Russia has an enormous unsolved waste problem of its own.
Dramatic Rise
In all these countries, the issue of nuclear waste and what to do with it is a problem that has been put off—both by the industry and politicians—as an issue to be dealt with sometime in the future. But the problem is becoming more urgent as the costs and the volume of waste rises dramatically.
Unlike any other form of generation, even dirty coal plants, getting rid of nuclear stations is no simple matter. To cleanse a nuclear site so that it can be used for another industrial use is difficult. Radioactivity lasts for centuries, and all contamination has to be physically removed.
For many critics of the industry, the nuclear waste issue has always been a moral issue—as well as a financial one—that should not be left to future generations to solve. The industry itself has always relied on its continuous expansion, and developing science, to deal what it calls "back end costs" at some time in the distant future.
But as more stations close, and fewer new ones are planned to raise revenue, putting off the problem no longer seems an option, either for the industry or for the governments that ultimately will have to pick up the bill.
EcoWatch Daily Newsletter
A video shows a woman rescuing a koala from Australia's wildfires.
VOA News / YouTube screenshot
More than 350 koalas may have died in the wildfires raging near the Australian town of Port Macquarie in New South Wales, but one got a chance at survival after a woman risked her life to carry him to safety.
American bison roaming Badlands National park, South Dakota. Prisma / Dukas / Universal Images Group / Getty Images
By Clay Bolt
On Oct. 11 people around the world celebrated the release of four plains bison onto a snow-covered butte in Badlands National Park, South Dakota.
An EPA sponsored cleanup of the toxic Gowanus Canal dredges a section of the canal of industrial debris on Oct. 28, 2016 in Brooklyn. The Gowanus is a Superfund site from years of industrial waste spilling into the water, and it is listed in GAO's report to be at risk from a climate disaster. Andrew Lichtenstein / Corbis / Getty Images
The climate crisis has put at least 945 designated toxic waste sites at severe risk of disaster from escalating wildfires, floods, rising seas and other climate-related disasters, according to a new study from the non-partisan Government Accountability Office (GAO), as the AP reported.
(L) Selma Three Stone Engagement Ring. (R) The Greener Diamond Farm Project. MiaDonna
By Bailey Hopp
If you had to choose a diamond for your engagement ring from below or above the ground, which would you pick … and why would you pick it? This is the main question consumers are facing when picking out their diamond engagement ring today. With a dramatic increase in demand for conflict-free lab-grown diamonds, the diamond industry is shifting right before our eyes.
Rob Greenfield pictured above is driven by the concept of "living a life where [he] can wake up and feel good about [his] life."
Rob Greenfield / Facebook
For one year Rob Greenfield grew and foraged all of his own food. No grocery stores, no restaurants, no going to a bar for a drink, not even medicines from the pharmacy.