This website uses cookies to ensure you get the best experience while browsing it. By clicking 'Got It' you're accepting these terms.
Stopping Coal in Its Tracks: Historic Actions This Week
May. 03, 2012 04:31PM EST
Energy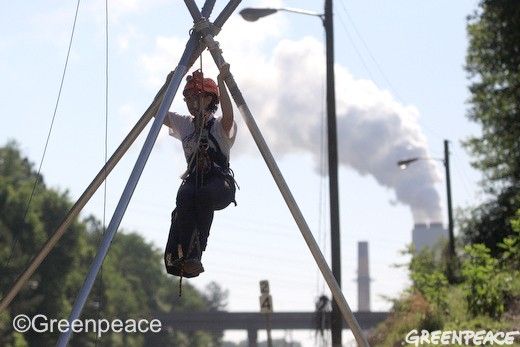 In a dramatic lockdown today on the coal-hauling train tracks leading into the Marshall Steam Station, a half-century-old toxic coal-fired plant owned by Duke Energy on the outskirts of Charlotte, North Carolina, legendary mountaintop removal activist Mickey McCoy and other Appalachian coalfield residents teamed up with Greenpeace and regional groups to launch a new phase in a galvanized anti-Big Coal movement across the country.
On the heels of Rainforest Action Network's surprise scaling of Charlotte's Bank of America stadium yesterday, where activists draped a 70-foot "Bank of Coal" banner highlighting the financial world's shadowy investments in Big Coal operations, and two days before revered climate scientist James Hansen and Canadian activists have vowed to stop Warren Buffett's BNSF coal trains on unceded Coast Salish territory in British Columbia, the big question is whether today's action in North Carolina marks a ramped up commitment in the coal free movement for a historic summer uprising.
"Corporations must understand that the use and demand for coal from bombing mountains in Appalachia is not only destroying one of the oldest most bio-diverse mountain ranges in the United States," McCoy declared, who was arrested with five others from RAMPS (Radical Action for Mountain People's Survival), Katuah Earth First! and Keepers of the Mountains Foundation, while protests took place outside Duke offices in Charlotte. "But it is also - by releasing carcinogenic heavy metals into our streams—killing Appalachians, and contributing to the sickness and death of countless others outside the area who depend on these headwaters for their water source."
The protests this week also validate, in many respects, the recent victory in Chicago, where long-time efforts by grassroots groups in the Little Village and the Pilsen neighborhoods were dramatically assisted by direct actions by Greenpeace and other national organizations. Today, in fact, multinational Edison announced it would close its decrepit Midwest Generation coal-fired plants in Chicago by September--two years earlier than expected.
Two months ago, Greenpeace also carried out a strategic action at Asheville's Progress Power coal-fired station, shifting non-coal-producing but huge coal-consuming North Carolina to the frontlines in the battle over dirty energy.
Activists in North Carolina tagged Apple's logo on the coal trains today, calling out the tech company's increasingly coal-fired needs at it expanding Maiden, NC, datacenter.
"Duke is using datacenter expansion in North Carolina, like Apple's, to justify reinvesting in old coal-fired power plants and even worse, as an excuse to build new coal and nuclear plants. But if Apple demands renewable energy from Duke Energy to power its iCloud it could help transform both the IT sector's and North Carolina's energy economy," said Gabe Wisnieweski, Greenpeace USA Coal Campaign Director. "Unfortunately, today Apple's iCloud uses whatever power Duke offers, and this dirty mix currently includes electricity from burning mountaintop removal coal. The climate and communities throughout Appalachia and North Carolina are paying the price for Apple and Duke's short-sighted decisions."
According to regional activists, the Marshall Station burns coal stripmined from mountaintop removal operations in central Appalachia, a now well-documented process that has led to a humanitarian and health care crisis in McCoy's native Eastern Kentucky, West Virginia and neighboring southwest Virginia and eastern Tennessee.
EcoWatch Daily Newsletter
People carry children on a flooded street in Almoradi, Spain on Sept. 13. JOSE JORDAN / AFP / Getty Images
Large food companies are following in the footsteps of fast-food restaurants such as Burger King and KFC by offering meat alternatives. Getty Images
By Elizabeth Pratt
Hormel, Kellogg's, and Kroger are among the large companies now planning to offer "fake meat" products at grocery stores.
Experts say the trend toward plant-based meats coincides with consumers' desires to eat less meat.
However, experts urge consumers to closely check package labels as a product isn't necessarily healthy just because it's described as plant-based.
In grocery stores and fast-food outlets around the U.S., a revolution is taking place.
Colombia rainforest. Marcel Oosterwijk / CC BY-SA 2.0
Many of us think of the Amazon as an untouched wilderness, but people have been thriving in these diverse environments for millennia. Due to this long history, the knowledge that Indigenous and forest communities pass between generations about plants, animals and forest ecology is incredibly rich and detailed and easily dwarfs that of any expert.
picture-alliance / Newscom / R. Ben Ari
By Wesley Rahn
Plastic byproducts were found in 97 percent of blood and urine samples from 2,500 children tested between 2014 and 2017, according to a study by the German Environment Ministry and the Robert Koch Institute.

Pexels
Medically reviewed by Daniel Bubnis, MS, NASM-CPT, NASE Level II-CSS
Hot yoga has become a popular exercise in recent years. It offers many of the same benefits as traditional yoga, such as stress reduction, improved strength, and flexibility.
Lara Hata / iStock / Getty Images
By SaVanna Shoemaker, MS, RDN, LD
Rice is a staple in many people's diets. It's filling, inexpensive, and a great mild-tasting addition to flavorful dishes.
An image of the trans-alaskan oil pipeline that carries oil from the northern part of Alaska all the way to valdez. This shot is right near the arctic national wildlife refuge. kyletperry / iStock / Getty Images Plus
The Trump administration has initialized the final steps to open up nearly 1.6 million acres of the protected Alaskan National Wildlife Refuge to allow oil and gas drilling.