This website uses cookies to ensure you get the best experience while browsing it. By clicking 'Got It' you're accepting these terms.
Stopping Coal in Its Tracks: Historic Actions This Week
May. 03, 2012 04:31PM EST
Energy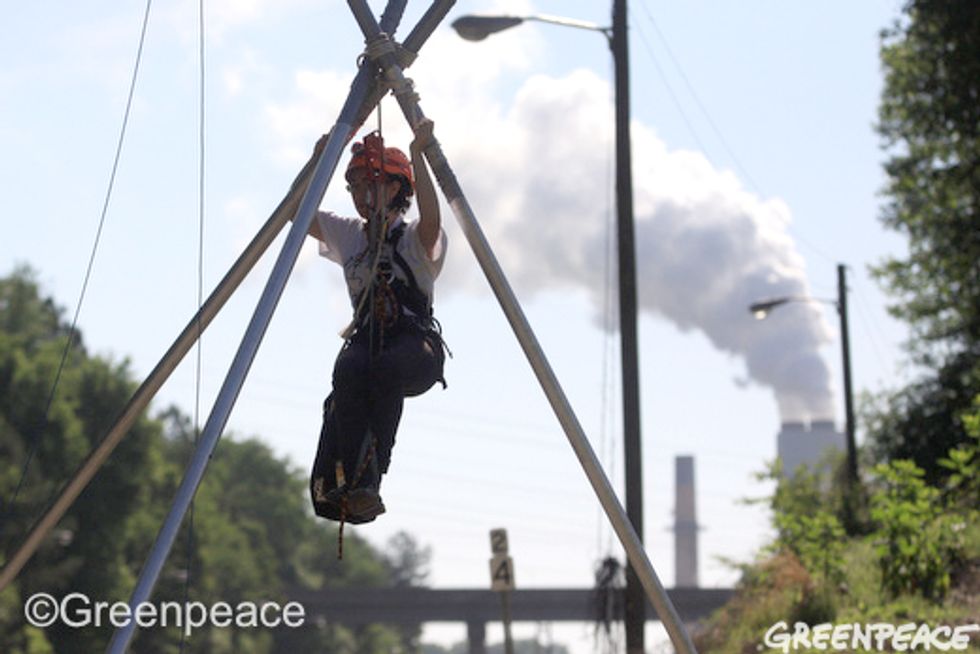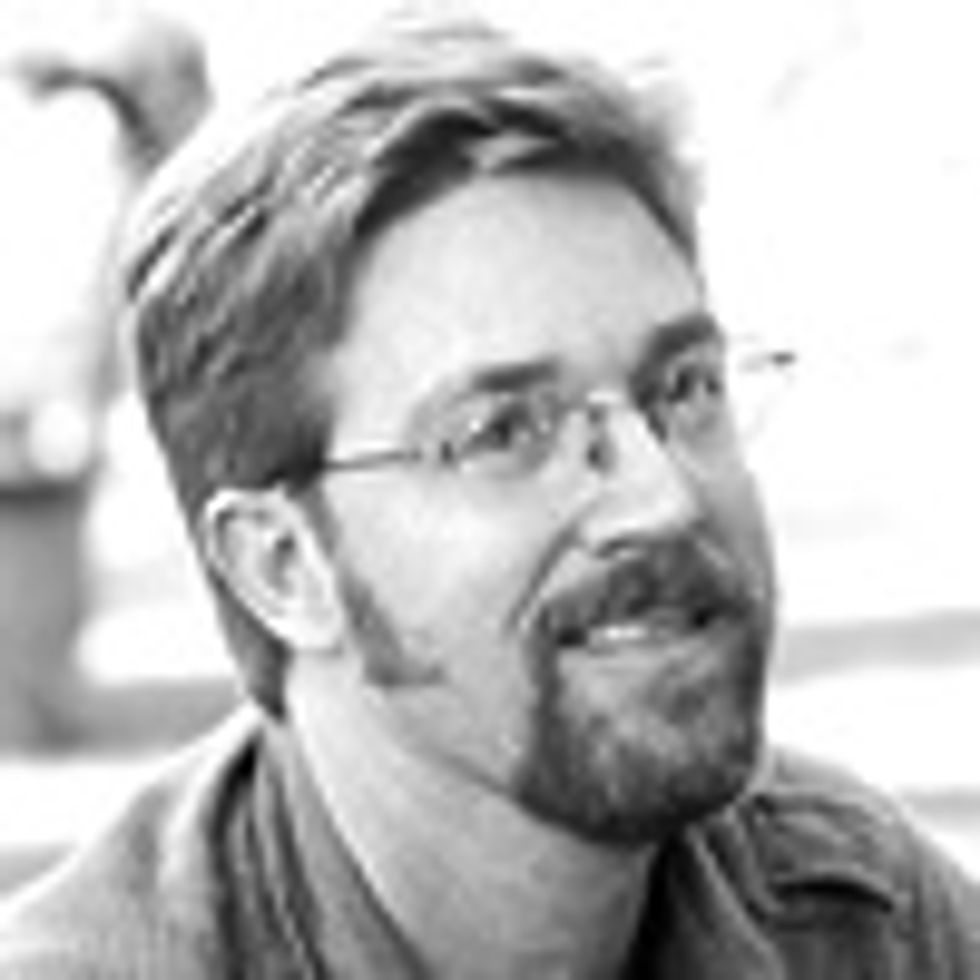 In a dramatic lockdown today on the coal-hauling train tracks leading into the Marshall Steam Station, a half-century-old toxic coal-fired plant owned by Duke Energy on the outskirts of Charlotte, North Carolina, legendary mountaintop removal activist Mickey McCoy and other Appalachian coalfield residents teamed up with Greenpeace and regional groups to launch a new phase in a galvanized anti-Big Coal movement across the country.
On the heels of Rainforest Action Network's surprise scaling of Charlotte's Bank of America stadium yesterday, where activists draped a 70-foot "Bank of Coal" banner highlighting the financial world's shadowy investments in Big Coal operations, and two days before revered climate scientist James Hansen and Canadian activists have vowed to stop Warren Buffett's BNSF coal trains on unceded Coast Salish territory in British Columbia, the big question is whether today's action in North Carolina marks a ramped up commitment in the coal free movement for a historic summer uprising.
"Corporations must understand that the use and demand for coal from bombing mountains in Appalachia is not only destroying one of the oldest most bio-diverse mountain ranges in the United States," McCoy declared, who was arrested with five others from RAMPS (Radical Action for Mountain People's Survival), Katuah Earth First! and Keepers of the Mountains Foundation, while protests took place outside Duke offices in Charlotte. "But it is also - by releasing carcinogenic heavy metals into our streams—killing Appalachians, and contributing to the sickness and death of countless others outside the area who depend on these headwaters for their water source."
The protests this week also validate, in many respects, the recent victory in Chicago, where long-time efforts by grassroots groups in the Little Village and the Pilsen neighborhoods were dramatically assisted by direct actions by Greenpeace and other national organizations. Today, in fact, multinational Edison announced it would close its decrepit Midwest Generation coal-fired plants in Chicago by September--two years earlier than expected.
Two months ago, Greenpeace also carried out a strategic action at Asheville's Progress Power coal-fired station, shifting non-coal-producing but huge coal-consuming North Carolina to the frontlines in the battle over dirty energy.
Activists in North Carolina tagged Apple's logo on the coal trains today, calling out the tech company's increasingly coal-fired needs at it expanding Maiden, NC, datacenter.
"Duke is using datacenter expansion in North Carolina, like Apple's, to justify reinvesting in old coal-fired power plants and even worse, as an excuse to build new coal and nuclear plants. But if Apple demands renewable energy from Duke Energy to power its iCloud it could help transform both the IT sector's and North Carolina's energy economy," said Gabe Wisnieweski, Greenpeace USA Coal Campaign Director. "Unfortunately, today Apple's iCloud uses whatever power Duke offers, and this dirty mix currently includes electricity from burning mountaintop removal coal. The climate and communities throughout Appalachia and North Carolina are paying the price for Apple and Duke's short-sighted decisions."
According to regional activists, the Marshall Station burns coal stripmined from mountaintop removal operations in central Appalachia, a now well-documented process that has led to a humanitarian and health care crisis in McCoy's native Eastern Kentucky, West Virginia and neighboring southwest Virginia and eastern Tennessee.
EcoWatch Daily Newsletter
A new study shows that half of all Arctic warming and corresponding sea-loss during the late 20th century was caused by ozone-depleting substances. Here, icebergs discharged from Greenland's Jakobshavn Glacier. Kevin Krajick / Earth Institute /
EurekAlert!
The world awakened to the hole in the ozone layer in 1985, which scientists attributed it to ozone depleting substances. Two years later, in Montreal, the world agreed to ban the halogen compounds causing the massive hole over Antarctica. Research now shows that those chemicals didn't just cut a hole in the ozone layer, they also warmed up the Arctic.
Diane Wilson holds up a bag full of nurdles she collected from one of Formosa's outfall areas on Jan. 15. Julie Dermansky / DeSmogBlog
On the afternoon of Jan. 15, activist Diane Wilson kicked off a San Antonio Estuary Waterkeeper meeting on the side of the road across from a Formosa plastics manufacturing plant in Point Comfort, Texas.
After Wilson and the waterkeeper successfully sued Formosa in 2017, the company agreed to no longer release even one of the tiny plastic pellets known as nurdles into the region's waterways. The group of volunteers had assembled that day to check whether the plant was still discharging these raw materials of plastics manufacturing.
Malaysian Environment Minister Yeo Bee Yin (front 2nd L) and officials inspect a container containing plastic waste shipment on Jan. 20, 2020 before sending back to the countries of origin. AFP via Getty Images
The Southeast Asian country Malaysia has sent 150 shipping containers packed with plastic waste back to 13 wealthy countries, putting the world on notice that it will not be the world's garbage dump, as CNN reported. The countries receiving their trash back include the United States, the United Kingdom, France and Canada.
Trump leaves after delivering a speech at the Congress Centre during the World Economic Forum annual meeting in Davos on Jan. 21, 2020. JIM WATSON / AFP via Getty Images