This website uses cookies to ensure you get the best experience while browsing it. By clicking 'Got It' you're accepting these terms.
Stop the War Against the Colorado River
Jan. 14, 2015 11:53AM EST

"Disarmament, with mutual honor and confidence, is a continuing imperative." —Dwight D. Eisenhower
As we head into 2015, the health of Colorado River is at extreme risk as is the economies of states in the lower part of the river in Arizona, Nevada and California that depend on flows in the river. Drought continues in the Southwest U.S., climate change is predicted to decrease river flows an additional 10 to 30 percent, and the level of Lake Mead—the reservoir that holds water for much of Nevada, Arizona and Southern California—continues to fall with no end in sight.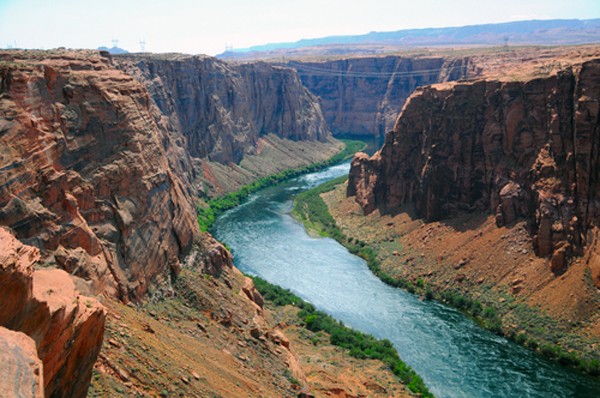 Photo credit: Shutterstock
2014 saw one important event in Colorado River management to address these issues—a historic agreement between water agencies in the three states noted above to dramatically escalate their conservation and water-sharing programs. But this won't be enough to stave off the continually falling levels of Lake Mead. Further, and even worse, the biggest threat to the Colorado River is coming from the upstream states—Utah, Colorado, Wyoming and New Mexico are proposing to take even more water out of the river.
Specifically, in recent water planning processes in the upstream states, Colorado proposed $20 billion worth of dam and reservoir projects, Utah proposed $15 billion, Wyoming proposed "10 dams in 10 years" and New Mexico endorsed a bill-dollar water project, most of which in all four states would take even more water out of the Colorado River before it gets to Lake Mead.
Statements made by water officials in the upstream states highlight this escalating water war. Colorado's lead water official recently said, "If anybody thought we were going to roll over and say, 'OK, California, you're in a really bad drought, you get to use the water that we were going to use,' they're mistaken." And the lead water official in Utah recently stated, "It's necessary to put dams on all rivers in Utah." Thus, the upstream states have declared war on the river and war against the downstream states.
We need multilateral disarmament on the Colorado River.
The health of the river including its endangered fish and vast recreational economy cannot support more diversions, nor can Lake Mead and the water supply needs of the downstream states. All told, the Colorado River has about 5 trillion gallons flowing in it in an average year. People—farms, cities, industries from Denver to Los Angeles and beyond—take out every single drop such that the river no longer reaches the Gulf of California. The upstream states may think they are legally entitled to more water out of the river, but common sense and environmental stewardship dictate otherwise.
The Colorado River is a patient in the emergency room. If the patient is bleeding out, you don't cut open a new artery to heal it, and that's what the proposed projects by the upstream states would do.
Just like how multilateral nuclear disarmament is the only sane and responsible policy to address our political wars, multilateral river disarmament is the only sane and responsible water policy for the states in the Colorado River basin in 2015.
Colorado, Utah, Wyoming and New Mexico need to put their water engineers on other types of work—instead of building more dams that destroy the river, a new water ethic that focuses on conservation and river health must move forward.
Gary Wockner, PhD, is executive director of the Save The Colorado River Campaign. Gary@SaveTheColorado.org
YOU MIGHT ALSO LIKE
Protecting the Galapagos Islands
8 Shocking Facts About Water Consumption
EcoWatch Daily Newsletter
Bernie Sanders holds his first presidential campaign rally at Brooklyn College on March 02 in Brooklyn, New York. Kena Betancur / VIEWpress / Corbis. Getty Images
Bernie Sanders has become the first contender in the crowded 2020 Democratic presidential primary field to pledge to offset all of the greenhouse gas emissions released by campaign travel, The Huffington Post reported Thursday.
An aerial view of the flooding at the Camp Ashland, Nebraska on March 17. Nebraska National Guard / Staff Sgt. Herschel Talley / Flickr / CC BY 2.0
The record flooding in the Midwest that has now been blamed for four deaths could also have lasting consequences for the region's many farmers.
In tea, food, or just on your windowsill, embrace the fragrance and fantastic healing potential of herbs.
By Ana Santos Rutschman
The world of food and drug regulation was rocked earlier this month by the news of a change in leadership at the Food and Drug Administration. Commissioner Scott Gottlieb resigned and will step down in early April. His temporary replacement is Dr. Ned Sharpless, director of the National Cancer Institute.
MartinPrescott / iStock / Getty Images
On Wednesday the U.S. Environmental Protection Agency (EPA) announced the first 20 chemicals it plans to prioritize as "high priority" for assessment under the Toxic Substances Control Act. Given the EPA's record of malfeasance on chemicals policy over the past two years, it is clear that these are chemicals that EPA is prioritizing to ensure that they are not properly evaluated or regulated.
Strawberries top the Environmental Working Group's "Dirty Dozen" list of U.S. produce most contaminated with pesticides. DANIEL LEAL-OLIVAS / AFP / Getty Images
Which conventionally-grown fruits and vegetables in the U.S. are most contaminated with pesticides? That's the question that the Environmental Working Group answers every year with its "Dirty Dozen" list of produce with the highest concentration of pesticides after being washed or peeled.
A drilling rig in a Wyoming natural gas field. William Campbell / Corbis via Getty Images
A U.S. federal judge temporarily blocked oil and gas drilling on 300,000 acres of federal leases in Wyoming Tuesday, arguing that the Bureau of Land Management (BLM) "did not sufficiently consider climate change" when auctioning off the land, The Washington Post reported.
Mizina / iStock / Getty Images
Oats are widely regarded as one of the healthiest grains you can eat, as they're packed with many important vitamins, minerals, and fiber.