This website uses cookies to ensure you get the best experience while browsing it. By clicking 'Got It' you're accepting these terms.

"Disarmament, with mutual honor and confidence, is a continuing imperative." —Dwight D. Eisenhower
As we head into 2015, the health of Colorado River is at extreme risk as is the economies of states in the lower part of the river in Arizona, Nevada and California that depend on flows in the river. Drought continues in the Southwest U.S., climate change is predicted to decrease river flows an additional 10 to 30 percent, and the level of Lake Mead—the reservoir that holds water for much of Nevada, Arizona and Southern California—continues to fall with no end in sight.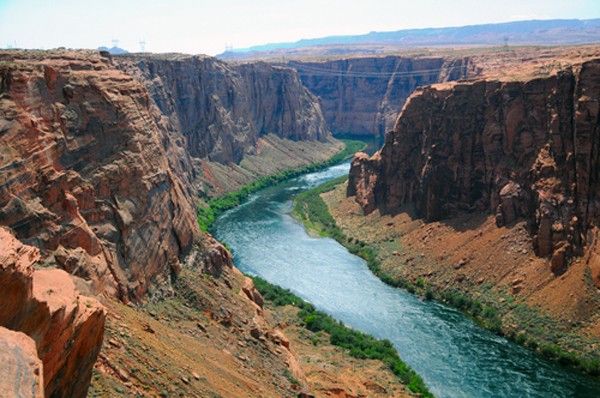 Photo credit: Shutterstock
2014 saw one important event in Colorado River management to address these issues—a historic agreement between water agencies in the three states noted above to dramatically escalate their conservation and water-sharing programs. But this won't be enough to stave off the continually falling levels of Lake Mead. Further, and even worse, the biggest threat to the Colorado River is coming from the upstream states—Utah, Colorado, Wyoming and New Mexico are proposing to take even more water out of the river.
Specifically, in recent water planning processes in the upstream states, Colorado proposed $20 billion worth of dam and reservoir projects, Utah proposed $15 billion, Wyoming proposed "10 dams in 10 years" and New Mexico endorsed a bill-dollar water project, most of which in all four states would take even more water out of the Colorado River before it gets to Lake Mead.
Statements made by water officials in the upstream states highlight this escalating water war. Colorado's lead water official recently said, "If anybody thought we were going to roll over and say, 'OK, California, you're in a really bad drought, you get to use the water that we were going to use,' they're mistaken." And the lead water official in Utah recently stated, "It's necessary to put dams on all rivers in Utah." Thus, the upstream states have declared war on the river and war against the downstream states.
We need multilateral disarmament on the Colorado River.
The health of the river including its endangered fish and vast recreational economy cannot support more diversions, nor can Lake Mead and the water supply needs of the downstream states. All told, the Colorado River has about 5 trillion gallons flowing in it in an average year. People—farms, cities, industries from Denver to Los Angeles and beyond—take out every single drop such that the river no longer reaches the Gulf of California. The upstream states may think they are legally entitled to more water out of the river, but common sense and environmental stewardship dictate otherwise.
The Colorado River is a patient in the emergency room. If the patient is bleeding out, you don't cut open a new artery to heal it, and that's what the proposed projects by the upstream states would do.
Just like how multilateral nuclear disarmament is the only sane and responsible policy to address our political wars, multilateral river disarmament is the only sane and responsible water policy for the states in the Colorado River basin in 2015.
Colorado, Utah, Wyoming and New Mexico need to put their water engineers on other types of work—instead of building more dams that destroy the river, a new water ethic that focuses on conservation and river health must move forward.
Gary Wockner, PhD, is executive director of the Save The Colorado River Campaign. Gary@SaveTheColorado.org
YOU MIGHT ALSO LIKE
Protecting the Galapagos Islands
8 Shocking Facts About Water Consumption
EcoWatch Daily Newsletter
Bird watching in the U.S. may be a lot harder than it once was, since bird populations are dropping off in droves, according to a new study.
Amazon CEO Jeff Bezos announces the co-founding of The Climate Pledge at the National Press Club on Sept. 19 in Washington, DC. Paul Morigi / Getty Images for Amazon
The day before over 1,500 Amazon.com employees planned a walkout to participate in today's global climate strike, CEO Jeff Bezos unveiled a sweeping plan for the retail and media giant to be carbon neutral by 2040, 10 years ahead of the Paris agreement schedule.
For the past seven years, the Anishinaabe people have been facing the largest tar sands pipeline project in North America. We still are. In these dying moments of the fossil fuel industry, Water Protectors stand, prepared for yet another battle for the water, wild rice and future of all. We face Enbridge, the largest pipeline company in North America, and the third largest corporation in Canada. We face it unafraid and eyes wide open, for indeed we see the future.
The climate crisis often intensifies systems of oppression. Rieko Honma / Stone / Getty Images Plus
By Mara Dolan
We see the effects of the climate crisis all around us in hurricanes, droughts, wildfires, and rising sea levels, but our proximity to these things, and how deeply our lives are changed by them, are not the same for everyone. Frontline groups have been leading the fight for environmental and climate justice for centuries and understand the critical connections between the climate crisis and racial justice, economic justice, migrant justice, and gender justice. Our personal experiences with climate change are shaped by our experiences with race, gender, and class, as the climate crisis often intensifies these systems of oppression.

Lana Del Rey: "call her Doris Doomsday." Darren Gerrish / BFC / Getty Images Entertainment
By Emer McHugh
Popular music has, and always will be, informed by the political and social contexts from which it emerges.
It was early in the morning last Thursday, and Jonathan Butler was standing on the Fred Hartman Bridge, helping 11 fellow Greenpeace activists rappel down and suspend themselves over the Houston Ship Channel. The protesters dangled in the air most of the day, shutting down a part of one of the country's largest ports for oil.
By C.J. Polychroniou
Climate change is by far the most serious crisis facing the world today. At stake is the future of civilization as we know it. Yet, both public awareness and government action lag way behind what's needed to avert a climate change catastrophe. In the interview below, Noam Chomsky and Robert Pollin discuss the challenges ahead and what needs to be done.
Food manufacturer General Mills issued a voluntary recall of more than 600,000 pounds, or about 120,000 bags, of Gold Medal Unbleached All Purpose Flour this week after a sample tested positive for a bacteria strain known to cause illness.