This website uses cookies to ensure you get the best experience while browsing it. By clicking 'Got It' you're accepting these terms.
Stop the Frack Attack, Idaho
May. 29, 2013 08:45AM EST
Energy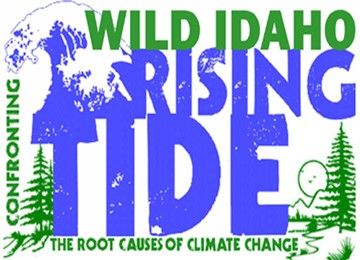 Idaho activists are concerned that Alta Mesa Services (AMS) of Houston, TX, could hydraulically fracture rocks almost a mile underground to obtain natural gas and oil. AMS submitted an application to the Idaho Department of Lands (IDL) on April 30, for a permit to directionally drill a natural gas well under Highway 52 in Payette County, ID, using a lease to the mineral rights under Smoke Ranch.
Unlike the 11 wells sunk by Bridge Resources in 2010 and 2011 in the shallower, "tight" gas sandstone formation of the Hamilton field under Payette River bottomlands (at about 1,400 to 1,750 feet), this well represents the first incursion into the Willow gas field. This deeper of two potential plays in southwestern Idaho lies beneath the hills and buttes surrounding the agricultural communities of New Plymouth and Fruitland, below the Hamilton sandstone and underlying shale, at depths between 4,500 and 5,800 feet in sands over basalt.
 
As a dangerous method of oil and gas well stimulation, fracking forces millions of gallons of pressurized freshwater and toxic substances down wells to crack subsurface rocks and release small, substandard pockets of oil and natural gas. In dozens of states across the country, this process has produced hazardous, radioactive wastewater, contaminated air and water, generated cancer-causing pollution, compromised human and environmental health and safety, and released greenhouses gases causing climate change. Earthquakes triggered by fracking's explosive charges and wastewater well injections could exacerbate Idaho's fifth greatest amount of seismic activity in the nation and consequently shatter the mechanical integrity of such inherently toxic oil and gas wells.
 
The proposed Smoke Ranch well would frack Birding Island, within the extensive wetlands and floodplain confluence of the Payette River and Big Willow Creek, only a few miles upriver from the where the City of Fruitland's drinking water intake and the Payette/Snake River converge. The surrounding landscape is full of farms, ranches, livestock and wildlife dependent on clean surface streams and irrigation canals, and aquifers only 660 feet deep perch, without much distance or barriers, over gas-bearing zones in porous layers punctured by drilling activities.
 
Within one-half mile of this gas well, braided river islands to the southeast and bluffs to the north comprise the two largest sites of the 1,200-acre Payette River Wildlife Management Area (WMA), overseen by the Idaho Department of Fish and Game since 1960. The Payette River WMA maintains a rich Idaho natural heritage supporting year-round residents and migratory populations of raptors, waterfowl, song, water, shore and upland birds and other wildlife. The unique, diverse habitats of the islands and nearby mainland provide prime refuges for waterfowl nesting and brooding and for upland game bird nesting and wintering. Free, popular access to a network of walking trails and canoe reaches through riparian woods, lakes, ponds and marshes benefits the public with bird watching and other recreational opportunities.
 
Birding Island also hosts the former dwelling and lands of the Lenni-Lenape people, migrating descendants of the Delaware tribe. Between the later-established WMA on the east and the Payette River on the west, the home site next to the water was reached by a road from the north. Leander Creech and Pearl Stephenson Creech inhabited a three-room, log-frame "Big House" with pot-belly and cook stoves and a tar-paper roof, while several dozen tribal members stayed in tents and tee pees around their home. Living close to the land and animals, the extended families nurtured and protected the birds that resided in the riverine area. Gathering and hatching wild eggs or sometimes clipping birds' wings, they raised birds in an enclosed, screened coup before freeing them on the island. Canada geese, great blue herons, snowy egrets, mallards, and other significant ancestors of WMA birds often returned to their island home of birth. The Delawares left the place that they called "Birdies Island" in 1945, after someone stole jewelry hidden in the walls and burned the house to the ground.
 
At an Aug. 3, 2012, auction, for the minimum average amount of $2.35 per acre, the IDL leased 1,900 acres of state mineral and surface rights in Payette and Gem counties to the high and only bidder, Snake River Oil and Gas (SROG), for about $4,450. The transferable, ten-year (or indefinite if productive) leases for oil and gas exploration and development cover 44 tracts of public trust lands, ranging from one-third acre to 153 acres, along and beneath the navigable river and lake beds of the Payette River. The Idaho Department of Fish and Game manages 395 acres of these public lands and received about $1,000 of the lease proceeds. Along with other industry-written state laws, rules and regulations, SROG railroaded House Bill 464 through the 2012 Idaho legislative session, essentially undermining local ordinances and control of oil and gas facilities and siting. SROG has since performed seismic tests to gather data and map areas surrounding the river, information that is not available to the public. Lease preconditions disallow drilling on—but not under—the river. Proceeds from the leases and the state's 12 percent royalty fee on oil and natural gas production revenues could benefit Idaho's general fund, which will probably be ultimately ravaged by the environmental aftermath of mine-and-run gas companies.
 
Now that oil and natural gas industry representatives have steamrolled every facet of state and county government, southwestern Idaho's vital agricultural lands and recreational waters and forests could soon be poisoned by fracking around our rivers. Many of our lawmakers have too readily accepted industry assurances of safety and profitability as well as corresponding campaign contributions. They have neglected to demand studies to ascertain possible drilling impacts to surface, ground and irrigation waters, harm of human and wildlife health, damages to property values and public infrastructure, and costs to agricultural, recreation and tourism sectors. Who will pay for subsequent remediation of these myriad losses? Idaho citizens will, unless we resist this risky, industrial development of state lands, waters and adjacent parcels.
 
Alta Mesa Services may have already started site preparation of the Smoke Ranch well, although comments about this drilling application for the first potentially fracked well in Idaho are due to the IDF by May 30. Wild Idaho Rising Tide (WIRT) and our allies ask everyone to comment against permitting this poorly-placed well, while we further investigate these circumstances. WIRT will be distributing regional and national media releases opposing the permit, and coordinate protests at IDL offices throughout the state during the Stop the Frack Attack Week of Action, June 3 to 9. We are planning 3 p.m. demonstrations on Tuesday, June 4, at the  IDL office at 3284 West Industrial Loop in Coeur d'Alene, and on Friday, June 7, at the IDL office at 300 North Sixth St. in Boise. WIRT is also instigating similar public participation at IDL units in Deary, Idaho Falls, Kamiah, McCall, Orofino, Priest Lake, St. Maries and Sandpoint.
Visit EcoWatch's FRACKING page for more related news on this topic.
——–
Sign the petition today, telling President Obama to enact an immediate fracking moratorium:

EcoWatch Daily Newsletter
An Exxon station in Florida remains open despite losing its roof during Hurricane Katrina on Aug. 29, 2005. Florida Air National Guard photo by Master Sgt. Shaun Withers
The country's largest fossil fuel company goes on trial today to face charges that it lied to investors about the safety of its assets in the face of the climate crisis and potential legislation to fight it, as the AP reported.
El Niño's effect on Antarctica is seen in a tabular iceberg off of Thwaites ice shelf. Jeremy Harbeck / NASA
El Niños are getting stronger due to climate change, according to a new study in Monday's Proceedings of the National Academy of Sciences.
By Julia Ries
Antibiotic resistance has doubled in the last 20 years.
Additionally a new study found one patient developed resistance to a last resort antibiotic in a matter of weeks.
Health experts say antibiotic prescriptions should only be given when absolutely necessary in order to avoid growing resistance.
Over the past decade, antibiotic resistance has emerged as one of the greatest public health threats.
Pexels
There are hundreds of millions of acres of public land in the U.S., but not everyone has had the chance to hike in a national forest or picnic in a state park.
Workers attend to a rooftop solar panel project on May 14, 2017 in Wuhan, China. Kevin Frayer / Getty Images
By Simon Evans
Renewable sources of electricity are set for rapid growth over the next five years, which could see them match the output of the world's coal-fired power stations for the first time ever.

Firefighters work during a wildfire threatening nearby hillside homes in the Pacific Palisades neighborhood on Oct. 21 in Los Angeles. The fire scorched at least 30 acres and prompted mandatory evacuations. Mario Tama / Getty Images
A wildfire that broke out Monday near Los Angeles' wealthy Pacific Palisades area threatened around 200 homes and injured two people, CNN reported.
Justin Trudeau gives a speech following a victory in his Quebec riding of Papineau on Oct. 22.
CBC News / YouTube screenshot
Pharmaceutical giant Johnson & Johnson recalled 33,000 bottles of baby powder on Friday after the U.S. Food and Drug Administration (FDA) found trace amounts of asbestos in one of its bottles.