This website uses cookies to ensure you get the best experience while browsing it. By clicking 'Got It' you're accepting these terms.
Stop Shell. Save the Arctic.
Jul. 18, 2015 08:38AM EST
Energy
Today, people committed to a brighter future will gather in cities around the country and sound a united cry to save the Arctic Ocean and our climate from reckless drilling.
The risk is all too real — and so is our response.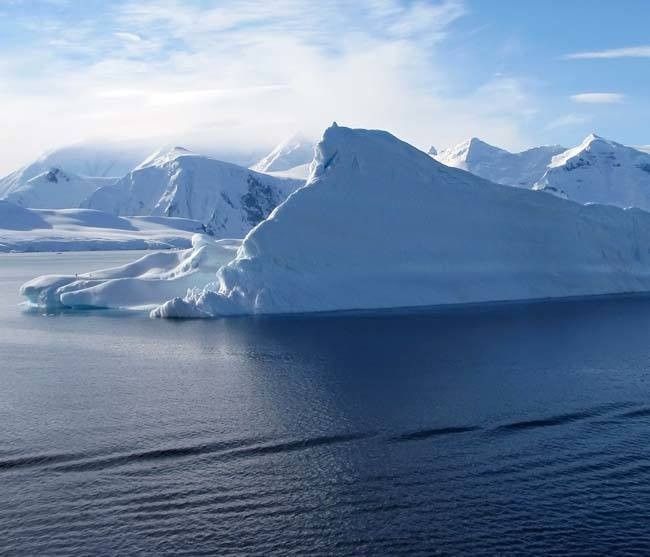 President Obama needs to stand up to Big Oil and put a stop to Arctic drilling before it's too late. That's what we'll be gathering to say during Saturday's Day of Action, with events in places across the nation, from Boston to San Francisco, from Fort Myers, Florida, to Chicago, from Washington DC and elsewhere.
As early as next week, the Royal Dutch Shell oil company could begin exploratory drilling in the Arctic, exposing these waters to the risk of devastating oil spills and ensuring more carbon pollution, which would undermine the gains our country is now making in the fight against climate change.
One of the last pristine oceans on earth, these waters support a rich web of marine and animal life, from tiny phytoplankton to majestic bowhead whales. Eiders, snowy owls and caribou live along the coast. And the ocean hosts some of the most productive fisheries anywhere in the world.
Why would we put all that at risk, when our own government tells us there's a 75 percent chance of a major oil spill if the Arctic leases in the Chukchi Sea are fully developed?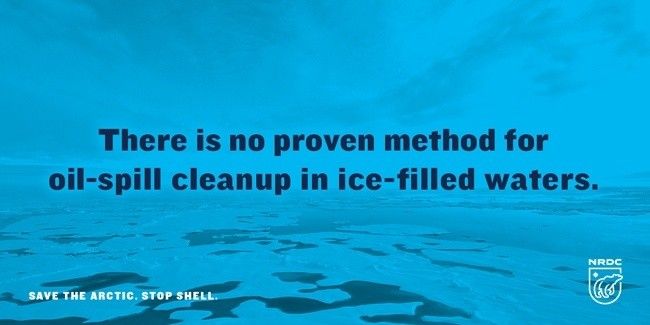 It was just three years ago this summer, in fact, that another Shell Arctic expedition ended in a record of debacle. An underwater containment vessel — which Shell claimed could bottle up a spill — collapsed like a beer can during testing. Hours after arriving at the drill site, the crew had to scramble to move its giant drill ship out of the path of an ice floe 30 miles long and 10 miles wide that threatened to collide with the rig.
Then, within months, Shell lost control of two drilling rigs. One, the Kulluk, drifted free, foundered on rocks, and had to be rescued in a massive salvage operation authorized by the U.S. Coast Guard. Last year, it was chopped up for scrap in a Chinese shipyard.
You'd think the message was loud and clear: The oil industry is no match for the Arctic. No one should be rolling the dice on this special place and all it supports for the sake of oil profits. Offshore oil and gas development is inherently risky.
We got a glimpse of just how hazardous it is five years ago, when the Deepwater Horizon drill vessel exploded, killing 11 workers and dumping millions of barrels of toxic crude oil into the Gulf of Mexico. It took 87 days to plug the gusher and two more months to seal it.
Now imagine a similar disaster in the Arctic, a place where pack ice makes sea travel all but impossible eight months out of the year for any craft other than the sturdiest icebreakers; where gale force winds can kick up waves as high as a three-story building; and where winters that begin in September with wind-chill factors that make temperatures feel like 10 degrees below zero.
Want to talk about capping a blowout under those conditions? Or cleaning up massive clots of frigid oil in seas where an iceberg can peel open the hull of a ship like a paring knife through a potato skin? Or how long it might take for coldwater habitat to recover from an oil spill?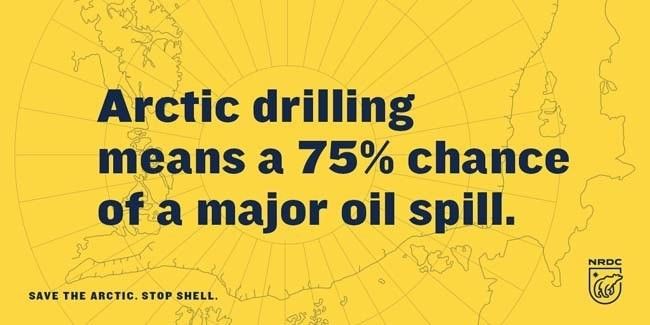 In the Gulf, by the way, BP had at its disposal thousands of commercial and U.S. Navy vessels. The epicenter of the global offshore oil industry, the region is home to its most sophisticated experts and equipment.
That's a far cry from what's available in the far frozen north. The Arctic waters are more than 1,000 miles from the nearest Coast Guard station. Drilling there is wholly irresponsible. It's nothing short of reckless.
The risk of an oil disaster is only part of the threat. The risk to our climate is equally severe.
The best available science makes it clear that we simply cannot afford to keep going to the ends of the earth to squeeze out every last drop of dirty crude oil if we have a hope of fulfilling our moral obligation to protect future generations from climate change.
In fact, the world has already discovered four times as much fossil fuel as can be burned if we are to avoid the worst impacts of climate disruption — and that is without opening new reserves like the Arctic Ocean. Sinking new fossil-fuel infrastructure into the region threatens to lock in decades of the carbon pollution that drives climate change, which triggers more asthma attacks and respiratory disease, worsens air quality, and contributes to more frequent, destructive, costly, and deadly extreme weather events.
The fossil-fuel industry wants us to believe we're stuck with oil and all the damage, danger, and destruction it brings. That we have no choice but to accept that 30 years from now we might need Arctic oil — based on demand assumptions, which the International Energy Agency says would result in an average global temperature increase of at least six degrees Celsius — three times what science states the planet can sustain.
Well, we're not stuck with oil. We can do better than assume climate failure.
We've already cut our oil consumption in this country 21 percent as a share of our real economic output over just the past decade. Imagine what we can do in the decades to come if we put our minds to building on that success.
We're going to double the gas mileage of the cars we drive between now and 2025. Just think of what we can accomplish by setting a goal to even further improve on that. And we're building, right here in this country, some of the best all-electric and hybrid cars anywhere in the world. We'll replace gasoline as a motor fuel, gallon for gallon, by getting more power for these cars from the wind and sun.
We can choose to believe in innovation, American ingenuity, and our commitment to protect this and future generations from dangerous climate change.
That's what global leadership looks like, and I hope you'll join us this Saturday — either in person or via social media — in one great Day of Action calling on President Obama to save the Arctic and save our climate.

It's time to say no to reckless drilling that puts irreplaceable wildlife and habitat at risk. Time to say no to locking our kids, and our grandkids, into more carbon pollution and the harm it is doing to our environment and our health.
Time to move beyond the dirty fossil fuels of the past and embrace the clean energy solutions of the future. Time to stand up and protect precious Arctic waters and all they support.
Time to strike a blow against climate change, for the sake of our future and for the sake of our children.
YOU MIGHT ALSO LIKE 
Al Gore: Obama's Plan for Arctic Drilling Is 'Insane'
People Power Needed Now More Than Ever
Internal Documents Expose Fossil Fuel Industry's Decades of Deception on Climate Change
EcoWatch Daily Newsletter
Pixabay
By Lisa Wartenberg, MFA, RD, LD
Pears are sweet, bell-shaped fruits that have been enjoyed since ancient times. They can be eaten crisp or soft.
Photon-Photos / iStock / Getty Images Plus
The desert of Australia's Northern Territory has the iconic Ayers Rock, but not much else. Soon, it may be known as home to the world's largest solar farm, according to the Guardian.
Golde Wallingford submitted this photo of "Pure Joy" to EcoWatch's first photo contest. Golde Wallingford
EcoWatch is pleased to announce our third photo contest!

A Boeing 737-800 BCF (Boeing Converted Freighter) is marked "Prime Air" as part of Amazon Prime's freight aircraft during the 53rd International Paris Air Show at Le Bourget Airport near Paris, France on June 22. Mustafa Yalcin / Anadolu Agency / Getty Images
It's Prime Day! The day when thousands of increasingly absurd items are discounted so deeply that you suddenly need items you never knew existed. Yes, I do need a hotdog shaped toaster next to me while I watch this Fast & Furious seven movie box set! And I need it in my house today!
By Peter Sinclair
The weather in many areas across the U.S. has been – and certainly throughout America's heartland was for much of the past winter and spring – frightful.
There's a short window between when a tick bites and when it passes on bacteria or virus.
MSU Ag Communications, Courtesy Dr. Tina Nations, CC BY-ND
By Jerome Goddard
When it comes to problems caused by ticks, Lyme disease hogs a lot of the limelight. But various tick species carry and transmit a collection of other pathogens, some of which cause serious, even fatal, conditions.

tomosang / Moment / Getty Images
By Jessica A. Knoblauch
Say goodbye to one of the dreamiest things about childhood. In the Midwest, fireflies are dying off.
A new Climate Emergency Fund contains more than $625,000 which will go to grassroots climate action groups like Extinction Rebellion and students who have organized weekly climate strikes all over the world. @ExtinctionR / Twitter
By Julia Conley
Heeding the call of grassroots campaigners, several wealthy philanthropists announced Friday a new fund that will raise money for climate action groups around the world.