This website uses cookies to ensure you get the best experience while browsing it. By clicking 'Got It' you're accepting these terms.
Stop Feeding the Beast and Start Feeding the People
Feb. 22, 2014 09:25AM EST
Food

Have you ever wondered how anyone makes any money on a $2 bag of nacho-cheese flavored corn chips or a .25¢ apple? Economists and policy wonks have been talking about how we privatize profits and socialize loss here in the U.S. for at least a decade. If your eyes glazed over when you read that, you're not alone. Unfortunately, we can't afford to ignore how this big picture idea affects each and every one of us. What does it mean for Main Street America?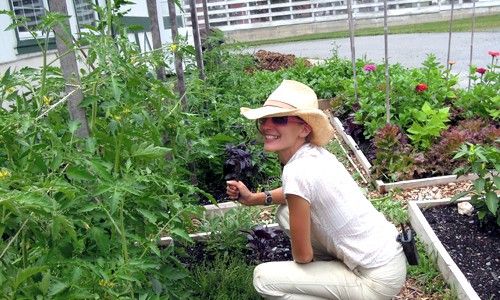 How we grow our nation's food is the perfect snapshot. Organic activists and locavores have also been talking about the same concept for just as long, if not longer: The hidden costs of cheap, industrial food.
We have a system of predatory agriculture in which corporations (aka Big Ag) pursue private gain relentlessly regardless of the social consequences. To bring it closer to home, social consequences can be defined as anything from polluting our water, land and air to impacting the health of our families to making the business of farming economically unsustainable.
Costs such as environmental degradation, declining health and economic insecurity aren't reflected in the price tag because they aren't included in corporate budgets. This is one big reason why there are plenty of profits to be made in toxic agricultural chemicals, junk food and GMOs. But these costs are a burden on us all. Like every parent tries to teach their children: Actions have consequences.
All the garbage that allows Big Ag to make obscene profits is left to our communities to clean up. Take, for example, the Chesapeake Bay and Gulf of Mexico dead zones. Although caused in part by the overuse of synthetic fertilizers and poorly-timed applications of raw manures and biosolids, the negative effects and the "bill" for clean-up go to the American public.
We are what we eat, and we are carrying the costs of corporate greed. In the private profit/social loss equation farmers lose, consumers lose and communities lose.
But life cycle or true cost accounting when it comes to our food system is a numbers nightmare. How do we weigh and measure things like erosion, chemical leaching and run-off, and loss of pollinators like the honeybee and other biodiversity? How do we make a solid connection between food production/consumption and the insidious health impacts of chronic, low-dose exposure to agricultural chemicals and our obesity epidemic?
In a global summit last December whose goal was to "investigate why our current economic system makes it more profitable to produce food in ways that damage the environment and human health, instead of rewarding methods of production that deliver benefits," world leaders recognized that not all agricultural systems are created equal. Farming that not only sustains status quo, but creates a healthier environment is possible. "Some farming methods have public benefit," wrote Dan Imhoff in his coverage of the summit.
Luckily, it doesn't take a global summit or a panel of researchers to figure out what to do: We need to support the organic farmers who are creating a public benefit. It isn't just about growing more, bigger, faster. It is about nourishing ourselves, our families, our communities and the farmers who choose to feed us rather than feeding the corporate beast.
Visit EcoWatch's FOOD page for more related news on this topic.

EcoWatch Daily Newsletter
Artist's conception of solar islands in the open ocean. PNAS
Millions of solar panels clustered together to form an island could convert carbon dioxide in seawater into methanol, which can fuel airplanes and trucks, according to new research from Norway and Switzerland and published in the Proceedings of the National Academy of Sciences journal, PNAS, as NBC News reported. The floating islands could drastically reduce greenhouse gas emissions and dependence on fossil fuels.
Marcos Alves / Moment Open / Getty Images
More than 40 percent of insects could go extinct globally in the next few decades. So why did the U.S. Environmental Protection Agency (EPA) last week OK the 'emergency' use of the bee-killing pesticide sulfoxaflor on 13.9 million acres?
EcoWatch teamed up with Center for Biological Diversity via EcoWatch Live on Facebook to find out why. Environmental Health Director and Senior Attorney Lori Ann Burd explained how there is a loophole in the The Federal Insecticide, Fungicide, and Rodenticide Act under section 18, "that allows for entities and states to request emergency exemptions to spraying pesticides where they otherwise wouldn't be allowed to spray."
Simple swaps that cut down on kitchen trash.
Sponsored
By Kayla Robbins
Along with the bathroom, the kitchen is one of the most daunting areas to try and make zero waste.
View of downtown Miami, Florida from Hobie Island on Feb. 2, 2019.
Michael Muraz / Flickr
The Democratic candidates for president descended upon Miami for a two-night debate on Wednesday and Thursday. Any candidate hoping to carry the state will have to make the climate crisis central to their campaign, as The New York Times reported.
By Sharon Kelly
On Monday, the Wall Street Journal featured a profile of Scott Sheffield, CEO of Pioneer Natural Resources, whose company is known among investors for its emphasis on drawing oil and gas from the Permian basin in Texas using horizontal drilling and hydraulic fracturing, or fracking.
Pexels
By Craig K. Chandler
The federal government has available to it, should it choose to use them, a wide range of potential climate change management tools, going well beyond the traditional pollution control regulatory options. And, in some cases (not all), without new legislative authorization.
Denis Poroy / Getty Images
By Dan Gray
Processed foods, in their many delicious forms, are an American favorite.
But new research shows that despite increasing evidence on just how unhealthy processed foods are, Americans have continued to eat the products at the same rate.
By Sarah Steffen
With a profound understanding of their environmental surroundings, indigenous communities around the world are often cited as being pivotal to tackling climate change.