This website uses cookies to ensure you get the best experience while browsing it. By clicking 'Got It' you're accepting these terms.
STOP COAL EXPORTS: Join Solidarity Actions
Jan. 09, 2013 09:41AM EST
Energy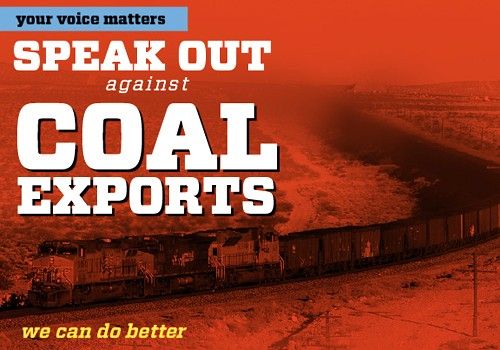 As the environmental impact statement (EIS) scoping period for the proposed Gateway Pacific Terminal at Cherry Point, Washington, draws to a close on Jan. 21, and public comments on the Coyote Island Terminal in Boardman, Oregon, are long past due, federal, state and county decision makers never provided public hearings in Idaho and Montana or a mine-to-port regional programmatic environmental analysis.
Nonetheless, residents of the comparatively rural inland Northwest, especially near Powder River Basin coal strip mines and train routes through Montana population centers and along the railroad funnel between Sandpoint, Idaho and Spokane, Washington, will bear most of the adverse risks and consequences of domestic coal export to Asia, while Ambre Energy, Arch Coal, Peabody Energy, SSA Marine and other giant coal companies reap billions of dollars in profit on up to 160 million tons of coal per year, at taxpayers' expense.
Pillaged public investments would support the required infrastructure and mitigate the predictable damages of this corporate onslaught. Each of the 40 to 60 additional coal trains per day, 1.5 miles long with their 125 cars, would spew toxic coal dust, diesel fumes, occasionally derailed loads and incessant noise; disrupt local transportation, businesses, emergency responses and economies; and degrade air and water quality, human and wildlife health, property values and regional identity.
Five proposed West Coast and Columbia River terminals with huge, open-air coal heaps, river barges through endangered species critical habitat, and more than 950 immense, ocean-going, coal ships per year, crowding oil tankers through the tangled Salish Sea to Asian markets for combustion, would further compromise aquatic ecosystems and inhabitants, and significantly exacerbate pollution and global climate change.
From Jan. 11 to Jan. 20, Blue Skies Campaign, Occupy Spokane and Wild Idaho Rising Tide are staging coal export solidarity actions at train track/roadside intersections in Moscow and Sandpoint, Idaho, Missoula and other cities across Montana, and Spokane, Washington.
We need your help to powerfully demonstrate our collective regional resistance to coal export schemes perpetrated by industry and government.  Tell the U.S. Army Corps of Engineers and Surface Transportation Board, state and county regulatory agencies, and the Burlington Northern Santa Fe Railroad, not to mention the world's largest private coal companies, that Northwesterners will not tolerate their dismissal of community concerns and environmental wellbeing so apparent in their purported public participation processes and mercenary ventures.
Here's how you can help:
Join and share this event announcement and post or search for the date, time, and location of your nearest planned anti-coal export solidarity action with your fellow activists, co-workers, friends, family, classmates, neighbors, etc. Invite your associates to your street theater.
In one or several high pedestrian/vehicle traffic areas or a wild and wonderful place potentially affected by coal export, wield your spirit of dirty energy resistance, protest signs, banners and props, exclaiming your oral or written objections and study suggestions for prospective coal mines, rail routes, ports, and shipping lanes, and take plenty of pictures, videos and/or audio recordings.
Post selections of your photographic, film or audio displays and brief reports of your protest actions, number and kind of participants, public comments and location on this event page. We will compile everyone's results for a substantial media release. Send your photos, links, and/or ideas to at least one each of the following government and corporate offices:
Gateway Pacific Terminal (Cherry Point, Washington)
U.S. Army Corps of Engineers: http://www.eisgatewaypacificwa.gov/
SSA Marine: http://www.ssamarine.com/contacts.html
Peabody Energy: http://www.peabodyenergy.com/content/129/Contact-Us
Morrow Pacific Project (Boardman, Oregon)
U.S. Army Corps of Engineers: steven.k.gagnon@usace.army.mil
Oregon Department of Environmental Quality: http://www.deq.state.or.us/er/CoalExportProject.htm
Oregon Department of State Lands: http://www.statelandsonline.com/index.cfm?fuseaction=Comments.AppDetailLF&id=49123
Ambre Energy: http://morrowpacific.com/contact-us
Coal Export Rail Lines (Montana/Wyoming to ports)
U.S. Surface Transportation Board: http://www.stb.dot.gov/Ect1/ecorrespondence.nsf/incoming?OpenForm
Burlington Northern Santa Fe Railroad: http://www.bnsf.com/feedback.html
Stand up and fight back against Big Coal in the Northwest! High demonstration turnouts and non-traditional testimony from beyond the geographically limited scope of the Oregon- and Washington-only hearings could challenge the legitimacy of exclusionary public processes and expand further environmental review of these coal exploits. Demand a regional programmatic environmental impact statement (or at least an EIS for the Morrow Pacific Project) and public comment hearings in Idaho and Montana.
Events planned include:

Peace Gains, Not Coal Trains
Friday, Jan. 11, 5 - 6:30 p.m. at Friendship Square, Moscow, Idaho
Alongside the weekly Friday evening Peace Vigil in downtown Moscow, Wild Idaho Rising Tide and community activists will form a people's train composed of coal export protesters each carrying a two-dimensional, painted cardboard "rail car" with anti-coal slogans.  Participants will distribute Northwest coal issue and organizational flyers and information, to engage and encourage more Idaho citizen involvement in opportunities for public comments and direct actions.
Return of the Cardboard Coal Train
Saturday, Jan. 12, Noon - 1 p.m. at Riverside and Division Streets, Spokane, Washington
Occupy Spokane's cardboard coal train returns on Saturday, Jan. 12, at high noon at the intersection of Riverside and Division. Let's keep this issue alive and remind Spokane citizens that they have until Jan. 21 to submit their written comments on the scope of the environmental impact statement for the proposed Gateway Pacific Terminal near Bellingham. This will be a solidarity event with other cities in Idaho and Montana.
Sandpoint Coal Export Protest
Saturday, Jan. 12, 3 - 5 p.m., meet at the Safeway parking lot, 702 North Fifth Avenue, near Larch Street in Sandpoint, Idaho
Anti-coal advocates will converge in Sandpoint, Idaho, to host another multi-state demonstration and raise public awareness and participation in opposition to Northwest coal mines, trains and ports. On Saturday afternoon after 3 p.m., we will parade the people's train at a few high profile areas, and at nightfall, we could project spotlighted messages such as "Coal Kills." Car and van pools depart the Wild Idaho Rising Tide Activist House in Moscow (call for the address) at Noon and leave the Occupy Spokane Clubhouse in Spokane (1808 East Sprague Avenue) at 1:30 p.m.
For more information, visit the following sites: Power Past Coal, Coal Train Facts, Columbia Riverkeeper, Coal-Free Bellingham, Coal-Free Spokane, Coal-Free Washington and Wild Idaho Rising Tide.
Visit EcoWatch's COAL EXPORTS page for more related news on this topic.
——–
Click here to sign stop coal exports.

EcoWatch Daily Newsletter

georgeclerk / E+ / Getty Images
By Jennifer Molidor
One million species are at risk of extinction from human activity, warns a recent study by scientists with the United Nations. We need to cut greenhouse gas pollution across all sectors to avoid catastrophic climate change — and we need to do it fast, said the Intergovernmental Panel on Climate Change.
This research should serve as a rallying cry for polluting industries to make major changes now. Yet the agriculture industry continues to lag behind.
Edwin Remsburg / VW Pics / Getty Images
Botswana, home to one third of Africa's elephants, announced Wednesday that it was lifting its ban on the hunting of the large mammals.
"The Ministry of Environment, Natural Resources Conservation and Tourism wishes to inform the public that following extensive consultations with all stakeholders, the Government of Botswana has taken a decision to lift the hunting suspension," the government announced in a press release shared on social media.
Pxhere
By Richard Denison
Readers of this blog know how concerned EDF is over the Trump EPA's approval of many dozens of new chemicals based on its mere "expectation" that workers across supply chains will always employ personal protective equipment (PPE) just because it is recommended in the manufacturer's non-binding safety data sheet (SDS).
By Grant Smith
From 2009 to 2012, Gregory Jaczko was chairman of the Nuclear Regulatory Commission, which approves nuclear power plant designs and sets safety standards for plants. But he now says that nuclear power is too dangerous and expensive — and not part of the answer to the climate crisis.
A lake in Rocky Mountain National Park. Brett Walton / Circle of Blue
By Brett Walton
When Greg Wetherbee sat in front of the microscope recently, he was looking for fragments of metals or coal, particles that might indicate the source of airborne nitrogen pollution in Rocky Mountain National Park. What caught his eye, though, were the plastics.
Gabriele Holtermann Gorden / Pacific Press / LightRocket / Getty Images
In a big victory for animals, Prada has announced that it's ending its use of fur! It joins Coach, Jean Paul Gaultier, Giorgio Armani, Versace, Ralph Lauren, Vivienne Westwood, Michael Kors, Donna Karan and many others PETA has pushed toward a ban.
This is a victory more than a decade in the making. PETA and our international affiliates have crashed Prada's catwalks with anti-fur signs, held eye-catching demonstrations all around the world, and sent the company loads of information about the fur industry. In 2018, actor and animal rights advocate Pamela Anderson sent a letter on PETA's behalf urging Miuccia Prada to commit to leaving fur out of all future collections, and the iconic designer has finally listened.
Amer Ghazzal / Barcroft Media / Getty Images
If people in three European countries want to fight the climate crisis, they need to chill out more.
That's the conclusion of a new study from think tank Autonomy, which found that Germany, the UK and Sweden all needed to drastically reduce their workweeks to fight climate change.
Amazon Employees for Climate Justice held a press conference after the annual shareholder meeting on May 22. Amazon Employees for Climate Justice