This website uses cookies to ensure you get the best experience while browsing it. By clicking 'Got It' you're accepting these terms.
Stomach Contents of Seabirds Show that Marine Plastic Pollution Is out of Control
Jul. 09, 2012 10:47AM EST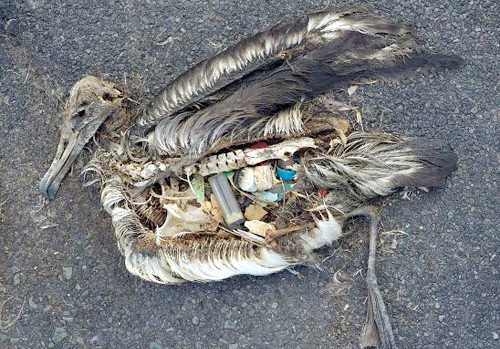 Plastic pollution off the northwest coast of North America is reaching the level of the notoriously polluted North Sea, according to a new study led by a researcher at the University of British Columbia (UBC).
The study, published online in the journal Marine Pollution Bulletin, examined stomach contents of beached northern fulmars on the coasts of British Columbia, Canada and the states of Washington and Oregon.
"Like the canary in the coal mine, northern fulmars are sentinels of plastic pollution in our oceans," says Stephanie Avery-Gomm, the study's lead author and a graduate student in UBC's Department of Zoology. "Their stomach content provides a 'snapshot' sample of plastic pollution from a large area of the northern Pacific Ocean."
Northern fulmars forage exclusively at sea and retain ingested plastics for a long period of time, making them ideal indicators for marine littering. Analysis of beached fulmars has been used to monitor plastic pollution in the North Sea since the 1980s. The latest findings, when compared to previous similar studies, indicate a substantial increase in plastic pollution over the past four decades.
The research group performed necropsies on 67 beached northern fulmars and found that 92.5 percent had plastics—such as twine, Styrofoam and candy wrappers—in their stomachs. An average of 36.8 pieces per bird were found. The average total weight of plastic was 0.385 grams per bird. One bird was found with 454 pieces of plastic in its stomach.
"The average adult northern fulmar weighs five pounds, or 2.25 kilograms," says Avery-Gomm. "While 0.385 grams in a bird may seem inconsequential to us, it's the equivalent of about five percent of their body mass. It would be like a human carrying 50 grams of plastic in our stomach—about the weight of 10 quarters."
"Despite the close proximity of the 'Great Pacific Garbage Patch,' an area of concentrated plastic pollution in the middle of the North Pacific gyre, plastic pollution has not been considered an issue of concern off our coast," says Avery-Gomm. "But we've found similar amounts and incident rates of plastic in beached northern fulmars here as those in the North Sea. This indicates it is an issue which warrants further study."
The researchers propose annual monitoring of trends in plastic pollution and the effectiveness of marine waste reduction strategies.
"Beached bird surveys are providing important clues about causes and patterns of sea bird mortality from oil spill impacts, fisheries by-catch and now plastic ingestion," says co-author Karen Barry with Bird Studies Canada, a not-for profit organization that helped facilitate the study.
Visit EcoWatch's BIODIVERSITY and WATER pages for more related news on these topics.
Plus, learn if there's one that's best for your health.
Catherine Falls Commercial / Moment / Getty Images
An invasive Amynthas worm, also known as a crazy snake worm, Asian jumping worm and Alabama jumper Tom Potterfield / Flickr
By Jason Bittel
My wife and I built a house two years ago on a few acres of woodland outside of Pittsburgh. The backyard is full of maples, poplars, briars and common spicebush. Two-lined salamanders and grumpy-looking crayfish wade among the rocks in the small stream that runs down the edge of the property. Deer, raccoon and opossum tracks appear regularly in the snow and mud. Sometimes, my trail-cam even catches a pair of gray foxes as they slink through the night.
AleksandarNakic / Getty Images
By Kate Murphy
No matter the time of year, there's always a point in each season when my skin decides to cause me issues. While these skin issues can vary, I find the most common issues to be dryness, acne and redness.

David Woodfall / The Image Bank / Getty Images
By Sam Nickerson
The U.S. Environmental Protection Agency (EPA) in April 2018 proposed relaxing standards related to how it assesses the effects of exposure to low levels of toxic chemicals on public health.
Now, correspondence obtained by the LA Times revealed just how deeply involved industry lobbyists and a controversial, industry-funded toxicologist were in drafting the federal agency's proposal to scrap its current, protective approach to regulating toxin exposure.
Steve Irwin poses with a three foot long alligator at the San Francisco Zoo on June 26, 2002. Justin Sullivan / Getty Images
February 22 is the birthday of conservationist and beloved TV personality "Crocodile Hunter" Steve Irwin, who would have been 57 years old today.
Irwin's life was tragically cut short when the barb from a stingray went through his chest while he was filming in 2006, but his legacy of loving and protecting wildlife lives on, most recently in a Google Doodle today honoring his birthday.