This website uses cookies to ensure you get the best experience while browsing it. By clicking 'Got It' you're accepting these terms.


The best of EcoWatch, right in your inbox. Sign up for our email newsletter!
Stomach Contents of Seabirds Show that Marine Plastic Pollution Is out of Control
Jul. 09, 2012 10:47AM EST
Popular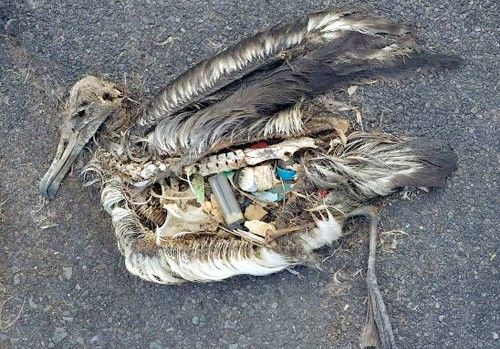 Plastic pollution off the northwest coast of North America is reaching the level of the notoriously polluted North Sea, according to a new study led by a researcher at the University of British Columbia (UBC).
The study, published online in the journal Marine Pollution Bulletin, examined stomach contents of beached northern fulmars on the coasts of British Columbia, Canada and the states of Washington and Oregon.
"Like the canary in the coal mine, northern fulmars are sentinels of plastic pollution in our oceans," says Stephanie Avery-Gomm, the study's lead author and a graduate student in UBC's Department of Zoology. "Their stomach content provides a 'snapshot' sample of plastic pollution from a large area of the northern Pacific Ocean."
Northern fulmars forage exclusively at sea and retain ingested plastics for a long period of time, making them ideal indicators for marine littering. Analysis of beached fulmars has been used to monitor plastic pollution in the North Sea since the 1980s. The latest findings, when compared to previous similar studies, indicate a substantial increase in plastic pollution over the past four decades.
The research group performed necropsies on 67 beached northern fulmars and found that 92.5 percent had plastics—such as twine, Styrofoam and candy wrappers—in their stomachs. An average of 36.8 pieces per bird were found. The average total weight of plastic was 0.385 grams per bird. One bird was found with 454 pieces of plastic in its stomach.
"The average adult northern fulmar weighs five pounds, or 2.25 kilograms," says Avery-Gomm. "While 0.385 grams in a bird may seem inconsequential to us, it's the equivalent of about five percent of their body mass. It would be like a human carrying 50 grams of plastic in our stomach—about the weight of 10 quarters."
"Despite the close proximity of the 'Great Pacific Garbage Patch,' an area of concentrated plastic pollution in the middle of the North Pacific gyre, plastic pollution has not been considered an issue of concern off our coast," says Avery-Gomm. "But we've found similar amounts and incident rates of plastic in beached northern fulmars here as those in the North Sea. This indicates it is an issue which warrants further study."
The researchers propose annual monitoring of trends in plastic pollution and the effectiveness of marine waste reduction strategies.
"Beached bird surveys are providing important clues about causes and patterns of sea bird mortality from oil spill impacts, fisheries by-catch and now plastic ingestion," says co-author Karen Barry with Bird Studies Canada, a not-for profit organization that helped facilitate the study.
Visit EcoWatch's BIODIVERSITY and WATER pages for more related news on these topics.
EcoWatch Daily Newsletter
A common green darners (Anax junius). Judy Gallagher / Flickr
By Jason Bittel
It's that time of year again: Right now, monarch butterflies are taking wing in the mountains of northwestern Mexico and starting to flap their way across the United States.
fstop123 / iStock / Getty Images Plus
At EcoWatch, our team knows that changing personal habits and taking actions that contribute to a better planet is an ongoing journey. Earth Day, happening on April 22, is a great reminder for all of us to learn more about the environmental costs of our behaviors like food waste or fast fashion.
To offer readers some inspiration this Earth Day, our team rounded up their top picks for films to watch. So, sit back and take in one of these documentary films this Earth Day. Maybe it will spark a small change you can make in your own life.
Denali national park. Domen Jakus / Flickr / CC BY-NC 2.0
By Stephanie Gagnon
Happy National Parks Week! This year, between April 20 and 28, escape to the beautiful national parks — either in person or in your imagination — and celebrate the amazing wildlife that calls these spaces home.
Sesame, three months old, at Seal Rescue Irleand.
Screenshot / Seal Rescue Ireland Instagram
On Friday, Seal Rescue Ireland released Sesame the seal into the ocean after five months of rehabilitation at the Seal Rescue Ireland facility. Watch the release on EcoWatch's Facebook.

Beer packs of Guinness will now come in a cardboard box. Diageo

By Jordan Davidson
Guinness is joining the fight against single use plastic. The brewer has seen enough hapless turtles and marine life suffering from the scourge of plastic.
Maskot / Getty Images
People of all ages are spending more of their day looking at their phones, computers and television screens, but parents now have another reason for limiting how much screen time their children get — it could lead to behavioral problems.
Rapper and comedian Lil Dicky released a 7-minute climate change awareness song and video today, ahead of Earth Day on Monday, with proceeds going to the Leonardo DiCaprio Foundation.