This website uses cookies to ensure you get the best experience while browsing it. By clicking 'Got It' you're accepting these terms.
Still No Solution to Storage of High-Level Radioactive Nuclear Waste
Jan. 25, 2015 09:46AM EST
Energy
A private consortium formed to deal with Europe's most difficult nuclear waste at a site in Britain's beautiful Lake District has been sacked by the British government because not sufficient progress has been made in making it safe.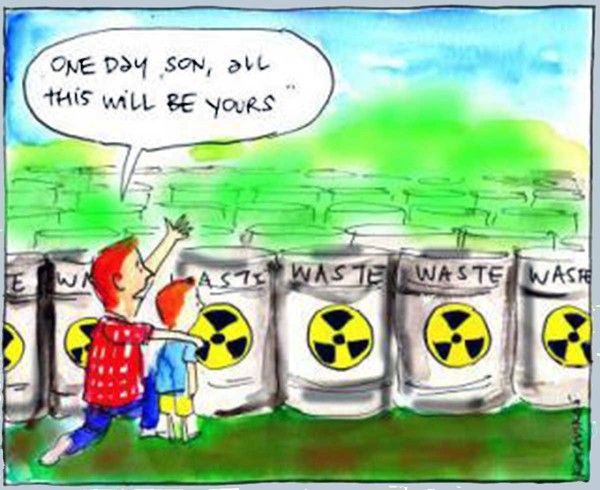 It is the latest setback for an industry that claims nuclear power is the low-carbon answer to climate change, but has not yet found a safe resting place for radioactive rubbish it creates when nuclear fuel and machinery reaches the end of its life.
Dealing with the waste stored at this one site at Sellafield—the largest of a dozen nuclear sites in Britain—already costs the UK taxpayer £2 billion a year, and it is expected to be at least as much as this every year for half a century.
Hundreds of people are employed to prevent the radioactivity leaking or overheating to cause a nuclear disaster, and the cost of dealing with the waste at this site alone has already risen to £70 billion.
Dangerous to humans
This extraordinary legacy of dangerous radioactive waste is present in every country that has adopted nuclear power as a form of electricity production, as well as those with nuclear weapons. No country has yet solved the problem of how to deal with waste that remains dangerous to humans for thousands of years.
Among the many other countries that have a serious unresolved nuclear waste problem are the U.S., Russia, China, India, Japan, France, Germany and Canada, as well as a number of eastern European countries that have aging Russian reactors. Only Sweden seems to have practical plans to deal with its nuclear waste, and these are years away from completion.
Many countries, including Germany and Italy, have rejected nuclear power, partly because they cannot find a solution to the waste problem. But many others—including the UK, India and China—intend to go on building them even though it stores up a dangerous radioactive legacy for future generations.
The problem began after the Second World War when, in the rush to build atomic weapons, the governments of the U.S., Russia and the UK gave no heed to the high dangerous nuclear waste it was creating in the process. This problem continued, even in non-weapon states such as Germany and Japan, when nuclear power was seen as a new, cheap form of electricity production.
Ill-founded hope
The belief was always that science would find some way of neutralising the dangerous radioactivity, and then it could be buried as simply as any other rubbish. This hope has proved to be ill-founded.
Highly radioactive waste, dangerous for as long as 200,000 years, has to be isolated and guarded in every country that has dabbled in nuclear energy. At Sellafield, huge water tanks filled with unknown quantities of radioactive rubbish have yet to be emptied.
The only bright spot is Sweden, which has a deep depository to dispose of short-lived waste in stable granite formations. Other similar depositories are planned along the same lines for more dangerous spent fuel, but these are still at the planning stage.
Long-term problem
Constructing these is likely to take another 30 years, so even in Sweden storing the waste is still a long-term problem. The argument is that once the depositories have been built and sealed, the granite will be stable for millions of years—long enough for the radioactivity to decay to safe levels.
Unfortunately for most countries, they do not have these stable granite formations. Britain has granite in the Lake District, but the rock is fractured and water filters through it, raising the possibility of radioactivity leaching out.
The British government promised four years ago it would not build any more nuclear power stations until it had found a solution to this 50-year-old problem. But it has abandoned the promise because it is no nearer building a Swedish-style depository, even though it is now offering financial bribes to communities to host an underground cavern.
The official position is that Britain is still on course for finding a Swedish-style deep depository for nuclear waste, but no one can say where or when it could be built.
YOU MIGHT ALSO LIKE
Nukes Fade As Wind and Solar Soar
Activists Permanently Shut Down Vermont Yankee Nuke Plant
EcoWatch Daily Newsletter
A. Battenburg / Technical University of Munich
By Sarah Kennedy
Algae in a pond may look flimsy. But scientists are using algae to develop industrial-strength material that's as hard as steel but only a fraction of the weight.
Variety of fermented food korean traditional kimchi cabbage and radish salad. white and red sauerkraut in ceramic plates over grey spotted background. Natasha Breen / REDA&CO / Universal Images Group / Getty Image
Even if you've never taken probiotics, you've probably heard of them.
These supplements provide numerous benefits because they contain live microorganisms, such as bacteria or yeast, which support the healthy bacteria in your gut (1, 2, 3, 4).
Pexels
Singapore will become the first country in the world to place a ban on advertisements for carbonated drinks and juices with high sugar contents, its health ministry announced last week. The law is intended to curb sugar consumption since the country has some of the world's highest diabetes rates per capita, as Reuters reported.
A typical adult takes around 20,000 breaths per day. If you live in a megacity like Beijing, with many of those lungfuls you're likely to inhale a noxious mixture of chemicals and pollutants.
Fred Stone holds his brown swiss cow Lida Rose at his Arundel dairy farm on March 18 after a press conference where he spoke about PFAS chemical contamination in his fields. Gregory Rec / Portland Portland Press Herald via Getty Images
By Susan Cosier
First there was Fred Stone, the third-generation dairy farmer in Maine who discovered that the milk from his cows contained harmful chemicals. Then came Art Schaap, a second-generation dairy farmer in New Mexico, who had to dump 15,000 gallons of contaminated milk a day.
Protesters attend the 32nd annual Fur-Free Friday demonstration on Nov. 23, 2018 in Beverly Hills, California. Ella DeGea / Getty Images
California Governor Gavin Newsom signed into law a bill that that bans the sale and manufacture of fur products in the state. The fur ban, which he signed into law on Saturday, prohibits Californians from selling or making clothing, shoes or handbags with fur starting in 2023, according to the AP.
By Simon Evans
During the three months of July, August and September, renewables generated an estimated total of 29.5 terawatt hours (TWh), compared with just 29.1TWh from fossil fuels, the analysis shows.
A demonstrator waves an Ecuadorian flag during protests against the end of subsidies to gasoline and diesel on Oct. 9 in Quito, Ecuador. Jorge Ivan Castaneira Jaramillo / Getty Images