Energy
Jan. 25, 2015 09:46AM EST
Still No Solution to Storage of High-Level Radioactive Nuclear Waste
A private consortium formed to deal with Europe's most difficult nuclear waste at a site in Britain's beautiful Lake District has been sacked by the British government because not sufficient progress has been made in making it safe.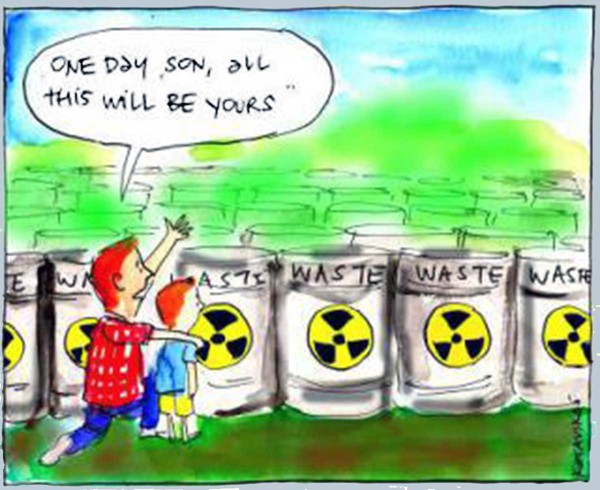 It is the latest setback for an industry that claims nuclear power is the low-carbon answer to climate change, but has not yet found a safe resting place for radioactive rubbish it creates when nuclear fuel and machinery reaches the end of its life.
Dealing with the waste stored at this one site at Sellafield—the largest of a dozen nuclear sites in Britain—already costs the UK taxpayer £2 billion a year, and it is expected to be at least as much as this every year for half a century.
Hundreds of people are employed to prevent the radioactivity leaking or overheating to cause a nuclear disaster, and the cost of dealing with the waste at this site alone has already risen to £70 billion.
Dangerous to humans
This extraordinary legacy of dangerous radioactive waste is present in every country that has adopted nuclear power as a form of electricity production, as well as those with nuclear weapons. No country has yet solved the problem of how to deal with waste that remains dangerous to humans for thousands of years.
Among the many other countries that have a serious unresolved nuclear waste problem are the U.S., Russia, China, India, Japan, France, Germany and Canada, as well as a number of eastern European countries that have aging Russian reactors. Only Sweden seems to have practical plans to deal with its nuclear waste, and these are years away from completion.
Many countries, including Germany and Italy, have rejected nuclear power, partly because they cannot find a solution to the waste problem. But many others—including the UK, India and China—intend to go on building them even though it stores up a dangerous radioactive legacy for future generations.
The problem began after the Second World War when, in the rush to build atomic weapons, the governments of the U.S., Russia and the UK gave no heed to the high dangerous nuclear waste it was creating in the process. This problem continued, even in non-weapon states such as Germany and Japan, when nuclear power was seen as a new, cheap form of electricity production.
Ill-founded hope
The belief was always that science would find some way of neutralising the dangerous radioactivity, and then it could be buried as simply as any other rubbish. This hope has proved to be ill-founded.
Highly radioactive waste, dangerous for as long as 200,000 years, has to be isolated and guarded in every country that has dabbled in nuclear energy. At Sellafield, huge water tanks filled with unknown quantities of radioactive rubbish have yet to be emptied.
The only bright spot is Sweden, which has a deep depository to dispose of short-lived waste in stable granite formations. Other similar depositories are planned along the same lines for more dangerous spent fuel, but these are still at the planning stage.
Long-term problem
Constructing these is likely to take another 30 years, so even in Sweden storing the waste is still a long-term problem. The argument is that once the depositories have been built and sealed, the granite will be stable for millions of years—long enough for the radioactivity to decay to safe levels.
Unfortunately for most countries, they do not have these stable granite formations. Britain has granite in the Lake District, but the rock is fractured and water filters through it, raising the possibility of radioactivity leaching out.
The British government promised four years ago it would not build any more nuclear power stations until it had found a solution to this 50-year-old problem. But it has abandoned the promise because it is no nearer building a Swedish-style depository, even though it is now offering financial bribes to communities to host an underground cavern.
The official position is that Britain is still on course for finding a Swedish-style deep depository for nuclear waste, but no one can say where or when it could be built.
YOU MIGHT ALSO LIKE
Nukes Fade As Wind and Solar Soar
Activists Permanently Shut Down Vermont Yankee Nuke Plant
iStock
By Robert Coleman
The Environmental Working Group's (EWG) just-released Tap Water Database shows that a startling number of cancer-causing chemicals contaminate the nation's drinking water. Of 250 different contaminants detected in tests by local utilities, 93 are linked to an increased risk of developing cancer.
Keep reading...
Show less
Aaron Teasdale
By Aaron Teasdale
"How much moon do we have tonight?" I yelled to my friend Greg, trying to make myself heard over the sounds of wind and surging water. The sun was sinking toward the mountains all too quickly and our float-in campsite lay somewhere down the river's bends in darkening forest.
Greg shrugged. He had no clue of the moon's cycle either, which showed just how tragically pasty and over-civilized we'd turned. Our days had become filled with computer screens, not forest scenes; our nights capped with ceilings, not stars. All of which made this journey on standup paddleboards so sweet—or at least we hoped it would be sweet, if the pesky headwind would let up before we had to risk disfiguring ourselves while navigating boulder-strewn waters by headlamp and whatever light the moon might spare.
Keep reading...
Show less
By Rebekah Wilce
The world of independent chemical testing has a shiny veneer. The public is reassured that chemicals they're exposed to on a daily basis are certified by technicians in spotless white lab coats who carefully conduct scientific studies, including on animals in neat rows of cages.
But a federal grand jury investigation that ended with convictions in the early 1980s discovered that Industrial Bio-Test Laboratories (IBT), the largest such lab in the U.S., conducted trials with mice that regularly drowned in their feeding troughs. The dead animals would decompose so quickly that "their bodies oozed through wire cage bottoms and lay in purple puddles on the dropping trays." IBT even invented an acronym "TBD/TDA" for its raw safety data, later discovered to mean "too badly decomposed."
Keep reading...
Show less
iStock
Roman officials are considering shutting off the water supply to one-third of the city's residents for eight hours per day as early as this weekend, according to reports.
Keep reading...
Show less
Ararat Rock Solar farm in Mount Airy, North Carolina. NARENCO
North Carolina Gov. Roy Cooper signed a bill into law Thursday that will boost solar production but curb wind energy in the state.
House Bill 589, the result of months of arduous negotiations between utilities and the solar industry, is intended to encourage the continued growth of solar in the state, but it includes a moratorium on new wind projects for the next 18 months.
Keep reading...
Show less
Algal blooms in Lake St. Clair and in western Lake Erie in 2015. NASA Earth Observatory
Heavier rainfall linked to rising temperatures could substantially increase the volume of agricultural runoff flowing into waterways, triggering toxic algal blooms, according to new research.
A study published Thursday in the journal Science finds that heavier rainfall could increase nitrogen runoff in U.S. lakes, rivers and streams by 19 percent by the end of this century.
Keep reading...
Show less
iStock
By Jen Sawada
Sharks have been around for 400 million years, before the time of the dinosaurs, but there's much more to them than big teeth and summer blockbusters. Consider these facts, which will change what you think about sharks.
Keep reading...
Show less
Felix Kramer / Wikimedia
By Jason Mathers
The high level of confidence that automotive industry leaders have in the future of electric vehicles (EVs) has been on full display recently.
Keep reading...
Show less


Get EcoWatch in your inbox