This website uses cookies to ensure you get the best experience while browsing it. By clicking 'Got It' you're accepting these terms.
Still No Solution to Storage of High-Level Radioactive Nuclear Waste
Jan. 25, 2015 09:46AM EST
Energy
A private consortium formed to deal with Europe's most difficult nuclear waste at a site in Britain's beautiful Lake District has been sacked by the British government because not sufficient progress has been made in making it safe.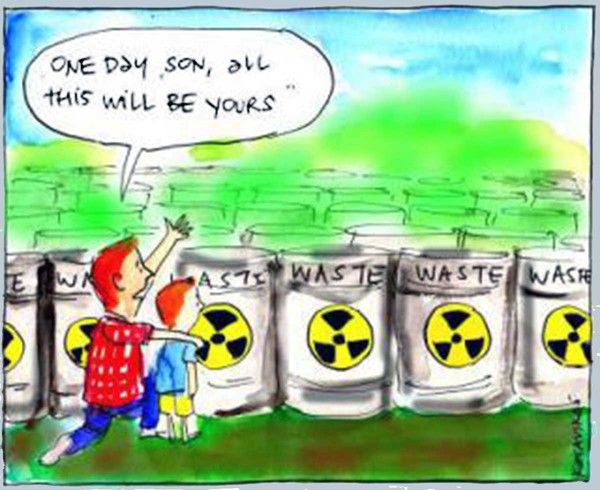 It is the latest setback for an industry that claims nuclear power is the low-carbon answer to climate change, but has not yet found a safe resting place for radioactive rubbish it creates when nuclear fuel and machinery reaches the end of its life.
Dealing with the waste stored at this one site at Sellafield—the largest of a dozen nuclear sites in Britain—already costs the UK taxpayer £2 billion a year, and it is expected to be at least as much as this every year for half a century.
Hundreds of people are employed to prevent the radioactivity leaking or overheating to cause a nuclear disaster, and the cost of dealing with the waste at this site alone has already risen to £70 billion.
Dangerous to humans
This extraordinary legacy of dangerous radioactive waste is present in every country that has adopted nuclear power as a form of electricity production, as well as those with nuclear weapons. No country has yet solved the problem of how to deal with waste that remains dangerous to humans for thousands of years.
Among the many other countries that have a serious unresolved nuclear waste problem are the U.S., Russia, China, India, Japan, France, Germany and Canada, as well as a number of eastern European countries that have aging Russian reactors. Only Sweden seems to have practical plans to deal with its nuclear waste, and these are years away from completion.
Many countries, including Germany and Italy, have rejected nuclear power, partly because they cannot find a solution to the waste problem. But many others—including the UK, India and China—intend to go on building them even though it stores up a dangerous radioactive legacy for future generations.
The problem began after the Second World War when, in the rush to build atomic weapons, the governments of the U.S., Russia and the UK gave no heed to the high dangerous nuclear waste it was creating in the process. This problem continued, even in non-weapon states such as Germany and Japan, when nuclear power was seen as a new, cheap form of electricity production.
Ill-founded hope
The belief was always that science would find some way of neutralising the dangerous radioactivity, and then it could be buried as simply as any other rubbish. This hope has proved to be ill-founded.
Highly radioactive waste, dangerous for as long as 200,000 years, has to be isolated and guarded in every country that has dabbled in nuclear energy. At Sellafield, huge water tanks filled with unknown quantities of radioactive rubbish have yet to be emptied.
The only bright spot is Sweden, which has a deep depository to dispose of short-lived waste in stable granite formations. Other similar depositories are planned along the same lines for more dangerous spent fuel, but these are still at the planning stage.
Long-term problem
Constructing these is likely to take another 30 years, so even in Sweden storing the waste is still a long-term problem. The argument is that once the depositories have been built and sealed, the granite will be stable for millions of years—long enough for the radioactivity to decay to safe levels.
Unfortunately for most countries, they do not have these stable granite formations. Britain has granite in the Lake District, but the rock is fractured and water filters through it, raising the possibility of radioactivity leaching out.
The British government promised four years ago it would not build any more nuclear power stations until it had found a solution to this 50-year-old problem. But it has abandoned the promise because it is no nearer building a Swedish-style depository, even though it is now offering financial bribes to communities to host an underground cavern.
The official position is that Britain is still on course for finding a Swedish-style deep depository for nuclear waste, but no one can say where or when it could be built.
YOU MIGHT ALSO LIKE
Nukes Fade As Wind and Solar Soar
Activists Permanently Shut Down Vermont Yankee Nuke Plant
EcoWatch Daily Newsletter
Artist's conception of solar islands in the open ocean. PNAS
Millions of solar panels clustered together to form an island could convert carbon dioxide in seawater into methanol, which can fuel airplanes and trucks, according to new research from Norway and Switzerland and published in the Proceedings of the National Academy of Sciences journal, PNAS, as NBC News reported. The floating islands could drastically reduce greenhouse gas emissions and dependence on fossil fuels.
Marcos Alves / Moment Open / Getty Images
More than 40 percent of insects could go extinct globally in the next few decades. So why did the U.S. Environmental Protection Agency (EPA) last week OK the 'emergency' use of the bee-killing pesticide sulfoxaflor on 13.9 million acres?
EcoWatch teamed up with Center for Biological Diversity via EcoWatch Live on Facebook to find out why. Environmental Health Director and Senior Attorney Lori Ann Burd explained how there is a loophole in the The Federal Insecticide, Fungicide, and Rodenticide Act under section 18, "that allows for entities and states to request emergency exemptions to spraying pesticides where they otherwise wouldn't be allowed to spray."
Simple swaps that cut down on kitchen trash.
Sponsored
By Kayla Robbins
Along with the bathroom, the kitchen is one of the most daunting areas to try and make zero waste.
View of downtown Miami, Florida from Hobie Island on Feb. 2, 2019.
Michael Muraz / Flickr
The Democratic candidates for president descended upon Miami for a two-night debate on Wednesday and Thursday. Any candidate hoping to carry the state will have to make the climate crisis central to their campaign, as The New York Times reported.
By Sharon Kelly
On Monday, the Wall Street Journal featured a profile of Scott Sheffield, CEO of Pioneer Natural Resources, whose company is known among investors for its emphasis on drawing oil and gas from the Permian basin in Texas using horizontal drilling and hydraulic fracturing, or fracking.
Pexels
By Craig K. Chandler
The federal government has available to it, should it choose to use them, a wide range of potential climate change management tools, going well beyond the traditional pollution control regulatory options. And, in some cases (not all), without new legislative authorization.
Denis Poroy / Getty Images
By Dan Gray
Processed foods, in their many delicious forms, are an American favorite.
But new research shows that despite increasing evidence on just how unhealthy processed foods are, Americans have continued to eat the products at the same rate.
By Sarah Steffen
With a profound understanding of their environmental surroundings, indigenous communities around the world are often cited as being pivotal to tackling climate change.