This website uses cookies to ensure you get the best experience while browsing it. By clicking 'Got It' you're accepting these terms.
Still No Solution to Storage of High-Level Radioactive Nuclear Waste
Jan. 25, 2015 09:46AM EST
A private consortium formed to deal with Europe's most difficult nuclear waste at a site in Britain's beautiful Lake District has been sacked by the British government because not sufficient progress has been made in making it safe.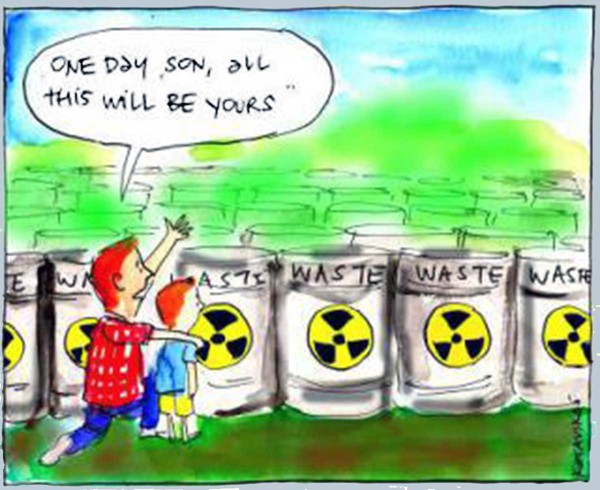 It is the latest setback for an industry that claims nuclear power is the low-carbon answer to climate change, but has not yet found a safe resting place for radioactive rubbish it creates when nuclear fuel and machinery reaches the end of its life.
Dealing with the waste stored at this one site at Sellafield—the largest of a dozen nuclear sites in Britain—already costs the UK taxpayer £2 billion a year, and it is expected to be at least as much as this every year for half a century.
Hundreds of people are employed to prevent the radioactivity leaking or overheating to cause a nuclear disaster, and the cost of dealing with the waste at this site alone has already risen to £70 billion.
Dangerous to humans
This extraordinary legacy of dangerous radioactive waste is present in every country that has adopted nuclear power as a form of electricity production, as well as those with nuclear weapons. No country has yet solved the problem of how to deal with waste that remains dangerous to humans for thousands of years.
Among the many other countries that have a serious unresolved nuclear waste problem are the U.S., Russia, China, India, Japan, France, Germany and Canada, as well as a number of eastern European countries that have aging Russian reactors. Only Sweden seems to have practical plans to deal with its nuclear waste, and these are years away from completion.
Many countries, including Germany and Italy, have rejected nuclear power, partly because they cannot find a solution to the waste problem. But many others—including the UK, India and China—intend to go on building them even though it stores up a dangerous radioactive legacy for future generations.
The problem began after the Second World War when, in the rush to build atomic weapons, the governments of the U.S., Russia and the UK gave no heed to the high dangerous nuclear waste it was creating in the process. This problem continued, even in non-weapon states such as Germany and Japan, when nuclear power was seen as a new, cheap form of electricity production.
Ill-founded hope
The belief was always that science would find some way of neutralising the dangerous radioactivity, and then it could be buried as simply as any other rubbish. This hope has proved to be ill-founded.
Highly radioactive waste, dangerous for as long as 200,000 years, has to be isolated and guarded in every country that has dabbled in nuclear energy. At Sellafield, huge water tanks filled with unknown quantities of radioactive rubbish have yet to be emptied.
The only bright spot is Sweden, which has a deep depository to dispose of short-lived waste in stable granite formations. Other similar depositories are planned along the same lines for more dangerous spent fuel, but these are still at the planning stage.
Long-term problem
Constructing these is likely to take another 30 years, so even in Sweden storing the waste is still a long-term problem. The argument is that once the depositories have been built and sealed, the granite will be stable for millions of years—long enough for the radioactivity to decay to safe levels.
Unfortunately for most countries, they do not have these stable granite formations. Britain has granite in the Lake District, but the rock is fractured and water filters through it, raising the possibility of radioactivity leaching out.
The British government promised four years ago it would not build any more nuclear power stations until it had found a solution to this 50-year-old problem. But it has abandoned the promise because it is no nearer building a Swedish-style depository, even though it is now offering financial bribes to communities to host an underground cavern.
The official position is that Britain is still on course for finding a Swedish-style deep depository for nuclear waste, but no one can say where or when it could be built.
YOU MIGHT ALSO LIKE
Nukes Fade As Wind and Solar Soar
Activists Permanently Shut Down Vermont Yankee Nuke Plant
Three scissor-tailed flycatcher fledglings in a mesquite tree in Texas. Texas Eagle / CC BY-NC 2.0
By Gary Paul Nabhan
President Trump has declared a national emergency to fund a wall along our nation's southern border. The border wall issue has bitterly divided people across the U.S., becoming a vivid symbol of political deadlock.
PeopleImages / E+ / Getty Images
By Daniel Ross
Hurricane Florence, which battered the U.S. East Coast last September, left a trail of ruin and destruction estimated to cost between $17 billion and $22 billion. Some of the damage was all too visible—smashed homes and livelihoods. But other damage was less so, like the long-term environmental impacts in North Carolina from hog waste that spilled out over large open-air lagoons saturated in the rains.
Hog waste can contain potentially dangerous pathogens, pharmaceuticals and chemicals. According to the state's Department of Environmental Quality, as of early October nearly 100 such lagoons were damaged, breached or were very close to being so, the effluent from which can seep into waterways and drinking water supplies.
This picture taken on May 21, 2018 shows discarded climbing equipment and rubbish scattered around Camp 4 of Mount Everest. Decades of commercial mountaineering have turned Mount Everest into the world's highest rubbish dump as an increasing number of big-spending climbers pay little attention to the ugly footprint they leave behind. DOMA SHERPA / AFP / Getty Images
China has closed its Everest base camp to tourists because of a buildup of trash on the world's tallest mountain.
Researchers tested the eggs of Arctic northern fulmers like these in Nunavut, Canada.
Fiona Paton / Flickr
By Madison Dapcevich
Plastics have been recorded in every corner of the world, from the remote icy waters of Antarctica to the bellies of deep-sea fishes. Now, preliminary findings presented at this year's American Association for the Advancement of Science (AAAS) annual meeting in Washington, DC suggest that bird eggs from the high Arctic—one of the most remote wildernesses on the planet—show evidence of contamination from chemicals used in plastics.