Steyer Escalates Campaign to Keep Climate Deniers Out of Office
Oct. 21, 2014 02:02PM EST
Climate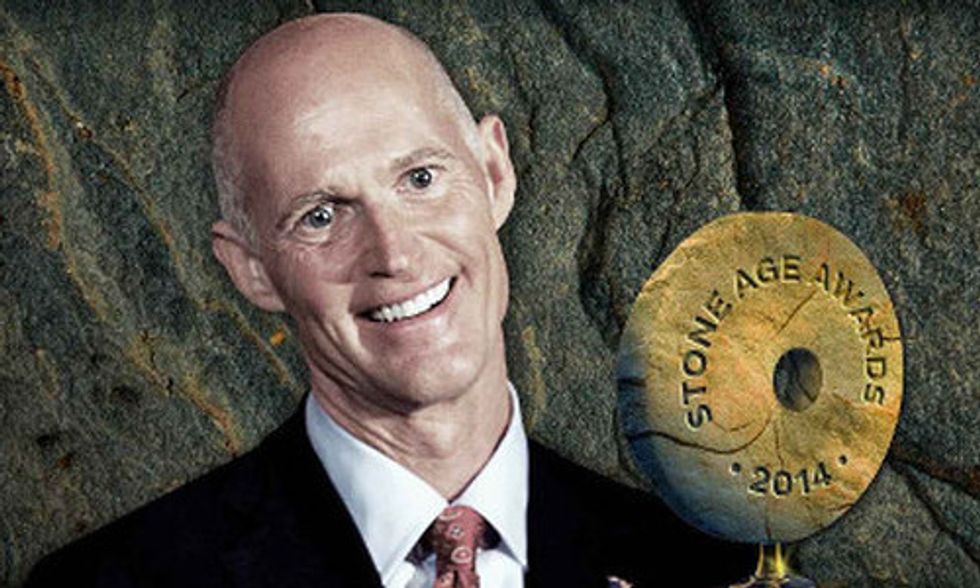 On the heels of its Science Denier Week last week, NextGen Climate founder and funder Tom Steyer has put another $15 million into its coffers to help elect climate- and science-friendly candidates in the midterm elections. And that was merely his contribution in September. The billionaire is on track to fulfill his promise to put $50 million into this year's elections, with $41 million donated so far this year. Other sources put in an additional $1.9 million.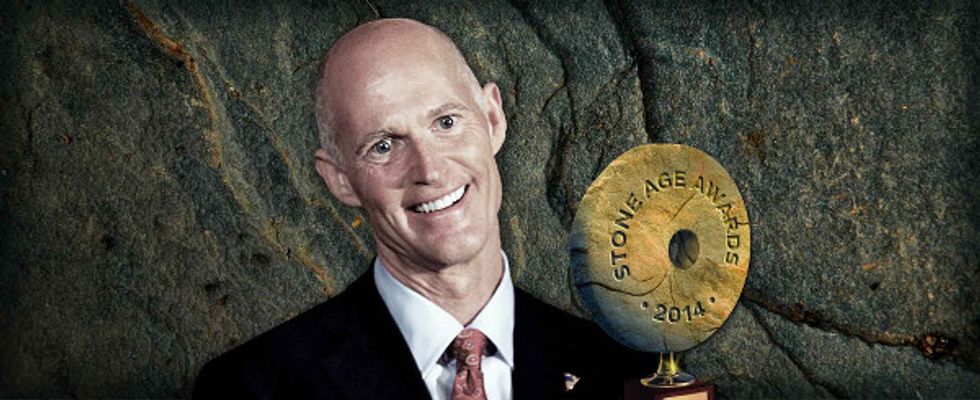 NextGen will continue its campaign of trying to shame climate-denier candidates and officeholders into changing their stance through ads and promotions like Science Denier Week and its Stone Age Report, released last week, targeting the most egregious deniers. It singled out U.S. Senate candidates Cory Gardner (CO), Terri Lynn Land (MI), Joni Ernst (IA) and Scott Brown (NH), and Governors Rick Scott (FL) and Paul LePage (ME), who are up for reelection in tight races.
"Voters deserve to know which candidates are still living in the past, and which of our leaders are ready to preserve our nation's health and prosperity for generations to come," says the Stone Age Report, a philosophy that underpins NextGen's spending.
Governor LePage, for instance, vetoed legislation to prepare the state's communities and businesses for the impacts of climate change and he has said he thinks it's all good.
"Everybody looks at the negative part of global warming, but with the ice melting, the northern pass has opened up," he said at a press conference last year. "The new sea traffic is going across the north, and so rather than Maine being at the end of the pipeline, we're at the beginning of the new pipeline." He also vetoed a bill in April to encourage the expansion of solar power that was passed in the legislature by a large bipartisan majority.
Iowa's Joni Ernst, the Republican running for an open Senate seat in Iowa, has a track record of saying off-the-wall things, and that includes on climate change. She recently said, "Yes, we do see climates change but I have not seen proven proof that it is entirely man-made. I think we do have cyclic changes in weather, and I think that's been throughout the course of history." And she encouraged people to recycle.
But the winner of the competition for the 2014 Stone Age award was ... ta da! ... Florida Gov. Rick Scott, who is in a heated battle with Democratic challenger Charlie Crist to hang on to his job. In his case, it's less stupid statements than stupid actions, although he's dutifully parroted the "I'm not a scientist ..." line to evade admitting climate change is real. But more importantly, he's demonstrated a willingness to put polluting corporate interests that contributed to his campaign ahead of the state's threatened coastline with millions of people and home and trillions of dollars of assets at risk from sea level rise and hurricanes.
YOU MIGHT ALSO LIKE
Join Beyond Extreme Energy Actions in DC
Koch Brothers Decline Tom Steyer's Climate Change Debate Invitation
5 Ways Midterm Elections Will Impact Renewable Energy and Climate
EcoWatch Daily Newsletter