State of the Gulf Report Released by Save Our Gulf Waterkeepers
Oct. 04, 2011 04:14PM EST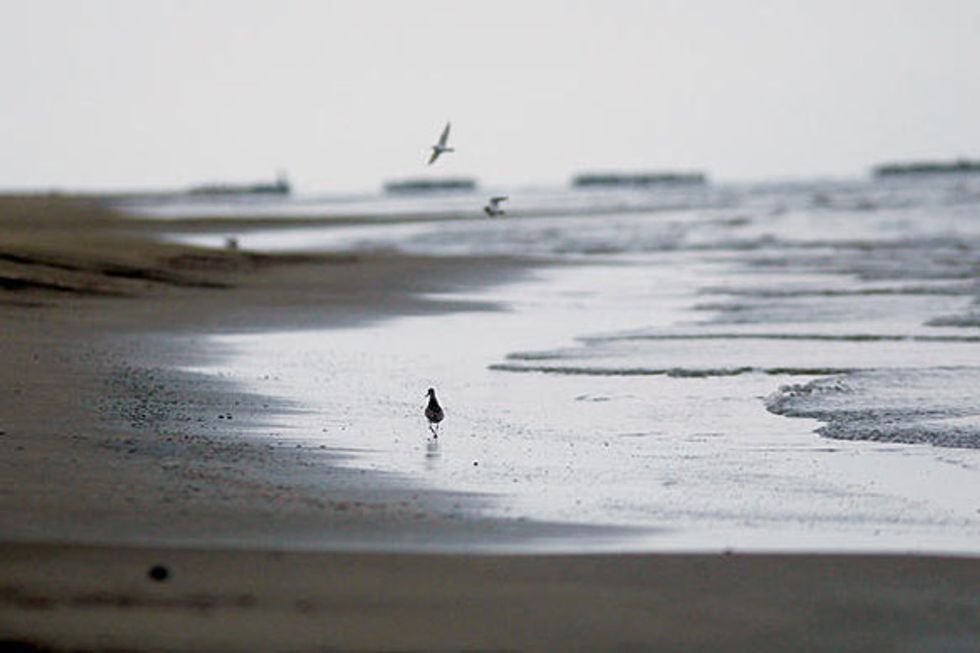 More than a year since the BP's Deepwater Horizon well was capped in the Gulf of Mexico, oil continues to wash ashore along beaches and wetlands of the U.S. coast at an alarming rate.
This disaster—the worst environmental disaster in U.S. history—has devastated the health of the region's wildlife and lands. It's a growing threat to public health. Local economies—from Florida to Louisiana—and family budgets are suffering. The BP oil disaster isn't over.
To highlight the oil contamination found in the water, sediment, and seafood and sea life across the coastline, on Oct. 4, Waterkeeper Alliance issued The State of the Gulf, a status report of Gulf Coast recovery after the discharge of 250 million gallons of crude oil into the Gulf of Mexico. The report outlines seven key findings, including calling for long-term environmental monitoring. Currently, the Save Our Gulf Waterkeeper organizations coordinate the most comprehensive citizen-led environmental monitoring effort. The report documents the results of the environmental monitoring project, including oyster tissue sampling from Louisiana to Florida.
Since last summer, Waterkeeper Alliance and Gulf Coast Waterkeepers have been speaking out and advocating for local communities and watersheds to ensure that they're not forgotten. Over the last year, Waterkeeper Alliance has:
Sampled and monitored the oil contamination found in water, sea life and along the shores of the Gulf states,
Pressed for a greater voice among local citizens as part of the government's Gulf Coast Ecosystem Restoration Task Force, and
Organized more than 154 environmental, fishing and community groups to demand that that Environmental Protection Agency and Department of Health and Human Services provide resources to those who are experiencing health impacts due to the oil disaster.
The seven key findings of the report include:
The BP Deepwater Horizon oil disaster is an ongoing disaster. The oil isn't gone, and long-term impacts are still unknown. If past oil spills are used as a barometer we can fully expect the Gulf Coast to suffer continued environmental degradation for decades. Leading scientific studies are showing that three-fourths of the oil is still lingering on the bottom of the Gulf of Mexico, creating an unprecedented and unknown new environmental reality for the Gulf Coast. Oil is also still along the coastal areas in the form of tarballs, strings and mats, as well as in subsurface sandy beach areas. Our governmental and community leaders must work in concert to find long-term, sustainable solutions for recovery and restoration.
The BP deepwater horizon oil disaster is a national disaster. The Gulf Coast serves as a resource for the entire nation. The Gulf of Mexico has one of the most productive fisheries in the world, providing more than two-thirds of the nation's shrimp and oysters along with four of the top seven fishing ports by weight. There are more than 5 million acres of coastal wetlands along the Gulf, which is about half of the coastal wetlands in the United States. If the Gulf Coast collapses and these resources are lost, it will have negative consequences for the entire nation. The BP oil disaster also proved that the industry and federal and state governments and agencies are not prepared for oil spills of national significance. Deficiencies in regulations and enforcement continue to threaten communities and ecosystems across the nation. At a minimum, Oil Spill Commission recommendations must be implemented in order to ensure a higher level of safety in offshore drilling.
There are growing public health concerns on the gulf coast. While setting up pathways toward ecosystem restoration, the government continues to ignore citizens' calls for action on public health. Currently there's no government forum for those suffering from and concerned about the short- and long-term health impacts. The impacts extend along all Gulf of Mexico states and consist of current and ex-oil clean-up workers and coastal communities. The people of the Gulf Coast are still in need of proper diagnosis, treatment and medical monitoring. Our health, economy and environment are interconnected and solutions must reflect this.
Citizens' participation must be placed at the highest priority for appropriate restoration. To ensure responsible and adequate recovery and restoration for sustainable and resilient communities, public participation must be included in all decision making. A Citizen Advisory Council has been added to provide input to the federal restoration framework, and now a Regional Citizen Advisory Council (RCAC) must be established, funded and given decision-making authority for the Gulf Coast. An RCAC should be charged to help monitor industry compliance, governmental oversight and scientific research in the years following the nation's largest environmental disaster, thus protecting our environment, communities and economies from additional oil pollution.
Dedicate clean water act penalties to the Gulf Coast for environmental restoration. Impacted communities need leadership from their congressional delegations to ensure that Clean Water Act penalties resulting from the BP oil disaster are dedicated to the Gulf Coast for environmental restoration. The Gulf of Mexico is a major economic engine for the entire country, and its restoration must be adequately funded.
The Gulf Coast must restore and rebuild sustainabily. The past seven years have been tumultuous for the Gulf Coast. Hurricanes Ivan, Katrina, Rita, Ike and Gustav and now the BP oil disaster have devastated both important natural resources and local economies. In our changing times and climate, the Gulf Coast must show leadership by rebuilding, recovering and restoring sustainability. Restoring wetlands, oyster reefs and natural flow regimes can build resiliency back into our coastal communities. We have an opportunity to make fundamental changes to the way we have cared for our environment and natural resources, and we must not let the lessons of this disaster or the gateway to change be lost.
Long-term environmental monitoring is essential. Save Our Gulf Waterkeepers has collected and analyzed over 100 samples of aquatic organism tissue, soil and water from Gulf of Mexico coastal areas from Louisiana to Florida. We found petroleum hydrocarbon contamination in all of the areas that were sampled and in the tissue of many of the seafood species. The data that we collected also lead us to believe that polycyclic aromatic hydrocarbon (PAH) contamination in some seafood species may be increasing over time. In light of these results, we believe that comprehensive long-term environmental monitoring is essential to understanding, protecting and restoring the Gulf Coast ecosystem in the wake of the BP oil disaster.
To download the full report, click here.
For more information, click here.
Journalists film a protest by the environmental organization BUND at the Datteln coal-fired power plant in North Rhine-Westphalia, Germany on April 23, 2020. Bernd Thissen / picture alliance via Getty Images
By Jessica Corbett
Lead partners of a global consortium of news outlets that aims to improve reporting on the climate emergency released a statement on Monday urging journalists everywhere to treat their coverage of the rapidly heating planet with the same same level of urgency and intensity as they have the COVID-19 pandemic.
EcoWatch Daily Newsletter
Airborne microplastics are turning up in remote regions of the world, including the remote Altai mountains in Siberia. Kirill Kukhmar / TASS / Getty Images
However, a new study from researchers at Cornell and Utah State University highlights the increasing threat of airborne microplastics "spiraling around the globe," The Guardian reported.
Plastic waste breaks down into smaller pieces until it becomes microscopic and gets swept up into the atmosphere, where it rides the jet stream and travels across continents, the Cornell Chronicle reported. Researchers discovered this has led to a global plastic cycle as microplastics permeate the environment, according to The Guardian.
"We found a lot of legacy plastic pollution everywhere we looked; it travels in the atmosphere and it deposits all over the world," Janice Brahney, lead author of the study and Utah State University assistant professor of natural resources, told the Cornell Chronicle. "This plastic is not new from this year. It's from what we've already dumped into the environment over several decades."
In the study, published in the journal Proceedings of the National Academy of Sciences, researchers tested the most likely sources of more than 300 samples of airborne microplastics from 11 sites across the western U.S. To their surprise, the researchers found that almost none of the atmospheric microplastics came from plastic waste in cities and towns. "It just didn't work out that way," Professor Natalie Mahowald from Cornell University, who was part of the research team, told The Guardian.
It turns out that 84 percent of atmospheric microplastics came from roads, 11 percent from oceans and five percent from agricultural soil dust, the scientists wrote.
"We did the modeling to find out the sources, not knowing what the sources might be," Mahowald told the Cornell Chronicle. "It's amazing that this much plastic is in the atmosphere at that level, and unfortunately accumulating in the oceans and on land and just recirculating and moving everywhere, including remote places."
The scientists say the level of plastic pollution is expected to increase, raising "questions on the impact of accumulating plastics in the atmosphere on human health. The inhalation of particles can be irritating to lung tissue and lead to serious diseases," The Guardian reported.
The study coincides with other recent reports by researchers, who confirmed the existence of microplastics in New Zealand and Moscow, where airborne plastics are turning up in remote parts of snowy Siberia.
In the most recent study, scientists also learned that plastic particles were more likely to be blown from fields than roads in Africa and Asia, The Guardian reported.
As plastic production increases every year, the scientists stressed that there remains "large uncertainties in the transport, deposition, and source attribution of microplastics," and wrote that further research should be prioritized.
"What we're seeing right now is the accumulation of mismanaged plastics just going up. Some people think it's going to increase by tenfold [per decade]," Mahowald told The Guardian. "But maybe we could solve this before it becomes a huge problem, if we manage our plastics better, before they accumulate in the environment and swirl around everywhere."
A laborer works at the site of a rare earth metals mine at Nancheng county, Jiangxi province, China on Oct. 7, 2010. Jie Zhao / Corbis via Getty Images
By Michel Penke
More than every second person in the world now has a cellphone, and manufacturers are rolling out bigger, better, slicker models all the time. Many, however, have a bloody history.
Though made in large part of plastic, glass, ceramics, gold and copper, they also contain critical resources. The gallium used for LEDs and the camera flash, the tantalum in capacitors and indium that powers the display were all pulled from the ground — at a price for nature and people.
"Mining raw materials is always problematic, both with regard to human rights and ecology," said Melanie Müller, raw materials expert of the German think tank SWP. "Their production process is pretty toxic."
The gallium and indium in many phones comes from China or South Korea, the tantalum from the Democratic Republic of Congo or Rwanda. All in, such materials comprise less than ten grams of a phone's weight. But these grams finance an international mining industry that causes radioactive earth dumps, poisoned groundwater and Indigenous population displacement.
Environmental Damage: 'Nature Has Been Overexploited'
The problem is that modern technologies don't work without what are known as critical raw materials. Collectively, solar panels, drones, 3D printers and smartphone contain as many as 30 of these different elements sourced from around the globe. A prime example is lithium from Chile, which is essential in the manufacture of batteries for electric vehicles.
"No one, not even within the industry, would deny that mining lithium causes enormous environmental damage," Müller explained, in reference to the artificial lakes companies create when flushing the metal out of underground brine reservoirs. "The process uses vast amounts of water, so you end up with these huge flooded areas where the lithium settles."
This means of extraction results in the destruction and contamination of the natural water system. Unique plants and animals lose access to groundwater and watering holes. There have also been reports of freshwater becoming salinated due to extensive acidic waste water during lithium mining.
But lithium is not the only raw material that causes damage. Securing just one ton of rare earth elements produces 2,000 tons of toxic waste, and has devastated large regions of China, said Günther Hilpert, head of the Asia Research Division of the German think tank SWP.
He says companies there have adopted a process of spraying acid over the mining areas in order to separate the rare earths from other ores, and that mined areas are often abandoned after excavation.
"They are no longer viable for agricultural use," Hilpert said. "Nature has been overexploited."
China is not the only country with low environmental mining standards and poor resource governance. In Madagascar, for example, a thriving illegal gem and metal mining sector has been linked to rainforest depletion and destruction of natural lemur habitats.
States like Madagascar, Rwanda and the DRC score poorly on the Environmental Performance Index that ranks 180 countries for their effort on factors including conservation, air quality, waste management and emissions. Environmentalists are therefore particularly concerned that these countries are mining highly toxic materials like beryllium, tantalum and cobalt.
But it is not only nature that suffers from the extraction of high-demand critical raw materials.
"It is a dirty, toxic, partly radioactive industry," Hilpert said. "China, for example, has never really cared about human rights when it comes to achieving production targets."
Dirty, Toxic, Radioactive: Working in the Mining Sector
One of the most extreme examples is Baotou, a Chinese city in Inner Mongolia, where rare earth mining poisoned surrounding farms and nearby villages, causing thousands of people to leave the area.
In 2012, The Guardian described a toxic lake created in conjunction with rare earth mining as "a murky expanse of water, in which no fish or algae can survive. The shore is coated with a black crust, so thick you can walk on it. Into this huge, 10 sq km tailings pond nearby factories discharge water loaded with chemicals used to process the 17 most sought after minerals in the world."
Local residents reported health issues including aching legs, diabetes, osteoporosis and chest problems, The Guardian wrote.
South Africa has also been held up for turning a blind eye to the health impacts of mining.
"The platinum sector in South Africa has been criticized for performing very poorly on human rights — even within the raw materials sector," Müller said.
In 2012, security forces killed 34 miners who had been protesting poor working conditions and low wages at a mine owned by the British company Lonmin. What became known as the "Marikana massacre" triggered several spontaneous strikes across the country's mining sector.
Müller says miners can still face exposure to acid drainage — a frequent byproduct of platinum mining — that can cause chemical burns and severe lung damage. Though this can be prevented by a careful waste system.
Some progress was made in 2016 when the South African government announced plans to make mining companies pay $800 million (€679 million) for recycling acid mine water. But they didn't all comply. In 2020, activists sued Australian-owned mining company Mintails and the government to cover the cost of environmental cleanup.
Another massive issue around mining is water consumption. Since the extraction of critical raw materials is very water intensive, drought prone countries such as South Africa, have witnessed an increase in conflicts over supply.

For years, industry, government and the South African public debated – without a clear agreement – whether companies should get privileged access to water and how much the population may suffer from shortages.
Mining in Brazil: Replacing Nature, People, Land Rights
Beyond the direct health and environmental impact of mining toxic substances, quarrying critical raw materials destroys livelihoods, as developments in Brazil demonstrate.
"Brazil is the major worldwide niobium producer and reserves in [the state of] Minas Gerais would last more than 200 years [at the current rate of demand]," said Juliana Siqueira-Gay, environmental engineer and Ph.D. student at the University of São Paulo.
While the overall number of niobium mining requests is stagnating, the share of claims for Indigenous land has skyrocketed from 3 to 36 percent within one year. If granted, 23 percent of the Amazon forest and the homeland of 222 Indigenous groups could fall victim to deforestation in the name of mining, a study by Siqueira-Gay finds.
In early 2020, Brazilian President Jair Bolsonaro signed a bill which would allow corporations to develop areas populated by Indigenous communities in the future. The law has not yet entered into force, but "this policy could have long-lasting negative effects on Brazil's socio-biodiversity," said Siqueira-Gay.
One example are the niobium reserves in Seis Lagos, in Brazil's northeast, which could be quarried to build electrolytic capacitors for smartphones.
"They overlap the Balaio Indigenous land and it would cause major impacts in Indigenous communities by clearing forests responsible for providing food, raw materials and regulating the local climate," Siqueira-Gay explained.
She says scientific good practice guidelines offer a blueprint for sustainable mining that adheres to human rights and protects forests. Quarries in South America — and especially Brazil — funded by multilaterial banks like the International Finance Corporation of the World Bank Group have to follow these guidelines, Siqueira-Gay said.
They force companies to develop sustainable water supply, minimize acid exposure and re-vegetate mined surfaces. "First, negative impacts must be avoided, then minimized and at last compensated — not the other way around."
Reposted with permission from DW.
From Your Site Articles
Related Articles Around the Web
Scientists are studying barley, the key ingredient in beer. Ridofranz / Getty Images
Researchers at UC-Riverside are investigating how barley, a key ingredient in beer, survives in such a wide variety of climates with hopes of learning what exactly makes it so resilient across climates.
Barley was first grown domestically in Southwest Asia about 10,000 year ago and is grown around the world, from Egypt to Minnesota.
Barley's prime growing regions have shifted northward in recent decades as global temperatures have risen due to climate change caused by human extraction and combustion of fossil fuels.
Chuck Skypeck, technical brewing projects manager for the Brewers Association located in Boulder, Colorado, told E&E climate change's effects are impacting the brewing industry.
"Certainly dynamic growing conditions, water scarcity, extreme weather events, growers' planting decisions can all affect both pricing and availability of brewers' supply of malted barley," he told E&E News.
For a deeper dive:
For more climate change and clean energy news, you can follow Climate Nexus on Twitter and Facebook, sign up for daily Hot News, and visit their news site, Nexus Media News.
Air France airplanes parked at the Charles de Gaulle/Roissy airport on March 24, 2020. SAMSON / AFP via Getty Images
France moved one step closer this weekend to banning short-haul flights in an attempt to fight the climate crisis.
A bill prohibiting regional flights that could be replaced with an existing train journey of less than two and a half hours passed the country's National Assembly late on Saturday, as Reuters reported.
"We know that aviation is a contributor of carbon dioxide and that because of climate change we must reduce emissions," Industry Minister Agnes Pannier-Runacher told Europe 1 radio, according to Reuters.
The measure now has to pass the French Senate, then return to the lower house for a final vote. It would end regional flights between Paris's Orly airport and cities like Nantes and Bordeaux, The Guardian explained. It would not, however, impact connecting flights through Paris's Charles de Gaulle/Roissy airport.
The bill is part of a legislative package which aims to reduce France's emissions by 40 percent of 1990 levels by 2030, Reuters reported. It is a watered-down version of a proposal suggested by France's Citizens' Convention on Climate, BBC News explained. This group, which was formed by President Emmanuel Macron in 2019 and included 150 ordinary citizens, had put forward a ban on flights that could be replaced with an existing train journey of under four hours.
However, the journey length was lowered after protests from KLM-Air France, which had suffered heavy losses due to the coronavirus pandemic, and regions who were concerned about being left out of national transit networks, as The Guardian explained.
"We have chosen two and a half hours because four hours risks isolating landlocked territories including the greater Massif Central, which would be iniquitous," transport minister Jean-Baptiste Djebbari said, as The Guardian reported.
However, some environmental and consumer groups objected to the changes. The organization UFC-Que Choisir compared plane routes with equivalent train journeys of under four hours and found that the plane trips emitted an average of 77 times more carbon dioxide per passenger than the train journeys. At the same time, the train alternatives were cheaper and only as much as 40 minutes longer.
"[T]he government's choice actually aims to empty the measure of its substance," the group said, according to The Guardian.
The new measure also opens the French government to charges of hypocrisy. It bailed out Air France-KLM to the tune of a seven-billion euro loan last year, though it did require the airline to drop some domestic routes as a condition. Then, days before the measure passed, it more than doubled its stake in the airline, BBC News reported. However, Pannier-Runacher insisted to Europe 1 radio that it was possible to balance fighting climate change and supporting struggling businesses.
"Equally, we must support our companies and not let them fall by the wayside," she said, as Reuters reported.
This is not the first time that climate measures and aviation bailouts have coincided in the wake of the coronavirus pandemic. Austrian Airlines replaced its Vienna-Salzburg flight with additional train service after it received government money dependent on cutting greenhouse gas emissions, BBC News reported.
The number of flights worldwide declined almost 42 percent in 2020 when compared with 2019. It is expected that global aviation may not fully recover until 2024, according to Reuters.