State Department Releases Final Environmental Impact Statement on Keystone XL Pipeline
Jan. 31, 2014 05:35PM EST
Climate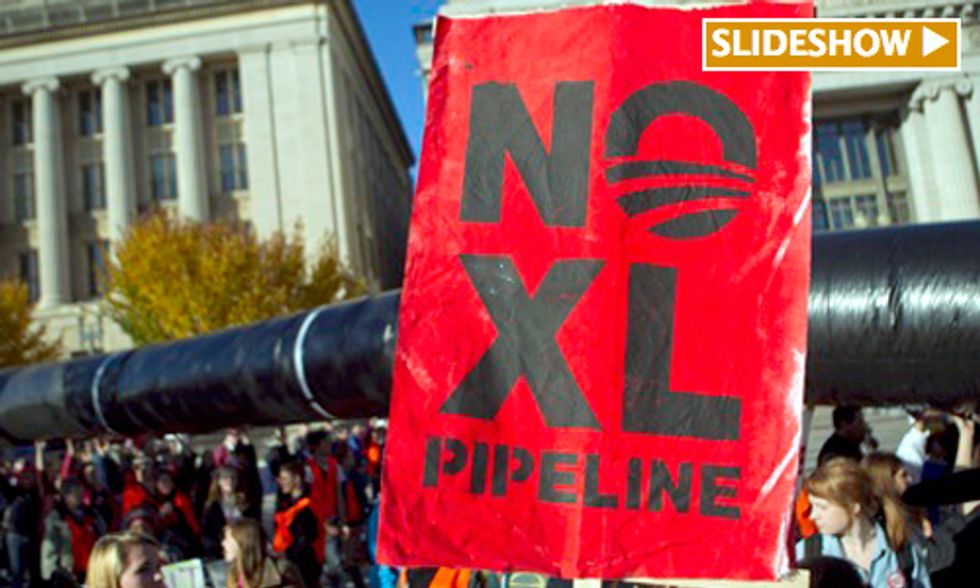 The State Department today released the Final Supplemental Environmental Impact Statement (EIS) for the proposed Keystone XL oil pipeline project.
The controversial project would carry as much as 830,000 barrels of tar sands oil per day from Alberta, Canada to the U.S. Gulf Coast. The State Department's Final Supplemental EIS concluded that the pipeline wouldn't increase the rate of extraction of tar sands and thus isn't likely to significantly increase carbon pollution.
[slideshow_deploy id='346835']
"The idea that this pipeline would pose little environmental risk is laughable. If built it will transport the dirtiest fuel on the planet across six states and hundreds of waterways," said Phil Radford, executive director of Greenpeace. "The risk of oil spills and increase in pollution that this pipeline will cause is unacceptable.
"Building this pipeline would be like adding 37 million new cars to U.S. roads. There is nothing insignificant about that. Why invest in oil infrastructure at all, when the cost of
renewable energy
like wind and solar continues to plummet?"
The Final Supplemental EIS provides a technical assessment of the potential environmental impacts related to the proposed pipeline and responds to the more than 1.9 million comments received since June 2012.
"Tens of thousands of people across North America, from tribal leaders to ranchers, farmers and landowners, have spoken out, stood up and even been arrested to stop this environmental threat and protect their critical water supplies," said actress and activist Daryl Hannah.
"It is clear that the President must stop this project and invest in clean energy in the interests of a livable planet and future generations."
Last June President Obama warned of the dangers of climate change and said the Keystone XL pipeline would only be in the national interest if it "does not significantly exacerbate the problem of carbon pollution." The State Department and independent experts have already determined that the Keystone XL will vastly increase tar sands development in Alberta, Canada. Acclaimed climate scientist Dr. James Hansen has said Keystone would be "game over" for avoiding catastrophic climate change.
"Keystone XL will transport nearly a billion barrels of highly toxic tar sands oil through America's heartland each and every day for 50 years or more—only to have much of it refined and exported," said Bill Snape, senior counsel with the Center for Biological Diversity. "Along the way it will crush some of the last habitat for endangered species like the swift fox and whooping crane. It'll pollute water used by millions of people and emit as many greenhouse gases as 51 coal-fired power plants."
Last year the Center for Biological Diversity released a report on the risks posed to endangered species by Keystone XL and a video highlighting the dangers of oil pipelines—a key point given the State Department's estimate that the 1,700 Canada-to-Texas Keystone XL pipeline will spill at least 100 times during its lifetime.
In response to the release of the Final Supplemental EIS and the fact that Canadian officials knew about it days before, Chris Lehane, a top adviser to clean energy philanthropist Tom Steyer, had this to say:
"In addition to the fact that they ignored the science, interagency criticism, basic economics of the industry and TransCanada's own recent admission that the pipeline is the key to opening up the tar sands, the fact that a foreign oil company and foreign government were given critical intelligence ahead of everyone else tells you all you need to know about how useless this EIS is for Secretary Kerry."
If such insider information had been leaked by a public corporation, it would generate an insider trading investigation. Given that a foreign oil company and its lobbyists appear to have received proprietary information before it was shared with the American people demands an answers. We call on the State Department Inspector General to open up an investigation immediately. Where there is smoke there is fire."
The Final Supplemental EIS does not approve or deny the proposed project. It's now up to the Presidential Permit review process to focuses on whether the proposed Keystone XL pipeline serves the national interest. The review process will take into consideration the following factors: energy security; environmental, cultural and economic impacts; foreign policy; and compliance with relevant federal regulations and issues.
In making the final decision, the State Department, as identified in Executive Order 13337, will consult with the Departments of Defense, Justice, Interior, Commerce, Transportation, Energy, Homeland Security and the U.S. Environmental Protection Agency. A 30-day public comment period will begin on Feb. 5, and close on March 7. The public and interested parties are encouraged to submit comments.
Visit EcoWatch's KEYSTONE XL and CLIMATE CHANGE pages for more related news on this topic.

EcoWatch Daily Newsletter
Related Articles from EcoWatch