Starbucks Pressured to Switch to Non-GMO, Organic Milk
Green America's GMO Inside campaign launched a major push this month asking Starbucks to serve only organic milk sourced from cows that are fed a diet free of genetically modified organisms (GMOs).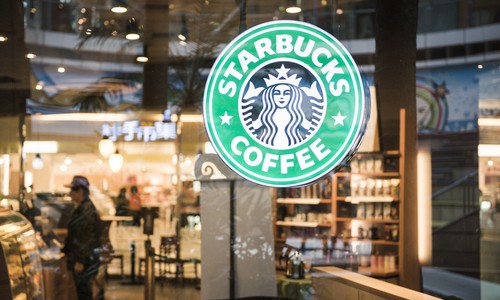 Wayne0216
/
Shutterstock.com
Starbucks, the world's largest coffee chain with more than 20,000 locations in 62 countries, uses milk from cows that are fed GMO corn, soy, alfalfa and cottonseed.
If the coffee giant opts to make the change, Green America also wants a third-party verifier integrated into the transition to ensure the milk is, in fact, sourced from cows eating non-GMO feed.
"Starbucks already serves soy milk that is organic and non-GMO; consumers also deserve dairy milk held to the same standard and level of quality," said Green America's GMO Inside Campaign Director Nicole McCann in a prepared statement. "Consumers will put pressure on Starbucks to serve only organic, non-GMO milk. And the reality is that the process Starbucks put in place to remove rBGH from its milk source can be used to source organic milk."
In 2008, in response to consumer and investor concerns, Starbucks committed to use rBGH-free milk (or milk free of a growth hormone injected in cows).
"Starbucks made the right move in removing growth hormones from its milk,"said Green America President and GMO Inside Co-Chair Alisa Gravitz. "However, Starbucks has sent confusing messages to its customers by stopping short of addressing long-term environmental as well as human and animal health concerns. In contrast, Pret A Manger, a growing and thriving quick service chain, already serves only organic dairy and soy at comparable prices."
Additionally, the switch to organic would prevent Starbucks customers from ingesting antibiotics used in industrialized farming—a common practice which speeds animal growth and milk production, but has perpetuated the spread of potentially fatal, antibiotic -resistant "superbugs."
"As a dues paying member of the Grocery Manufacturers Association, Starbucks has helped bankroll efforts to defeat GMO labeling in the U.S. for the past two years. It's time for Starbucks to commit to transparency and the highest quality ingredients for their customers," said Dave Murphy, founder and executive director of Food Democracy Now!
Winning the fight
GMO Inside's campaign was launched on the heels of the consumer victory to get GMO ingredients out of General Mills' Cheerios.
The national non-profit mobilized 50,000 people to post comments on Cheerios' Facebook wall and prompted more than 35,000 consumers to write in and telephone General Mills asking the major food producer to stop using GMOs in popular cereal brands. The initiative worked, General Mills complied and Post Cereals followed suit, agreeing to phase out GMOs from Grape Nuts, Chipotle, Ben & Jerry's and Kashi.
Whole Foods has also pledged it will label GMOs sold in its stores by 2018.
Further GMO Concerns
A majority of GMOs are engineered to withstand herbicide chemicals. As a result, the use of Monsanto's Roundup has continued to increase, not decrease, leaving large trace amounts of the chemical on GMO foods sold in America's grocery stores. 
Lately, the emergence of "super weeds" resistant to Roundup require more toxic herbicides to be applied to crops. The Food and Drug Administration has approved GMOs based on studies conducted by the same corporations that created and profit from them. GMOs have yet to be proven safe for humans, animal or the planet by independent long-term studies.
Visit EcoWatch's GMO page for more related news on this topic.

A coalition of conservation groups and others announced Thursday that a historic number of comments and petitions of support have been submitted to the U.S. Department of the Interior in support of Bears Ears National Monument. Despite the entirely inadequate 15-day comment period ending on May 26, more than 685,000 comments in support of Bears Ears National Monument have been collected.
Keep reading...
Show less
Rink Glacier in western Greenland, with a meltwater lake visible center. NASA/OIB
Scientists have had their eyes on Greenland as its iconic glaciers have begun disappearing due to a warming climate. But, what they didn't expect to see was a whole new type of melting.
Keep reading...
Show less
Mountain View Fire
By Lena Moffitt
An oil tanker in Mead, Colorado exploded, killing one and injuring three on Thursday. Authorities are continuing to investigate the cause of the explosion.
Keep reading...
Show less
Banner created by Alliance for Climate Education
Keep reading...
Show less
Twenty-two GOP senators sent a letter Thursday urging Donald Trump to pull out of the Paris agreement. They argued remaining in the deal could "upend" the administration's ability "to fulfill its goal of rescinding the Clean Power Plan."
Keep reading...
Show less
By Cheryl Johncox
The Federal Energy Regulatory Commission (FERC) rejected on Thursday Energy Transfer Partners' request to resume horizontal directional drilling at two sites for its Rover fracked gas pipeline. This rejection comes after numerous leaks into Ohio's wetlands, and Clean Air and Clean Water act violations. FERC has halted the process at only eight locations of the 32 where drilling is taking place under Ohio's wetlands and streams.
Keep reading...
Show less
By Nadia Prupis
A majority of people in eight countries say they are ready to change their lifestyles if it would prevent climate catastrophe, a survey on global threats released Wednesday found.
Keep reading...
Show less
May. 25, 2017 01:55PM EST
Bill Maher is sick of billionaires' obsession with Mars, more like "Mars-a-Lago," he said.
In a new animation produced by ATTN:, the popular talk show host of Real Time, discusses the perils of our planet, including how "climate change is killing us."
Keep reading...
Show less