This website uses cookies to ensure you get the best experience while browsing it. By clicking 'Got It' you're accepting these terms.
Stanford University Scientists Produce Electricity From Sewage
Oct. 30, 2013 09:20AM EST
Scientists at Stanford University produced a battery that generates electricity from an unlikely resource—sewage.
Their microbial battery won't be powering neighborhoods, but they believe it could aid the power used to treat wastewater, which accounts for about 3 percent of energy in developed nations like the U.S. The researchers hope the prototype, which is about the size of a D-battery, will be used in sewage plants as well as to break down organic pollutants in the dead zones of lakes and coastal waters where fertilizer runoff and other organic waste can deplete oxygen levels and suffocate marine habitants.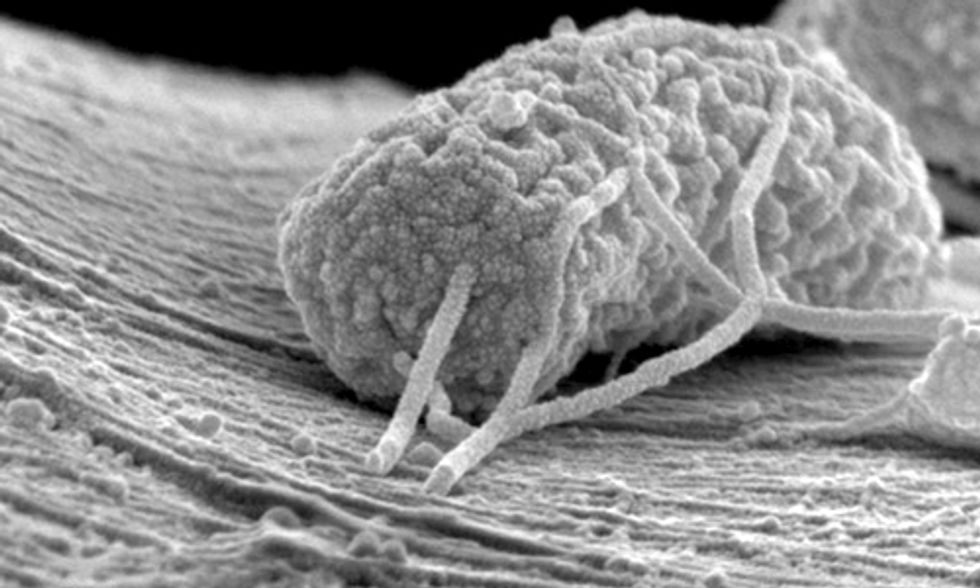 The tubular growth depicted here is a type of microbe that can produce electricity. Its wire-like tendrils are attached to a carbon filament. This image is taken with a scanning electron microscope. Photo credit: Xing Xie
According to a research paper published in Proceedings of the National Academy of Sciences, the prototype  is visually nothing more than one positive electrode and one negative, stuffed in a bottle of wastewater. Bacteria are attached to the negative electrode and feed on organic waste particles and produce electricity that is captured by the battery's positive electrode.
Craig Criddle, the paper's co-author, an environmental engineer and Stanford Woods Institute senior fellow, referred to the practice as "fishing for electrons."
The Stanford engineers believe the battery can extract about 30 percent of the potential energy locked in wastewater. They estimate that percentage is nearly equal to the efficiency of the market's best solar cells when they convert sunlight into electricity. 
The Stanford team says it will be a while before the product is fully developed, let alone used at treatments plants. The fellows continue to look for inexpensive and efficient material for the battery's positive node.
"We demonstrated the principle using silver oxide, but silver is too expensive for use at large scale," said Yi Cui, a materials scientist and associate professor of materials science and engineering. "Though the search is under way for a more practical material, finding a substitute will take time."

EcoWatch Daily Newsletter
Psychedelic mushrooms are currently classified as a Schedule I drug by the FDA, and possession is a felony nationwide. juriskraulis / iStock / Getty Images
Democratic presidential candidate, former Vice President Joe Biden speaks during a campaign town hall meeting at Vista Grande Jan. 28 in Clinton, Iowa. The Iowa caucuses are February 3. Chip Somodevilla / Getty Images
Joe Biden put his hand on the chest of an Iowa voter and told the man to vote for someone else when the voter asked the former vice president about his plans to replace gas pipelines, The Independent reported.
Greening the barren mountain has helped recharge groundwater levels in the villages. Photo by Gurvinder Singh. Mongabay India
Jamini Mohan Mahanty is out for a morning walk every day. At 91, he is hale and hearty. A resident of Jharbagda village in Purulia district, West Bengal, Mahanty thanks the "green mountain" in his village for having added some extra years to his life.

A wild Woodland Bison walks in the Arctic wilderness. RyersonClark / iStock / Getty Images Plus
Visitors to the Hollywood & Highland mall in Hollywood wear face masks on Jan. 27 . Five people in the U.S. have tested positive for the deadly strain of Coronavirus, one each in Washington, Illinois and Arizona, and two in Southern California, according to the U.S. Centers for Disease Control and Prevention. ROBYN BECK / AFP / Getty Images