Stanford Scientist Finds People Living Near Shallow Fracking Wells at Risk of Drinking Water Contaminated With Methane
A Stanford University scientist has found that people who live near shallowly drilled oil and natural gas wells risk drinking water contaminated with methane. A potent greenhouse gas, methane is highly flammable.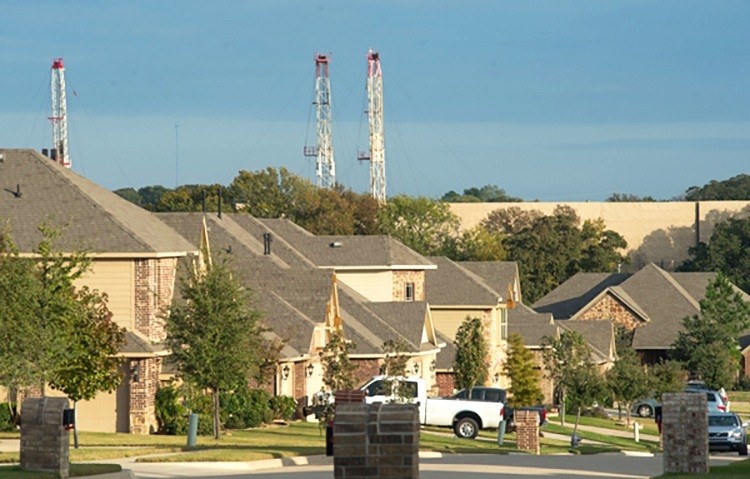 "The main risk is from chemical spills and poorly constructed wells that leak," said Rob Jackson, a professor of Earth System Science at Stanford, who presented his findings at the American Association for the Advancement of Science meeting in Washington, DC, last week. "Our research shows that most problems typically occur within half a mile.
"In Parker County, Texas, we found homes with very high levels of methane when their water bubbled due to gas. The biggest risk from methane in water is explosions, which could happen in a basement or sheds where gas builds up. Also, a well that leaks methane could be leaking other things into the groundwater."
The government does not classify methane dissolved in drinking water as a health hazard.
Such contamination was typically traced to natural gas wells with insufficient cement barriers to separate them from surrounding rock and water or to improperly installed steel casings that allow the gas to travel upward.
Hydraulic fracturing wells that were installed at depths of 3,000 feet or less posed a risk for groundwater contamination. Jackson found there were at least 2,600 such shallow fracking wells in the U.S., many of which were drilled directly into freshwater aquifers.
In California, Jackson discovered hundreds of wells drilled into aquifers fewer than 2,000 feet from the surface.
"There are a lot of pockets of natural gas and oil that are found in shallow levels, plus we don't do very deep drilling because of seismic activity,"Jackson said.
Regions of the U.S. with the highest risk for groundwater contamination from fracking include California as well as parts of Pennsylvania and Texas where bedrock is naturally fractured. Millions of abandoned oil and gas wells in California, New York, Pennsylvania, Texas and other gas-producing states also pose a threat.
Local geology plays a role in leaks. For instance, when Jackson sampled groundwater in Arkansas, he didn't encounter contamination because rock formations provided a seal against potential leaks.
But fracking has led to significant increases in groundwater contamination in Pennsylvania and Texas. He found high levels of methane, ethane and propane in the drinking water of homeowners living within half a mile of wells in northeastern Pennsylvania, near the Marcellus shale gas field.
"Fracking can be and is done safely much of the time," Jackson said. "Occasionally, though, companies make mistakes. We need to understand why they occur and how to prevent them from happening elsewhere."
This article was reposted with permission from our media associate TakePart.

YOU MIGHT ALSO LIKE
Climate Experts to American Geophysical Union: Reject Exxon Sponsorship
Why Would the New York Post Plug Climate Denier Profiteers?
Bill McKibben: It's Not Just What Exxon Did, It's What It's Doing
Harvard Study: U.S. 'Likely Culprit' of Global Spike in Methane Emissions
A coalition of conservation groups and others announced Thursday that a historic number of comments and petitions of support have been submitted to the U.S. Department of the Interior in support of Bears Ears National Monument. Despite the entirely inadequate 15-day comment period ending on May 26, more than 685,000 comments in support of Bears Ears National Monument have been collected.
Keep reading...
Show less
Rink Glacier in western Greenland, with a meltwater lake visible center. NASA/OIB
Scientists have had their eyes on Greenland as its iconic glaciers have begun disappearing due to a warming climate. But, what they didn't expect to see was a whole new type of melting.
Keep reading...
Show less
Mountain View Fire
By Lena Moffitt
An oil tanker in Mead, Colorado exploded, killing one and injuring three on Thursday. Authorities are continuing to investigate the cause of the explosion.
Keep reading...
Show less
Banner created by Alliance for Climate Education
Keep reading...
Show less
Twenty-two GOP senators sent a letter Thursday urging Donald Trump to pull out of the Paris agreement. They argued remaining in the deal could "upend" the administration's ability "to fulfill its goal of rescinding the Clean Power Plan."
Keep reading...
Show less
By Cheryl Johncox
The Federal Energy Regulatory Commission (FERC) rejected on Thursday Energy Transfer Partners' request to resume horizontal directional drilling at two sites for its Rover fracked gas pipeline. This rejection comes after numerous leaks into Ohio's wetlands, and Clean Air and Clean Water act violations. FERC has halted the process at only eight locations of the 32 where drilling is taking place under Ohio's wetlands and streams.
Keep reading...
Show less
By Nadia Prupis
A majority of people in eight countries say they are ready to change their lifestyles if it would prevent climate catastrophe, a survey on global threats released Wednesday found.
Keep reading...
Show less
May. 25, 2017 01:55PM EST
Bill Maher is sick of billionaires' obsession with Mars, more like "Mars-a-Lago," he said.
In a new animation produced by ATTN:, the popular talk show host of Real Time, discusses the perils of our planet, including how "climate change is killing us."
Keep reading...
Show less