This website uses cookies to ensure you get the best experience while browsing it. By clicking 'Got It' you're accepting these terms.


The best of EcoWatch, right in your inbox. Sign up for our email newsletter!
Stanford Scientist Finds People Living Near Shallow Fracking Wells at Risk of Drinking Water Contaminated With Methane
Feb. 23, 2016 09:57AM EST
Energy
A Stanford University scientist has found that people who live near shallowly drilled oil and natural gas wells risk drinking water contaminated with methane. A potent greenhouse gas, methane is highly flammable.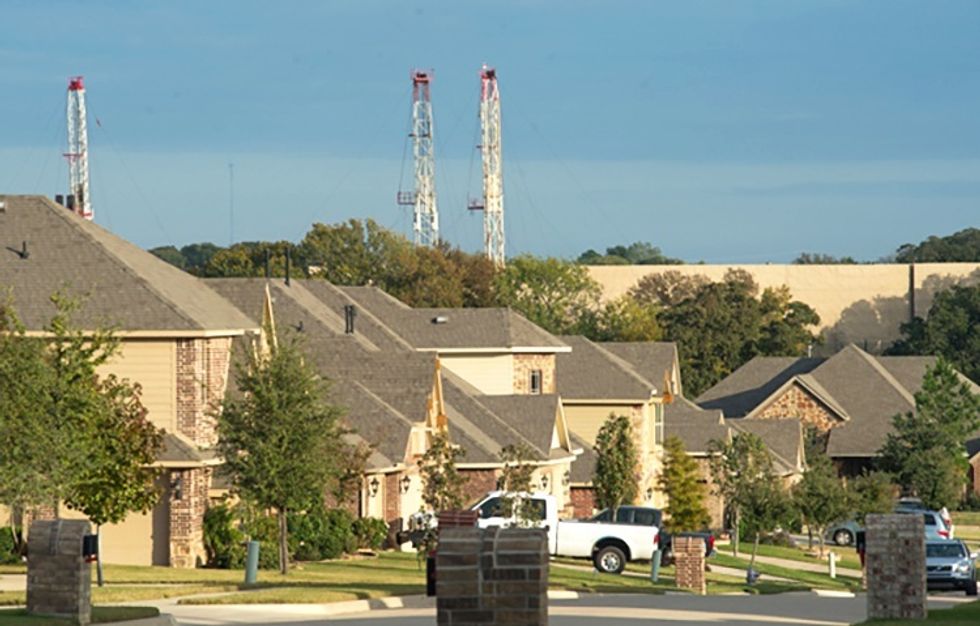 "The main risk is from chemical spills and poorly constructed wells that leak," said Rob Jackson, a professor of Earth System Science at Stanford, who presented his findings at the American Association for the Advancement of Science meeting in Washington, DC, last week. "Our research shows that most problems typically occur within half a mile.
"In Parker County, Texas, we found homes with very high levels of methane when their water bubbled due to gas. The biggest risk from methane in water is explosions, which could happen in a basement or sheds where gas builds up. Also, a well that leaks methane could be leaking other things into the groundwater."
The government does not classify methane dissolved in drinking water as a health hazard.
Such contamination was typically traced to natural gas wells with insufficient cement barriers to separate them from surrounding rock and water or to improperly installed steel casings that allow the gas to travel upward.
Hydraulic fracturing wells that were installed at depths of 3,000 feet or less posed a risk for groundwater contamination. Jackson found there were at least 2,600 such shallow fracking wells in the U.S., many of which were drilled directly into freshwater aquifers.
In California, Jackson discovered hundreds of wells drilled into aquifers fewer than 2,000 feet from the surface.
"There are a lot of pockets of natural gas and oil that are found in shallow levels, plus we don't do very deep drilling because of seismic activity,"Jackson said.
Regions of the U.S. with the highest risk for groundwater contamination from fracking include California as well as parts of Pennsylvania and Texas where bedrock is naturally fractured. Millions of abandoned oil and gas wells in California, New York, Pennsylvania, Texas and other gas-producing states also pose a threat.
Local geology plays a role in leaks. For instance, when Jackson sampled groundwater in Arkansas, he didn't encounter contamination because rock formations provided a seal against potential leaks.
But fracking has led to significant increases in groundwater contamination in Pennsylvania and Texas. He found high levels of methane, ethane and propane in the drinking water of homeowners living within half a mile of wells in northeastern Pennsylvania, near the Marcellus shale gas field.
"Fracking can be and is done safely much of the time," Jackson said. "Occasionally, though, companies make mistakes. We need to understand why they occur and how to prevent them from happening elsewhere."
This article was reposted with permission from our media associate TakePart.

YOU MIGHT ALSO LIKE
Climate Experts to American Geophysical Union: Reject Exxon Sponsorship
Why Would the New York Post Plug Climate Denier Profiteers?
Bill McKibben: It's Not Just What Exxon Did, It's What It's Doing
Harvard Study: U.S. 'Likely Culprit' of Global Spike in Methane Emissions
EcoWatch Daily Newsletter
A school in Queensland, Australia sent a note home to parents asking them to send their children with extra water bottles since its water supply has run dry, according to the Australian Broadcasting Corporation (ABC).
European Commission President Ursula von der Leyen delivers a press statement on the European Green Deal at the EU headquarters in Brussels, Belgium on Dec. 11, 2019. Xinhua / Zheng Huansong via Getty Images
The European Commission introduced a plan to overhaul the bloc's economy to more sustainable, climate-conscious policies and infrastructure, with the goal of being carbon-neutral by 2050, according to CNBC.
Young activists shout slogans on stage after Greta Thunberg (not in the picture) took part in the plenary session during the COP25 Climate Conference on Dec. 11 in Madrid, Spain. Pablo Blazquez Dominguez / Getty Images
By Andrea Germanos
Young activists took over and occupied the main stage at the COP25 climate conference in Madrid, Spain Wednesday and demanded world leaders commit to far more ambitious action to address the ecological emergency.
A NASA image showing the ozone hole at its maximum extent for 2015. NASA Goddard Space Flight Center
The Montreal Protocol, a 1987 international treaty prohibiting the production of chlorofluorocarbons (CFCs) to save the ozone layer, was the first successful multilateral agreement to successfully slow the rate of global warming, according to new research. Now, experts argue that similar measures may lend hope to the climate crisis.
Police in Wales are in the midst of an unusual investigation: the sudden death of more than 200 starlings.