This website uses cookies to ensure you get the best experience while browsing it. By clicking 'Got It' you're accepting these terms.
Spirulina: One of World's Healthiest Superfoods
Feb. 03, 2015 10:06AM EST
Food
What do you think of when you think of algae? If you're like most of us, you probably don't think about eating it. But check out the shelves of a health food store, and you're going to find a product called spirulina, a form of algae called cyanobacterium that's found in lakes, ponds and other bodies of freshwater. It's being touted as the greatest superfood ever that cures just about everything you can name. It's even been promoted as the panacea that will end world hunger, a hardy, sustainable food source that flourishes in diverse conditions.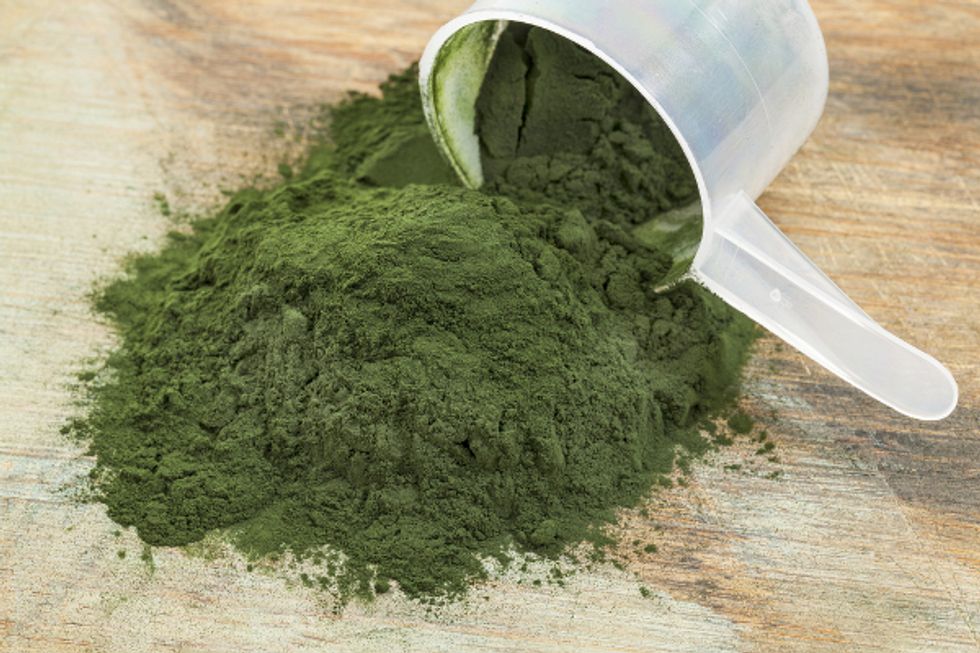 Photo credit: Shutterstock
It's actually been around for centuries. It was consumed by the Aztecs who harvested it from Lake Texcoco in central Mexico. It's a foodstuff in west central Africa too, where spirulina harvested from Lake Chad in made into edible cakes. But its popularity as a dietary supplement actually begin in the 1970s.
When you check out those health food shelves, you'll find it primarily in the form of dark green tablets or powder, the latter usually added to smoothies or juices. And it is rich in nutrients. Dried spirulina is about 60 percent protein—and that's a complete protein, containing all essential amino acids, although lacking certain ones in the same quantity as meat, eggs or milk. It also contains vitamins A, C and E and some B vitamins, various minerals such as potassium, iron, calcium, copper and zinc, and carotenoids like beta-carotene.
Those are all known to have positive impacts on human health. Those who promote it swear it boosts their immune system, wards off colds, blocks allergies, treats anxiety and depression, combats fatigue, improves memory, ameliorates premenstrual syndrome, improves digestion, speeds weight loss, heals wounds—and maybe it can make you fly too!
Some preliminary studies have looked into the potential impact of spirulina on conditions such as HIV, stroke, diabetes, heart disease, Alzheimer's and even Lou Gehrig's disease. So far most have been inconclusive although some have shown promising results.
"Test tube and animal studies suggest spirulina may boost the immune system, help protect against allergic reactions, and have antiviral and anticancer properties," says the University of Maryland Medical Center. "However, there is no proof that spirulina has these, or any, benefits in people. More research is needed."
"A number of animal and test tube studies suggest that spirulina increases production of antibodies, infection-fighting proteins and other cells that improve immunity and help ward off infection and chronic illnesses such as cancer," it says. "However, it has not been tested in people."
It also says that test-tube studies have shown some action against herpes, flu and HIV viruses, as well as oral cancer, and may protect against liver damage in people with chronic hepatitis. However it warns that those studies are preliminary as well. The National Institutes of Health (NIH) also notes some limited studies that show encouraging results.
"An early study shows that taking 1.6 grams of a blue-green algae product by mouth daily for 8 weeks lowers anxiety and depression in women with menopause," says the NIH. "Early research findings show that taking 1 gram of spirulina blue-green algae daily by mouth for 12 months reduces oral leukoplakia in people who chew tobacco."
The NIH mentions other limited studies that show it has relieved allergy symptoms in adults, can protect people living in areas with high arsenic content in their water and that it appeared to increase stamina in a study of nine men who took it daily for a month. But it says that studies on its effectiveness against hepatitis and high cholesterol have been inconsistent and concluded in all these cases that there was "insufficient evidence to rate effectiveness."
One other drawback of spirulina supplements is that, to get the same amount of nutrients you would from foods like nuts, legumes, whole grains and meats, you have to consume a very large amount. And while it is safe even in very high doses and there are no known adverse reactions to spirulina itself with the exception of those with autoimmune disorders and one rare metabolic condition, it can cause adverse effects due to contamination.
"Some spirulina supplements have been found to be contaminated with microcystins, very toxic compounds not produced by spirulina but by related algae that can grow with it," Dr. Randy Baker of the Pacific Center for Integral Health, who has taken spirulina for more than 25 years, told the Santa Cruz Good Times. "Some may be contaminated with lead, mercury and arsenic. Because spirulina can be a magnet for toxins, I am cautious about spirulina harvested from wild sources."
But with no negative impacts for the ordinary person and the potential to boost health in so many areas—even if unproven so far—what do you have to lose by adding some of this superfood to your smoothie other than a few dollars?
YOU MIGHT ALSO LIKE
14 Superfood Salad Greens More Nutritious Than Kale
EcoWatch Daily Newsletter
No longer will the options when we die be a choice between just burial or cremation. Soon it will be possible to compost your remains and leave your loved ones with rich soil, thanks to a new funeral service opening in Seattle in 2021 that will convert humans into soil in just 30 days, as The Independent reported.
You can reduce the footprint of a medium-sized live tree by donating it to elephants at a local zoo, like this African elephant pictured above. eans / iStock / Getty Images
The holiday season is supposed to be about giving and sharing, but often it is actually about throwing away. The U.S. generates 25 percent more garbage between Thanksgiving and New Year's than it does during the rest of the year. That's around one million extra tons per week, according to National Environmental Education Foundation (NEEF) figures reported by The Associated Press.
The Opera House is seen with smoke haze which enveloped Sydney Harbor on Dec. 10 in Sydney, Australia. Smoke haze hangs over the city as the New South Wales fire danger risk is raised from 'very high' to 'severe'. James D. Morgan / Getty Images
The brushfires raging through New South Wales have shrouded Australia's largest city in a blanket of smoke that pushed the air quality index 12 times worse than the hazardous threshold, according to the Australia Broadcast Corporation (ABC).
People walk across the bridge near Little Raven Court in downtown Denver. Younger Americans increasingly prefer to live in walkable neighborhoods. Helen H. Richardson / The Denver Post via Getty Images
By David B. Goldstein
Energy efficiency is the cornerstone of any country's plan to fight the climate crisis. It is the cheapest option available, and one that as often as not comes along with other benefits, such as job creation, comfort and compatibility with other key solutions such as renewable energy. This has been recognized by the International Energy Agency (IEA) for at least a decade.
Activists from Extinction Rebellion New York City engaged in nonviolent direct action to confront climate change outside City Hall on April 17, 2019. Erik McGregor / Pacific Press / LightRocket via Getty Images
By Andrea Germanos

Over 500 groups on Monday rolled out an an action plan for the next president's first days of office to address the climate emergency and set the nation on a transformative path towards zero emissions and a just transition in their first days in office.