This website uses cookies to ensure you get the best experience while browsing it. By clicking 'Got It' you're accepting these terms.
Spirulina: One of World's Healthiest Superfoods
Feb. 03, 2015 10:06AM EST
Food
What do you think of when you think of algae? If you're like most of us, you probably don't think about eating it. But check out the shelves of a health food store, and you're going to find a product called spirulina, a form of algae called cyanobacterium that's found in lakes, ponds and other bodies of freshwater. It's being touted as the greatest superfood ever that cures just about everything you can name. It's even been promoted as the panacea that will end world hunger, a hardy, sustainable food source that flourishes in diverse conditions.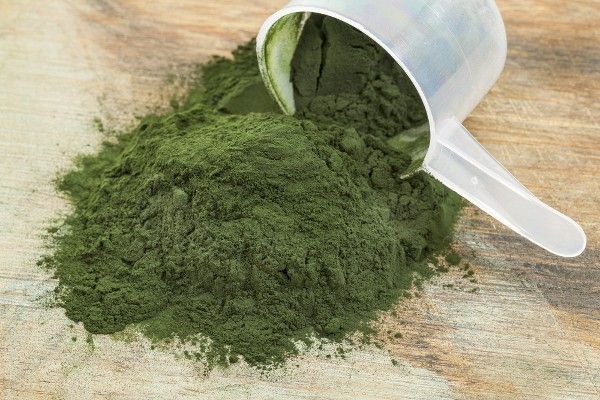 Photo credit: Shutterstock
It's actually been around for centuries. It was consumed by the Aztecs who harvested it from Lake Texcoco in central Mexico. It's a foodstuff in west central Africa too, where spirulina harvested from Lake Chad in made into edible cakes. But its popularity as a dietary supplement actually begin in the 1970s.
When you check out those health food shelves, you'll find it primarily in the form of dark green tablets or powder, the latter usually added to smoothies or juices. And it is rich in nutrients. Dried spirulina is about 60 percent protein—and that's a complete protein, containing all essential amino acids, although lacking certain ones in the same quantity as meat, eggs or milk. It also contains vitamins A, C and E and some B vitamins, various minerals such as potassium, iron, calcium, copper and zinc, and carotenoids like beta-carotene.
Those are all known to have positive impacts on human health. Those who promote it swear it boosts their immune system, wards off colds, blocks allergies, treats anxiety and depression, combats fatigue, improves memory, ameliorates premenstrual syndrome, improves digestion, speeds weight loss, heals wounds—and maybe it can make you fly too!
Some preliminary studies have looked into the potential impact of spirulina on conditions such as HIV, stroke, diabetes, heart disease, Alzheimer's and even Lou Gehrig's disease. So far most have been inconclusive although some have shown promising results.
"Test tube and animal studies suggest spirulina may boost the immune system, help protect against allergic reactions, and have antiviral and anticancer properties," says the University of Maryland Medical Center. "However, there is no proof that spirulina has these, or any, benefits in people. More research is needed."
"A number of animal and test tube studies suggest that spirulina increases production of antibodies, infection-fighting proteins and other cells that improve immunity and help ward off infection and chronic illnesses such as cancer," it says. "However, it has not been tested in people."
It also says that test-tube studies have shown some action against herpes, flu and HIV viruses, as well as oral cancer, and may protect against liver damage in people with chronic hepatitis. However it warns that those studies are preliminary as well. The National Institutes of Health (NIH) also notes some limited studies that show encouraging results.
"An early study shows that taking 1.6 grams of a blue-green algae product by mouth daily for 8 weeks lowers anxiety and depression in women with menopause," says the NIH. "Early research findings show that taking 1 gram of spirulina blue-green algae daily by mouth for 12 months reduces oral leukoplakia in people who chew tobacco."
The NIH mentions other limited studies that show it has relieved allergy symptoms in adults, can protect people living in areas with high arsenic content in their water and that it appeared to increase stamina in a study of nine men who took it daily for a month. But it says that studies on its effectiveness against hepatitis and high cholesterol have been inconsistent and concluded in all these cases that there was "insufficient evidence to rate effectiveness."
One other drawback of spirulina supplements is that, to get the same amount of nutrients you would from foods like nuts, legumes, whole grains and meats, you have to consume a very large amount. And while it is safe even in very high doses and there are no known adverse reactions to spirulina itself with the exception of those with autoimmune disorders and one rare metabolic condition, it can cause adverse effects due to contamination.
"Some spirulina supplements have been found to be contaminated with microcystins, very toxic compounds not produced by spirulina but by related algae that can grow with it," Dr. Randy Baker of the Pacific Center for Integral Health, who has taken spirulina for more than 25 years, told the Santa Cruz Good Times. "Some may be contaminated with lead, mercury and arsenic. Because spirulina can be a magnet for toxins, I am cautious about spirulina harvested from wild sources."
But with no negative impacts for the ordinary person and the potential to boost health in so many areas—even if unproven so far—what do you have to lose by adding some of this superfood to your smoothie other than a few dollars?
YOU MIGHT ALSO LIKE
14 Superfood Salad Greens More Nutritious Than Kale
EcoWatch Daily Newsletter

georgeclerk / E+ / Getty Images
By Jennifer Molidor
One million species are at risk of extinction from human activity, warns a recent study by scientists with the United Nations. We need to cut greenhouse gas pollution across all sectors to avoid catastrophic climate change — and we need to do it fast, said the Intergovernmental Panel on Climate Change.
This research should serve as a rallying cry for polluting industries to make major changes now. Yet the agriculture industry continues to lag behind.
Edwin Remsburg / VW Pics / Getty Images
Botswana, home to one third of Africa's elephants, announced Wednesday that it was lifting its ban on the hunting of the large mammals.
"The Ministry of Environment, Natural Resources Conservation and Tourism wishes to inform the public that following extensive consultations with all stakeholders, the Government of Botswana has taken a decision to lift the hunting suspension," the government announced in a press release shared on social media.
Pxhere
By Richard Denison
Readers of this blog know how concerned EDF is over the Trump EPA's approval of many dozens of new chemicals based on its mere "expectation" that workers across supply chains will always employ personal protective equipment (PPE) just because it is recommended in the manufacturer's non-binding safety data sheet (SDS).
By Grant Smith
From 2009 to 2012, Gregory Jaczko was chairman of the Nuclear Regulatory Commission, which approves nuclear power plant designs and sets safety standards for plants. But he now says that nuclear power is too dangerous and expensive — and not part of the answer to the climate crisis.
A lake in Rocky Mountain National Park. Brett Walton / Circle of Blue
By Brett Walton
When Greg Wetherbee sat in front of the microscope recently, he was looking for fragments of metals or coal, particles that might indicate the source of airborne nitrogen pollution in Rocky Mountain National Park. What caught his eye, though, were the plastics.
Gabriele Holtermann Gorden / Pacific Press / LightRocket / Getty Images
In a big victory for animals, Prada has announced that it's ending its use of fur! It joins Coach, Jean Paul Gaultier, Giorgio Armani, Versace, Ralph Lauren, Vivienne Westwood, Michael Kors, Donna Karan and many others PETA has pushed toward a ban.
This is a victory more than a decade in the making. PETA and our international affiliates have crashed Prada's catwalks with anti-fur signs, held eye-catching demonstrations all around the world, and sent the company loads of information about the fur industry. In 2018, actor and animal rights advocate Pamela Anderson sent a letter on PETA's behalf urging Miuccia Prada to commit to leaving fur out of all future collections, and the iconic designer has finally listened.
Amer Ghazzal / Barcroft Media / Getty Images
If people in three European countries want to fight the climate crisis, they need to chill out more.
That's the conclusion of a new study from think tank Autonomy, which found that Germany, the UK and Sweden all needed to drastically reduce their workweeks to fight climate change.
Amazon Employees for Climate Justice held a press conference after the annual shareholder meeting on May 22. Amazon Employees for Climate Justice