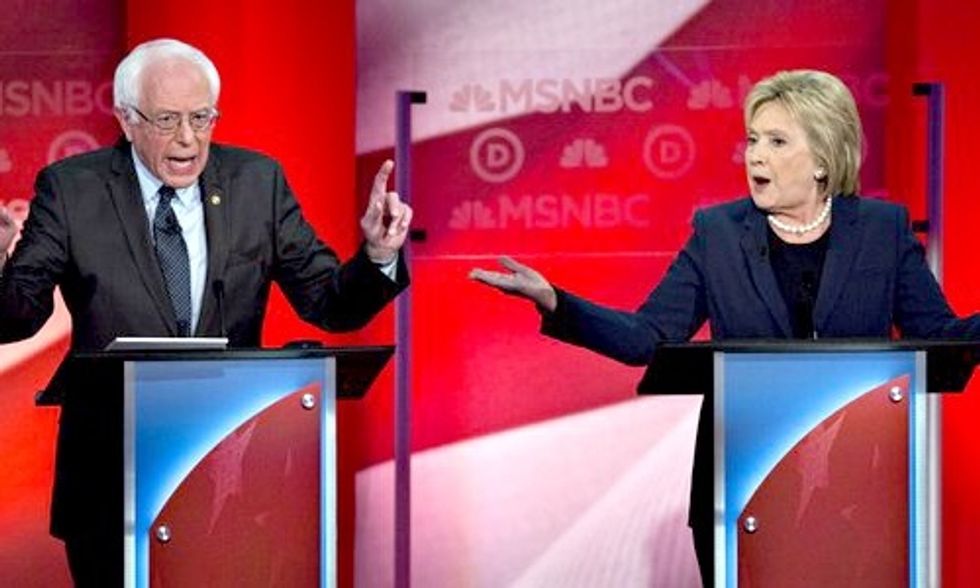 In their most testy and substantive debate yet, Hillary Clinton and Bernie Sanders argued Thursday night over the heart of Sanders' critique of her candidacy—that you cannot be a progressive reformer if you're too close to the wealthiest Americans.
"I think it's time to end the very artful smear that you and your campaign have been carrying out," Clinton said, drawing boos from the New Hampshire crowd.
It was the most intense #DemDebate so far... but who won? https://t.co/YQU1zlBnlO https://t.co/A4og4mRQWW

— Bloomberg (@Bloomberg)1454680847.0
"You know, there is a reason why these people are putting huge amounts of money into our political system," he replied moments later. "And in my view, it is undermining American democracy and it is allowing Congress to represent wealthy campaign contributors and not the working families of this country."
The last debate before Tuesday's New Hampshire's primary was filled with barbs and sparks. Sanders is leading in polls by an average of nearly 20 percent, putting pressure on Clinton to close that gap if she cannot win. She presented many forceful but poised lines of attack, injecting details suggesting she knows better than Sanders how to get government to work. He did not respond with personal attacks, but repeatedly said the problems were deeper and solutions broader than she was offering.
Clinton's opening remarks chided Sanders for taking too narrow a view of the inequality in America, saying it wasn't just a rigged economy and a corrupt political system, but also "the continuing challenges of racism, of sexism, of discrimination against the LGBT community, of the way that we treat people as opposed to how we want to be treated ... and I'm not making promises that I cannot keep."
From that moment on, with some exceptions, what unfolded was a feisty display of how they really think differently about problems and solutions. Clinton was immediately asked about her comments to a New Hampshire newspaper that many of Sanders' ideas were not achievable, like creating a Medicare-for-all healthcare system. "I've been fighting for universal healthcare for many years and we're now on the path to achieving it," she said. "I don't want us to start over again."
"Here is the issue," Sanders countered in a typical reply. "Every major country on Earth, whether it's the UK, whether it's France, whether it's Canada, has managed to provide healthcare to all people as a right and they are spending significantly less per capita on health care than we are. So I do not accept the belief that the United States of America can't do that." He said that was also true of cutting prescription drug costs, making public colleges and universities tuition-free and building on Obamacare to evolve into a Medicare-for-all system. "I do believe that in the future, not by dismantling what we have here—I helped write that bill [Obamacare]—but by moving forward, rallying the American people, I do believe we should have health care for all," he said.
When MSNBC's moderators asked Clinton if some of her past stances such as voting as a senator for the invasion of Iraq or being pro-death penalty in some cases or not taking positions on global trade deals or the Keystone XL pipeline showed she was "too far to the right," she doubled down with portraying herself as a progressive.
"I am a progressive who gets things done," she said. "And the root of that word, progressive, is progress. But I've heard Senator Sanders comments and it's really caused me to wonder who's left in the progressive wing of the Democratic Party. Under his definition, President Obama is not progressive because he took donations from Wall Street; Vice President Biden is not progressive because she supported Keystone … But if we're going to get into labels, I don't think it was particularly progressive to vote against the [gun control] Brady Bill five times."
When Sanders turn came, he said that his to-do list was neither unrealistic nor radical. But the way he presented it showed that his frame for the problems and solutions was that of an outsider who's been watching the wheels of power, money and influence grind for years—and he was not content to gloss real obstacles to change.
"Here's the reality of American economic life today," he began, saying voter turnout has fallen as government has allowed "trillions of dollars of wealth going from the middle class in the last 30 years to the top 1/10th of 1 percent. The reality is we that have a corrupt campaign finance system, which separates the American people's needs and desires from what Congress is doing. So to my mind, what we have got to do is wage a political revolution where millions of people have given up on the political process, stand up and fight back, demand the government represent us and not just a handful of campaign contributors."
What Twitter's Smartest conservatives and liberals are saying about the #DemDebate: https://t.co/qqbAi1Zqrs

— Slate (@Slate)1454638858.0
That contrast—Sanders talking the deep big picture; Clinton saying details and execution matter—set the stage for the debate's most telling exchange, where Clinton defended her relationships in the political establishment and speeches to corporate America. She said Sanders' ads accusing of guilt-by-association with Wall Street were "smears" relying on "innuendo" and "insinuation."
"There is this attack that he is putting forth, which really comes down to—you know, anybody who ever took donations or speaking fees from any interest group has to be bought," Clinton said. "And I just absolutely reject that, Senator. And I really don't think these kinds of attacks by insinuation are worthy of you. And enough is enough. If you've got something to say, say it directly. But you will not find that I ever changed a view or a vote because of any donation that I ever received ... Let's talk about the issues."
"Let's talk—let's talk about issues, all right?" Sanders tartly replied. "Let's talk about why, in the 1990s, Wall Street got deregulated. Did it have anything to do with the fact that Wall Street provided—spent billions of dollars on lobbying and campaign contributions? Well, some people might think, yeah, that had some influence."
"Let's talk about climate change," he continued. "Do you think there's a reason why not one Republican has the guts to recognize that climate change is real and that we need to transform our energy system? Do you think it has anything to do with the Koch brothers and ExxonMobil pouring huge amounts of money into the political system? That is what goes on in America."
Clinton countered that she knew far better than Sanders what it was to be mercilessly attacked by Republicans and what it took to keep going until some progress was made. She said she knew all of the GOP's dirty tricks and strategies and how to outsmart them to get solutions that made a difference in people's lives.
"I don't think you could find any person in political life today who has been subjected to more attacks and had more money spent against her by special interests, among whom you have named a few, than I," she said, listing attacks on her healthcare reform while she was First Lady and more recent attacks on the loss of U.S. diplomats in Libya and the use of a private e-mail server.
"Today, you've got hedge fund billionaires aligned with Karl Rove, running ads against me to try to get Democrats to vote for you. I know this game. I'm going to stop this game," Clinton said. "What we've got to do as Democrats is to be united to actually solve these problems. And what I believe is that I have a better track record and a better opportunity to actually get that job done."
When the moderator asked Sanders to reply to Clinton's charge that his campaign was tarring her for ties to Wall Street—accepting six-figure speaking fees from companies that were later fined billions for harming multitudes of investors and the economy—he didn't directly hit back, but essentially said she was mingling with unindicted criminals.
"This is what a rigged economy and a corrupt campaign finance system and a broken criminal justice is about," Sanders said. "These guys are so powerful that not one of the executives on Wall Street has been charged with anything after paying, in this case of Goldman Sachs, a $5 billion fine. [A] kid gets caught with marijuana, that kid has a police record. A Wall Street executive destroys the economy, $5 billion settlement with the government, no criminal record. That is what power is about. That is what corruption is about. And that is what has to change in the United States of America."
Clinton wouldn't let it go, countering, "Let me just say that of course it has to change. It has to change. And that's why I have put forward a plan to do just that. And it's been judged to be the toughest, most effective and comprehensive one." She added that if president, she would use the laws on the books to not just go after banks, but also drug companies, big oil, big energy and others. "I have a record of trying to go at the problems that actually exist and I will continue to do that," she said.
And so it went, with Clinton citing chapter, verse and her experience and Sanders drawing the bigger picture, reframing government's role and calling for millions of supporters to demand Congress represent them before narrow economic interests.
The debate closed with the moderators asking Clinton if she were the nominee, would she "unify the party" by picking Sanders as a running mate—and the same of Sanders. Both scoffed and said it was far too early to answer. But they didn't say no, either.
"If I'm so fortunate as to be the nominee, the first person I will call to talk to about where we go and how we get it done will be Sen. Sanders," Clinton said.
"On our worst day... We are one hundred times better than any Republican candidate"

[email protected]

#DemDebate https://t.co/ugZseAbwNK

— Mashable (@Mashable)1454645424.0
"I agree with what the secretary said. We shouldn't be getting ahead of ourselves," Sanders said. "I happen to respect the secretary very much, I hope it's mutual. And on our worst days, I think it is fair to say we are 100 times better than any Republican candidate."
YOU MIGHT ALSO LIKE 
Jimmy Carter: Citizens United 'Gives Legal Bribery a Chance to Prevail'
Bernie Sanders and Hillary Clinton Make History in Virtual Tie in Iowa
5 Reasons Ted Cruz Is More Dangerous Than Donald Trump
Recycling and general waste plastic wheelie bins awaiting collection for disposal in Newport, Rhode Island. Tim Graham / Getty Images
Reduce. Reuse. Recycle. According to The National Museum of American History, this popular slogan, with its iconic three arrows forming a triangle, embodied a national call to action to save the environment in the 1970s. In that same decade, the first Earth Day happened, the EPA was formed and Congress passed the Resource Conservation and Recovery Act, encouraging recycling and conservation of resources, Enviro Inc. reported.
According to Forbes, the Three R's sustainability catch-phrase, and the recycling cause it bolstered, remain synonymous with the U.S. environmental movement itself. There's only one problem: despite being touted as one of the most important personal actions that individuals can take to help the planet, "recycling" – as currently carried out in the U.S. – doesn't work and doesn't help.
Turns out, there is a vast divide between the misleading, popular notion of recycling as a "solution" to the American overconsumption problem and the darker reality of recycling as a failing business model.
Tiffany Duong is an avid ocean advocate. She holds degrees from UCLA and the University of Pennsylvania Carey Law School and is an Al Gore Climate Reality Leader and student member of The Explorer's Club.
She spent years as a renewable energy lawyer in L.A. before moving to the Amazon to conduct conservation fieldwork (and revamp her life). She eventually landed in the Florida Keys as a scientific scuba diver and field reporter and writes about the oceans, climate, and the environment from her slice of paradise. Follow her on Twitter/Instagram @lilicedt.
EcoWatch Daily Newsletter
The coal-fired Huaneng Power Plant in Huai 'an City, Jiangsu Province, China on Sept. 13, 2020. Costfoto / Barcroft Media via Getty Images
Overall energy demand is expected to rise 4.6 percent this year compared to 2020 and 0.5 percent compared to 2019, according to the IEA's Global Energy Review 2021. Demand for fossil fuels is expected to jump to such an extent that emissions will rise by nearly five percent in 2021. This will reverse 80 percent of the emissions decline reported in 2020, to end emissions just 1.2 percent below 2019 emissions levels. Because the lockdown saw the biggest drop in energy demand since World War II, the projected increase in carbon dioxide emissions will still be the second-highest on record, BBC News pointed out.
"This is a dire warning that the economic recovery from the COVID crisis is currently anything but sustainable for our climate," IEA Executive Director Fatih Birol said in a statement reported by AFP.
Birol said much of that increase was being driven by the resurgence of coal use. In fact, coal demand is expected to increase by 60 percent more than all forms of renewable energy, according to the report. Overall coal demand is expected to increase by 4.5 percent in 2021. More than 80 percent of that growth is in Asia, and more than 50 percent is in China. While coal use is expected to increase in the U.S. and Europe as well, it will remain far below pre-pandemic levels. Still, global coal use is expected to rise to nearly its 2014 peak, BBC News reported.
Natural gas demand is also expected to rise by 3.2 percent in 2021, to put it more than one percent above 2019 levels, according to the report.
There are, however, two bright spots in the report from a climate perspective. The first is that oil demand, while up 6.2 percent from 2020, is still expected to remain around 3 percent below 2019 levels. This is because oil use for ground transportation is not expected to recover until the end of 2021, and oil use for air travel is expected to remain at 20 percent below 2019 levels by December of 2021.
"A full return to pre-crisis oil demand levels would have pushed up CO2 emissions a further 1.5%, putting them well above 2019 levels," the report authors wrote.
The second bright spot is that renewable energy demand is set to rise in all sectors in 2021. In power, where its rise is the greatest, it is set to increase by more than eight percent. This is "the largest year-on-year growth on record in absolute terms," the report authors wrote.
Renewable energy will provide 30 percent of electricity overall, BBC News reported, which is the highest percentage since the industrial revolution. The problem is that the increase in renewables is running parallel to an increase in fossil fuels in some places. China, for example, is also expected to account for almost half of the rise in renewable electricity.
"As we have seen at the country-level in the past 15 years, the countries that succeed to cut their emissions are those where renewable energy replaces fossil energy," energy expert and University of East Anglia professor Corinne Le Quéré told BBC News. "What seems to be happening now is that we have a massive deployment of renewable energy, which is good for tackling climate change, but this is occurring alongside massive investments in coal and gas. Stimulus spending post-Covid-19 worldwide is still largely funding activities that lock us into high CO2 emissions for decades."
To address this issue, Birol called on the world leaders gathering for U.S. President Joe Biden's climate summit Thursday and Friday to pledge additional action before November's UN Climate Change Conference, according to AFP.
"Unless governments around the world move rapidly to start cutting emissions, we are likely to face an even worse situation in 2022," said Birol.
From Your Site Articles
Related Articles Around the Web
A grizzly bear killed an outdoor guide in a rare attack near Yellowstone Park. William Campbell / Corbis / Getty Images
Representative Alexandria Ocasio-Cortez (D-NY) re-introduces the Green New Deal in Washington, D.C. on April 20, 2021. Mandel Ngan / AFP / Getty Images
By Brett Wilkins
In the latest of a flurry of proposed Green New Deal legislation, Reps. Cori Bush and Alexandria Ocasio-Cortez on Monday introduced the Green New Deal for Cities Act of 2021, a $1 trillion plan to "tackle the environmental injustices that are making us and our children sick, costing us our homes, and destroying our planet."
Offshore oil and gas drillers have left more than 18,000 miles of pipelines at the bottom of the Gulf of Mexico. Drew Angerer / Getty Images
Offshore oil and gas drillers have discarded and abandoned more than 18,000 miles of pipelines on the floor of the Gulf of Mexico since the 1960s, a report from the Government Accountability Office says.
The industry has essentially recovered none of the pipelines laid in the Gulf in the last six decades; the abandoned infrastructure accounts for more than 97% of all of the decommissioned pipelines in the Gulf.
The pipelines pose a threat to the habitat around them, as maritime commerce and hurricanes and erosion can move sections of pipeline.
The Bureau of Safety and Environmental Enforcement does not conduct undersea inspections even though surface monitoring is "not always reliable for detecting ruptures," according to the GAO.
For a deeper dive:
For more climate change and clean energy news, you can follow Climate Nexus on Twitter and Facebook, sign up for daily Hot News, and visit their news site, Nexus Media News.