This website uses cookies to ensure you get the best experience while browsing it. By clicking 'Got It' you're accepting these terms.
Spanish Researchers Debunk Wind Energy Myth Showing Renewables Capable of Replacing Fossil Fuels
Oct. 25, 2013 11:36AM EST
Business
By Paul Brown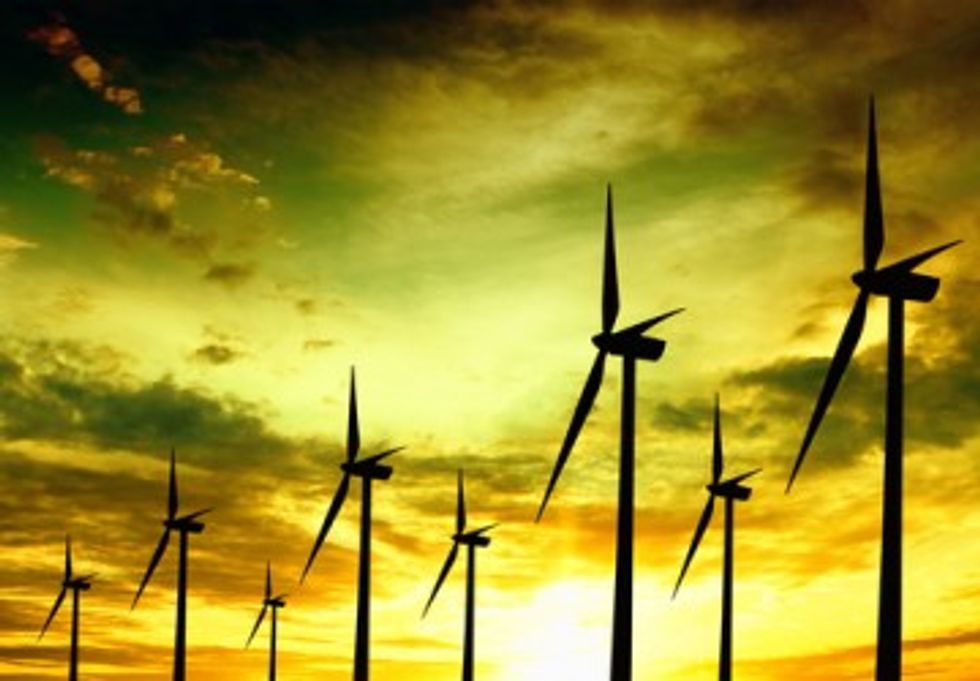 Photo credit: Shutterstock
One of the most oft-repeated arguments of the anti-wind lobby is that turbines produce electricity only intermittently, when there is enough wind to turn them.
This, the wind critics argue, means that so much gas has to be burnt to provide a reliable back-up supply of electricity that wind power's overall benefit to the environment is erased.
But extensive research in Spain means this claim can now definitively be declared a myth. Wind, the researchers found, is a very efficient way of reducing carbon dioxide emissions.
The anti-wind campaigners claim that fossil fuel plants have to be kept running at a slow speed, continuously producing CO2, just in case the wind fails. At slow speeds these plants are less efficient and so produce so much CO2, wind opponents say, that they wipe out any gains from having wind power.
Not true, according to a report published in the journal Energy by researchers at the Universidad Politécnica de Madrid. There are some small losses, the researchers say, but even if wind produced as much as 50 percent of Spain's electricity the CO2 savings would still be 80 percent of the emissions that would have been produced by the displaced thermal power stations.
25 percent of electricity
Spain is second behind Germany in wind energy production in Europe, according to the U.S. Energy Information Agency. The country regularly obtains 25 percent of its electricity from wind, reports Renewables International, a trade magazine.
The study looked at 87 of the country's coal and gas plants and how they were run alongside Spain's wind industry. Adjustments made by the fossil fuel plants as they compensated for variable wind strengths had little impact on the plants' C02 emissions.
This is the opposite of reports reproduced repeatedly by right-wing think tanks and campaigners opposed to renewables.
The Spanish report adds that even the small losses caused by running thermal power plants at less-than-maximum efficiency to safeguard the grid can be reduced by better renewables management. Spain for example has wind, solar and wave power among its portfolio of renewables, each of which can support the others.
CO2 credits
The findings are important for governments trying to calculate the amount of CO2 they have saved by the introduction of wind power. Countries like Spain, struggling to meet EU targets on reducing emissions, need to know how much CO2 saved can be credited to their wind industries. This research provides the answers.
The paper says: "The finding has generated the first comprehensive analysis on interaction between wind parks and thermal power plants in Spain and has concluded that the global balance of CO2 reduction is still significant. Besides, the study suggests how to enhance the effectiveness of potential sources that can be helpful for promoters of renewable technologies.
"Renewable energy is capable of replacing fossil fuels and of reducing emissions dramatically."

EcoWatch Daily Newsletter
One of the 25 new Long Beach Transit hybrid gasoline-electric buses on April 23, 2009. Jeff Gritchen / Digital First Media / Orange County Register / Getty Images
In Long Beach, California, some electric buses can charge along their route without cords or wires.
When a bus reaches the Pine Avenue station, it parks over a special charging pad. While passengers get on and off, the charger transfers energy to a receiver on the bottom of the bus.
Semi trucks travel along I94 on June 21 near Lake forest, Illinois. Scott Olson / Getty Images
The Trump administration pushed through an exemption to clean air rules, effectively freeing heavy polluting, super-cargo trucks from following clean air rules. It rushed the rule without conducting a federally mandated study on how it would impact public health, especially children, said the Environmental Protection Agency (EPA) Inspector General Charles J. Sheehan in a report released yesterday, as the AP reported.

A time-restricted eating plan provides a new way to fight obesity and metabolic diseases that affect millions of people worldwide. RossHelen / iStock / Getty Images Plus
By Satchin Panda and Pam Taub
People with obesity, high blood sugar, high blood pressure or high cholesterol are often advised to eat less and move more, but our new research suggests there is now another simple tool to fight off these diseases: restricting your eating time to a daily 10-hour window.
Kunhui Chih / iStock / Getty Images Plus
A man and his dog walk past an H&M store in Stockholm, Sweden on March 11, 2014. Melanie Stetson Freeman / The Christian Science Monitor via Getty Images
By Ashutosh Pandey
H&M's flagship store at the Sergels Torg square in Stockholm is back in business after a months-long refurbishment. But it's not exactly business as usual here.