Spanish Researchers Debunk Wind Energy Myth Showing Renewables Capable of Replacing Fossil Fuels
By Paul Brown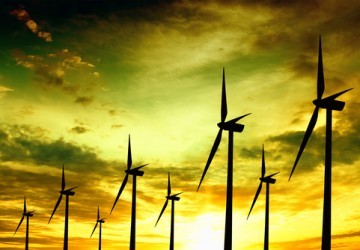 Photo credit: Shutterstock
One of the most oft-repeated arguments of the anti-wind lobby is that turbines produce electricity only intermittently, when there is enough wind to turn them.
This, the wind critics argue, means that so much gas has to be burnt to provide a reliable back-up supply of electricity that wind power's overall benefit to the environment is erased.
But extensive research in Spain means this claim can now definitively be declared a myth. Wind, the researchers found, is a very efficient way of reducing carbon dioxide emissions.
The anti-wind campaigners claim that fossil fuel plants have to be kept running at a slow speed, continuously producing CO2, just in case the wind fails. At slow speeds these plants are less efficient and so produce so much CO2, wind opponents say, that they wipe out any gains from having wind power.
Not true, according to a report published in the journal Energy by researchers at the Universidad Politécnica de Madrid. There are some small losses, the researchers say, but even if wind produced as much as 50 percent of Spain's electricity the CO2 savings would still be 80 percent of the emissions that would have been produced by the displaced thermal power stations.
25 percent of electricity
Spain is second behind Germany in wind energy production in Europe, according to the U.S. Energy Information Agency. The country regularly obtains 25 percent of its electricity from wind, reports Renewables International, a trade magazine.
The study looked at 87 of the country's coal and gas plants and how they were run alongside Spain's wind industry. Adjustments made by the fossil fuel plants as they compensated for variable wind strengths had little impact on the plants' C02 emissions.
This is the opposite of reports reproduced repeatedly by right-wing think tanks and campaigners opposed to renewables.
The Spanish report adds that even the small losses caused by running thermal power plants at less-than-maximum efficiency to safeguard the grid can be reduced by better renewables management. Spain for example has wind, solar and wave power among its portfolio of renewables, each of which can support the others.
CO2 credits
The findings are important for governments trying to calculate the amount of CO2 they have saved by the introduction of wind power. Countries like Spain, struggling to meet EU targets on reducing emissions, need to know how much CO2 saved can be credited to their wind industries. This research provides the answers.
The paper says: "The finding has generated the first comprehensive analysis on interaction between wind parks and thermal power plants in Spain and has concluded that the global balance of CO2 reduction is still significant. Besides, the study suggests how to enhance the effectiveness of potential sources that can be helpful for promoters of renewable technologies.
"Renewable energy is capable of replacing fossil fuels and of reducing emissions dramatically."

Wikimedia Commons
By Stacy Malkan
Neil deGrasse Tyson has inspired millions of people to care about science and imagine themselves as participants in the scientific process. What a hopeful sign it is to see young girls wearing t-shirts emblazoned with the words, "Forget princess, I want to be an astrophysicist."
Keep reading...
Show less
www.youtube.com
By Andy Rowell
Any day now we will truly witness climate change in action. Within days at worst, maybe weeks at best, scientists predict that a huge section of the Larsen C ice shelf in Antarctica will break off into the ocean, in what is called a major "carving" event.
Keep reading...
Show less
www.youtube.com
President Trump visited Cedar Rapids, Iowa on June 21 to speak to a large crowd in the U.S. Cellular Center at a political rally organized by his campaign.
As Trevor Noah noted during The Daily Show episode last night (starts at 2:25), the real reason Trump has these rallies is to "get back in front of his loyal crowds and feed of their energy." Noah believes that "Trump supporters are so on board with their dude he can say anything and they'll come along for the ride."
Keep reading...
Show less
The Kamuthi solar plant in the southern Indian state of Tamil Nadu.
The rapid growth in renewable energy continues to put a dent in the demand for coal.
Coal India, the world's biggest coal mining company and producer of 82 percent of the country's coal, announced the closure of 37 mines that are financially "unviable."
Keep reading...
Show less
www.youtube.com
By Katie O'Reilly
Two years ago—long before coal became one of the most dominant and controversial symbols of the 2016 presidential election—Bloomberg Philanthropies approached production company RadicalMedia with the idea of creating a documentary exploring the U.S. coal mining industry. Last spring, they brought on Emmy-nominated director Michael Bonfiglio, tasked with forging a compelling story out of the multitudes of facts, statistics and narratives underlying the declining industry.
Keep reading...
Show less
Mayors for 100% Clean Energy
Keep reading...
Show less
www.youtube.com
Thanks to Newsy for their coverage on Thursday's news that the U.S. Fish and Wildlife Service removed grizzly bears in the Greater Yellowstone region from the Endangered Species List.
Watch above as Newsy explains that the decision comes despite serious concerns from the environmental and scientific community, and Tribal Nations about a declining, isolated grizzly bear population with diminishing food resources and record-high mortalities.
Keep reading...
Show less
www.facebook.com
By Francine Kershaw
Seismic airguns exploding in the ocean in search for oil and gas have devastating impacts on zooplankton, which are critical food sources for marine mammals, according to a new study in Nature. The blasting decimates one of the ocean's most vital groups of organisms over huge areas and may disrupt entire ecosystems.
And this devastating news comes on the heels of the National Marine Fisheries Service's proposal to authorize more than 90,000 miles of active seismic blasting. Based on the results of this study, the affected area would be approximately 135,000 square miles.
Keep reading...
Show less
By Jill Richardson
Is coconut oil:
good for you
bad for you
neither good nor bad
scientists don't know
The subject of this question is the source of a disagreement. Initially, the question was thought to be settled decades ago, when scientist Ancel Keys declared all saturated fats unhealthy. Coconut oil, which is solid at room temperature, is a saturated fat.
Keep reading...
Show less


Get EcoWatch in your inbox