This website uses cookies to ensure you get the best experience while browsing it. By clicking 'Got It' you're accepting these terms.
Southwest Airlines Ends Partnership With SeaWorld After 'Blackfish' Backlash
Aug. 01, 2014 10:33AM EST
Southwest Airlines has announced yesterday that they will end their long-standing partnership with SeaWorld at the end of this year.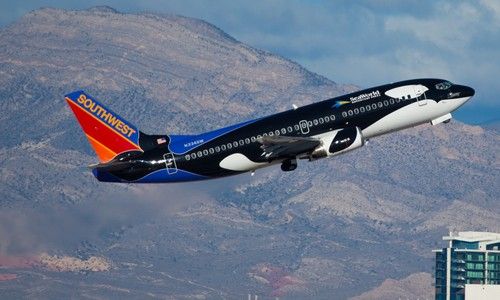 Southwest Airlines has partnered for 25 years with SeaWorld. Chris Parypa Photography / Shutterstock.com
In January, Sea Shepherd called upon Southwest Airlines to end the 25-year partnership and remove SeaWorld marketing from their planes. We even proposed a partnership of our own, and showed the airlines how great their planes would look if, instead of SeaWorld's imprisoned orcas, they sported Sea Shepherd's Jolly Roger—a logo that represents protecting marine life, not exploiting it. Though it doesn't sound like they'll be taking us up on our offer just yet, we are happy to report Southwest listened to calls to end the relationship from activists worldwide and is going to be removing SeaWorld's name and images from their planes.
The companies have stated that they came to a mutual decision to end their relationship, with Southwest calling it a "business decision" to direct their focus internationally. But based on the enormous positive response that Sea Shepherd received following our proposal to Southwest Airlines, and the ever-growing backlash against SeaWorld in the wake of the ground-breaking documentary Blackfish, it is almost certain that the concerns of the public about SeaWorld's treatment of its captive animals played a deciding role in Southwest's decision.
As Sea Shepherd's Cove Guardians have documented time and time again in Taiji, Japan, there is bloodshed behind the aquarium industry. In Taiji, in the infamous cove, entire pods of dolphins and small whales are driven in by boats and either killed or separated from their family forever to become a performing spectacle in captivity. They're sent not only to marine parks in Taiji but elsewhere around the globe. The captive selection occurs simultaneously to the slaughter, despite claims from Taiji officials and fisheries. It is undeniable–the captive marine mammal industry, of which SeaWorld is a key player, is inextricably linked to the killing of wild marine mammals.
Though SeaWorld emphasizes that they do not have animals from drive hunts like the one in Taiji, recently they quietly received a permit from the National Oceanic and Atmospheric Administration (NOAA) to import Kirara, a Pacific white-sided dolphin who was born in captivity in Japan, but whose wild parents were kidnapped from their ocean home. They will also obtain wild-caught beluga whales from Russia, if the Georgia Aquarium succeeds in their lawsuit against NOAA to import them into the U.S. and scatter them to various aquariums and parks. This is all in addition to the blood already on SeaWorld's hands—a grim history of animals dying prematurely in their "care" and trainers being injured and even killed by stressed, desperate captive whales.
Sea Shepherd applauds Southwest Airlines' decision to fly into a future that is becoming more and more possible—one in which tanks are empty and the oceans are full, in which the killing ends in Taiji because people will no longer support the captive industry that funded it, and in which cetaceans are finally left to swim freely in their ocean home with their families.
You Might Also Like
The Blackfish Effect: 40 Members of Congress Call on USDA to Revise Rules for Captive Marine Mammals
Sea Shepherd Founder to Bill Maher: 'If Oceans Die, We Die'
Shocking Court Documents Expose SeaWorld's Continued Cruelty of Orca Whales
EcoWatch Daily Newsletter
A. Battenburg / Technical University of Munich
By Sarah Kennedy
Algae in a pond may look flimsy. But scientists are using algae to develop industrial-strength material that's as hard as steel but only a fraction of the weight.
Variety of fermented food korean traditional kimchi cabbage and radish salad. white and red sauerkraut in ceramic plates over grey spotted background. Natasha Breen / REDA&CO / Universal Images Group / Getty Image
Even if you've never taken probiotics, you've probably heard of them.
These supplements provide numerous benefits because they contain live microorganisms, such as bacteria or yeast, which support the healthy bacteria in your gut (1, 2, 3, 4).
Pexels
Singapore will become the first country in the world to place a ban on advertisements for carbonated drinks and juices with high sugar contents, its health ministry announced last week. The law is intended to curb sugar consumption since the country has some of the world's highest diabetes rates per capita, as Reuters reported.
A typical adult takes around 20,000 breaths per day. If you live in a megacity like Beijing, with many of those lungfuls you're likely to inhale a noxious mixture of chemicals and pollutants.
Fred Stone holds his brown swiss cow Lida Rose at his Arundel dairy farm on March 18 after a press conference where he spoke about PFAS chemical contamination in his fields. Gregory Rec / Portland Portland Press Herald via Getty Images
By Susan Cosier
First there was Fred Stone, the third-generation dairy farmer in Maine who discovered that the milk from his cows contained harmful chemicals. Then came Art Schaap, a second-generation dairy farmer in New Mexico, who had to dump 15,000 gallons of contaminated milk a day.
Protesters attend the 32nd annual Fur-Free Friday demonstration on Nov. 23, 2018 in Beverly Hills, California. Ella DeGea / Getty Images
California Governor Gavin Newsom signed into law a bill that that bans the sale and manufacture of fur products in the state. The fur ban, which he signed into law on Saturday, prohibits Californians from selling or making clothing, shoes or handbags with fur starting in 2023, according to the AP.
By Simon Evans
During the three months of July, August and September, renewables generated an estimated total of 29.5 terawatt hours (TWh), compared with just 29.1TWh from fossil fuels, the analysis shows.
A demonstrator waves an Ecuadorian flag during protests against the end of subsidies to gasoline and diesel on Oct. 9 in Quito, Ecuador. Jorge Ivan Castaneira Jaramillo / Getty Images