This website uses cookies to ensure you get the best experience while browsing it. By clicking 'Got It' you're accepting these terms.
Southwest Airlines Ends Partnership With SeaWorld After 'Blackfish' Backlash
Aug. 01, 2014 10:33AM EST
Southwest Airlines has announced yesterday that they will end their long-standing partnership with SeaWorld at the end of this year.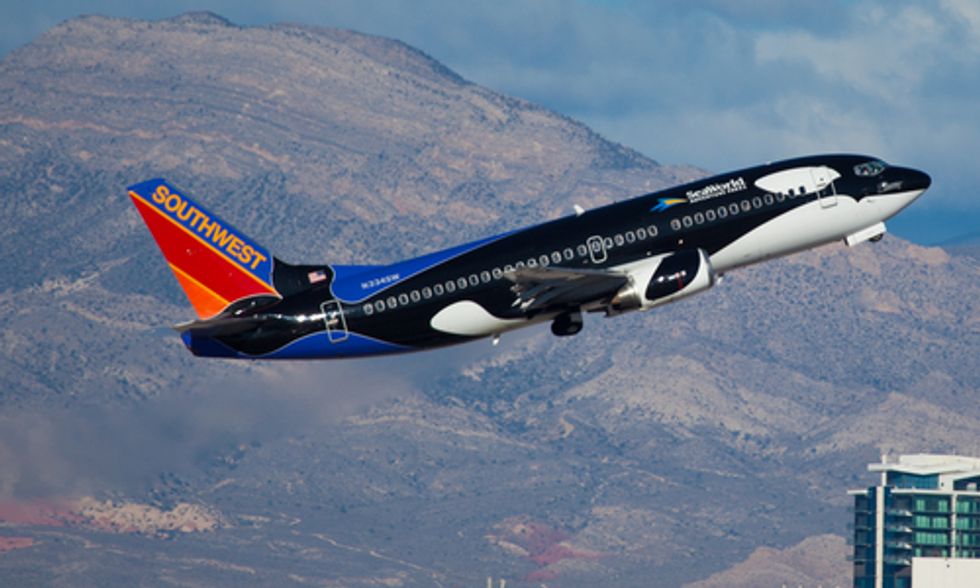 Southwest Airlines has partnered for 25 years with SeaWorld. Chris Parypa Photography / Shutterstock.com
In January, Sea Shepherd called upon Southwest Airlines to end the 25-year partnership and remove SeaWorld marketing from their planes. We even proposed a partnership of our own, and showed the airlines how great their planes would look if, instead of SeaWorld's imprisoned orcas, they sported Sea Shepherd's Jolly Roger—a logo that represents protecting marine life, not exploiting it. Though it doesn't sound like they'll be taking us up on our offer just yet, we are happy to report Southwest listened to calls to end the relationship from activists worldwide and is going to be removing SeaWorld's name and images from their planes.
The companies have stated that they came to a mutual decision to end their relationship, with Southwest calling it a "business decision" to direct their focus internationally. But based on the enormous positive response that Sea Shepherd received following our proposal to Southwest Airlines, and the ever-growing backlash against SeaWorld in the wake of the ground-breaking documentary Blackfish, it is almost certain that the concerns of the public about SeaWorld's treatment of its captive animals played a deciding role in Southwest's decision.
As Sea Shepherd's Cove Guardians have documented time and time again in Taiji, Japan, there is bloodshed behind the aquarium industry. In Taiji, in the infamous cove, entire pods of dolphins and small whales are driven in by boats and either killed or separated from their family forever to become a performing spectacle in captivity. They're sent not only to marine parks in Taiji but elsewhere around the globe. The captive selection occurs simultaneously to the slaughter, despite claims from Taiji officials and fisheries. It is undeniable–the captive marine mammal industry, of which SeaWorld is a key player, is inextricably linked to the killing of wild marine mammals.
Though SeaWorld emphasizes that they do not have animals from drive hunts like the one in Taiji, recently they quietly received a permit from the National Oceanic and Atmospheric Administration (NOAA) to import Kirara, a Pacific white-sided dolphin who was born in captivity in Japan, but whose wild parents were kidnapped from their ocean home. They will also obtain wild-caught beluga whales from Russia, if the Georgia Aquarium succeeds in their lawsuit against NOAA to import them into the U.S. and scatter them to various aquariums and parks. This is all in addition to the blood already on SeaWorld's hands—a grim history of animals dying prematurely in their "care" and trainers being injured and even killed by stressed, desperate captive whales.
Sea Shepherd applauds Southwest Airlines' decision to fly into a future that is becoming more and more possible—one in which tanks are empty and the oceans are full, in which the killing ends in Taiji because people will no longer support the captive industry that funded it, and in which cetaceans are finally left to swim freely in their ocean home with their families.
You Might Also Like
The Blackfish Effect: 40 Members of Congress Call on USDA to Revise Rules for Captive Marine Mammals
Sea Shepherd Founder to Bill Maher: 'If Oceans Die, We Die'
Shocking Court Documents Expose SeaWorld's Continued Cruelty of Orca Whales
EcoWatch Daily Newsletter
Aerial view of Ruropolis, Para state, northen Brazil, on Sept. 6, 2019. Tthe world's biggest rainforest is under threat from wildfires and rampant deforestation. JOHANNES MYBURGH / AFP via Getty Images
By Kate Martyr
Deforestation in Brazil's Amazon rainforest last month jumped to the highest level since records began in 2015, according to government data.
A total of 563 square kilometers (217.38 square miles) of the world's largest rainforest was destroyed in November, 103% more than in the same month last year, according to Brazil's space research agency.
From January to November this year an area almost the size of the Caribbean island of Puerto Rico was destroyed — an 83% overall increase in destruction when compared with the same period last year.
The figures were released on Friday by the National Institute for Space Research (INPE), and collected through the DETER database, which uses satellite images to monitor forest fires, forest destruction and other developments affecting the rainforest.
What's Behind the Rise?
Overall, deforestation in 2019 has jumped 30% compared to last year — 9,762 square kilometers (approximately 3769 square miles) have been destroyed, despite deforestation usually slowing during November and December.
Environmental groups, researchers and activists blamed the policies of Brazil's president Jair Bolsonaro for the increase.
They say that Bolosonaro's calls for the Amazon to be developed and his weakening support for Ibama, the government's environmental agency, have led to loggers and ranchers feeling safer and braver in destroying the expansive rainforest.
His government hit back at these claims, pointing out that previous governments also cut budgets to environment agencies such as Ibama.
The report comes as Brazil came to loggerheads with the Association of Small Island States (AOSIS) over climate goals during the UN climate conference in Madrid.
AOSIS blasted Brazil, among other nations, for "a lack of ambition that also undermines ours."
Last month, a group of Brazilian lawyers called for Bolsonaro to be investigated by the International Criminal Court over his environmental policies.
Reposted with permission from DW.
The Carolina parakeet went extinct in 1918. James St. John /
CC BY 2.0
The Carolina parakeet, the only parrot species native to the U.S., went extinct in 1918 when the last bird died at the Cincinnati Zoo. Now, a little more than 100 years later, researchers have determined that humans were entirely to blame.
Pexels
Vitamin C is a very important nutrient that's abundant in many fruits and vegetables.
BLM drill seeders work to restore native grasses after wildfire on the Bowden Hills Wilderness Study Area in southeast Oregon, Dec. 14, 2018. Marcus Johnson / BLM / CC BY 2.0
By Tara Lohan
In 2017 the Thomas fire raged through 281,893 acres in Ventura and Santa Barbara counties, California, leaving in its wake a blackened expanse of land, burned vegetation, and more than 1,000 destroyed buildings.