Southern Tier Residents: Don't Frack Our Health!
Feb. 05, 2013 03:11PM EST
Energy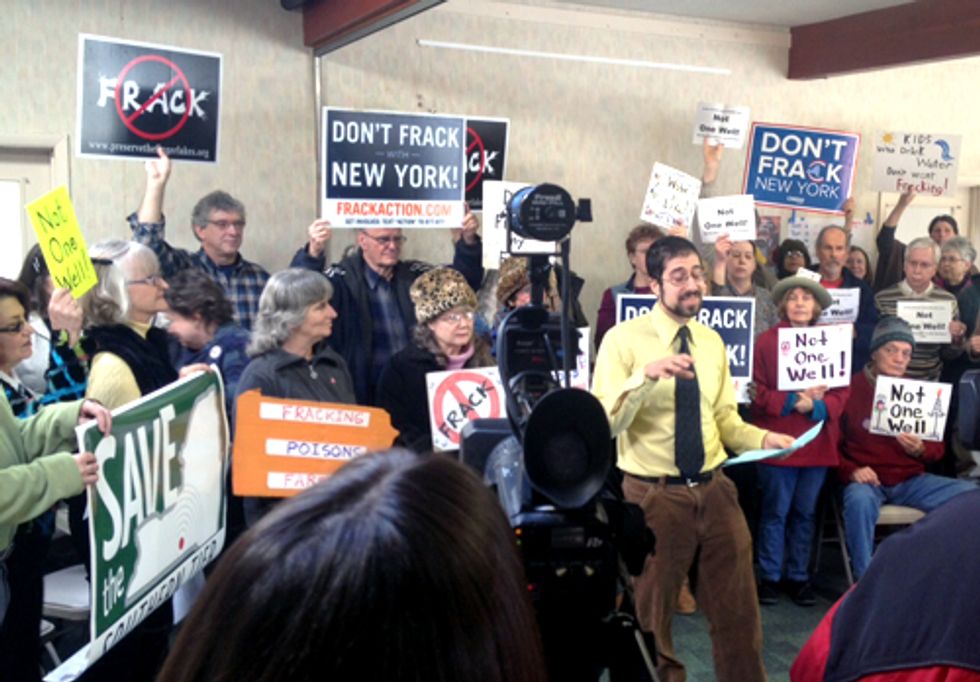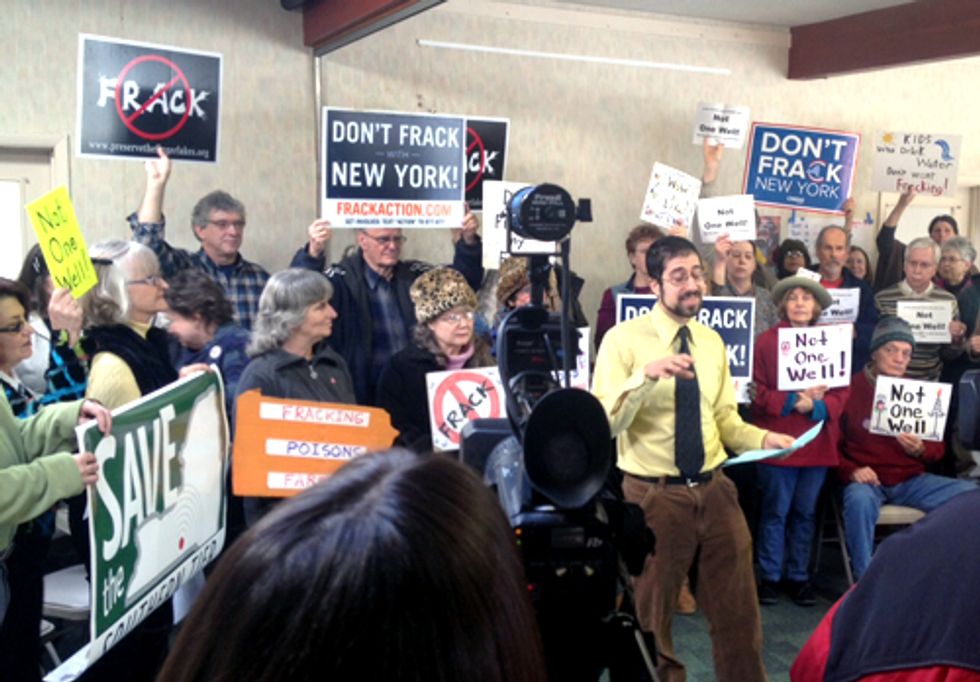 Southern Tier residents held a rally and press conference today raising grave concerns about the health impacts of fracking. Recent scientific studies cause major alarm about health impacts from the air pollution, water contamination and community impacts of fracking. Speakers included Kathy Nolan, MD, residents from across the Southern Tier and Pennsylvania residents familiar with the impacts of fracking.
Residents also pointed to the Feb. 4 Siena College poll, which showed that the gas industry's claims of support for fracking in the Southern Tier are false. The Siena poll found a narrow majority of Southern Tier residents opposed to fracking. The resounding message on Wednesday was "Governor Cuomo, don't frack our health!"
"With the lives and health of New Yorkers at stake, we call on Governor Cuomo to keep fracking's poisons out of our air, water and soil by requiring that all existing scientific and health data be studied and presented to the public within the framework of a comprehensive, rigorous, open and participatory Health Impact Assessment," said Dr. Kathy Nolan, with Catskill Mountainkeeper.
Gerri Wiley, registered nurse and Tioga County resident said, "Governor Cuomo, you are a strong leader who loves New York as we do. As Southern Tier residents, we are here today to support your vision of a thriving New York and to call on you to protect our communities by banning fracking."
They called on Governor Cuomo to open the secret health review, which is being conducted by the Department of Health, for public comment and participation. Rather than undertake a comprehensive health impact assessment of fracking that would involve transparency and public participation, the governor's administration instead hired three outside experts to spend a woefully inadequate 25 hours reviewing the state's own internal health review.
Meanwhile, other parts of the country are pursuing studies related to the health impacts of fracking. For Governor Cuomo to approve fracking at this time, he would be going leaps and bounds over the science. In the last month, the Pennsylvania Department of Environmental Protection announced intent to study radiation associated with fracking. The University of Pennsylvania announced a significant independent health study in collaboration with other leading universities. And Governor O'Malley of Maryland recently announced $1.5 million to study the impacts of fracking. The New York State health review is an internal review of an internal review, far short of the health impact study that New York's medical and scientific community has overwhelmingly called for.
Craig Stevens, resident of Silver Lake Township in Pennsylvania who has first-hand experience with health impacts of fracking, said, "Here in Pennsylvania, the Supreme Court found parts of Act 13—which places a gag order on doctors—unconstitutional, but our own emergency response services know about all of the dangers and problems with fracking."
Sue Rapp of Vestal Residents for Safe Energy said, "Until a complete health impact assessment on fracking is undertaken, communities where people live and work should not be testing grounds for industrial experiments."
The organization noted last week's very successful launch of Save the Southern Tier, a new network of Southern Tier anti-fracking organizations working to get the truth out about fracking. Rapp said, "Vestal Residents for Safe Energy stands with Save the Southern Tier in imploring the Governor to do the right thing to safeguard public health and the environment from irreparable harm."
In addition, Vestal Residents for Safe Energy said:
It is a matter of common sense that the industrial activity of fracking poses a danger to neighborhoods and brings with it risks to  health, safety, property values and the comfort of home.
A Siena Poll released yesterday showed that the gas industry's and Senator Libous' assertion that the Southern Tier wants fracking couldn't be further from the truth. In fact, people in the Southern Tier are almost evenly divided on the question, and 51 percent—42 percent of Southern Tier residents would support a moratorium on fracking if the governor gives fracking a green light. According to the poll, fracking opponents will be much more upset if it moves forward than fracking supporters will be if it does not. The Southern Tier has the highest ratio of anti-fracking sentiment in the state, with the largest percentage in the state of those who feel passionately that fracking should not proceed.
Vestal Residents for Safe Energy stands with Save the Southern Tier and New Yorkers Against Fracking to implore the Governor to do the right thing to safeguard public health and the environment from irreparable harm. Any project announced by the Governor to frack even one well in the Southern Tier will be met with unprecedented resistance from the anti-fracking movement. We will make history in New York by protecting our residents and saying NO to the industry. NOT ONE WELL!
Visit EcoWatch's FRACKING page for more related news on this topic.
——–
Sign the petition today, telling President Obama to enact an immediate fracking moratorium:

EcoWatch Daily Newsletter