This website uses cookies to ensure you get the best experience while browsing it. By clicking 'Got It' you're accepting these terms.
South Korea's Plan to Have World's First Carbon-Free Island
Jun. 07, 2016 11:02AM EST
Renewable Energy
Wind turbines on Gapado Island. Channel NewsAsia
A small island south of South Korea is working for the title of world's first carbon-free island. And it's pretty close to accomplishing just that.
Gapado Island, home to 177 people, relies mainly on solar and wind power for electricity. Two wind power generators have been installed on the island, which produce 500 kilowatts of electricity, Jin Myoung-hwan, head of Gapado, told Channel NewsAsia. Forty-eight of the 97 houses on the island have solar generators installed.
---
"As we have electricity generated from the wind and solar generators, we do not need to use diesel generators, relying completely on solar and wind power," Myoung-hwan said.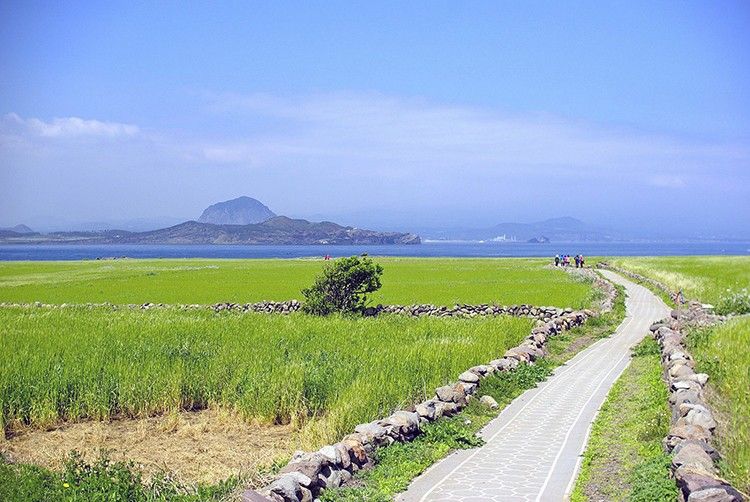 Gapado Island.
The installation of the solar panels on residential homes was mainly covered by the Jeju Special Self-Governing body. Jeju Island, home to 600,000 people, hopes to use Gapado as a model to become carbon-free itself by 2030, Channel NewsAsia reported. Making Gapado Island carbon-free is the first of three phases in the Carbon Free Island Jeju by 2030 project.
The Jeju Special Self-Governing body has spent more than USD$100 million to help Gapado become carbon-free. With this help, residents aren't strapped with the costs of installing solar panels on their homes—which cost roughly 12 million won (USD$12,000). Instead, they pay just a portion of the total amount.
Gapado resident Kim Bu-jeon paid only 10 percent of the total cost, according to Channel NewsAsia.
"Before having these solar panels, I used to pay about 40,000-50,000 won (USD$33-USD$42) for electricity if I use the air conditioner and other appliances," he said. "After installing them, I now pay about 9,000 won if I use a lot of electricity, and about 8,000 or 7,000 won if I don't use that much."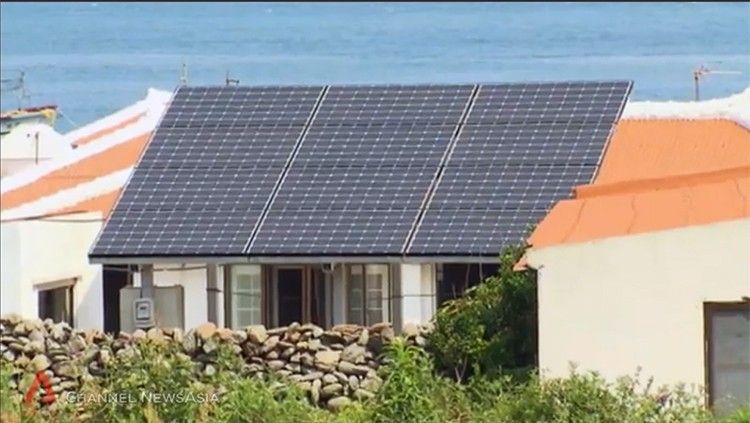 Solar panel on a house in Gapado Island. Photo credit: Channel NewsAsia
The island produces more energy than its residents consume. The extra energy produced is stored in smart meters on the electricity grid. The stored power can then be used on days when weather conditions disrupt solar and wind power generation. Lee Young-suk, the island's microgrid center manager, told Channel NewsAsia that the center is like a giant battery pack for the island.
"Let's say the entire village consumes around 150 kilowatts," he said. "The wind generators produce around three times the power used by the households. If the wind generators produce 500 kilowatts of electricity and store them, we can supply sufficient electricity to the village even if the wind generation is halted."
Further helping the island to become carbon-free is the absence of cars. The most common modes of transportation are walking and cycling. There are only nine cars on the island, four of which are electric, Inhabitat reported.
Carbon Free Island Jeju by 2030 plan
Jeju Island currently receives 5 percent of its total energy from renewables, according to Renewable Energy Futures for UNESCO Sites. The carbon-free plan will replace fossil fuels with wind—harnessed from land and sea turbines—solar and hydropower.
The project plans to expand wind turbine capacity to 2.35 gigawatts—a 15-fold increase from the turbines' current output of 156 megawatts.
There will also be an increased presence of electric cars and smart homes on the island. Jeju Island plans to increase the number of electric cars from today's 852 units to 377,000 by 2030. Subsidies for EV usage will be available for residents as well as an EV battery lease program, according to The Korea Herald. Roughly 15,000 rapid-charging stations are expected to be operating by 2030. There are only 79 stations now.
Switching to renewable energy sources is expected to create around 40,000 jobs, Renewable Energy Futures for UNESCO Sites said.
Jeju Island's switch to carbon-free energy is being implemented in three phases, according to Renewable Energy Futures for UNESCO Sites:
First phase: to make Gapado Island carbon free, turning it into a laboratory and model for the Jeju Island initiative.
Second phase: to raise the share of new and renewable energy in the energy market to 50 percent by 2020.
Third phase: to make Jeju Island carbon-free and a green-growth city by 2030.
Jeju Island partnered with LG Corp. in 2015 to work toward this goal, The Korea Herald reported. The project is expected to cost 6 trillion won (USD$5.4 billion).
EcoWatch Daily Newsletter
Protestors and police stand on ether side of railway tracks. dpa / picture-alliance
Police have cleared 250 climate activists who stayed overnight at the Garzweiler brown coal mine in western Germany, officials said Sunday.
Cecilie_Arcurs / E+ / Getty Images
By Megan Jones and Jennifer Solomon
The #MeToo movement has caused profound shake-ups at organizations across the U.S. in the last two years. So far, however, it has left many unresolved questions about how workplaces can be more inclusive and equitable for women and other diverse groups.

Cigarette butts are the most-littered item found at beach clean ups. John R. Platt
By Tara Lohan
By now it's no secret that plastic waste in our oceans is a global epidemic. When some of it washes ashore — plastic bottles, plastic bags, food wrappers — we get a stark reminder. And lately one part of this problem has been most glaring to volunteers who comb beaches picking up trash: cigarette butts.

Andrea Rodgers, second from the right, takes notes during a hearing in the Juliana v. U.S. case before the 9th Circuit Court of Appeals in Portland, Oregon on June 4. Colleague Elizabeth Brown sits to her left, while colleague Julia Olson sits on her right, with co-council Philip Gregory on Julia's right. Robin Loznak / Our Children's Trust
By Fran Korten
On June 4, Andrea Rodgers was in the front row of attorneys sitting before a three-judge panel of the 9th Circuit Court. The court session, held in Portland, Oregon, was to determine whether the climate change lawsuit (Juliana v. United States) brought by 21 young plaintiffs should be dismissed, as requested by the U.S. government, or go on to trial.
Seventy Extinction Rebellion protesters were arrested outside The New York Times building Saturday.
SCOOTERCASTER / YouTube screenshot
Explosions and a blaze at the Philadelphia Energy Solutions Refining Complex on June 21.
VOA News / YouTube screenshot
A fire broke out at a Philadelphia oil refinery Friday morning, starting with an explosion so massive it was felt as far away as South Jersey and Delaware County, Pennsylvania, CNN reported.
Asian elephants in Bandipur National Park, India. Mike Prince / CC BY 2.0
By John R. Platt
Some of the tiniest creatures in Myanmar benefit from living near the largest species in the area.