This website uses cookies to ensure you get the best experience while browsing it. By clicking 'Got It' you're accepting these terms.
South Korea's Plan to Have World's First Carbon-Free Island
Jun. 07, 2016 11:02AM EST
Energy
Wind turbines on Gapado Island. Channel NewsAsia
A small island south of South Korea is working for the title of world's first carbon-free island. And it's pretty close to accomplishing just that.
Gapado Island, home to 177 people, relies mainly on solar and wind power for electricity. Two wind power generators have been installed on the island, which produce 500 kilowatts of electricity, Jin Myoung-hwan, head of Gapado, told Channel NewsAsia. Forty-eight of the 97 houses on the island have solar generators installed.
---
"As we have electricity generated from the wind and solar generators, we do not need to use diesel generators, relying completely on solar and wind power," Myoung-hwan said.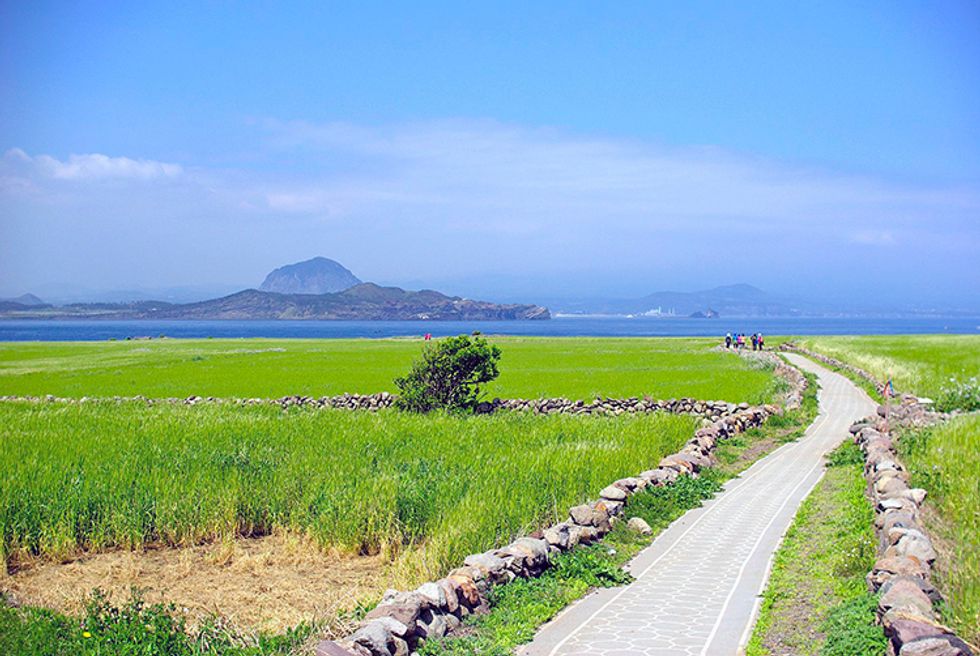 Gapado Island.
The installation of the solar panels on residential homes was mainly covered by the Jeju Special Self-Governing body. Jeju Island, home to 600,000 people, hopes to use Gapado as a model to become carbon-free itself by 2030, Channel NewsAsia reported. Making Gapado Island carbon-free is the first of three phases in the Carbon Free Island Jeju by 2030 project.
The Jeju Special Self-Governing body has spent more than USD$100 million to help Gapado become carbon-free. With this help, residents aren't strapped with the costs of installing solar panels on their homes—which cost roughly 12 million won (USD$12,000). Instead, they pay just a portion of the total amount.
Gapado resident Kim Bu-jeon paid only 10 percent of the total cost, according to Channel NewsAsia.
"Before having these solar panels, I used to pay about 40,000-50,000 won (USD$33-USD$42) for electricity if I use the air conditioner and other appliances," he said. "After installing them, I now pay about 9,000 won if I use a lot of electricity, and about 8,000 or 7,000 won if I don't use that much."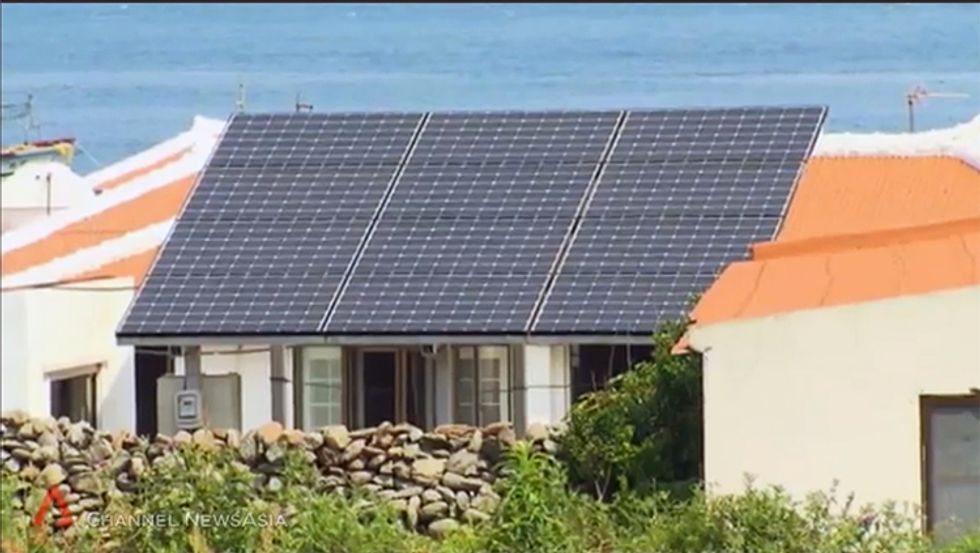 Solar panel on a house in Gapado Island. Photo credit: Channel NewsAsia
The island produces more energy than its residents consume. The extra energy produced is stored in smart meters on the electricity grid. The stored power can then be used on days when weather conditions disrupt solar and wind power generation. Lee Young-suk, the island's microgrid center manager, told Channel NewsAsia that the center is like a giant battery pack for the island.
"Let's say the entire village consumes around 150 kilowatts," he said. "The wind generators produce around three times the power used by the households. If the wind generators produce 500 kilowatts of electricity and store them, we can supply sufficient electricity to the village even if the wind generation is halted."
Further helping the island to become carbon-free is the absence of cars. The most common modes of transportation are walking and cycling. There are only nine cars on the island, four of which are electric, Inhabitat reported.
Carbon Free Island Jeju by 2030 plan
Jeju Island currently receives 5 percent of its total energy from renewables, according to Renewable Energy Futures for UNESCO Sites. The carbon-free plan will replace fossil fuels with wind—harnessed from land and sea turbines—solar and hydropower.
The project plans to expand wind turbine capacity to 2.35 gigawatts—a 15-fold increase from the turbines' current output of 156 megawatts.
There will also be an increased presence of electric cars and smart homes on the island. Jeju Island plans to increase the number of electric cars from today's 852 units to 377,000 by 2030. Subsidies for EV usage will be available for residents as well as an EV battery lease program, according to The Korea Herald. Roughly 15,000 rapid-charging stations are expected to be operating by 2030. There are only 79 stations now.
Switching to renewable energy sources is expected to create around 40,000 jobs, Renewable Energy Futures for UNESCO Sites said.
Jeju Island's switch to carbon-free energy is being implemented in three phases, according to Renewable Energy Futures for UNESCO Sites:
First phase: to make Gapado Island carbon free, turning it into a laboratory and model for the Jeju Island initiative.
Second phase: to raise the share of new and renewable energy in the energy market to 50 percent by 2020.
Third phase: to make Jeju Island carbon-free and a green-growth city by 2030.
Jeju Island partnered with LG Corp. in 2015 to work toward this goal, The Korea Herald reported. The project is expected to cost 6 trillion won (USD$5.4 billion).
EcoWatch Daily Newsletter
With well over a billion cars worldwide, electric vehicles are still only a small percentage. An economist from the University of Michigan Energy Institute says that is likely to change. Maskot / Getty Images
In 2018, there were about 5 million electric cars on the road globally. It sounds like a large number, but with well over a billion cars worldwide, electric vehicles are still only a small percentage.
Nestlé is accelerating its efforts to bring functional, safe and environmentally friendly packaging solutions to the market and to address the global challenge of plastic packaging waste.
Nestlé
/ Flickr /
CC BY-NC-ND 2.0
Nestlé, the world's largest food company, said it will invest up to $2 billion to address the plastic waste crisis that it is largely responsible for.
Determining the effects of media on people's lives requires knowledge of what people are actually seeing and doing on those screens. Vertigo3d / iStock / Getty Images Plus
Indigenous people of various ethnic groups protest calling for demarcation of lands during the closing of the 'Red January - Indigenous Blood', in Paulista Avenue, in São Paulo, Brazil, Jan. 31, 2019. Cris Faga / NurPhoto / Getty Images
By Raphael Tsavkko Garcia
Rarely has something so precious fallen into such unsafe hands. Since Jair Bolsonaro took the Brazilian presidency in 2019, the Amazon, which makes up 10 percent of our planet's biodiversity and absorbs an estimated 5 percent of global carbon emissions, has been hit with a record number of fires and unprecedented deforestation.
Microsoft's main campus in Redmond, Washington on May 12, 2017. GLENN CHAPMAN / AFP via Getty Images
Microsoft announced ambitious new plans to become carbon negative by 2030 and then go one step further and remove by 2050 all the carbon it has emitted since the company was founded in 1975, according to a company press release.