This website uses cookies to ensure you get the best experience while browsing it. By clicking 'Got It' you're accepting these terms.
Solarizing Greece Is a Way Out of Its Financial Crisis
Jul. 31, 2015 09:31AM EST
Business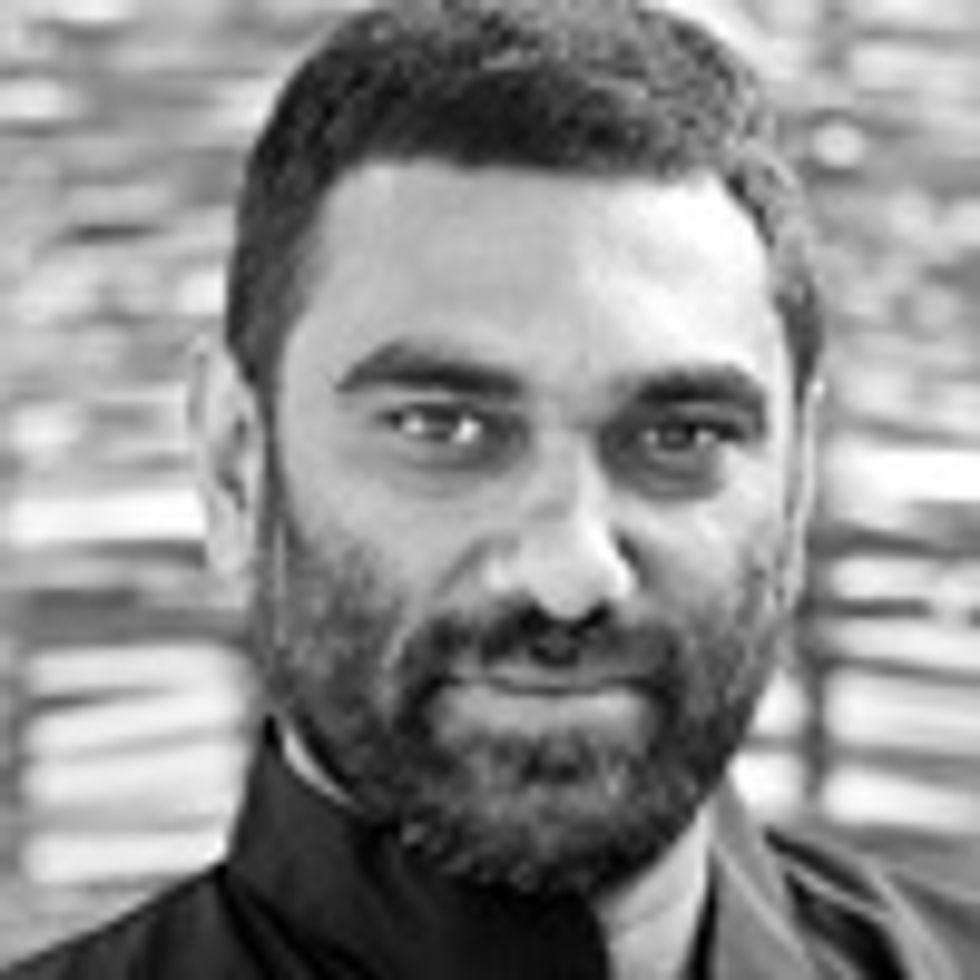 Greece is facing a depression on a scale arguably comparable to the U.S. Great Depression of the late 1920s. Huge unemployment rates and a dramatic drop in family incomes of more than 40 percent have Greek citizens pondering what the impacts will be of the new bail-out agreement. Unending austerity and lack of hope are all it seems the future has to offer.
But there is a way to start changing things for the better. With energy poverty emerging as one of the most dramatic symptoms of the recession—six out of every 10 households are struggling to pay their energy bills—it is high time that Greece seized upon its greatest and still largely unexploited asset: the sun.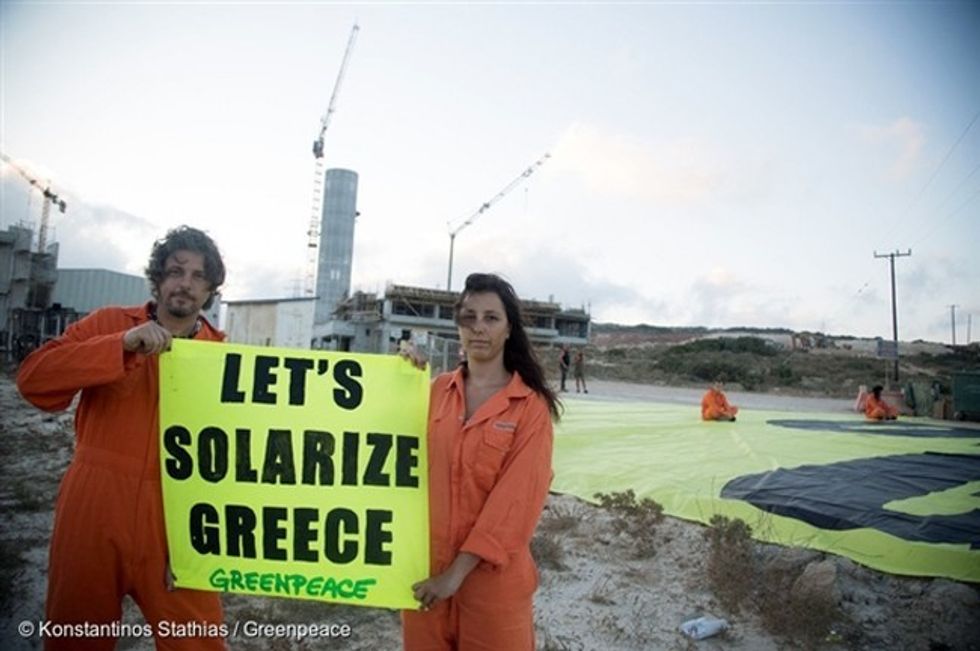 The tremendous untapped solar potential is a way to combat energy poverty and to cheaply kickstart economic growth. Photo credit: Greenpeace
The new "Solarize Greece" campaign by Greenpeace Greece aims to bring together all those who dream of a brighter and more sustainable future, not only for Greece but for all European countries. Its objectives are to help Greece kickstart solar power as a driver of the economy, to rid the country of the burden of fossil fuels that are holding it down economically and for Greece to fight its way back out of the crisis.
Solar power has worked minor miracles for Greece before. In the turbulent decade of the 1970s that saw two major global energy crises, the Greek government offered tax incentives to households for solar water heaters and a national policy was aimed at saving power. That led to hundreds of thousands of households installing solar heaters and significantly reduced energy bills. Equally important, a new industry was born and soon solar heaters became one of Greece's finest export products. It seemed then that the sun had done its part to help Greece work its way out of a tight spot.
Now, crushing national hardship together with climate change are urgent and even more compelling reasons for revisiting solar photovoltaic (PV) power and this time, on a massive scale.
Greece's short-lived 'PV Spring' of 2009-2013, driven by a feed-in tariff scheme, provided a glimpse of the country's real solar potential. Within five years installed solar capacity jumped from 47 to more than 2,500 megawatts. A total of €4.5 billion was invested in modernizing the energy sector and created around 50,000 jobs. In all, around 100,000 Greek families benefitted from the rise of the solar PV industry in one of the European countries most renowned for its sun.
Today, Greece is in a position to do much more.
Driven by the rapid fall in the costs of solar power, new legislation allows Greek citizens to generate cheap solar power for their own consumption, rather than selling it to the power grid. It means that, despite all of its economic hardships, Greece can seize on the enormous comparative advantage it has in solar power relative to northern European states. The tremendous untapped solar potential is a way to combat energy poverty and to cheaply kickstart economic growth.
Hundreds of thousands of households and small and medium enterprises could generate their own power at a fraction of the cost that they buy it from the grid. Tens of thousands of new jobs can be created.
With the costs of solar energy and storage expected to fall even further in the near future there is the potential for Greece to save billions of Euros on its fuel import bill—money that would stay within the country and be redirected to where it matters most: sustainable investments, social welfare policies, saving pensions and stimulating prosperity.
Here's a way to support Greeks and pave the way out of a crisis >> http://t.co/GXoU8foQnm #SolarizeGreece pic.twitter.com/sfaev5jaTT

— Greenpeace (@Greenpeace) July 28, 2015
So where could Greece find the funds for this initiative? Currently, through their electricity bills, Greek consumers pay around €800 million a year to subsidize oil imports to provide power to the country's many islands. This is a huge amount by Greek standards and one that is equivalent to the newly proposed cuts in pensions from the national budget in 2015.
This burden is set to increase as yet more oil-related power investments are scheduled for the islands. If these polluting and expensive projects are selected over investments in renewable energy and improvements in the power grid, Greek consumers will continue to throw away money for decades to come. That would not only steal resources from the economy but also compromise the chances of recovery.
Greenpeace Greece sees a different energy future and that is what its crowd-funding campaign is all about. Installing solar power in Greece's oil-dependent islands will bring relief to low-income households in need; it will help reduce oil consumption and pollution; and it will save money for Greek consumers on the mainland. Above all, it would be an example of a fair social policy that has tremendous developmental potential. Even more crucially, the campaign aspires to set in motion a transformation based on solarizing the entire Greek economy.
We are talking here about a domino effect, as a step that addresses austerity and provides a brighter future. If we can muster the support for solar power for Greece's islands, why not for the whole of Greece?
Solarizing Greece would be a step in assisting the country to again stand on its own feet, on its own terms. And a step that could have significant repercussions for the rest of the sun-bathed Mediterranean region.
For Greece, untapped solar power means untapped sustainable economic development.
The sun is not only for tourist holidays. Greece has an opportunity to show the rest of Europe the true power of solar energy.
YOU MIGHT ALSO LIKE
Germany Breaks Renewable Energy Record
And the Cheapest Electricity in America Is … Solar
Belize Joins Ten Island Challenge to Transition to 100% Renewable Energy
EcoWatch Daily Newsletter
California Gov. Gavin Newsom speaking with attendees at the 2019 California Democratic Party State Convention at the George R. Moscone Convention Center in San Francisco.
Gage Skidmore
/ Flickr /
CC BY-SA 2.0
California Gov. Gavin Newsom imposed new restrictions on oil exploration in his state yesterday by putting a moratorium on hundreds hydraulic fracturing permits until the projects are reviewed by independent scientists, as the AP reported.
The endangered Houston toad. Courtesy of U.S. Fish and Wildlife Service
While the planet continues to heat up, almost every single one of the 459 species listed as endangered in the U.S. will struggle as the climate crisis intensifies, according to new research published in the journal Nature Climate Change.
"This singular scientific achievement was accomplished at Heliogen's commercial facility in Lancaster, California."
Heliogen
A startup backed by Bill Gates unveiled a breakthrough solar technology Tuesday that could free heavy industry from fossil fuels.
Rhodiola rosea is an adaptogenic herb that can help with chronic fatigue and stress-related burnout. Tero Laakso / Flickr
By Gavin Van De Walle, MS, RD
While everyone has specific life stressors, factors related to job pressure, money, health, and relationships tend to be the most common.
Stress can be acute or chronic and lead to fatigue, headaches, upset stomach, nervousness, and irritability or anger.
A video shows a woman rescuing a koala from Australia's wildfires.
VOA News / YouTube screenshot
More than 350 koalas may have died in the wildfires raging near the Australian town of Port Macquarie in New South Wales, but one got a chance at survival after a woman risked her life to carry him to safety.