Solar War Continues in North Carolina: Nonprofit vs. Duke Energy
In one of the remaining four states that explicitly ban third-party solar sales, a small nonprofit is continuing its fight against the nation's biggest utility over the right to sell solar power to churches and other nonprofits without the utility's involvement.
North Carolina Waste Awareness and Reduction Network (NC WARN), a 28-year-old environmental nonprofit with an annual budget of around $1.1 million, is fighting Duke Energy, a massive energy company that raked in $23.5 billion in revenue in 2015 and is valued at $54.4 billion.
Last year, the nonprofit wanted to clarify state law regarding third-party sales, so it picked a fight with the utility Goliath to spark a test case. NC WARN installed solar panels on the roof of a Greensboro church for free and started selling the energy back to the church at significantly lower rates than Duke Energy would charge. In typical power purchase agreements, customers pay the owner of the solar array less per watt than they'd have to pay a utility company, making residential solar more affordable and thus more accessible for customers.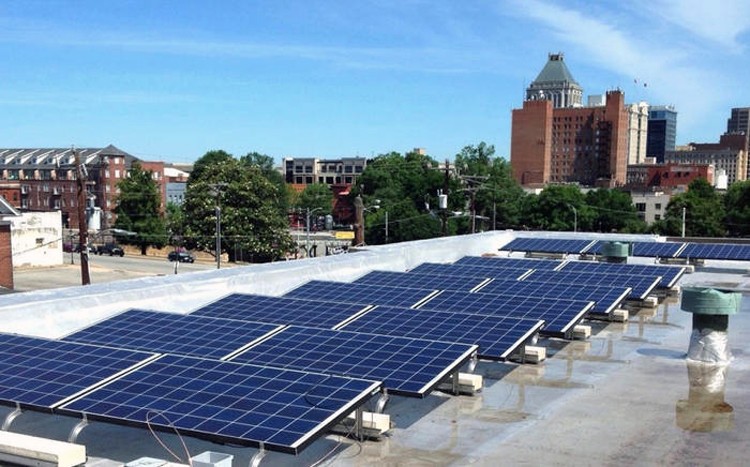 The energy giant's lost profits from NC WARN's arrangement with Faith Community Church are minuscule, yet Duke Energy asked the North Carolina Utilities Commission last October to fine NC WARN up to $1,000 per day for selling energy to the church. At that time, it would have cost the nonprofit as much as $120,000.
On April 15, the utilities commission fined NC WARN $200 per day, amounting to roughly $60,000 and the nonprofit suspended its sales of solar electricity to the non-denominational, largely African-American church pending an appeal.
NC WARN will donate the solar array to the church if a final decision deems its actions illegal. But the group still has another chance to convince the commission to side with its vision for affordable renewables.
NC WARN argues in its appeal filed on May 16 that it is neither acting as a public utility, which would violate North Carolina law, nor competing with Duke Energy.
"Duke Energy obviously sought the unprecedented penalty in order to stifle NC WARN in various fights against the corporate behemoth," wrote NC WARN Executive Director Jim Warren in a statement.
A Solar Company Operating in a Hostile State
Duke Energy Communications Manager Randy Wheeless cited Raleigh-based Baker Renewable Energy as an example of a company that operates legally, offering solar financing plans without selling the energy back to its customers.
But without third-party sales, "There's no good way for churches, synagogues, town halls or schools to get clean energy if they want it right now because they can't take the tax credit," Jason Epstein, executive vice president and general manager of Baker, told DeSmog.
He said that beginning with "a model that deals with nonprofits" would be best, at first, so as not to "open up the spigot all at once." Then the state could roll out residential third-party sales once the market is established.
Solar installers such as Baker would definitely get on board if third-party solar ever becomes legal in North Carolina. "If that's an option available we'd team up with financing teams. Of course," said Epstein.
Baker's former "sample purchase and payback model" (archived here) included a state incentive for residents and businesses to purchase solar panels, a 35 percent tax write-off, which the North Carolina legislature let expire in 2015. Duke Energy failed to take a position on the measure, despite receiving a letter from Baker and other energy companies begging the energy giant to support the credit.
Without the state incentive, solar buyers only have the federal credit to work with and a solar system from Baker now costs more than $15,000, according to Baker's numbers. Even those who could afford to purchase the panels wouldn't break even for 18 years.
"Instead of selling $21,000 systems, the market has shifted towards people with greater means who can afford $60,000 systems that offer a quicker return on investment," said Epstein.
The expiration of the tax credit "has affected our sales," Epstein sad. "I think any solar company in the state would say it has. Our residential and light commercial work is down 40 percent."
Wheeless said that Duke Energy has approximately 4,000 customers who use rooftop solar. But while North Carolina currently ranks third in the nation in installed solar capacity, 93 percent of that capacity comes from utility-scale operations due to the state's ban on third-party sales.
Conflicting Stances on Renewable Energy
While Duke Energy has fought third-party solar sales in North Carolina and in Florida, it has taken different stances on the practice in other states. In South Carolina, for example, the company actually took part in a compromise agreement that expanded residential solar in the state.
As a result, Baker "is doing significantly more work in South Carolina," said Epstein. "It saddens me because my company is based in Raleigh, I've been here for seven to eight years and employ people who work here. I want to work in North Carolina."
However, Epstein said several times that Baker has a good relationship with Duke Energy.
Wheeless told DeSmog he wants stakeholders in North Carolina to get together, as they did in South Carolina, to discuss a wide range of solar options and that just focusing on third-party sales is a nonstarter, something he has said previously to the media.
Warren said this line is "a recipe for delay. It came [first] at a time where Duke was clearly very concerned about third-party sales. They were spending a lot of money on lobbyists to try to beat back that Energy Freedom Act [of 2015]," which would have legalized third-party sales.
Duke also purchased a majority stake in REC Solar last year, which makes money from third-party solar sales in California and Hawaii, states that permit these agreements and where Duke Energy does not directly operate.
Despite holding back residential solar in some states, Duke Energy, Wheeless said, is "absolutely" concerned about environmental pollution. He said the company has invested $4 billion in wind and solar across 13 states and has "retired about 40 coal units in the past five or six years." But Duke has replaced these coal plants with natural gas facilities and natural gas contributes large amounts of methane, a greenhouse gas far more potent than carbon, into the atmosphere.
Duke wants to build up to 15 new natural gas plants in North and South Carolina alone and NC WARN is challenging them on this, too. Duke will likely acquire Charlotte-based Piedmont Natural Gas as it hopes to pipe gas 554 miles from West Virginia, through Virginia and into eastern North Carolina.
"We believe natural gas is going to be the backbone of energy generation going forward," said Duke President and CEO Lynn Good.
When DeSmog asked Wheeless about the dangerous methane that comes from natural gas, he had no direct response, only citing Duke Energy's work with "hog operations to capture that methane and burn it at our own plants, taking out harmful emissions."
In contrast, Warren said, "The people on this planet are in a world of hurt and we need to be expanding solar and cutting emissions as fast as we can."
Duke Energy plans to invest $3 billion in renewables over the next five years. "We don't have an absolute [percent of total output] target" for renewable energy over those years, said Wheeless, "but we feel like we know where we're going."
Yet Duke does have a target for solar, wind and biomass energy for 2029: "a measly 4 percent," as Greenpeace's Monica Embrey described it.
Keeping Up the Pressure
Warren and NC WARN have no plans to relent in their campaign against the big polluter, Duke Energy.
"It's hard to say if we'll win our appeal," said Warren. "We feel strongly that this project is in accord with the state constitution, which prohibits monopolies, but also state policy that promotes the expansion of renewable energy …
"We want to clarify that Duke doesn't get to lock off these rooftops and prevent competition, especially when you've got an industry that wants to be involved with upfront solar in this state."
YOU MIGHT ALSO LIKE
Solar Beats Coal for Entire Month in UK for First Time
100 Solutions to the World's Most Pressing Challenges
New Solar Loan Program Now Available in 14 States
Dubai to Build World's Largest Concentrated Solar Power Plant
Wikimedia Commons
By Stacy Malkan
Neil deGrasse Tyson has inspired millions of people to care about science and imagine themselves as participants in the scientific process. What a hopeful sign it is to see young girls wearing t-shirts emblazoned with the words, "Forget princess, I want to be an astrophysicist."
Keep reading...
Show less
www.youtube.com
By Andy Rowell
Any day now we will truly witness climate change in action. Within days at worst, maybe weeks at best, scientists predict that a huge section of the Larsen C ice shelf in Antarctica will break off into the ocean, in what is called a major "carving" event.
Keep reading...
Show less
www.youtube.com
President Trump visited Cedar Rapids, Iowa on June 21 to speak to a large crowd in the U.S. Cellular Center at a political rally organized by his campaign.
As Trevor Noah noted during The Daily Show episode last night (starts at 2:25), the real reason Trump has these rallies is to "get back in front of his loyal crowds and feed of their energy." Noah believes that "Trump supporters are so on board with their dude he can say anything and they'll come along for the ride."
Keep reading...
Show less
The Kamuthi solar plant in the southern Indian state of Tamil Nadu.
The rapid growth in renewable energy continues to put a dent in the demand for coal.
Coal India, the world's biggest coal mining company and producer of 82 percent of the country's coal, announced the closure of 37 mines that are financially "unviable."
Keep reading...
Show less
www.youtube.com
By Katie O'Reilly
Two years ago—long before coal became one of the most dominant and controversial symbols of the 2016 presidential election—Bloomberg Philanthropies approached production company RadicalMedia with the idea of creating a documentary exploring the U.S. coal mining industry. Last spring, they brought on Emmy-nominated director Michael Bonfiglio, tasked with forging a compelling story out of the multitudes of facts, statistics and narratives underlying the declining industry.
Keep reading...
Show less
Mayors for 100% Clean Energy
Keep reading...
Show less
www.youtube.com
Thanks to Newsy for their coverage on Thursday's news that the U.S. Fish and Wildlife Service removed grizzly bears in the Greater Yellowstone region from the Endangered Species List.
Watch above as Newsy explains that the decision comes despite serious concerns from the environmental and scientific community, and Tribal Nations about a declining, isolated grizzly bear population with diminishing food resources and record-high mortalities.
Keep reading...
Show less
www.facebook.com
By Francine Kershaw
Seismic airguns exploding in the ocean in search for oil and gas have devastating impacts on zooplankton, which are critical food sources for marine mammals, according to a new study in Nature. The blasting decimates one of the ocean's most vital groups of organisms over huge areas and may disrupt entire ecosystems.
And this devastating news comes on the heels of the National Marine Fisheries Service's proposal to authorize more than 90,000 miles of active seismic blasting. Based on the results of this study, the affected area would be approximately 135,000 square miles.
Keep reading...
Show less
By Jill Richardson
Is coconut oil:
good for you
bad for you
neither good nor bad
scientists don't know
The subject of this question is the source of a disagreement. Initially, the question was thought to be settled decades ago, when scientist Ancel Keys declared all saturated fats unhealthy. Coconut oil, which is solid at room temperature, is a saturated fat.
Keep reading...
Show less


Get EcoWatch in your inbox