This website uses cookies to ensure you get the best experience while browsing it. By clicking 'Got It' you're accepting these terms.
Solar Success Stories: Using the Sun's Energy to Rebuild the Economy While Protecting the Planet
Aug. 05, 2014 02:40PM EST
Business
Creative entrepreneurs, futurists, community members and businesses have found innovative ways to utilize the sun's energy that could lead to huge increases in access to clean and green electricity.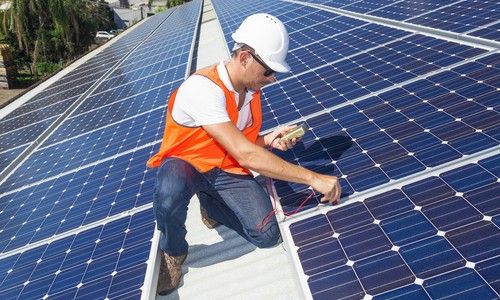 Photo credit: Shutterstock
As we saw during the first #PutSolarOnIt day of action on June 21, public support for solar power and renewable energy is growing. At the same time, solar costs have dropped and production has skyrocketed.
Why are people getting so excited about the growth of solar? It has a lot to do with its potential. The fact is that enough raw energy from the sun reaches the Earth in just one hour to equal all of the energy used by the entire world in a full year. There's just one problem: we need to radically scale up our capacity to generate electricity from solar energy so that we can fully harness this power.
Of course, this prospect has the dirty fossil fuel industry very, very concerned and their friends in government doing everything they can to make sure it doesn't happen. The good news is that people around the world aren't waiting for political leaders to take the next step towards a sustainable future powered by clean energy. And it's time to spread the word. We've compiled the list below highlighting just some of the creative entrepreneurs, futurists, community members and businesses that have found innovative ways to utilize the sun's energy that could lead to huge increases in access to clean and green electricity.
And you know what comes with that? Jobs. A stronger economy. Fewer threats to our health. Cleaner air. In short, a brighter future with more in the way of opportunities and less in the way of climate change.
That's something we can all get behind.
1. UK Will Turn Coal Mines Into Solar Farms
Coal isn't just a problem for our atmosphere. It's a problem for our land too. After a coal mine closes, huge swaths of land are left exposed. Welbeck Colliery shut down in 2010 after its resources were tapped out. Developers proposed an innovative solution: Why not replace coal mines with solar farms?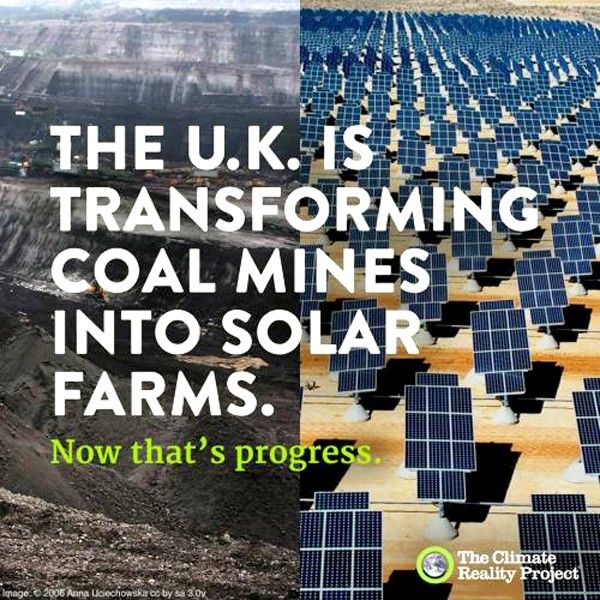 Construction will begin in 2014 to convert up to four former collieries in Nottinghamshire and South Yorkshire into solar farms capable of producing up to a combined 30 Megawatts.
India also has its share of land issues—particularly a lack of land where it can cheaply and effectively install large-scale solar farms. The solution? Take to the water!
India has a vast network of canals, so the country has begun fitting 1,000 miles of these waterways with solar panels. The panels will provide up to 2.2 Gigawatts of clean, renewable electricity even in remote regions, bringing electricity to hundreds of thousands. The panels don't encroach on residents' land (human or animal) and also cool the water in the canals, preventing evaporation and allowing more water to reach homes and farms.
The U.S. is also debating a concept pairing existing infrastructure with solar potential. Solar Roadways' crowdfunding campaign made engines rev across America with plenty of people asking, "What if we replaced the pavement on our roads with super-strong solar panels?" Well, we'd eliminate potholes, increase safety, and charge electric vehicles to boot.
There's still many questions to answer and challenges to solve, but this idea goes to show that creative ways to #PutSolarOnIt are truly a renewable resource.
4. Australian Citizens Fight for the Climate
Australia's government may have reversed the carbon tax, but its climate-savvy citizens won't drop the ball. In the state of South Australia, a whopping 25 percent of citizens have solar panels on their homes. In New South Wales, leaders are pushing ahead with an ambitious target of generating 33 percent of the state's electricity by 2020 and introducing efficiency efforts aimed at cutting energy waste.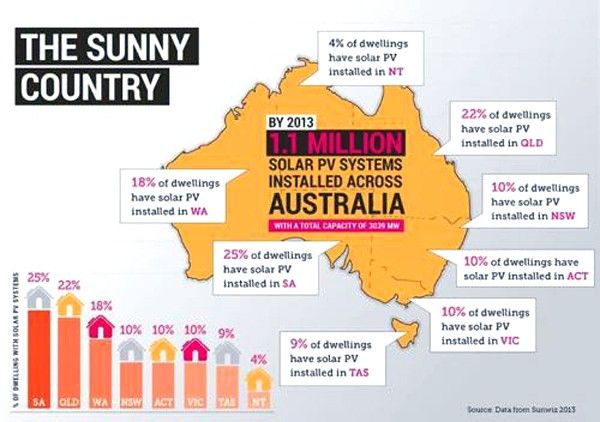 5. Arizona's Solar Plant Heats Up
Not to be outshone, America's largest solar plant recently opened in the sunny Arizona desert. Solana, as the plant is called, is also the country's first thermal energy storage system. That means even hours after the sun sets, this plant will still be generating electricity, providing power during peak hours for up to 70,000 homes. Shine on! 
6. Peru Brings Solar to its Poorest Citizens
What's better than solar power? How about providing free solar power to people who need it most?
That's exactly what Peru's doing. The South American nation has already kicked off its National Photovoltaic Household Electrification Program, which, in its first phase, will provide solar systems to 500,000 extremely poor households in areas that don't currently have grid access. By the end of 2016, about 95 percent of Peruvians will have access to electricity, a jump of 29 percent in just two years.
7. Patrick Ngowi Lights Up Tanzania
In 2007, Patrick Ngowi had a bright idea: why not solve the power demand issues in his native Tanzania with solar energy?
With a little luck and a lot of hard work, his business took off. But the entrepreneur and Climate Reality leader doesn't bask in the glow—he's giving back by through his Light for Life Foundation, an nonprofit that powers rural areas with free, portable solar kits. With a simple, self-installed kit, children, women, and schools in even the most remote rural areas gain access to light and the benefit of increased safety, added study time, extended business hours, and much more.
You Might Also Like
Top 10 States Leading the U.S. in Solar Energy Growth
Ohio Utilities Take Renewable Energy Fight to State Supreme Court
IPCC: Renewables, Not Nuclear Power, Can Solve Climate Crisis
EcoWatch Daily Newsletter
Europe is gearing up for another extreme heat wave that could set all-time records for several European countries.
Modern agricultural greenhouses in the Netherlands use LED lights to support plant growth. GAPS / iStock / Getty Images Plus
By Kevin M. Folta
A nighttime arrival at Amsterdam's Schiphol Airport flies you over the bright pink glow of vegetable production greenhouses. Growing crops under artificial light is gaining momentum, particularly in regions where produce prices can be high during seasons when sunlight is sparse.
Golde Wallingford submitted this photo of "Pure Joy" to EcoWatch's first photo contest. Golde Wallingford
EcoWatch is pleased to announce our third photo contest!

On Oct. 4, 2017, the Senate EPW Committee held a hearing on Wehrum's nomination.
EPA / YouTube screenshot
The U.S. Environmental Protection Agency's (EPA) former head of the Office of Air and Radiation who was instrumental in drafting policies that eased climate protection rules and pollution standards is under investigation by a federal watchdog for his dealings with the fossil fuel industry he was supposed to be regulating, according to the New York Times.
It's no secret that the Trump administration has championed fossil fuels and scoffed at renewable energy. But the Trump administration is trying to keep something secret: the climate crisis. That's according to a new analysis from the watchdog group Environmental Data and Governance Initiative (EDGI) who found that more than a quarter of the references to climate change on .gov websites vanished.
Pexels
New York is officially the first state in the union to ban cat declawing.
People walk in the Shaw neighborhood on July 20 in Washington, DC, where an excessive heat warning was in effect according to the NWS. Alex Wroblewski / Getty Images
By Adrienne Hollis
Climate change is a threat multiplier. This is a fact I know to be true. I also know that our most vulnerable populations, particularly environmental justice communities — people of color and/or low socioeconomic status — are suffering and will continue to suffer first and worst from the adverse effects of climate change. Case in point? Extreme heat.