This website uses cookies to ensure you get the best experience while browsing it. By clicking 'Got It' you're accepting these terms.
Solar-Powered Noise Barriers Quiet Traffic While Generating Electricity
Aug. 03, 2015 01:20PM EST
From the country that brought you the solar road comes solar noise barriers. Highway noise barriers are usually not very aesthetically pleasing and only serve one purpose—to quiet traffic for the surrounding community. But a researcher in the Netherlands, Michael Debije at the Eindhoven University of Technology, is trying to change all that.
Colorful roadside noise barriers that also generate #solar power, even on cloudy days. http://t.co/ucIBdRycx7 pic.twitter.com/eJIndi9PNx

— Autodesk (@autodesk) July 24, 2015
Since April, Debije has launched two pilot projects along the A2 highway in the Netherlands to test a new kind of solar panel he has developed. Using an innovative technology known as luminescent solar concentrators (LSC), the translucent sheets "bounce light internally to the edges of the panels, where it is beamed onto regular solar panels in concentrated form," says Fast Coexist. The year-long pilot project will help determine how well the barriers hold up in terms of power generation capabilities and with vandal-resistance and maintenance requirements.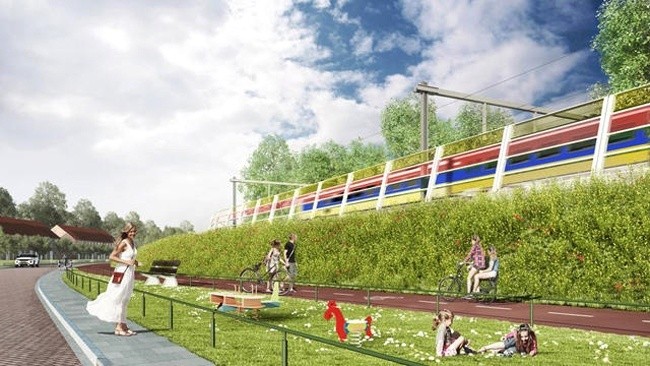 The panels are ideal for the gray skies of Northern Europe because they work even on cloudy days. A single half-mile stretch can provide enough electricity to power 50 homes.
"The LSC panels can be made in different colors, so the result is something like an oversized stained-glass window," says Fast Coexist. "Because light can shine through them, they could be used in urban areas, shielding noise without making either pedestrians or motorists feel cut off."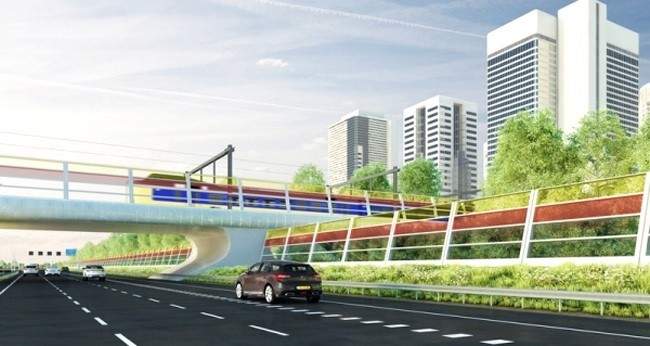 Debije and his team published a paper in Nature this spring that shows how they have overcome previous problems with LSC panels, and the team now claims they are commercially viable, according to Tech Times. "Further benefits are that the principle used is low cost, they can be produced in any desired, regular color, is robust, and the LSCs will even work when the sky is cloudy," Debije told Tech Times. "That means it offers tremendous potential."
YOU MIGHT ALSO LIKE
If All the Bees in the World Die, What Would Happen to Humans?
Two Single Moms Join the Tiny Homes Revolution
KarinaKnyspel / iStock / Getty Images
2018 saw a number of studies pointing to the outsized climate impact of meat consumption. Beef has long been singled out as particularly unsustainable: Cows both release the greenhouse gas methane into the atmosphere because of their digestive processes and require a lot of land area to raise. But for those unwilling to give up the taste and texture of a steak or burger, could lab-grown meat be a climate-friendly alternative? In a first-of-its-kind study, researchers from the Oxford Martin School set out to answer that question.
Three scissor-tailed flycatcher fledglings in a mesquite tree in Texas. Texas Eagle / CC BY-NC 2.0
By Gary Paul Nabhan
President Trump has declared a national emergency to fund a wall along our nation's southern border. The border wall issue has bitterly divided people across the U.S., becoming a vivid symbol of political deadlock.
PeopleImages / E+ / Getty Images
By Daniel Ross
Hurricane Florence, which battered the U.S. East Coast last September, left a trail of ruin and destruction estimated to cost between $17 billion and $22 billion. Some of the damage was all too visible—smashed homes and livelihoods. But other damage was less so, like the long-term environmental impacts in North Carolina from hog waste that spilled out over large open-air lagoons saturated in the rains.
Hog waste can contain potentially dangerous pathogens, pharmaceuticals and chemicals. According to the state's Department of Environmental Quality, as of early October nearly 100 such lagoons were damaged, breached or were very close to being so, the effluent from which can seep into waterways and drinking water supplies.
This picture taken on May 21, 2018 shows discarded climbing equipment and rubbish scattered around Camp 4 of Mount Everest. Decades of commercial mountaineering have turned Mount Everest into the world's highest rubbish dump as an increasing number of big-spending climbers pay little attention to the ugly footprint they leave behind. DOMA SHERPA / AFP / Getty Images
China has closed its Everest base camp to tourists because of a buildup of trash on the world's tallest mountain.