Solar-Powered Hydrogen Fuel Cell Project to Reduce Carbon Emissions at Hawaii Port
Sep. 05, 2015 09:28AM EST
Business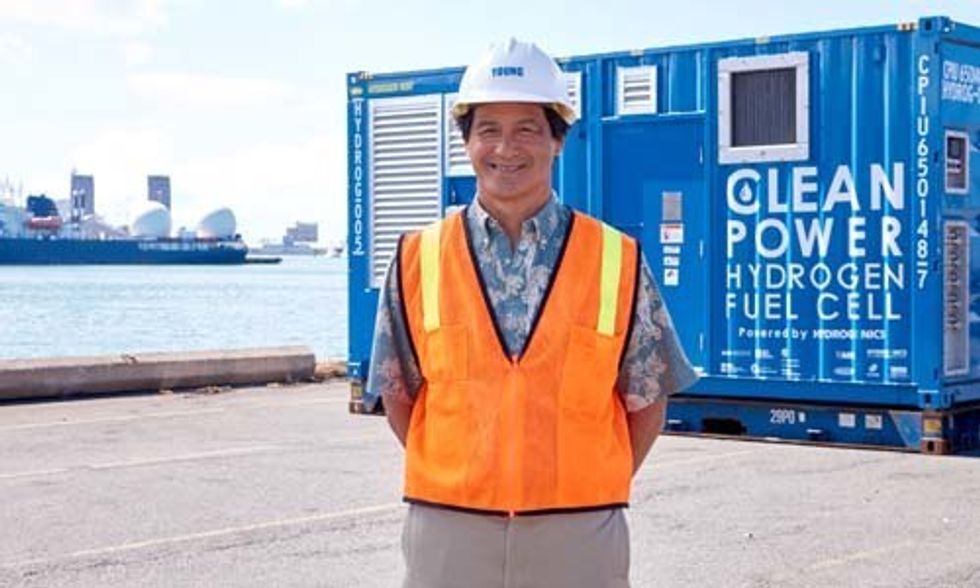 A new hydrogen fuel cell generator has been set up in the Port of Honolulu, Hawaii, at the shipping facility of Young Brothers Ltd. The unit is already providing power to refrigerated containers on shore and it will soon be powering the same refrigerated containers on Young Brothers' barges that ship goods to Hawaii's other islands, according to a statement from Sandia National Laboratories.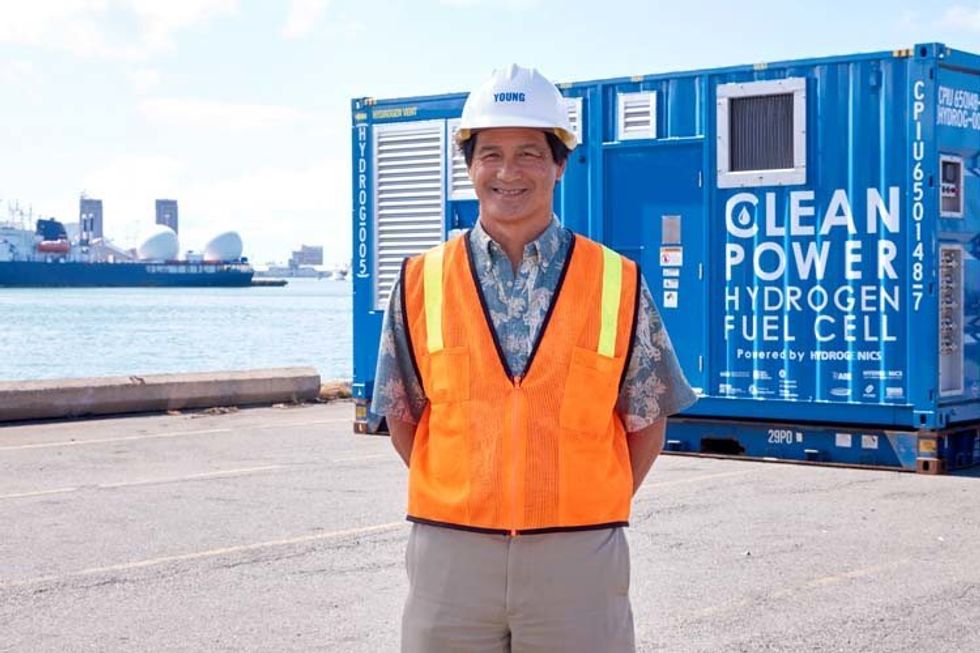 "At the point of use, hydrogen fuel cells produce nothing but water—zero pollutant emissions and no greenhouse gases," said Joe Pratt, Sandia's project lead. "This technology could enable major commercial ports and marine vessels to lessen their environmental impacts."
Hydrogen fuel cells are a hotly debated issue, though, because most projects use natural gas as the power source and it's still seen as cost-prohibitive on a commercial scale. But this project is hoping to change all that. Thanks to the Hickam Air Force Base in Honolulu, the hydrogen is coming from a renewable power source: solar.
The hydrogen is produced by electrolysis, the process of splitting water into hydrogen and oxygen, which requires electricity. The electricity for this project is supplied by Hickam's solar-powered electrical grid. Ships at the port most often rely on diesel generators.
"Emissions from those generators weren't a particular priority until recent years, when the U.S. Department of Environmental Protection began taking a closer look at air quality in U.S. port cities," said Clean Technica.
Air pollution from U.S. port cities is among the most poorly regulated sources of pollution, according to the Natural Resource Defense Council. "The result is that most U.S. ports are heavy polluters, releasing largely unchecked quantities of health-endangering air and water pollution, causing noise and light pollution that disrupts nearby communities, and harming marine habitats," said the environmental group.
"Major commercial ports can produce daily emissions equal to those of half a million cars or more," said Sandia National Laboratories. The project team is hoping that hydrogen fuels cells can address the issue of port pollution, replacing diesel with renewably powered hydrogen.
"Today, we take another big step in transforming our nation to a clean energy economy," said U.S. Senator Brian Schatz of Hawaii. "The fuel cell technology being deployed today will one day mean less carbon pollution in our ports and on the high seas. The great work from all the partners involved, especially Young Brothers, is helping lead the way to a cleaner, more energy-efficient future."
The project also hopes to address the issue of cost. "The long-range goal is to develop a commercial-ready technology that can be widely used at other ports," said Pratt. "The project team sees a strong market need and desire for a fuel cell solution, not only at maritime ports but also for users who aren't connected to a grid. That could extend to developing countries and remote locations worldwide."
The six-month pilot project is being funded by the U.S. Department of Energy's Fuel Cell Technologies Office and the U.S. Department of Transportation's Maritime Administration.
Hawaii is making impressive strides in renewable energy in recent months. In June, Gov. David Ige signed four energy bills, including one that made Hawaii the first state to mandate all of its electricity come from renewable sources no later than 2045. Along with other islands, its charging ahead with wind, solar and smart grid systems. Last week, the state launched the first fully closed-cycle Ocean Thermal Energy Conversion plant in the U.S.
YOU MIGHT ALSO LIKE
Hawaii Flips Switch on World's Largest Ocean Harvesting Clean Energy Plant
U.S. Navy Invests in World's Largest Solar Farm
EcoWatch Daily Newsletter