Solar-Powered Hydrogen Fuel Cell Project to Reduce Carbon Emissions at Hawaii Port
A new hydrogen fuel cell generator has been set up in the Port of Honolulu, Hawaii, at the shipping facility of Young Brothers Ltd. The unit is already providing power to refrigerated containers on shore and it will soon be powering the same refrigerated containers on Young Brothers' barges that ship goods to Hawaii's other islands, according to a statement from Sandia National Laboratories.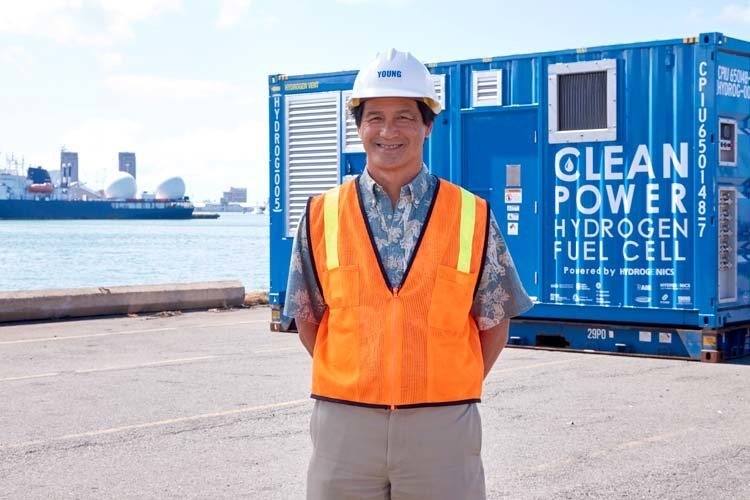 "At the point of use, hydrogen fuel cells produce nothing but water—zero pollutant emissions and no greenhouse gases," said Joe Pratt, Sandia's project lead. "This technology could enable major commercial ports and marine vessels to lessen their environmental impacts."
Hydrogen fuel cells are a hotly debated issue, though, because most projects use natural gas as the power source and it's still seen as cost-prohibitive on a commercial scale. But this project is hoping to change all that. Thanks to the Hickam Air Force Base in Honolulu, the hydrogen is coming from a renewable power source: solar.
The hydrogen is produced by electrolysis, the process of splitting water into hydrogen and oxygen, which requires electricity. The electricity for this project is supplied by Hickam's solar-powered electrical grid. Ships at the port most often rely on diesel generators.
"Emissions from those generators weren't a particular priority until recent years, when the U.S. Department of Environmental Protection began taking a closer look at air quality in U.S. port cities," said Clean Technica.
Air pollution from U.S. port cities is among the most poorly regulated sources of pollution, according to the Natural Resource Defense Council. "The result is that most U.S. ports are heavy polluters, releasing largely unchecked quantities of health-endangering air and water pollution, causing noise and light pollution that disrupts nearby communities, and harming marine habitats," said the environmental group.
"Major commercial ports can produce daily emissions equal to those of half a million cars or more," said Sandia National Laboratories. The project team is hoping that hydrogen fuels cells can address the issue of port pollution, replacing diesel with renewably powered hydrogen.
"Today, we take another big step in transforming our nation to a clean energy economy," said U.S. Senator Brian Schatz of Hawaii. "The fuel cell technology being deployed today will one day mean less carbon pollution in our ports and on the high seas. The great work from all the partners involved, especially Young Brothers, is helping lead the way to a cleaner, more energy-efficient future."
The project also hopes to address the issue of cost. "The long-range goal is to develop a commercial-ready technology that can be widely used at other ports," said Pratt. "The project team sees a strong market need and desire for a fuel cell solution, not only at maritime ports but also for users who aren't connected to a grid. That could extend to developing countries and remote locations worldwide."
The six-month pilot project is being funded by the U.S. Department of Energy's Fuel Cell Technologies Office and the U.S. Department of Transportation's Maritime Administration.
Hawaii is making impressive strides in renewable energy in recent months. In June, Gov. David Ige signed four energy bills, including one that made Hawaii the first state to mandate all of its electricity come from renewable sources no later than 2045. Along with other islands, its charging ahead with wind, solar and smart grid systems. Last week, the state launched the first fully closed-cycle Ocean Thermal Energy Conversion plant in the U.S.
YOU MIGHT ALSO LIKE
Hawaii Flips Switch on World's Largest Ocean Harvesting Clean Energy Plant
U.S. Navy Invests in World's Largest Solar Farm
Wikimedia Commons
By Stacy Malkan
Neil deGrasse Tyson has inspired millions of people to care about science and imagine themselves as participants in the scientific process. What a hopeful sign it is to see young girls wearing t-shirts emblazoned with the words, "Forget princess, I want to be an astrophysicist."
Keep reading...
Show less
www.youtube.com
By Andy Rowell
Any day now we will truly witness climate change in action. Within days at worst, maybe weeks at best, scientists predict that a huge section of the Larsen C ice shelf in Antarctica will break off into the ocean, in what is called a major "carving" event.
Keep reading...
Show less
www.youtube.com
President Trump visited Cedar Rapids, Iowa on June 21 to speak to a large crowd in the U.S. Cellular Center at a political rally organized by his campaign.
As Trevor Noah noted during The Daily Show episode last night (starts at 2:25), the real reason Trump has these rallies is to "get back in front of his loyal crowds and feed of their energy." Noah believes that "Trump supporters are so on board with their dude he can say anything and they'll come along for the ride."
Keep reading...
Show less
The Kamuthi solar plant in the southern Indian state of Tamil Nadu.
The rapid growth in renewable energy continues to put a dent in the demand for coal.
Coal India, the world's biggest coal mining company and producer of 82 percent of the country's coal, announced the closure of 37 mines that are financially "unviable."
Keep reading...
Show less
www.youtube.com
By Katie O'Reilly
Two years ago—long before coal became one of the most dominant and controversial symbols of the 2016 presidential election—Bloomberg Philanthropies approached production company RadicalMedia with the idea of creating a documentary exploring the U.S. coal mining industry. Last spring, they brought on Emmy-nominated director Michael Bonfiglio, tasked with forging a compelling story out of the multitudes of facts, statistics and narratives underlying the declining industry.
Keep reading...
Show less
Mayors for 100% Clean Energy
Keep reading...
Show less
www.youtube.com
Thanks to Newsy for their coverage on Thursday's news that the U.S. Fish and Wildlife Service removed grizzly bears in the Greater Yellowstone region from the Endangered Species List.
Watch above as Newsy explains that the decision comes despite serious concerns from the environmental and scientific community, and Tribal Nations about a declining, isolated grizzly bear population with diminishing food resources and record-high mortalities.
Keep reading...
Show less
www.facebook.com
By Francine Kershaw
Seismic airguns exploding in the ocean in search for oil and gas have devastating impacts on zooplankton, which are critical food sources for marine mammals, according to a new study in Nature. The blasting decimates one of the ocean's most vital groups of organisms over huge areas and may disrupt entire ecosystems.
And this devastating news comes on the heels of the National Marine Fisheries Service's proposal to authorize more than 90,000 miles of active seismic blasting. Based on the results of this study, the affected area would be approximately 135,000 square miles.
Keep reading...
Show less
By Jill Richardson
Is coconut oil:
good for you
bad for you
neither good nor bad
scientists don't know
The subject of this question is the source of a disagreement. Initially, the question was thought to be settled decades ago, when scientist Ancel Keys declared all saturated fats unhealthy. Coconut oil, which is solid at room temperature, is a saturated fat.
Keep reading...
Show less


Get EcoWatch in your inbox