This website uses cookies to ensure you get the best experience while browsing it. By clicking 'Got It' you're accepting these terms.
Solar-Powered Hearing Aids Are Music to the Ears of Kids Around the World
Nov. 06, 2015 08:22AM EST
Business
Grace O'Brien's motto has always been, "I don't know what I want to be, but I want to be something great. Meaning, I want to make sure that whatever I choose to do, it's making a positive impact."
So far, the 18-year old Stanford freshman is off to a pretty good start. At 14, she founded the nonprofit Ears for Years, which has supplied hundreds of low-cost, solar-powered hearing aids to children in developing countries. And O'Brien has already received national attention as one of the 2015 winners of the Gloria Barron Prize for Young Heroes.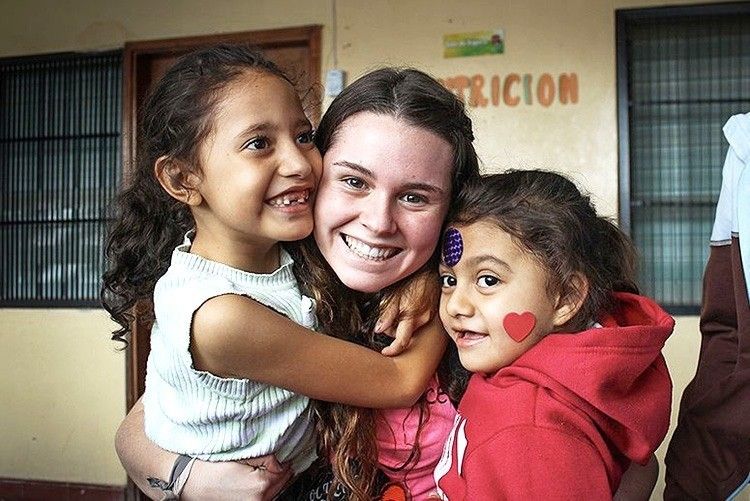 Founder of Ears for Years Grace O'Brien, center. Photo credit: Earsforyears.org
When she was growing up, O'Brien says, her family was very service-minded. She often spent Sunday mornings serving food at a local homeless shelter or making blankets for hospitals with her sisters. But the issue of hearing loss really hit home when her father developed a brain tumor and suffered some hearing loss, making communication difficult. Later, while looking for a summer volunteer position, she discovered a theater camp for deaf children.
"I knew it was the perfect place for me to integrate my love for theater and volunteering," O'Brien says. "As I worked with the kids over the summer, I realized how important hearing aids were to many of the children's ability to learn and communicate. I became more involved in the deaf community that summer, and I discovered that there are roughly 30 million hard-of-hearing children in developing countries who could benefit from a hearing aid but don't have access to one."
According to the World Health Organization, of the 360 million people around the world who suffer from hearing loss, 32 million are children, and the majority are in developing countries.
"I wanted to find a sustainable and affordable solution, so when I came across Solar Ear, I knew I had to work with them," O'Brien says. "I reached out to the founder of Solar Ear, Howard Weinstein, and we realized many of our goals were aligned, so it seemed like a perfect fit to work together. My friends and family served as pillars of support, helping me arrange fund-raisers and get the word out. I also created a club at my high school."
Founded in 2003, Solar Ear seeks to address not only the high cost of hearing aids in developing countries, but also the difficulty and high cost of keeping them charged. Standard hearing aids can cost as much as $1,000, require constant battery changes and don't have a long life span. The Solar Ear device is $100, has a three-year life span and includes rechargeable batteries that use a solar-powered charger. The charger can also be plugged into a light socket to recharge.
"In the developing world, people lucky enough to own a hearing aid either can't get hold of or can't afford the batteries which, by the way, they have to replace once a week," Weinstein told the World Health Organization. "So the devices end up on a shelf somewhere or in the kitchen drawer."
Weinstein shares O'Brien's desire to make a positive impact.
"We could have patented the Solar Ear charger in a heartbeat, but we wanted people to copy us," Weinstein said. "In fact, if somebody ends up producing a cheaper, better version of the Solar Ear and uses their distribution channel to get more products to more children with hearing loss, we will have attained our objective—even if that puts us out of business."
So far, Solar Ear has gone into production in Brazil, China, Mexico, Russia and Singapore, with one condition from Weinstein: that deaf people be involved in making them.
"Hearing aids can be an essential tool for communication for someone who is hard of hearing," says O'Brien, "so I think it's important for children who need them to have them, to retain information, get a valid education and have a chance at building a better life for themselves."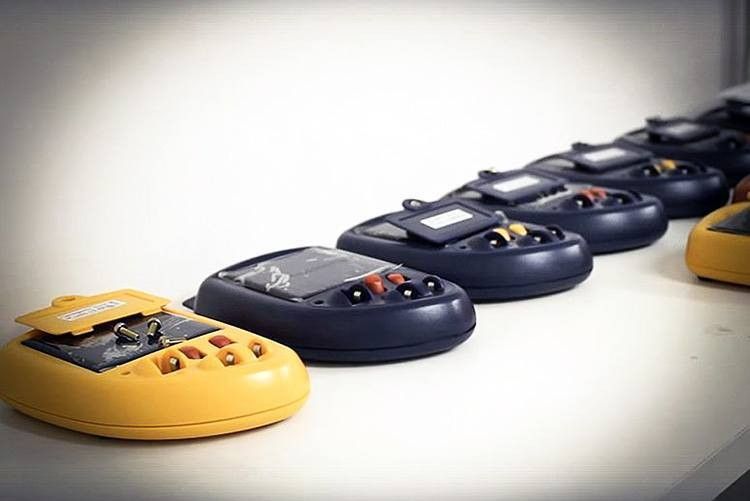 The Solar Ear rechargeable battery and solar charger. Photo credit: YouTube
O'Brien explains that many developing countries don't have special schools or accommodations for deaf children, so it can be difficult for them to learn and interact with their peers.
"I believe every child should be given the tools they need to get a valid education," she says, "and for hard-of-hearing children, that tool set might be a little different."
O'Brien has already traveled to Mexico, Sri Lanka, Honduras, Nicaragua and South Korea, fitting hundreds of children with Solar Ear hearing aids and educating communities about deafness.
"Many people don't know what causes deafness," she says, "so explaining it can help to prevent and eradicate prejudices." Among children, chronic otitis media, meaning a long-standing ear infection, is the leading cause of hearing impairment.
While O'Brien hopes to continue providing deaf and hard-of-hearing children around the world with hearing aids, she's casting a much wider net for her future.
"By spreading the word and fighting for people with disabilities, I hope I can find ways to convince countries that don't already have accommodations to implement programs and accommodations for children with disabilities," she says. "I'm still young, and my life has the potential to take many different paths, but wherever I go, I want to make sure I'm making a positive difference."
YOU MIGHT ALSO LIKE
7 Kids Demand Judge Uphold Their Rights to a Healthy Environment in Landmark Case
4 Solar Powered Homes Designed by Students That Will Blow You Away
Koch Brothers Continue War on Solar in Sunshine State
EcoWatch Daily Newsletter
Variety of fermented food korean traditional kimchi cabbage and radish salad. white and red sauerkraut in ceramic plates over grey spotted background. Natasha Breen / REDA&CO / Universal Images Group / Getty Image
Even if you've never taken probiotics, you've probably heard of them.
These supplements provide numerous benefits because they contain live microorganisms, such as bacteria or yeast, which support the healthy bacteria in your gut (1, 2, 3, 4).
Pexels
Singapore will become the first country in the world to place a ban on advertisements for carbonated drinks and juices with high sugar contents, its health ministry announced last week. The law is intended to curb sugar consumption since the country has some of the world's highest diabetes rates per capita, as Reuters reported.
A typical adult takes around 20,000 breaths per day. If you live in a megacity like Beijing, with many of those lungfuls you're likely to inhale a noxious mixture of chemicals and pollutants.
Fred Stone holds his brown swiss cow Lida Rose at his Arundel dairy farm on March 18 after a press conference where he spoke about PFAS chemical contamination in his fields. Gregory Rec / Portland Portland Press Herald via Getty Images
By Susan Cosier
First there was Fred Stone, the third-generation dairy farmer in Maine who discovered that the milk from his cows contained harmful chemicals. Then came Art Schaap, a second-generation dairy farmer in New Mexico, who had to dump 15,000 gallons of contaminated milk a day.
Protesters attend the 32nd annual Fur-Free Friday demonstration on Nov. 23, 2018 in Beverly Hills, California. Ella DeGea / Getty Images
California Governor Gavin Newsom signed into law a bill that that bans the sale and manufacture of fur products in the state. The fur ban, which he signed into law on Saturday, prohibits Californians from selling or making clothing, shoes or handbags with fur starting in 2023, according to the AP.
By Simon Evans
During the three months of July, August and September, renewables generated an estimated total of 29.5 terawatt hours (TWh), compared with just 29.1TWh from fossil fuels, the analysis shows.
A demonstrator waves an Ecuadorian flag during protests against the end of subsidies to gasoline and diesel on Oct. 9 in Quito, Ecuador. Jorge Ivan Castaneira Jaramillo / Getty Images
Protesters block the road outside Mansion House in London during an XR climate change protest. Gareth Fuller / PA Images via Getty Images