This website uses cookies to ensure you get the best experience while browsing it. By clicking 'Got It' you're accepting these terms.
Solar Powered 'Farm from a Box': Everything You Need to Run an Off-Grid Farm
Dec. 02, 2015 09:26AM EST
Shipping containers already make great micro-homes, but one California-based company is using shipping containers to create micro-farms. Farm from a Box is a complete, small-scale farming toolkit that includes everything you might need to produce your own food.
Each box comes in 10-, 20- and 40-foot units and is pre-installed with a photovoltaic system comprising of 10 high-efficiency solar modules, off-grid inverters, a transformer and distribution box and deep-cycle batteries for energy storage. The array is backed up by a 3,000-watt generator.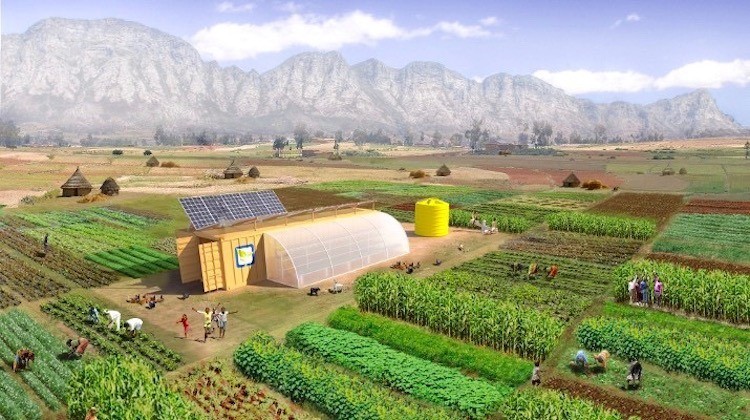 It's also equipped with high-efficiency LED lighting, secured storage, a mobile charging area, Wi-Fi and a remote monitoring solution. Oh, and seeds and farming tools of course.
Each unit is capable of producing crops for one hectare of land (2.47 acres), the company says.
"Farm from a Box is the 'Swiss-Army knife' of sustainable farming," Brandi DeCarli, Farm from a Box co-founder, said in September.
While Farm from a Box seems ideal for many communities worldwide, it could be a food security solution for areas without reliable access to electricity or water.
"Based on extensive field research, we found that rural communities often lack the resources and infrastructure needed to access nutritious food," DeCarli said. "We developed a toolkit that contains all of the core components needed to grow your own food, on a two acre plot of land, without the need for an existing grid. Imagine the good it can do by growing local, organic food for a school, or helping jumpstart food production after a disaster. 'Farm from a Box' enables and empowers communities to provide for themselves."
Thinking outside the "box," the farm also comes with a training program that covers ecological farming practices, technology use, maintenance and basic business and entrepreneurship. A fully operational pilot project is planned for deployment at a local women's cooperative in the Rift Valley in Ethiopia later this year to help shape and refine the training and implementation program.
A prototype installation called the "Adam" has been running at Santa Rosa Junior College in Sonoma, California since September.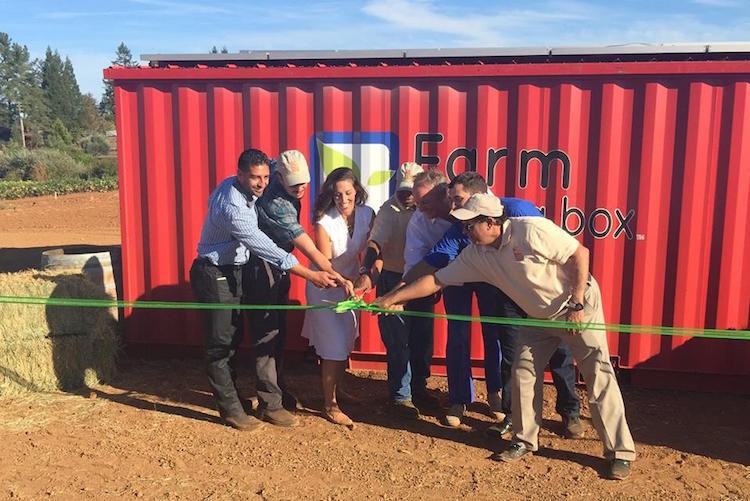 The boxes are fully customizable and Fast Company reports that each unit costs between $25,000-$45,000, depending on its technology specs.
Last month, Farm from a Box announced a partnership with SMA America, a noted solar product manufacturer.
"SMA is proud to partner with a company whose goal is to bring independence to communities around the globe by providing the tools they need to sustain themselves, both nutritionally and financially," said Marko Wittich, SMA executive vice president of sales for the Americas region. "Farm from a Box isn't charity; it empowers and strengthens communities with sustainable solutions, powered by renewable energy."
YOU MIGHT ALSO LIKE
25 American Companies Go Big With Solar
Couple Builds Greenhouse Around Home to Grow Food and Keep Warm
Brad Pitt's Nonprofit Delivers LEED Platinum Homes to Fort Peck Reservation
The Russian military is taking measures to protect the residents of a remote Arctic settlement from a mass of polar bears, German press agency DPA reported.
The move comes after regional authorities declared a state of emergency over the weekend after sightings of more than 50 bears in the town of Belushya Guba since December.
This year's letter from Bill and Melinda Gates focused on nine things that surprised them. For the Microsoft-cofounder, one thing he was surprised to learn was the massive amount of new buildings the planet should expect in the coming decades due to urban population growth.
"The number of buildings in the world is going to double by 2060. It's like we're going to build a new New York City every month for the next 40 years," he said.
Over the past few years, it seems vegan cooking has gone from 'brown rice and tofu' to a true art form. These amazing cooks show off the creations on Instagram—and we can't get enough.
The USS Ashland, followed by the USS Green Bay, in the Philippine Sea on Jan. 21. U.S. Department of Defense
By Shana Udvardy
After a dearth of action on climate change and a record year of extreme events in 2017, the inclusion of climate change policies within the annual legislation Congress considers to outline its defense spending priorities (the National Defense Authorization Act) for fiscal year 2018 was welcome progress. House and Senate leaders pushed to include language that mandated that the Department of Defense (DoD) incorporate climate change in their facility planning (see more on what this section of the bill does here and here) as well as issue a report on the impacts of climate change on military installations. Unfortunately, what DoD produced fell far short of what was mandated.
The Paradise Fossil Plant in western Kentucky. CC BY 3.0
Trump is losing his rallying cry to save coal. The Tennessee Valley Authority (TVA) voted on Thursday to retire two coal-fired power plants in the next few years despite a plea from the president to keep one of the plants open.
Earlier this week, the president posted an oddly specific tweet that urged the government-owned utility to save the 49-year-old Paradise 3 plant in Kentucky. It so happens that the facility burns coal supplied by Murray Energy Corporation, whose CEO is Robert Murray, is a major Trump donor.