This website uses cookies to ensure you get the best experience while browsing it. By clicking 'Got It' you're accepting these terms.
Solar Powered 'Farm from a Box': Everything You Need to Run an Off-Grid Farm
Dec. 02, 2015 09:26AM EST
Shipping containers already make great micro-homes, but one California-based company is using shipping containers to create micro-farms. Farm from a Box is a complete, small-scale farming toolkit that includes everything you might need to produce your own food.
Each box comes in 10-, 20- and 40-foot units and is pre-installed with a photovoltaic system comprising of 10 high-efficiency solar modules, off-grid inverters, a transformer and distribution box and deep-cycle batteries for energy storage. The array is backed up by a 3,000-watt generator.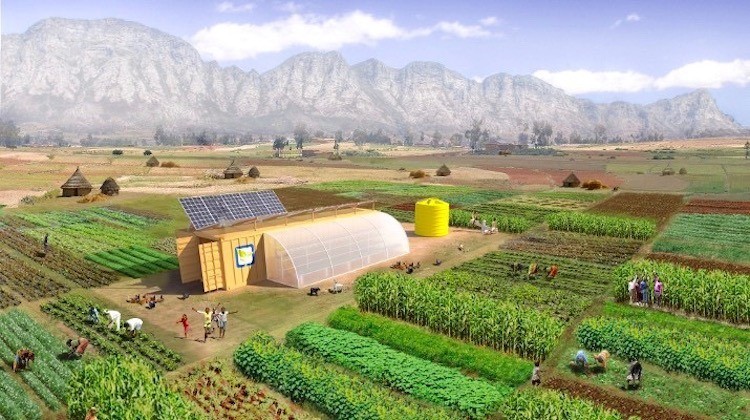 It's also equipped with high-efficiency LED lighting, secured storage, a mobile charging area, Wi-Fi and a remote monitoring solution. Oh, and seeds and farming tools of course.
Each unit is capable of producing crops for one hectare of land (2.47 acres), the company says.
"Farm from a Box is the 'Swiss-Army knife' of sustainable farming," Brandi DeCarli, Farm from a Box co-founder, said in September.
While Farm from a Box seems ideal for many communities worldwide, it could be a food security solution for areas without reliable access to electricity or water.
"Based on extensive field research, we found that rural communities often lack the resources and infrastructure needed to access nutritious food," DeCarli said. "We developed a toolkit that contains all of the core components needed to grow your own food, on a two acre plot of land, without the need for an existing grid. Imagine the good it can do by growing local, organic food for a school, or helping jumpstart food production after a disaster. 'Farm from a Box' enables and empowers communities to provide for themselves."
Thinking outside the "box," the farm also comes with a training program that covers ecological farming practices, technology use, maintenance and basic business and entrepreneurship. A fully operational pilot project is planned for deployment at a local women's cooperative in the Rift Valley in Ethiopia later this year to help shape and refine the training and implementation program.
A prototype installation called the "Adam" has been running at Santa Rosa Junior College in Sonoma, California since September.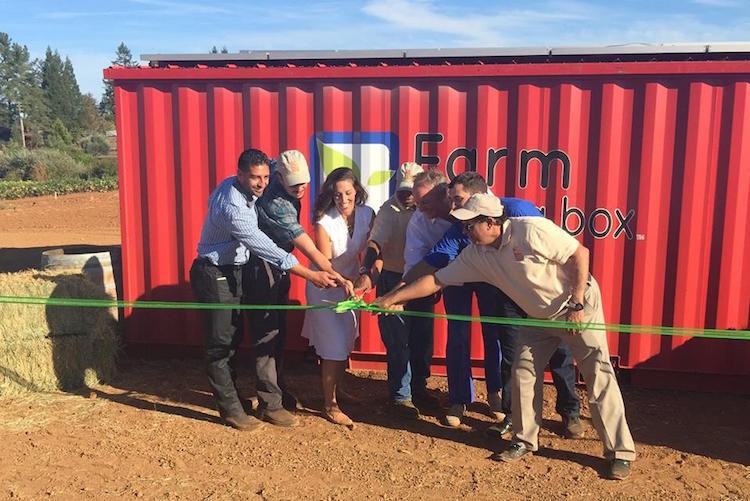 The boxes are fully customizable and Fast Company reports that each unit costs between $25,000-$45,000, depending on its technology specs.
Last month, Farm from a Box announced a partnership with SMA America, a noted solar product manufacturer.
"SMA is proud to partner with a company whose goal is to bring independence to communities around the globe by providing the tools they need to sustain themselves, both nutritionally and financially," said Marko Wittich, SMA executive vice president of sales for the Americas region. "Farm from a Box isn't charity; it empowers and strengthens communities with sustainable solutions, powered by renewable energy."
YOU MIGHT ALSO LIKE
25 American Companies Go Big With Solar
Couple Builds Greenhouse Around Home to Grow Food and Keep Warm
Brad Pitt's Nonprofit Delivers LEED Platinum Homes to Fort Peck Reservation
Southwest Greenland had the most consistent ice loss from 2003 to 2012. Eqalugaarsuit, Ostgronland, Greenland on Aug. 1, 2018.
Rob Oo / CC BY 2.0
Climate change has been called the biggest challenge of our time. Last year, scientists with the United Nations said we basically have 12 years to limit global warming to 1.5ºC to avoid planetary catastrophe.
Amid a backdrop of rising global carbon emissions, there's a real case for pessimism. However, many scientists are hopeful of a way out.
Martin Luther King Jr. at steps of the Lincoln Memorial where he delivered his famous, "I Have a Dream" speech in 1963.
"Injustice anywhere is a threat to justice everywhere." Dr. Martin Luther King Jr.'s words and actions continue to resonate on the 90th anniversary of his birth.
As the country honors the life and legacy of the iconic civil rights leader today, we are reminded that the social justice and the climate movements are deeply connected.
A Massachusetts road coated with snow and ice following the winter storm which prompted Trump to mock climate change. Scott Eisen / Getty Images
President Donald Trump has once again contradicted the findings of the U.S. government when it comes to the threat posed by climate change. Days after a Department of Defense report outlined how climate-related events like wildfires and flooding put U.S. military installations at risk, Trump took to Twitter to mock the idea that the world could be getting warmer, Time reported.
Trump's tweet came in response to a massive winter storm that blanketed the Midwest and Northeast this weekend.
The fire that erupted after a pipeline explosion in Mexico Friday. FRANCISCO VILLEDA / AFP / Getty Images
A dramatic pipeline explosion in central Mexico Friday has killed at least 85 people, Mexican Health Minister Jorge Alcocer Valera said Sunday night, The Associated Press reported.

The explosion occurred in a field in the municipality of Tlahuelilpan as people rushed to gather fuel from the pipeline, which had been ruptured by suspected thieves. Many were covered in oil before a fireball shot into the air.
Mead is a fermented beverage traditionally made from honey, water and a yeast or bacterial culture.
U.S. Army member helps clear debris from Tyndall Air Force Base following Hurricane Michael.
U.S. Army
The Pentagon released a Congressionally mandated report (pdf) that warns flooding, drought and wildfires and other effects of climate change puts U.S. military bases at risk.
The 22-page analysis states plainly: "The effects of a changing climate are a national security issue with potential impacts to Department of Defense (DoD or the Department) missions, operational plans, and installations."
Power plants across Texas are leaching toxins into groundwater, according to new research. A report released this week from the Environmental Integrity Project found that all of the state's 16 coal-fired power plants are leaching contaminants from coal ash into the ground, and almost none of the plants are properly lining their pits to prevent leakage.