This website uses cookies to ensure you get the best experience while browsing it. By clicking 'Got It' you're accepting these terms.
Solar-Powered Airplane Prepares for Groundbreaking Around-the-World Flight
Mar. 02, 2015 11:01AM EST
Business
When Orville and Wilbur Wright made the first sustained, powered, heavier-than-air flight at the turn of the 20th century, few people who weren't science fiction enthusiasts envisioned that their small craft was the precursor of a major mode of international transportation.
So it's probably best not to scoff at Solar Impulse and Solar Impulse 2 (Si2), a solar-powered airplane, the first solar airplane able to sustain flight at night with a pilot on board. The plane has already taken test flights in Europe, travelled from Switzerland to Morocco and flown across the U.S., and now the company is about to launch it on a round-the-world flight to demonstrate its capacity and draw attention to the potential of solar-powered flight.
"Solar Impulse is the only airplane of perpetual endurance, able to fly day and night on solar power, without a drop of fuel," says the company.
Solar Impulse was the brainchild of Swiss psychiatrist and adventurer Bertrand Piccard, a man descended from a long line of dreamers who made their dreams a reality: his father and grandfather were inventors and explorers who broke ground in both stratospheric and deep-sea exploration. Yes—THOSE Piccards.
The launch of the project was announced in November 2003, almost exactly a century after the Wright brothers' historic flight. The team began work soon after that. The plane went on its first test flights in 2010, and in July of that year, it made the first night flight in the history of solar aviation, lasting more than 26 hours. It took progressively longer flights, leading up to its upcoming circumnavigation of the Earth this year.
The hot Arabian sun today reminded me how much energy we can capture with solar power around the world pic.twitter.com/TjSpvLIvIU

— Bertrand PICCARD (@bertrandpiccard) March 2, 2015
"One could easily imagine oneself in a Jules Verne novel: a team wanting to promote renewable energies sets off round the world in a solar airplane, aiming to fly without fuel or pollution," said Piccard. "The revenge of Icarus, in a way. A new Utopia? A beautiful scene from science fiction? No, a cutting-edge technological challenge! A sufficiently eccentric project to appeal to one's emotions and get one's adrenalin pumping: to harness a clean and renewable form of energy, and use it to fly night and day without limit."
The round-the-world flight is scheduled to take off from Abu Dhabi in the United Arab Emirates in early March and return there by late July or early—taking far longer than the 80 days of the famous 1873 Jules Verne novel whose protagonists traveled the globe by rail and steamer. It will make numerous stops along the way, including  Muscat, Oman; Ahmedabad and Varanasi, India; Mandalay, Myanmar; Chongqing and Nanjing, China; and Phoenix and New York City. It may also make a stop in the midwest U.S. depending on weather conditions. After crossing the Atlantic, it will make a final stop in southern Europe or northern Africa before returning to Abu Dhabi.
A single-seater made of carbon fibre, the astonishing Si2 has a wingspan bigger than that of a Boeing 747 but it weights only one percent of that—about the weight of a large passenger car. Built into the wing are 17,000 solar cells that feed four electric motors and recharge lithium batteries for night flight.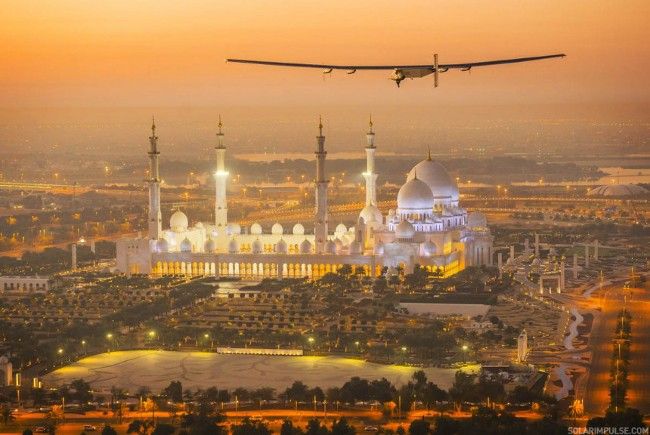 The Si2 still has drawbacks. As is clear from the five months allocated for the global trip, its flight speed is slow, ranging from 30-60 mph. It can only carry the pilot in an unheated, unpressurized cabin. (Piccard himself will be piloting the global flight, along with André Borschberg, in five- to six-day legs). Special pilot training was needed, since flying the craft is so different from piloting other airplanes. Passengers won't be flying solar from New York to Paris any time soon. But in the future, who knows? Ten years ago, the ability to make sustained solar-powered flights at night didn't exist either.
As Piccard says, "By writing the next pages in aviation history with solar energy, and voyaging around the world without fuel or pollution, Solar Impulse's ambition is for the world of exploration and innovation to contribute to the cause of renewable energies, to demonstrate the importance of clean technologies for sustainable development; and to place dreams and emotions back at the heart of scientific adventure."
YOU MIGHT ALSO LIKE
Our Addiction to Fossil Fuels Is a Bridge to Nowhere
EcoWatch Daily Newsletter
For the past seven years, the Anishinaabe people have been facing the largest tar sands pipeline project in North America. We still are. In these dying moments of the fossil fuel industry, Water Protectors stand, prepared for yet another battle for the water, wild rice and future of all. We face Enbridge, the largest pipeline company in North America, and the third largest corporation in Canada. We face it unafraid and eyes wide open, for indeed we see the future.
The climate crisis often intensifies systems of oppression. Rieko Honma / Stone / Getty Images Plus
By Mara Dolan
We see the effects of the climate crisis all around us in hurricanes, droughts, wildfires, and rising sea levels, but our proximity to these things, and how deeply our lives are changed by them, are not the same for everyone. Frontline groups have been leading the fight for environmental and climate justice for centuries and understand the critical connections between the climate crisis and racial justice, economic justice, migrant justice, and gender justice. Our personal experiences with climate change are shaped by our experiences with race, gender, and class, as the climate crisis often intensifies these systems of oppression.

Lana Del Rey: "call her Doris Doomsday." Darren Gerrish / BFC / Getty Images Entertainment
By Emer McHugh
Popular music has, and always will be, informed by the political and social contexts from which it emerges.
It was early in the morning last Thursday, and Jonathan Butler was standing on the Fred Hartman Bridge, helping 11 fellow Greenpeace activists rappel down and suspend themselves over the Houston Ship Channel. The protesters dangled in the air most of the day, shutting down a part of one of the country's largest ports for oil.
By C.J. Polychroniou
Climate change is by far the most serious crisis facing the world today. At stake is the future of civilization as we know it. Yet, both public awareness and government action lag way behind what's needed to avert a climate change catastrophe. In the interview below, Noam Chomsky and Robert Pollin discuss the challenges ahead and what needs to be done.
Food manufacturer General Mills issued a voluntary recall of more than 600,000 pounds, or about 120,000 bags, of Gold Medal Unbleached All Purpose Flour this week after a sample tested positive for a bacteria strain known to cause illness.
Imelda flooded highway 69 North in Houston Thursday. Thomas B. Shea / Getty Images
Extreme weather events supercharged by climate change in 2012 led to nearly 1,000 more deaths, more than 20,000 additional hospitalizations, and cost the U.S. healthcare system $10 billion, a new report finds.