This website uses cookies to ensure you get the best experience while browsing it. By clicking 'Got It' you're accepting these terms.
Solar Picnic Tables Power Phones and Laptops at Colleges Across the Country
Dec. 02, 2013 02:58PM EST
Students at more than 20 U.S. colleges don't have to settle for imagining the use of a renewable public power source for their gadgets.
The powering stations are popping up at campuses in the form of umbrella-laden picnic tables manufactured by Lansing, MI-based EnerFusion. The umbrellas have solar panels on all sides. 
EnerFusion's clients for the product, named the Solar Power-Dok, range from communities colleges like Pikes Peak in Coloarado to much larger institutions like Texas A&M University.
The University of Colorado at Colorado Springs (UCCS) is the latest to announce a purchase of the solar tables, ordering four for a total of $42,725, according to student newspaper, The Scribe. Students will be able to use the energy when spring semester begins.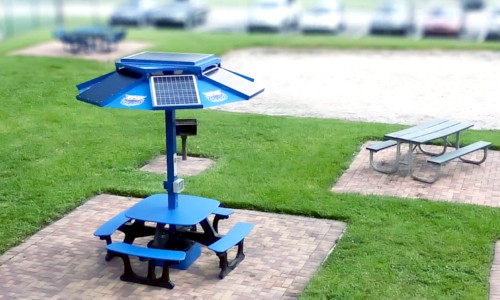 Each umbrella contains power outlets and can also provide wireless charging to cell phones with gel batteries. The tables also have LED lights for nighttime use.
So far, the tables have mostly been adopted at schools known for their sunny surroundings, like UCLA, University of Florida and Florida A&M University.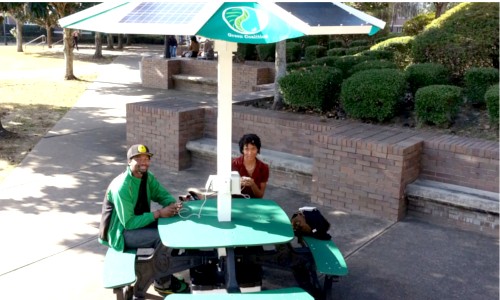 "That is an awesome idea, especially since we generally have over 300 days of sunshine a year," a UCCS student wrote on the Facebook page of the university's Green Action Fund (GAF) committee, which approved the purchase of the tables.
UCCS student Matthew Driftmier crafted the Solar Power-Dok proposal for the GAF. The committee approved it, not on the hope of drastically reducing the university's energy bill, but to get students in the habit of using renewable energy and to create awareness.
"There aren't really hard statistics about how much energy is saved because it's dependent on how much use they get, how much people are actually using them," Driftmier said. "This isn't going to be cutting the UC's energy bills in half by a long shot. The energy saved will be more negligible.
"The real impact we're looking to get out of these tables is more awareness," he said. "Here's solar panels, here's real interactions you can have with solar energy, these are the kind of things you can do with it."
Visit EcoWatch's PRODUCTS page for more related news on this topic.

Plus, learn if there's one that's best for your health.
Catherine Falls Commercial / Moment / Getty Images
An invasive Amynthas worm, also known as a crazy snake worm, Asian jumping worm and Alabama jumper Tom Potterfield / Flickr
By Jason Bittel
My wife and I built a house two years ago on a few acres of woodland outside of Pittsburgh. The backyard is full of maples, poplars, briars and common spicebush. Two-lined salamanders and grumpy-looking crayfish wade among the rocks in the small stream that runs down the edge of the property. Deer, raccoon and opossum tracks appear regularly in the snow and mud. Sometimes, my trail-cam even catches a pair of gray foxes as they slink through the night.
AleksandarNakic / Getty Images
By Kate Murphy
No matter the time of year, there's always a point in each season when my skin decides to cause me issues. While these skin issues can vary, I find the most common issues to be dryness, acne and redness.

David Woodfall / The Image Bank / Getty Images
By Sam Nickerson
The U.S. Environmental Protection Agency (EPA) in April 2018 proposed relaxing standards related to how it assesses the effects of exposure to low levels of toxic chemicals on public health.
Now, correspondence obtained by the LA Times revealed just how deeply involved industry lobbyists and a controversial, industry-funded toxicologist were in drafting the federal agency's proposal to scrap its current, protective approach to regulating toxin exposure.
Steve Irwin poses with a three foot long alligator at the San Francisco Zoo on June 26, 2002. Justin Sullivan / Getty Images
February 22 is the birthday of conservationist and beloved TV personality "Crocodile Hunter" Steve Irwin, who would have been 57 years old today.
Irwin's life was tragically cut short when the barb from a stingray went through his chest while he was filming in 2006, but his legacy of loving and protecting wildlife lives on, most recently in a Google Doodle today honoring his birthday.