Solar Picnic Tables Power Phones and Laptops at Colleges Across the Country
Dec. 02, 2013 03:58PM EST
Business
Students at more than 20 U.S. colleges don't have to settle for imagining the use of a renewable public power source for their gadgets.
The powering stations are popping up at campuses in the form of umbrella-laden picnic tables manufactured by Lansing, MI-based EnerFusion. The umbrellas have solar panels on all sides. 
EnerFusion's clients for the product, named the Solar Power-Dok, range from communities colleges like Pikes Peak in Coloarado to much larger institutions like Texas A&M University.
The University of Colorado at Colorado Springs (UCCS) is the latest to announce a purchase of the solar tables, ordering four for a total of $42,725, according to student newspaper, The Scribe. Students will be able to use the energy when spring semester begins.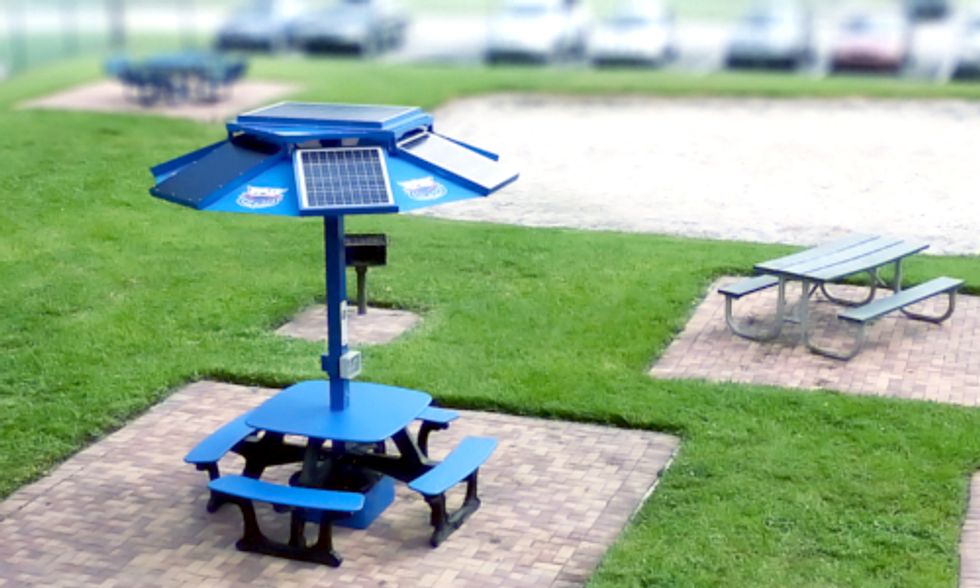 Each umbrella contains power outlets and can also provide wireless charging to cell phones with gel batteries. The tables also have LED lights for nighttime use.
So far, the tables have mostly been adopted at schools known for their sunny surroundings, like UCLA, University of Florida and Florida A&M University.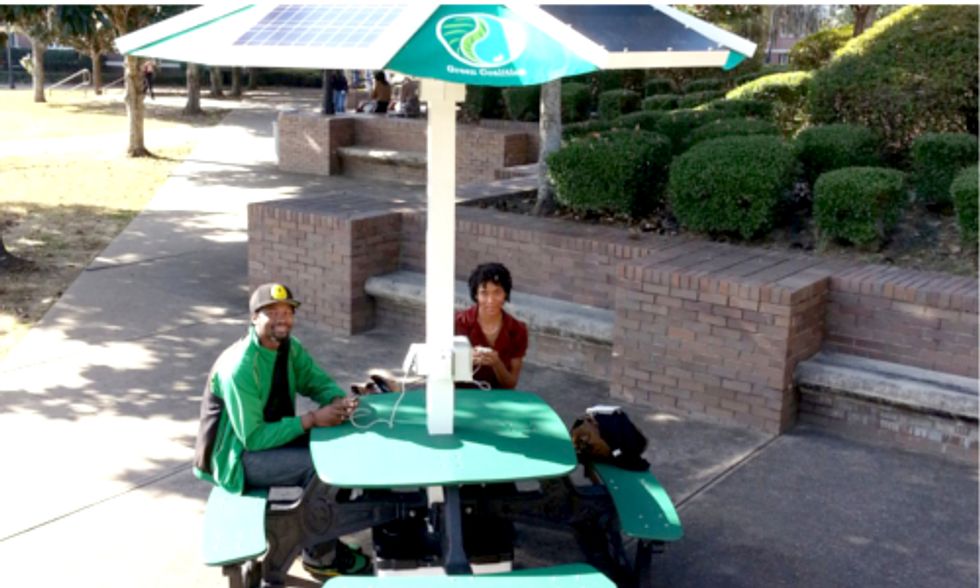 "That is an awesome idea, especially since we generally have over 300 days of sunshine a year," a UCCS student wrote on the Facebook page of the university's Green Action Fund (GAF) committee, which approved the purchase of the tables.
UCCS student Matthew Driftmier crafted the Solar Power-Dok proposal for the GAF. The committee approved it, not on the hope of drastically reducing the university's energy bill, but to get students in the habit of using renewable energy and to create awareness.
"There aren't really hard statistics about how much energy is saved because it's dependent on how much use they get, how much people are actually using them," Driftmier said. "This isn't going to be cutting the UC's energy bills in half by a long shot. The energy saved will be more negligible.
"The real impact we're looking to get out of these tables is more awareness," he said. "Here's solar panels, here's real interactions you can have with solar energy, these are the kind of things you can do with it."
Visit EcoWatch's PRODUCTS page for more related news on this topic.

EcoWatch Daily Newsletter