This website uses cookies to ensure you get the best experience while browsing it. By clicking 'Got It' you're accepting these terms.
Solar Is Driving America Toward Its 'Clean Power Plan'
Aug. 04, 2015 09:48AM EST
Business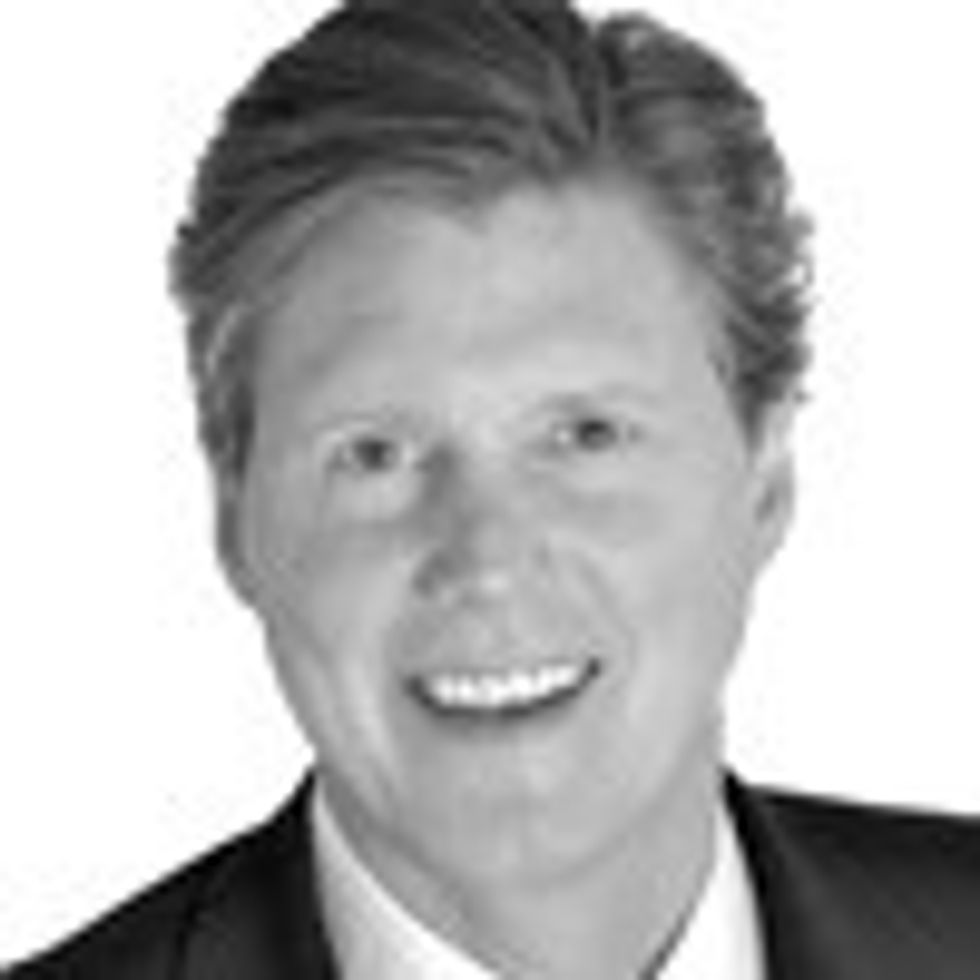 Only exceeded by China, the U.S. is the world's largest producer of greenhouse gases, with the largest source of emissions coming from electricity generation. America is changing its course and the U.S. solar energy industry is leading the way on this new road; a path to a clean energy future.
Yesterday, the U.S. Environmental Protection Agency (EPA) released the Clean Power Plan, which sets the first ever federal limits on carbon pollution from existing power plants. This is a historic step in America's clean energy future and a strong show of confidence in the capability of the country's newest energy vehicles: renewables.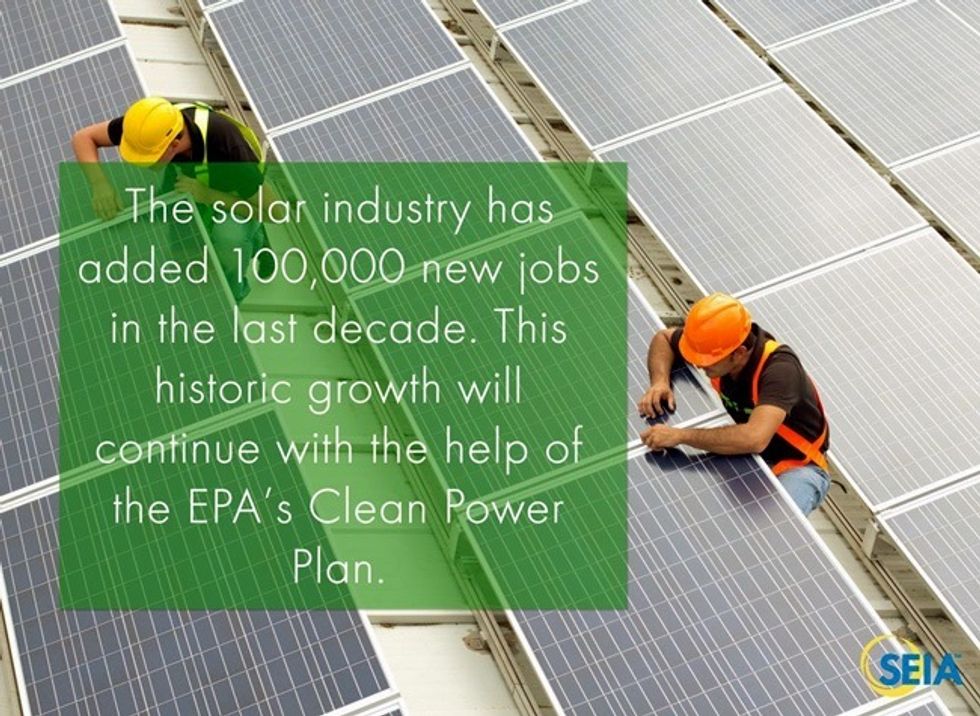 This strong action on climate change, however, is not a "leap of faith" for the solar industry. Solar energy is no longer a niche technology or a futuristic energy source. Thanks to improved technology and cascading prices, solar is already powering American homes and businesses today.
Communities, homeowners, businesses and utilities have made solar one of America's fastest-growing energy sources with more than 20 gigawatts of total installed capacity. Smart policies like the Clean Power Plan will help the country to continue replacing its aging and dirty energy engine with even more 21st Century technologies.
To ensure solar's full potential was realized in the policy, SEIA spent the past several years meeting with the White House and EPA officials to educate them about the current state of the solar market and the solar industry's growth potential. Additionally, SEIA submitted robust comments, providing the EPA with the most up-to-date solar cost and deployment data for all market segments.
In just the first three months of 2015, residential solar system installations showed tremendous growth—the best quarter for the segment ever. The top U.S. commercial solar users also have more than 569 megawatts of solar power at 1,110 different facilities.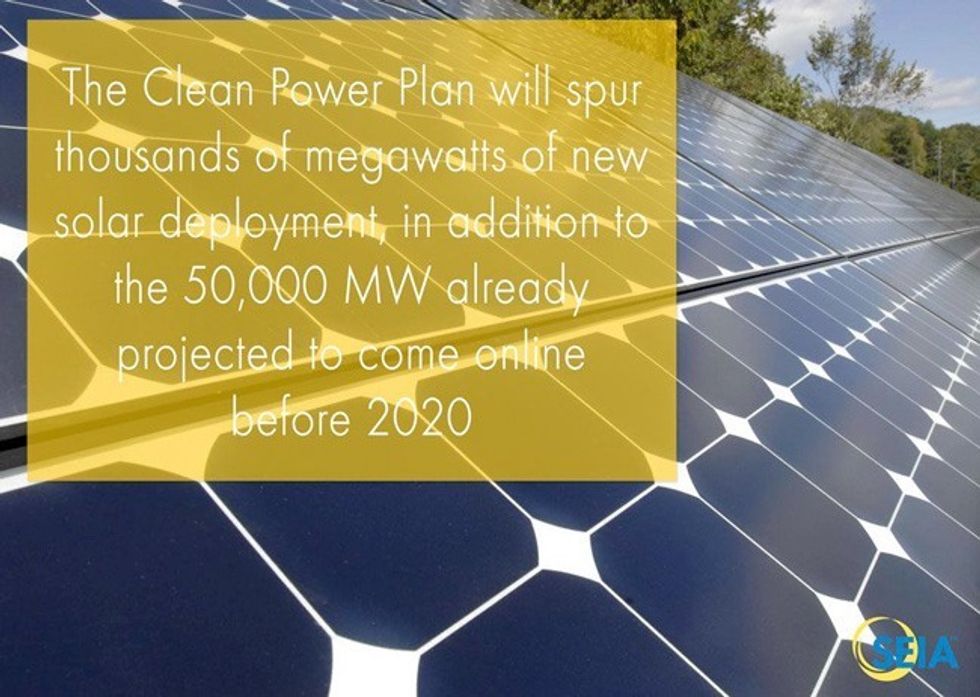 As solar prices continue to fall, more and more Americans are turning to solar to cut costs and avoid carbon emissions. Solar in the utility-scale pipeline has also reached unprecedented levels, with the segment totaling 63 percent of all solar capacity in 2014.
As part of a balanced energy portfolio, energy providers are using solar to improve grid reliability and provide significant relief to existing energy infrastructure by reducing transmission losses and relieving grid congestion. The speed of solar deployment, along with the modularity of solar, is also helping energy providers meet incremental generation needs. For instance, concentrating solar power (CSP) plants, combined with thermal energy storage, can produce electricity when needed, long after the sun goes down.
By the end of 2016, there will be enough solar energy in the U.S. to power 8 million homes, offsetting nearly 45 million metric tons of carbon emissions. At this pace, a whopping 50,000 more megawatts of solar power is projected to come on-line before 2020.
The Clean Power Plan will only make solar's growth more rapid, as all 50 states seek clean, affordable, reliable and carbon-free solutions under the plan's emissions targets.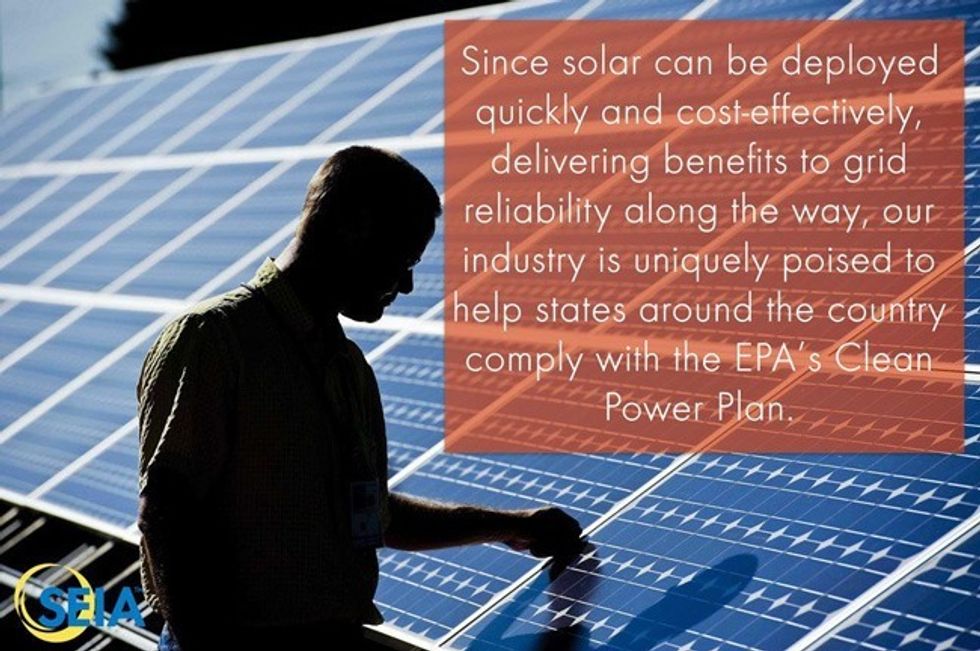 The solar industry is confident that there is potential for more of America's power grid to fuel up with more solar. SEIA spoke, and the EPA clearly listened. Thanks to efforts of SEIA and its member companies, the Clean Power Plan includes:
carbon reduction goals for states that are 9 percent tougher than originally proposed;
all solar technologies as compliance options for states;
30 percent more renewables as compliance options than originally proposed;
a renewable energy incentive program that will spur early investment in solar energy; and
more flexibility to help states implement solar energy policies to meet their emissions goals.
Solar energy is available within every geographic region of the U.S., making it the most sensible compliance option under the Clean Power Plan. In fact, the industry is already seeing a broad spectrum of adopters across the country, with 25 states installing more than 10 megawatts and 20 states installing more than 100 megawatts of solar capacity just last year.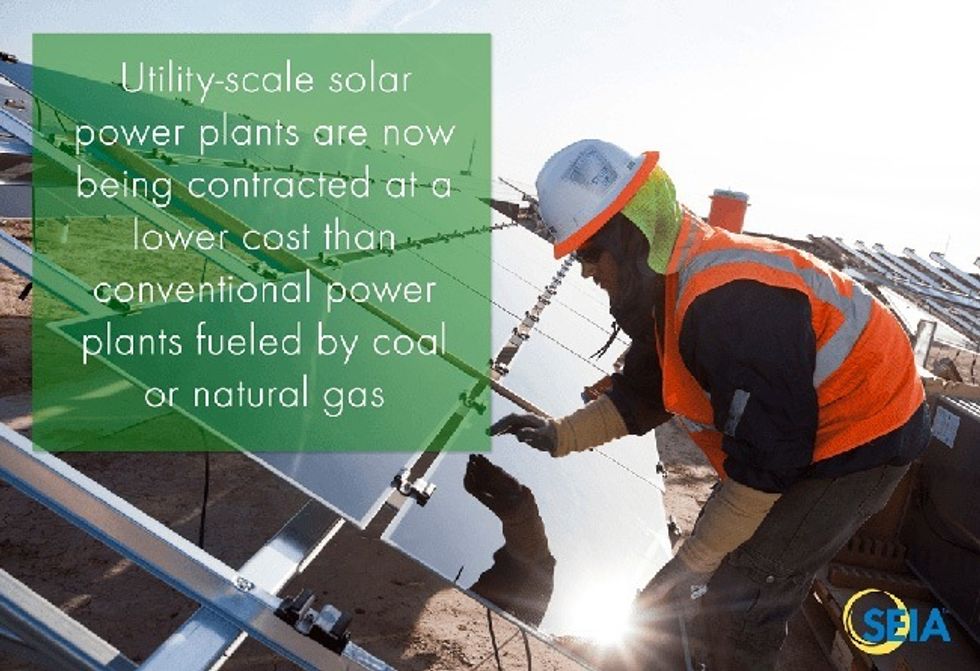 States that choose to go solar are not only standing up to the challenge of curbing carbon emissions while keeping pace with America's growing energy demand, but they are also choosing to invest in job growth.
The solar industry has added 100,000 new jobs in the last decade. Today, the U.S. solar industry employs nearly 174,000 Americans—more than tech giants Apple, Google, Facebook and Twitter combined—and pumps nearly $18 billion a year into the economy.
The Clean Power Plan presents a tremendous opportunity for renewable energy development, and solar is poised to be the No. 1 solution as America cleans up its power grid.
YOU MIGHT ALSO LIKE
Solar Now Cheaper Than Fossil Fuels for Many Small Businesses
Solarizing Greece Is a Way Out of Its Financial Crisis
EcoWatch Daily Newsletter
U.S. President Donald Trump listens as Anthony Fauci, Director of the National Institute of Allergy and Infectious Diseases speaks in the Rose Garden for the daily coronavirus briefing at the White House on March 29 in Washington, DC. Tasos Katopodis / Getty Images
By Jake Johnson
Just over a month after proclaiming that the number of coronavirus cases in the U.S. would soon "be down to close to zero," President Donald Trump said during a press briefing on the White House lawn Sunday that limiting U.S. deaths from the pandemic to between 100,000 and 200,000 people would mean his administration and the country as a whole did "a very good job."
Dicamba is having a devastating impact in Arkansas and neighboring states. A farmer in Mississippi County, Arkansas looks at rows of soybean plants affected by dicamba. The Washington Post / Getty Images
Documents unearthed in a lawsuit brought by a Missouri farmer who claimed that Monsanto and German chemical maker BASF's dicamba herbicide ruined his peach orchard revealed that the two companies knew their new agricultural seed and chemical system would likely damage many U.S. farms, according to documents seen by The Guardian.
Washington State Governor Jay Inslee and other leaders speak to the press on March 28, 2020 in Seattle. Karen Ducey / Getty Images
A bushfire burns outside the Perth Cricket Stadium in Perth, Australia on Dec. 13, 2019. PETER PARKS / AFP via Getty Images

By Albert Van Dijk, Luigi Renzullo, Marta Yebra and Shoshana Rapley
2019 was the year Australians confronted the fact that a healthy environment is more than just a pretty waterfall in a national park; a nice extra we can do without. We do not survive without air to breathe, water to drink, soil to grow food and weather we can cope with.
By Fino Menezes
Everyone adores dolphins. Intelligent, inquisitive and playful, these special creatures have captivated humans since the dawn of time. But dolphins didn't get to where they are by accident — they needed to develop some pretty amazing superpowers to cope with their environment.