Solar Is Creating Jobs Nearly 20 Times Faster Than Overall U.S. Economy
All those senators currently debating in Washington D.C., calling the Keystone XL pipeline approval bill an urgent "jobs creation bill," are looking for jobs in all the wrong places.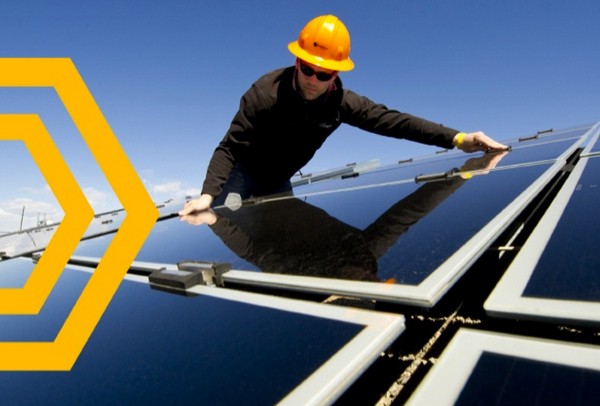 They should be perusing the National Solar Jobs Census 2014, the fifth annual such report compiled by the nonprofit Solar Foundation. What they'd find there puts the pipeline project to shame. Despite attacks on clean, renewable energy around the country, creating uncertainty in the sector,  job creation grew dramatically. It outperformed the slowly improving U.S. economy, creating jobs at nearly 20 times the rate of the overall economy.
Last year, jobs in solar increased by 21.8 percent, adding up to 31,000 new jobs in 2014 and bringing the total number of solar-related jobs in the U.S. to 173,800. That's an increase of 86 percent since 2010. The vast majority—approximately 157,500— work 100 percent on solar activities.
"The solar industry has once again proven to be a powerful engine of economic growth and job creation," said The Solar Foundation's president and executive director Andrea Luecke. "Our Census findings show that one out of every 78 new jobs created in the U.S. over the past 12 months was created by the solar industry—nearly 1.3 percent of all jobs. It also shows for the fifth consecutive year, the solar industry is attracting highly skilled, well-paid professionals. That growth is putting people back to work and strengthening our nation's economy."
And despite attacks in states like Ohio, which froze its renewable energy standards last June and is talking about permanently eliminating them, The Solar Foundation projects that growth will continue. Its employer survey, which collected data from more than 7,600 U.S. businesses, found that the next year solar is likely to see a similar increase of almost 21 percent, bringing the total number of workers in the industry to 210,060.
"Demand for clean renewable power is growing," said Robert Reich, former U.S. Secretary of Labor and Professor of Public Policy at the University of California at Berkeley. "Solar exists at the critical intersection between energy, the economy and the environment. As the nation's fastest growing energy source, solar is adding thousands of new jobs each year. Its growth will almost surely continue to be robust in coming years."
The survey also found that installation remains the largest source of domestic solar employment growth, more than doubling since 2010 and that those workers are more and more diverse, with more African-Americans, Hispanics, women and veterans than in the 2013 report. Solar installation jobs have already blown past employment in the shrinking coal industry, which is now down to only 93,185 jobs. And while the oil and gas pipeline construction and extraction added 19,217 jobs in 2014, the solar installation sector created almost 50 percent more jobs.
Those jobs are that can't be outsourced, won't disappear in two years like the Keystone XL construction jobs and don't come with negative health impacts or harmful impacts on the environment.
"The tremendous growth in the solar industry last year is further evidence that we can clean our air and cut climate pollution while also growing the economy," said former New York City Mayor Michael Bloomberg. "The more data we have about the renewable energy industry, the better positioned policymakers and investors will be to make informed decisions. The Solar Jobs Census has the potential to help make that possible."
And with jobs in the wind sector increasing  rapidly as well, supporting fossil fuel industries at the expense of renewables seems like bad economic as well as bad environmental policy.
"Americans want greater clean energy deployment, and conventional electricity generation is among the largest sources of air and water pollution in the U.S.," said Lyndon Rive, CEO of Solar City, the largest solar employer in the U.S. "As the Census underscores, solar is providing a tremendous boost to our economy while meeting public demand for choice, competition and cleaner, more affordable energy."
YOU MIGHT ALSO LIKE
Top 10 States Leading the U.S. in Solar Energy Growth
25 Top Companies Investing in Solar
www.youtube.com
President Trump visited Cedar Rapids, Iowa on June 21 to speak to a large crowd in the U.S. Cellular Center at a political rally organized by his campaign.
As Trevor Noah noted during The Daily Show episode last night (starts at 2:25), the real reason Trump has these rallies is to "get back in front of his loyal crowds and feed of their energy." Noah believes that "Trump supporters are so on board with their dude he can say anything and they'll come along for the ride."
Keep reading...
Show less
www.youtube.com
By Andy Rowell
Any day now we will truly witness climate change in action. Within days at worst, maybe weeks at best, scientists predict that a huge section of the Larsen C ice shelf in Antarctica will break off into the ocean, in what is called a major "carving" event.
Keep reading...
Show less
www.facebook.com
By Francine Kershaw
Seismic airguns exploding in the ocean in search for oil and gas have devastating impacts on zooplankton, which are critical food sources for marine mammals, according to a new study in Nature. The blasting decimates one of the ocean's most vital groups of organisms over huge areas and may disrupt entire ecosystems.
And this devastating news comes on the heels of the National Marine Fisheries Service's proposal to authorize more than 90,000 miles of active seismic blasting. Based on the results of this study, the affected area would be approximately 135,000 square miles.
Keep reading...
Show less
By Jill Richardson
Is coconut oil:
good for you
bad for you
neither good nor bad
scientists don't know
The subject of this question is the source of a disagreement. Initially, the question was thought to be settled decades ago, when scientist Ancel Keys declared all saturated fats unhealthy. Coconut oil, which is solid at room temperature, is a saturated fat.
Keep reading...
Show less
The U.S. Fish and Wildlife Service removed grizzly bears in the Greater Yellowstone region on Thursday from the Endangered Species List. The decision comes despite serious concerns in the scientific community about a declining, isolated population with diminishing food resources and record-high mortalities, as well as strong opposition from an unprecedented number of Tribal Nations.
Keep reading...
Show less
ArborGen pine tree field test site in South Carolina. BJ McManama
By BJ McManama
ArborGen Corporation, a multinational conglomerate and leading supplier of seedlings for commercial forestry applications, has submitted an approval request to the U.S. Department of Agriculture, Animal and Plant Health Inspection Service to deregulate and widely distribute a eucalyptus tree genetically engineered (GE) to be freeze tolerant. This modification will allow this GE variety to be grown in the U.S. Southeast. The reason this non-native and highly invasive tree has been artificially created to grow outside of its tropical environment is to greatly expand production capacity for the highly controversial woody biomass industry.
Keep reading...
Show less
By Kari Hamerschlag
Many health conscious consumers are reducing their consumption of red meat in favor of chicken—especially products labeled and promoted as "100% natural"—believing they are a healthier option produced without routine antibiotics, artificial substances or other drugs.
Keep reading...
Show less
Jun. 22, 2017 04:26PM EST
Stephen Hawking repeated his warning that humanity needs to leave Earth and colonize the moon, Mars or other planets in order for our species to survive the impending doom of climate change.
"We have given our planet the disastrous gift of climate change ... When we we have reached similar crises there has usually been somewhere else to colonize ... But there is no new world, no utopia around the corner," he said. "We are running out of space, and the only places to go to are other worlds."
Keep reading...
Show less
Jun. 22, 2017 02:28PM EST
www.youtube.com
Keep reading...
Show less


Get EcoWatch in your inbox